| | |
| --- | --- |
| Publisher | NetEase Games |
| Platforms | Android 4.0 and up |
| Price | Free |
| Size | 2.5 GB |
| Latest Version | 1.0.145 |
The concept of Horror survival games is not entirely new to us. You can find an overwhelming number of games that share and embrace such concept but we can say that only a few of them managed to deliver. LifeAfter by NetEase Games is one of the newest horror games in the mobile market today but with so many games of the same concept, what really makes LifeAfter different above the rest? NetEase Games was able to establish a great reputation with their high-quality games like Rules of Survival, Onmyoji and Identity V. With such reputation, you can really expect more from their newest offering – the LifeAfter! In this game, your goal is the play the role of one of the survivors in a post-apocalyptic world. If you think you can survive this terror, feel free to explore LifeAfter and see how long your skills can take you.
The Gameplay
LifeAfter follows a typical concept of horror survival. The game will take place in a post-apocalyptic environment. It all started when a virus spread out which transformed all the infected into monstrous zombies and mutants. Only a few managed to survive and your character is lucky enough to be part of those. LifeAfter welcomes you with an action-packed cinematic introduction. Your character managed to survive a crash and you were apparently rescued by a guy named Aleksey who will teach you all the basic survival skills you need to learn. Eventually, you will learn that people behind this horrific outbreak use victims and turn them into vicious mutants.
NetEase Games has produced so many critically acclaimed games and all of which are in excellent quality gameplay and graphics-wise. LifeAfter, on the other hand, is a product of their masterpiece. This game is seemingly a merge between a Battle Royale environment and a Horror survival gameplay. Just imagine playing Last Day on Earth in a Rules of Survival atmosphere. Take note that your character will start the game from scratch and this requires you to scout for items and resources and craft them all to build a new product. You will also be asked to build shelter and traps to protect you from the zombies.
Fight For Survival
The game follows a highly realistic post-apocalyptic scenario. Your character will experience hunger and thirst and you must scout for all available resources to survive. Much like Last Day on Earth, you need to have the three basic tools to gather resources. You need an Axe to cut down trees and collect logs and Pick Axe to collect stones while weapon tool is needed to fight against zombies. Food resources can be obtained by collecting herbs and also by looting them from various resources. Generally, you must observe very keenly and pay attention to every detail to prevent yourself from overlooking any valuable items on the map.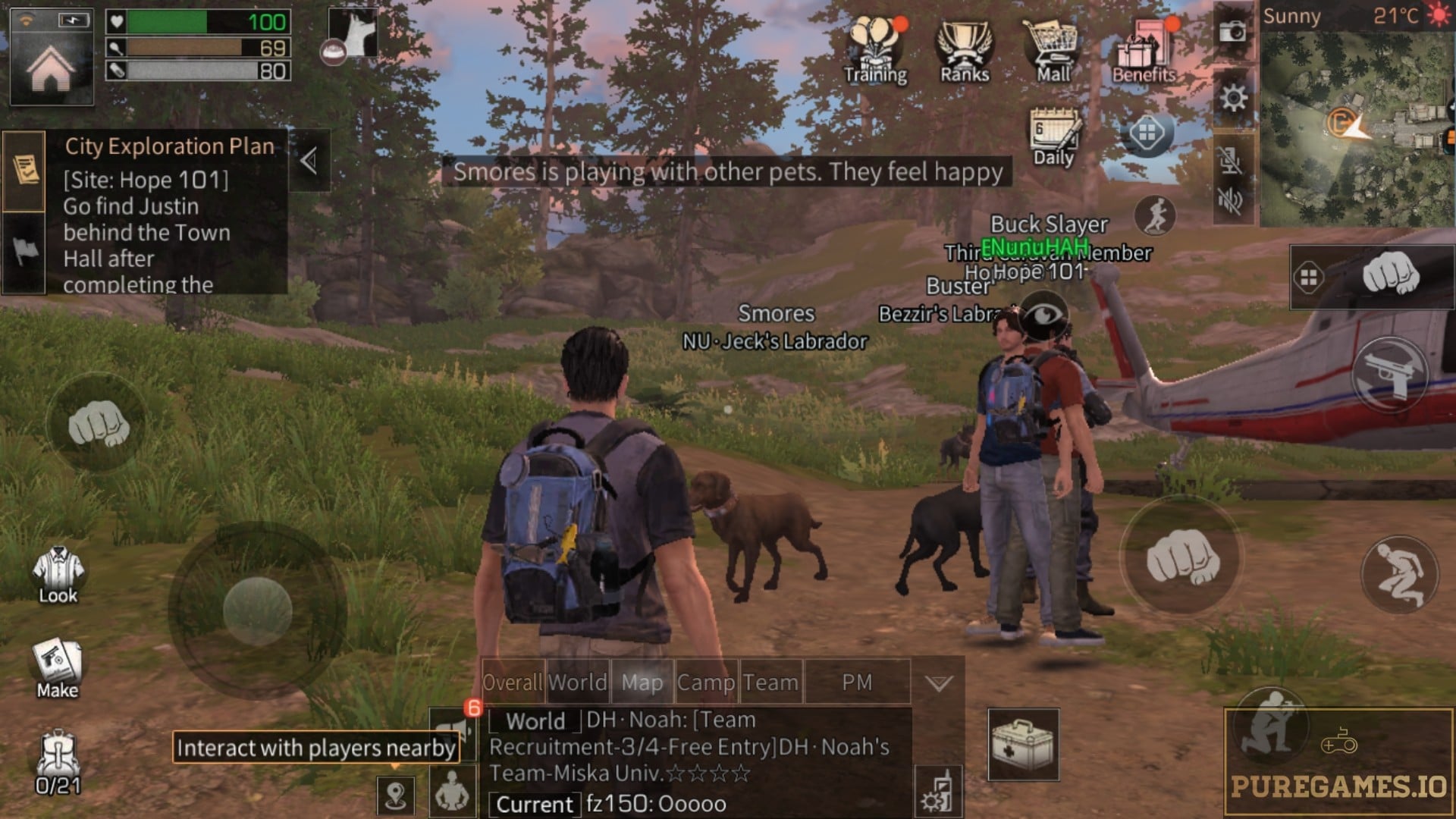 Although you can freely explore the place and wander around the map, the game will still rely on main quests. In order to progress, you must complete your quest and follow whatever is instructed. In the entire course of this game, players will be asked to scout for resources, craft items, kill zombies and interact with various characters (both NPC and Real-time Players). You might also find yourself exploring various highly-infected places within the city such as abandoned mine, broken-down college, suburban areas and even those in highlands. Each comes with different level of danger and you must find your way to survive, otherwise, the game is over!
Explore The World and Meet Other Survivors
One of the interesting elements of LifeAfter is the multiplayer functions. In this game, you will meet various survivors and a huge community of people who built themselves a sustainable shelter. As you explore the world, you will not just encounter terrors but you might also encounter other survivors. The tricky part, however, is that not all survivors will share the same goal with you. Some of which will only take advantage of the situation and some might even try to kill you to loot your items. Therefore, you must be very cautious about who you interact with.
If they are friendly enough, you might even share your items or food with them. Eventually, you will enter a large community, a sanctuary where you meet various players. You can trade with them or better yet build a camp with them until you managed to build a safe sanctuary that will eventually restore humanity. How far do you think you can last? Will you managed to survive the terror? Will you be able to build a sanctuary and restore humanity back to its former glory?
The Verdict
If you are looking for a high-quality horror game for your mobile that you can highly compare to those games in higher gaming platforms, LifeAfter will surely surpass your expectations. Appearance-wise, the game is an absolute visual delight. It comes with remarkable graphics and accompanied by well-fitting music and audio effects. At some point, it reminds me of the old Resident Evil Franchise. The survival concept makes this game even more fun and challenging to explore. Just be mindful that LifeAfter needs a huge space in your phone storage and requires a stable Internet connection to play the game in full extent. Currently, LifeAfter is available for both Android and iOS devices and you can download this epic horror survival for free. Good luck and have fun!