| | |
| --- | --- |
| Publisher | First Touch Games |
| Platforms | Android 5.0 and up |
| Price | Free |
| Size | 92 MB |
| Latest Version | 1.21 |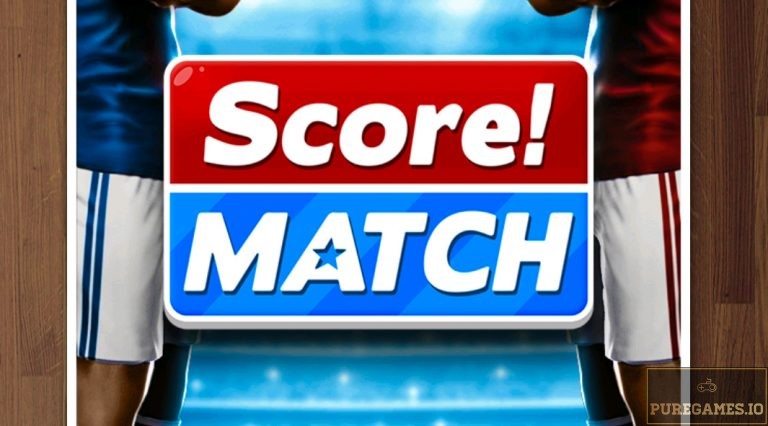 Score Match takes you to a fun-filled and thrilling soccer experience! It is an interesting addition to the Score game series by First Touch Games ltd. If you download Score Match, it takes you to a unique soccer gameplay that will surely put your strategic skills to test. Your objective in this game is to win every match by scoring goals. If you enjoyed Score Hero, then you might as well download Score Match and see what more this sports game has to offer.
Score Match shares a lot of similarities with Score Hero. It shares the same graphics and overall presentation. They also share the same gameplay except for few notable differences. Score Hero takes you to progressive level by level campaign while Score Match takes you to matches of different scenarios.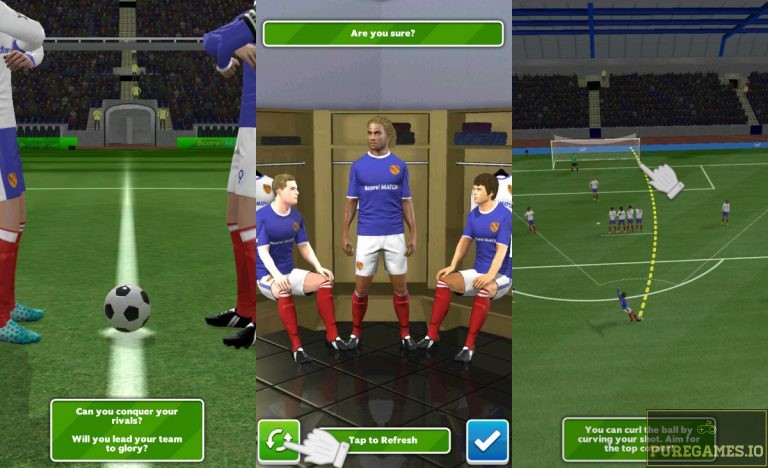 The Gameplay
If you download Score Match, the game takes you right away to your first match. The mechanics are very simple yet players must establish an effective strategy to win each match. The goal is to win the match and also to increase your team's reputation and status. To start the game, simply hit the Play Match button on the main menu. Please be mindful that every match requires a bid. You must pay for certain amount of "bux" (virtual currency) which will be doubled if you win.
As soon as you enter the match, the game presents you with a certain match scenario. You take control of your team and whoever gets the ball takes the lead. What really makes this game unique is how you manipulate the character's movements. Unlike the typical soccer video games where you manually navigate around the soccer field, the players here will move automatically. The result of the match will greatly rely on how well you pass the ball to another player or how well you kick the back towards the goal.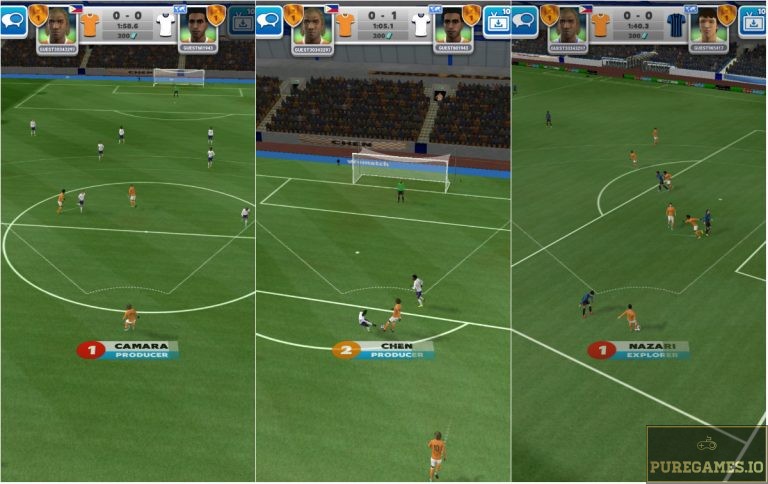 Strategy Plays a Huge Role
Am effective strategy is definitely the key in winning each match. You pass the ball by simply drawing a line towards your team mate. This, however, will not guarantee a successful passage as opposing teams can intercept the ball. Same thing goes with goal keepers. The AI in this game is superb and it is quite a challenge to defeat them. Interestingly, you can also intercept the ball from the opposing team by tapping an individual player.
What I really appreciate from the game is the transition of the ball from one player to another or a player towards the goal. The game features a bullet time-like effect which gives focus to the lead player. Although the graphics are great, the default portrait orientation somehow affects the visual quality of the game.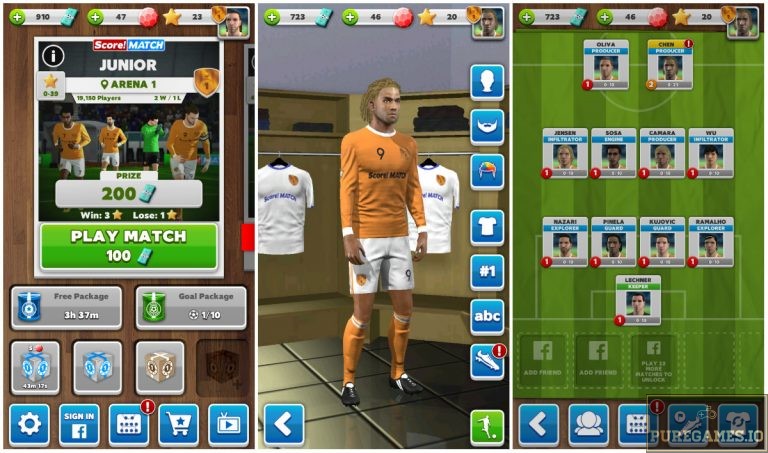 Build Your Own Team
Another note-worthy feature that you will encounter when you download Score Match is the ability to build your own team. Unlike Score Hero which will emphasize on a centric character, Score Match allows you to take full control on your team. Each player has their own position and behavior. Players include Producers, Infiltrators, Engine, Explorer, Guards, Keeper and Intruder. Each has their own attributes that you can upgrade. You can also unlock new players from packages and arena boxes. You can replace another player on your team as long as they have the same position.
You can also change and unlock their default formation. Interestingly, the game also displays individual statistics for each player on your team. The score card shows the number of times they played, the number of times they lost and the number of times they scored. You can also customize player's uniform from head to toe.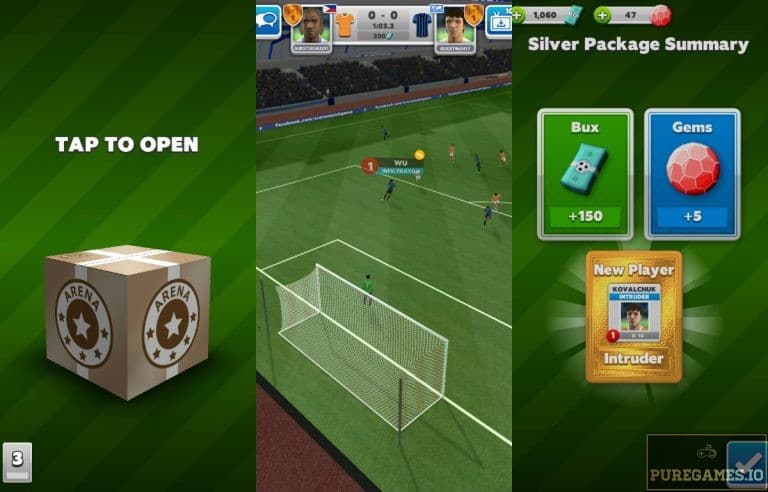 After each match, the game rewards players with bux money or gems. You can also get Arena Boxes which can be opened in certain time interval depending on their rarity. Some Arena boxes allow you to unlock new player or new formation. Packages, on the other hand, can be unlocked in three ways. The Blue Package unlocks within certain time interval. You can unlock Red Package by watching rewarded videos while the Green Package requires you to reach certain number of goals.
Verdict
Score Match is simple yet surprisingly tricky and challenging soccer game. It requires mastery and perfect strategy to win the game. Unlike Score Hero, the game has no Life limit but you cannot repeat the same move. The visuals are great but it could have been better if it is presented in a wider landscape orientation. Overall, Score Match is a great game and I don't see any reason why you should not download Score Match!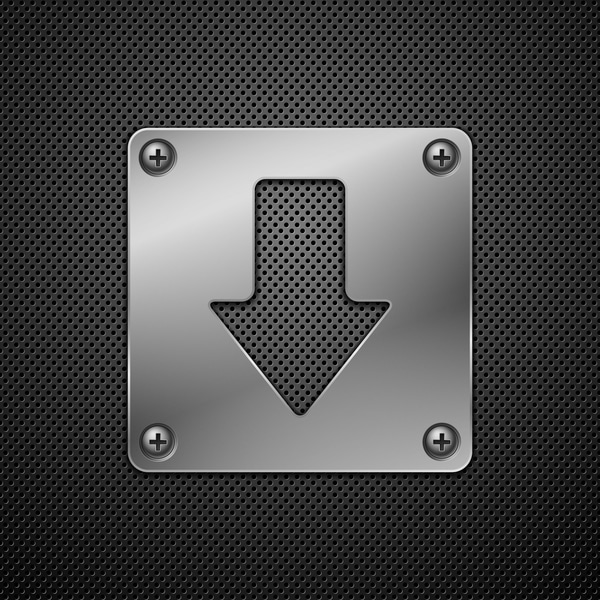 Download Score! Match APK for Android/iOS
Select a file to download:
Download Score! Match v1.20 APK