| | |
| --- | --- |
| Publisher | Playgendary |
| Platforms | Android 5.0 and up |
| Price | Free |
| Size |  MB |
| Latest Version | 1.2.3 |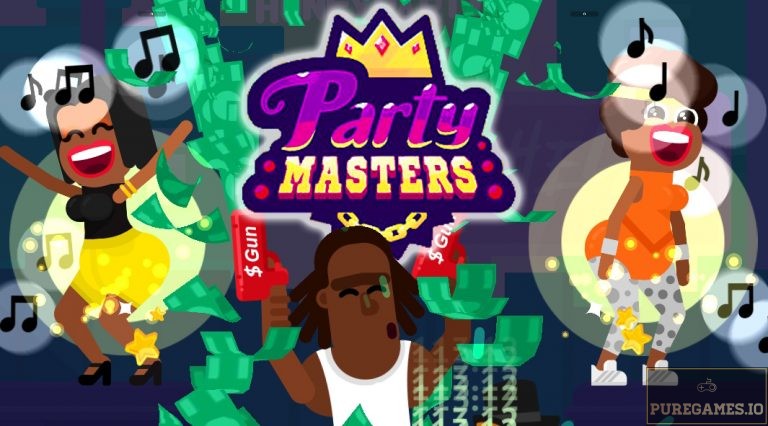 Let's get the party started! Party Masters is an idle game by PlayGendary, the publisher behind games like Flip The Gun and Bowmasters. We have seen a lot of incremental games and they all share the same gameplay but developers tend to add distinctive elements to make their games unique. Partymasters is not an exemption at all. As what the title suggests, your role is to play as Lol Vein with a goal to throw the best party ever.
Interestingly, Lol Vein is one of the characters from PlayGendary's Bowmaster (a strategic fighting game). So basically, this is more of a Spin Off which features the R&B Star LOL Vein as a centric character. The gameplay, however, is entirely different because Partymasters is generally considered as an idle game. Like any typical incremental game, this one will run even without much interaction from the gamer.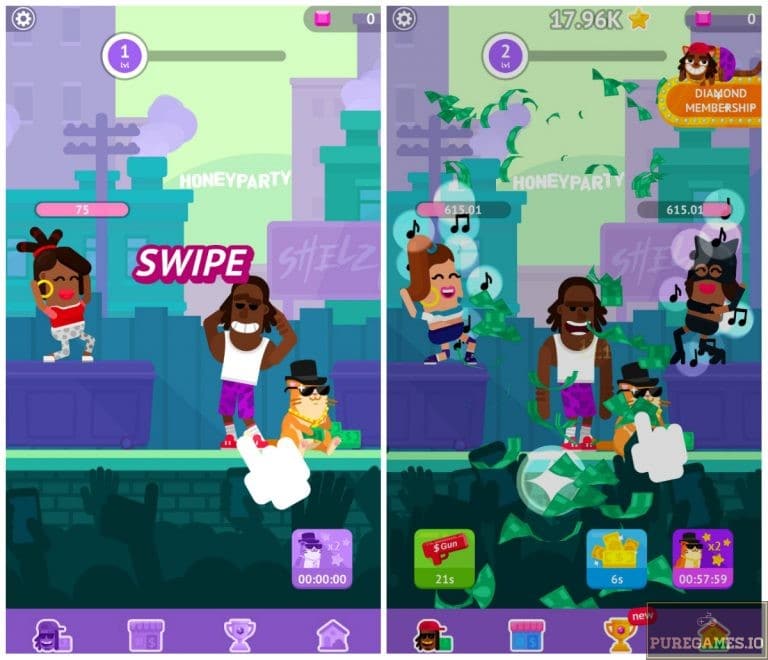 The Gameplay
The mechanics for the game are very simple. The game prompts you to party stage where LOL Vein is set to perform. The goal is to keep the party going and invite as many guests as possible. Just tap the screen to throw up some cash and to keep the party alive. The game treats you with colorful details and witty animation and some of which are parody from real popular celebrities.  The colorful atmosphere is also complimented with energetic and upbeat party music which sets the mood perfectly.
Like any idle game, Partymasters will initially demand for player's interaction. Players must tap the screen as fast as they can. The more cash you throw the more people to join you on stage to make the party even wilder. Since this is not a business-related idle game, players will earn Star Points for each guest. You can use these points to purchase upgrades. If already have enough Star Points (serves as virtual money), you can soon avail those Automatic features. These features allow you to earn points even without the constant tapping.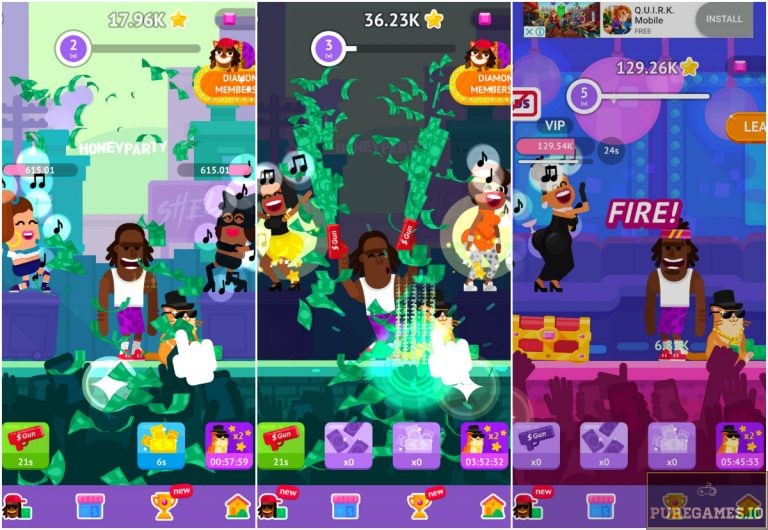 Upgrades, Gems and Achievements
One thing I really appreciate from this game is the uniqueness of its upgrade system. Normally, for an idle game, the upgrades are dynamically changing. The Big Capitalist, for an instance, will let you start from Farm until you become an owner of Oil Company. This game, however, will focus alone with the character LOL Vein til the very end. Players can upgrade LOL Vein and his overall appearance. Each outfit or gear will increase the Bills Per Second value.
The more you upgrade the item, the greater the money you can earn. The prices, however, will exponentially increase too, a classic formula for every idle game to increase their replay value. Aside from the virtual money in form of Star Points, players can also earn Gems (the premium ones). You can use the gems to purchase Chests and Boosters to make you more efficient and productive. Gems on the other hand are earned from Achievements.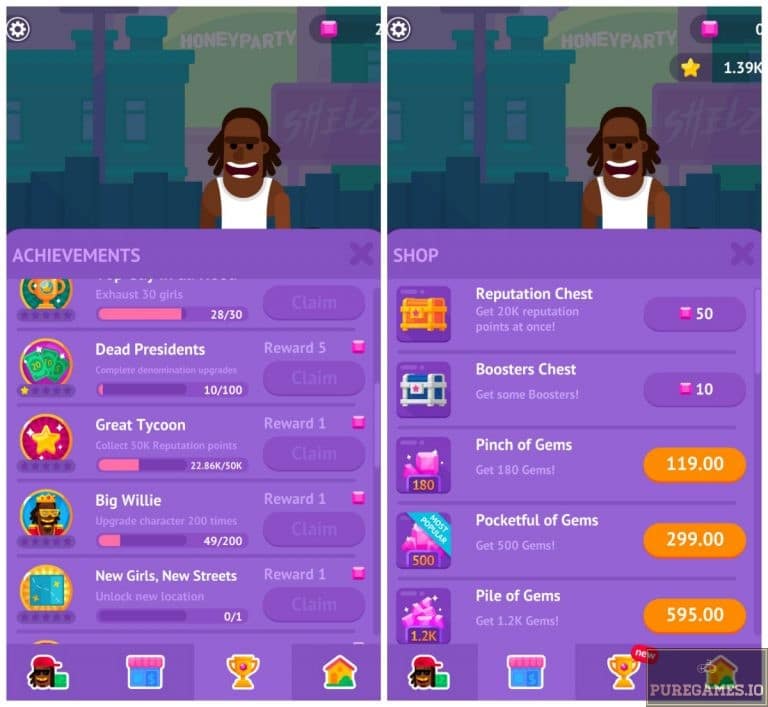 You might consider them premium but gems are easily obtainable. There's an overwhelming amount of Achievements that players can unlock and earn gems in return. Gems are also part of the game's in-app purchase or microtransactions.
The Downsides
The game is generally fun and addictive and I love how the game input some funny pop culture references too. The game will mock fun to various celebrities like Kim Kardashian,  Ariana Grande, The Shark Boy (from Katy Perry's Superbowl) and even Donald Trump. I also love the fact that stages are changing dynamically as you progress.
The downsides however are the annoying ads and seemingly overpriced in-app purchase. The offers to watch rewarded videos will keep on popping up which I find really distracting and annoying. The game notably offers this so-called "Diamond Membership", a fee-based feature that will charge gamer on a weekly basis. Personally, I don't think I am going to spend that much for an idle game.
Verdict
Developers described Partymasters as a fun idle game and I guess they never failed us on that part. It is simple yet incredibly fun and addictive indeed. If you love Idle games, then this game is truly worth a download!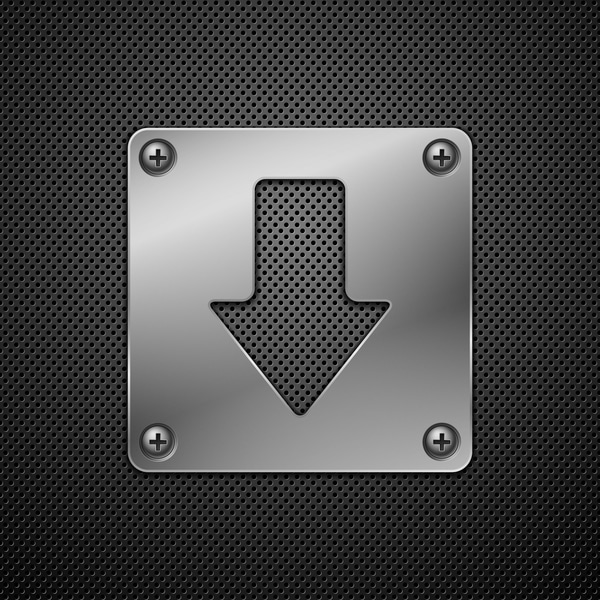 Download PartyMasters APK for Android/iOS
Select a file to download:
Download PartyMasters v1.2.3 APK