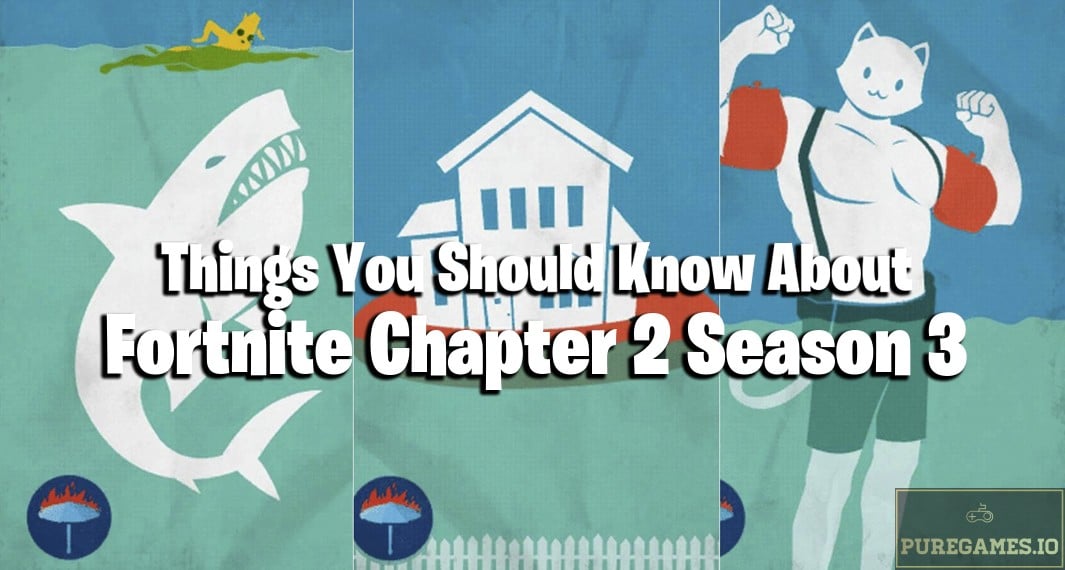 Supposedly, we should be exploring now the new season of the second chapter of Fortnite Battle Royale. However, due to the coronavirus outbreak, the release of the new season has been delayed and was later moved on June 4. The current season, however, will provide us some exciting upgrades that are absolutely worth exploring. We still have three weeks left before the new season arrives and we cannot blame you to feel all the excitement for the upcoming Fortnite Chapter 2 Season 3. Teasers within the game are starting to arrive and the anticipation is growing bigger. We gathered some Fortnite Chapter 2 Season 3 leaks from various reliable sources and most of which are absolutely making perfect sense and we just can't wait to experience it. Without further ado, here are some of the Season 3 leaks that we should look forward to.
THE ISLAND WILL SUBMERGE INTO WATER
One of the strongest rumors for Fortnite Chapter 2 Season 3 has something to deal with water. They even released three teaser posters showing a house floating on water, Meowscles on a waist-high water level, and a Jaws-inspired image. Some of the leaks state that a portion of the new map will submerge into the water. As you all know, the current chapter introduced us to many water-related activities including fishing, swimming and even riding a motorboat. The concept of a submerging island is not really impossible at all.
If you have been observing very keenly, you might have noticed some areas with No Sweat Insurance signboards which could probably play a huge role for the upcoming season. Rumors say that those properties with No Sweat Insurance signboard will be protected from the flood. The mysterious Pipe Man near the Misty Meadows could also contribute to this change with all the suspicious pipe constructions being laid out within the area. Some states that The Agency will be the one behind the disastrous flood too.
RIDEABLE SHARKS
Another interesting rumor as revealed by content creator Tabor Hill is something about Sharks. According to him based on his reliable source guy, Fortnite Chapter 2 Season 3 will introduce us to some rideable sharks. The current season allowed us to ride motorboats and choppers and riding sharks would be an interesting addition. This rumor can also be supported by one of the teaser posters revealed by Fortnite. The poster features Peely swimming with a giant shark beneath him. You can see pieces of these posters when you visit the No Sweat Insurance Building in Lazy Lake.
We are still now sure how exactly this rideable shark works. Is it armed with weapons too? Will it allow players to explore underwater structures? Remember one of the mysterious hidden bunkers in this season? It is located underwater and we can only see a glimpse of it. This structure might become accessible for the next Season! Who knows right?
AQUAMAN
Deadpool Battle Pass skin is a massive success. It's probably one of the best Marvel-Fortnite crossovers that we had so far. Interestingly, Fortnite Chapter 2 Season 3 is hinting us that they could possibly have a collaboration with DC. Since the upcoming season is teasing us about the possible submerging of the island, there is no other DC character that is more appropriate for such a disaster than Aquaman. It would be interesting to see this badass hero venturing Fortnite realm. It would be awesome to obtain his Skin along with other unique Aquaman-inspired perks as part of a secret Battle Pass skin bundle.  Imagine your character wielding his epic Trident of Neptune?
Aside from Aquaman, some leaks state that there will be a female Black Knight skin and as well as a robotic Meowscles.
A NEW PLAZA AND MINI GAMES
According to some rumors, the center of the map will soon give birth to a plaza. Some are hinting us that it could be the area where the Agency is currently situated. This could be some sort of Tilted Towers version of this new chapter. Regardless of where this plaza will be constructed, the most exciting parts of it are the minigames. Yes, players can now participate in minigames. We are not certain if this will be part of the Battle Royale campaign or they will add additional modes specifically for these types of activities.
According to the rumors, the minigames might include Skydiving, Quadbike racing, Parkour, and Boat racing. It would certainly be an interesting multiplayer campaign for this new season. We saw a race track for mowers near the Frenzy Farm too. Could this be a hint? Will Frenzy Farm turn into a plaza soon? We couldn't hide our excitement for this one.
CUSTOMIZABLE UMBRELLA AND FLARE GUN
Some leaks are telling us that there will be a customizable umbrella for the new season. This new season introduced us to the game's first-ever forged cosmetics through a Battle pass character named Maya. Having a customizable umbrella is not surprising at all. Umbrellas are mainly used as gliders for Fortnite and it would be interesting to have your own personalized glider in the game. It somehow gives your avatar a unique personality.
Another interesting possible addition is the flare gun.  Flare guns are mainly used to distress signal or warning but since we already have Ping functions that can inform your teammates that you have spotted enemies, the purpose of adding Flare gun doesn't make sense. Unless they will remove the Ping function for the upcoming season.
A VICTORY FOR SHADOWS
This is not really surprising but rumors are telling us that Shadows won over the Ghosts. The Grotto, for example, is a piece of evidence that Shadows are slowly taking over. The giant skull carved into the side of the mountain is an indication that Shadows are winning. You can also spot a bunch of Shadows signs all over the map. Anyway, it is probably too early to conclude and we still have more or less three weeks before this current season ends. Nevertheless, we are very excited about whatever Fortnite Chapter 2 Season 3 has to offer.
If you are not into Fortnite yet, it is not too late to explore this epic game. We have created the Ultimate Fortnite Beginner's Guide to help you get a great and epic start. Good luck!