| | |
| --- | --- |
| Publisher | NordCurrent |
| Platforms | Android 4.0.3 and up |
| Price | Free |
| Size | 77 MB |
| Latest Version | 2.7.2 |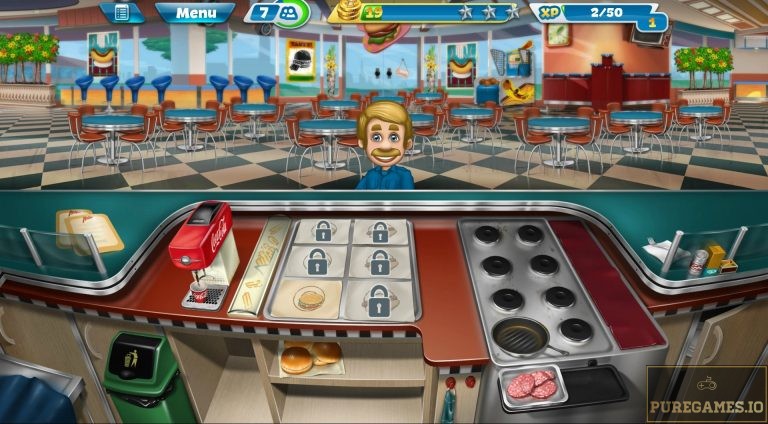 Prove the world that you really have what it takes to become the greatest chef! Cooking Fever takes you to an awesome journey of an aspiring chef. It takes you to a series of exciting levels that will surely test your skills at its best. Cooking Fever is a casual time management game in which your goal is to reach the target daily income. You will single-handedly operate a restaurant and you must provide all the customers' orders in time.
This fun and addictive Cooking Fever is game from Nordcurrent who's also behind other popular time-management games like Happy Chef, Happy Clinic and Sky Crew. With colorful details and fun cooking simulation, this game is truly a visual delight! If you think you have what it takes to become the greatest chef in town, feel free to play this game and see how far you can go.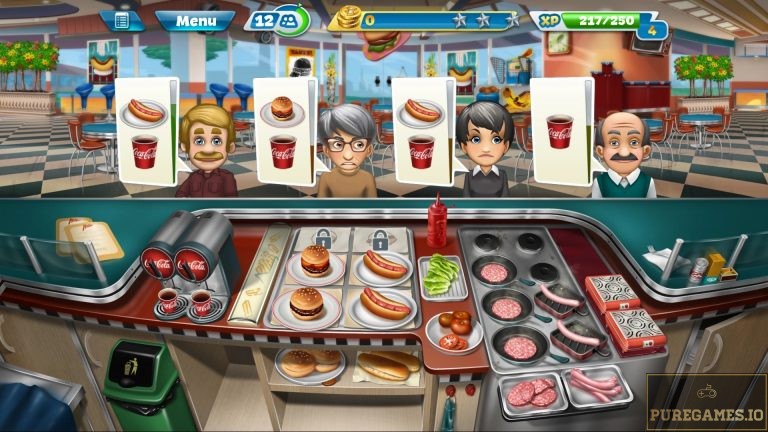 The Gameplay
Cooking Fever follows a very simple set of mechanics that are not different from any typical time management cooking games.  As soon as the game begins, it prompts you immediately to your working counter. The counter is basically divided into many working areas and each showcases different product or menu. The menu you offer is gradually growing as you progress. You start off with burgers and sandwiches but eventually, the restaurant will offer bigger items like rice meals and pizzas.
Like most time management games, Cooking Fever requires players to show off their impressive eye and hand coordination. This is basically a game of speed and you should be quick enough to finish the orders before customer walks out.  Failing to meet the target on time will give you no other option but to repeat the same level.
The controls are quite tricky.  Most items require a series of "Drag and Drop" actions while others are merely tap-based. Generally, you are going to deal with the same counter area so mastery is definitely a key to succeed in this challenge.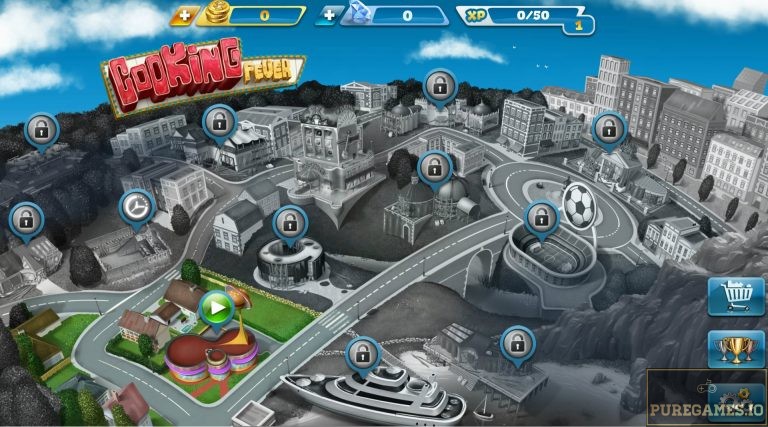 From Fast Food Court to World Class Restaurants
It is very interesting to note that this game has a remarkable longevity. The game starts off with a Fast Food court but as soon as you enter higher levels, you'll get a chance to transfer to bigger locations.  The game features a wide map showcasing all the locations you can unlock. This includes a Bakery, Breakfast Café, Sushi Restaurant, Indian Diner, Chinese Restaurant, Pizzeria, Seafood Bistro and many more. Each shop features different atmosphere and of course, a different set of menu and working area.
There's a series of levels to explore for each location. Each level is being rated from 1-3 stars depending on your overall performance. This particular score system provides this game a remarkable replay value. Take note that the more menu you offer, the more challenging the game will become. Customers are becoming more and more demanding and you must quickly serve their orders before the time runs out.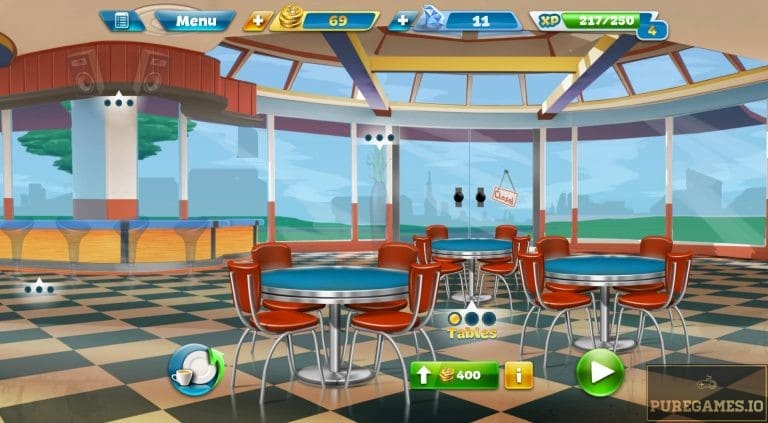 Upgrade System and Rewarded Tasks
The game has a very interesting upgrade system. Completing each level will reward you with virtual money and tips. The amount you can earn will also vary in terms of your overall performance. You can buy upgrades to basically increase your overall productivity. You can add capacity on your table top, add more frying pans, and upgrade dispensers to serve more. Interestingly, you can also upgrade your shop's interior to entertain customers and increase their patience while waiting. Each customer has a patience meter beside them, if they run out of it, they will walk out and you will lose an income too. You also have rewarded tasks. These tasks will give you prices in forms of gold or crystals (premium currency).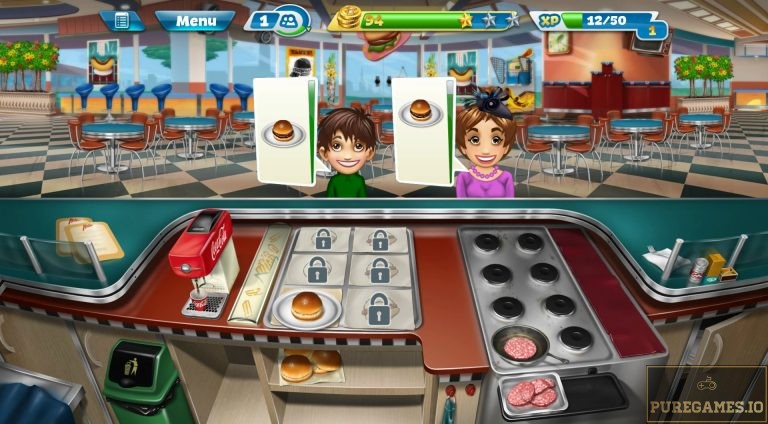 Verdict
The rate of difficulty in this game is drastically increasing as you progress. Each level will become more demanding and it forces you to act quicker to reach the goal in time. Multitasking is definitely something you should master to win this game. You must also pay attention to which customer to prioritized and which one to follow. Overall, Cooking Fever is absolutely fantastic in many aspects. It has visually stunning graphics that are perfectly matched with well-polished gameplay. It also has a commendable longevity and great amount of replay value.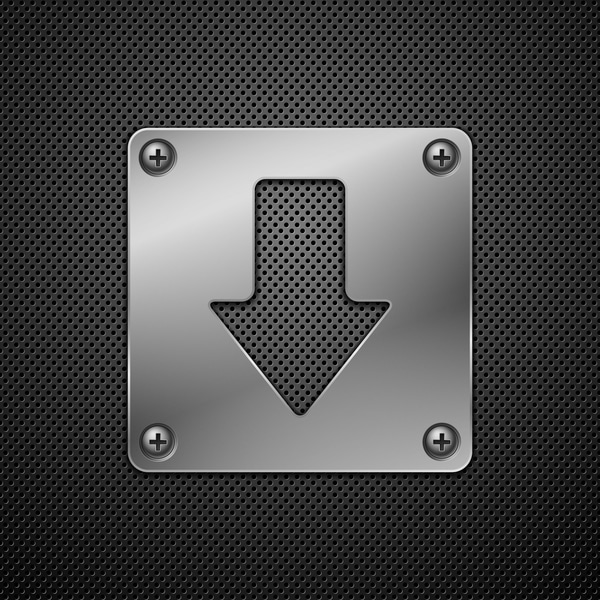 Download Cooking Fever APK for Android/iOS
Select a file to download:
Download Cooking Fever v2.7.2 APK