A Capcom licensed game for mobile? I'm pretty sure you have heard of "TEPPEN" or you've probably come across an ad showcasing this new game from Capcom and GungHo Online Entertainment. Capcom is seemingly very fond of making an ultimate crossover of their video games. There's the epic Capcom Versus fighting game series that features all of their iconic characters from Street Fighters to Resident Evil. TEPPEN is a new mobile game that takes you to the ever-growing Capcom universe. Although the game is seemingly advertised as a fighting game, TEPPEN is actually a card game but follows a deep storyline that is complimented with amazing visuals.
The Gameplay
Interestingly, TEPPEN follows a story of eight different heroes that are bounded by the same fate. Everyone crosses the same path and will battle their way up to the so-called Land of illusion to unravel the mystery and to discover the truth. If you are up for a creative story, TEPPEN delivers it masterfully. Each character has their own storyline which is all connected to each other. If Marvel has their own cinematic universe, Capcom developed their very own as well. This battle card game will feature characters from various Capcom franchises like Mega Man X, Street Fighter, Resident Evil, Devil May Cry, Monster Hunter, and Darkstalkers.
The mechanics for TEPPEN is quite complicated and requires a lot of mastery but once you get used to it, everything will be smoothly done. Here's how it works. Ryu is your first character in this game and his story will cover the training as well. As you enter your first battle, it takes you to the screen showcasing the two opposing characters. The standard battle interface features the image of your character on the left side and you opponent to another side. The center field is where the card battle will take place. Located below are the randomly generated cards from your personal deck.
Intense Card Battle
Each player has their own deck and each has its own function. Unit cards are cards you can summon on the battlefield to play both as offense and defense. You can summon a maximum of three unit cards per battle. Simply tap the unit card and drag them to any of the three slots above. Take note that you can only summon the unit cards if you get enough mana points. The mana bar will refill automatically at a certain time interval. Action cards, on the other hand, work like spell cards. To activate them, simply drag and drop them at the center.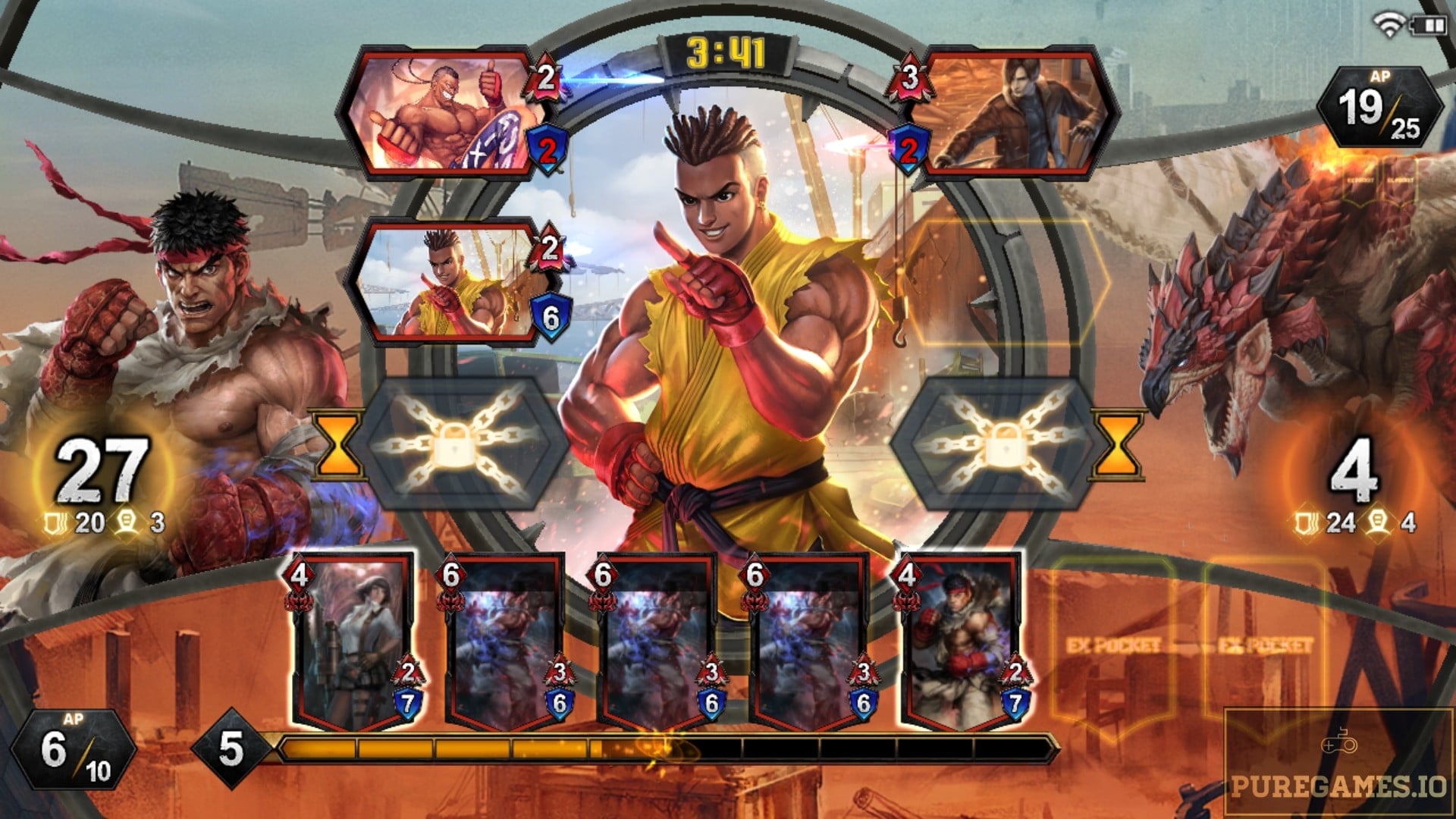 What makes action cards special is that opponents are given the option to counter-attack using their own action cards. You can also do the same when the enemy initiates the attack. Every action you make allows you to earn Action Points (AP) and once you have the target AP points, you can activate your Hero Arts. These are your signature special attack which you can use even without consuming mana. Hero Arts and their effects will vary depending on the character you are using. Each character has their own life points and you can only inflict direct damage to your enemy if his defense has been broken. If there is no available unit card to defend the player, the attack goes directly to him. You win the match if the opponent loses all the life points.
Explore Hero Stories and More Campaigns
Of course, the best part about TEPPEN is the compelling and creative story involving some of our favorite game characters. Generally, there are eight major characters in this game and each has their own creative story to explore. These characters include Ryu and Chun-li from Street Fighters, Albert Wesker and Jill Valentine from Resident Evil, Dante of Devil May Cry, Morrigan of Darkstalkers, X of Mega Man X and the dragons Nergigante and Rathalos from Monster Hunters. The game also releases character-centric episodes like Jill Valentine's Day of Nightmare.
Aside from the main campaign, TEPPEN also offers many other equally-engaging modes. Colosseum, for instance, is a campaign that allows you to enter Grand Prix for limited-time elimination battles while Battle Mode is where the PvP battle takes place which allows you to fight against another real-time online player. There's also a rank match that encourages you to win and climb the chart board while Free Matches allows you to fight against other players to test out your new decks. Speaking of which, players can also customize their own decks and add new cards which they can earn from various ways.
The Verdict
Those who have played battle card games like Hearthstone will surely find TEPPEN equally enjoying. Considering that it carries the company's name, more players will expect something grand. TEPPEN, however, is quite underwhelming at some point. We are probably aiming for an intense fighting game instead of a collectible card battle. What really makes this game so special is the remarkable graphics. TEPPEN is truly a visual delight. In fact, the illustration and CGI were notably better than Marvel Vs Capcom: Infinite. Overall, TEPPEN is truly worth a download and something you can confidently include on top of your game list. Just be mindful that the game requires huge space on your phone storage. Currently, TEPPEN is available for both Android and iOS devices and you can download this game for free. Have fun!