| | |
| --- | --- |
| Publisher | Mobileguru |
| Platforms | Android 4.0.3+ |
| Price | Free |
| Size | 17 M |
| Latest Version | 3.0.3169 |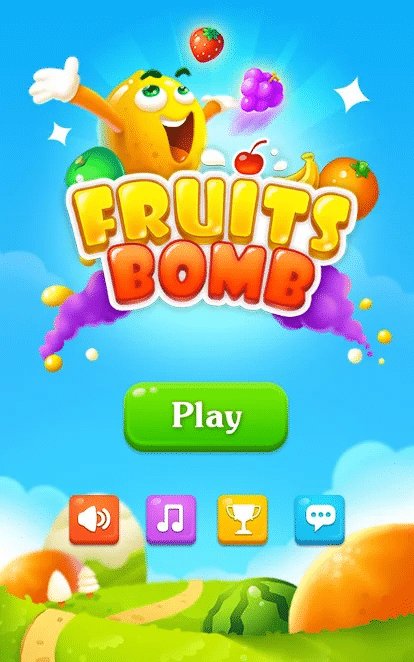 If you look on Google Play, you will find no shortage of match 3 games to select from. This raises the question as to whether a game like Fruits Bomb is worth downloading compared to other similar titles on Google Play. Fortunately, for both players and the developer, Mobile Guru, the answer is a resounding yes. With 10,000,000 downloads and great reviews, it seems that Fruits Bomb is worth the download.
Looking at how people seem to be having great fun with this game, I decided to give it a shot. I downloaded and started playing the game with no expectations whatsoever but ended up spending hours on it. I found myself addicted to the game in such a short time.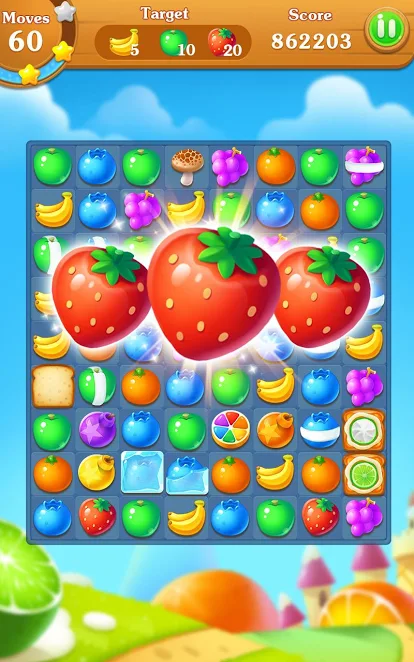 As mentioned earlier, Fruits Bomb is a match 3 game where you have to match three types of the same kind of fruit (make a line) to earn points and complete challenges. The fruits you have to match are oranges, blueberries, green apples and strawberries. When you make a line, that line disappears, make the one above it collapse to fill the empty space. 
The gist of the game is that you have moves at the beginning of each level. Every time you make a line, you lose a move. You have to be clever in the way you make lines. That way, you don't use up your moves before you complete the level's objective. Sometimes you get a timer instead of moves, which gives you unlimited moves until the timer runs out.
Causal and Addictive Gameplay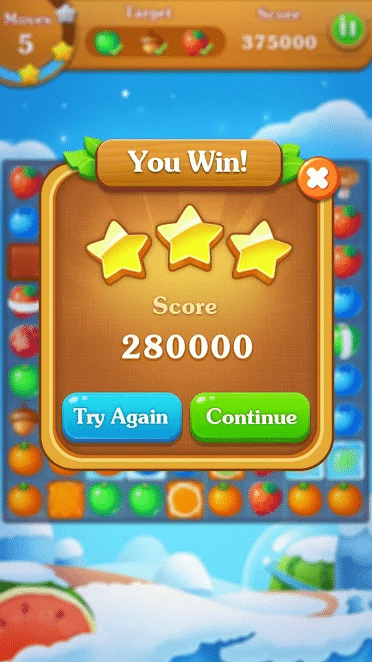 Fruits Bomb is a casual game, meaning it doesn't require much dedication to get a hang of it. If you find yourself bored at the office or on the train or bus, you can easily whip it out and complete a few levels to pass the time. But it is best to play it when you are completely free, otherwise, you might end up neglecting work or missing your stop because of its simple and engaging gameplay.
Each level has objectives that you have to complete in order to progress through the game. It is in these challenges that the game shines since it makes it fun and challenging. The challenges also add some variety to it so the gameplay doesn't get stale very quickly.
Unlock Special Fruit
Special fruits are what give you an edge when completing levels in Fruits Bomb. They are the best feature of the game. This is because they made me think of clever ways to match fruit in order to obtain them. Each special fruit has powers and I will explain them below.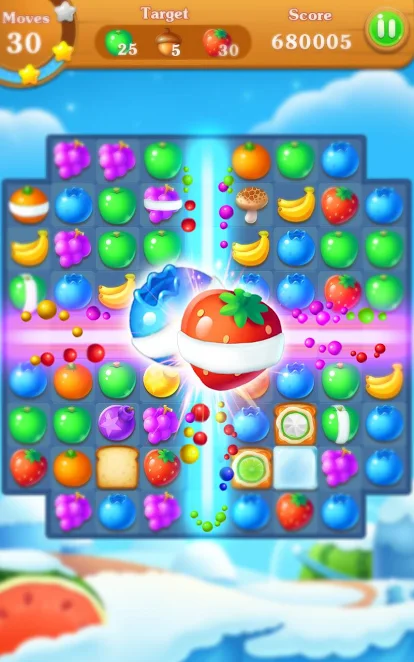 The first type of special fruit is the striped fruit, which you obtain by making a line of four fruits. If you line up four strawberries, you get a striped strawberry and so on with each and every fruit. When you make a line containing a striped fruit, you activate its power, allowing it to clear an entire column or row. Whether it clears a column or row depends on where the stripe is facing (vertically or horizontally).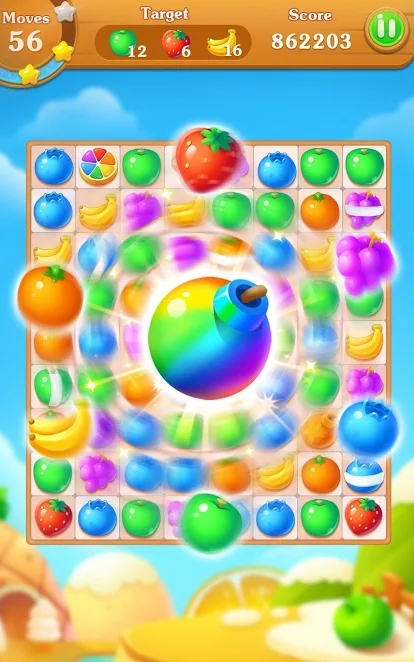 The second type of special fruit you will encounter is the fruit bomb, which you obtain by lining fruits vertically and horizontally (forming an L) at the same time. When you make a line containing the fruit bomb, it will unleash a powerful explosion that clears all the fruit next to it, which is perfect for challenges that need you to clear out blocks of ice.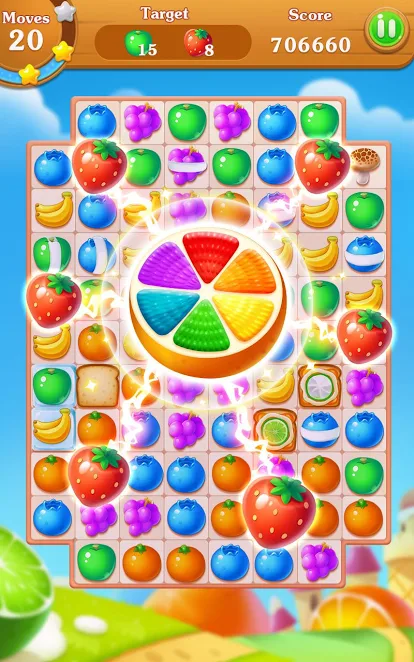 The last type of special fruit is the rainbow fruit, which you obtain by lining five fruits. This seemed a little hard to do at first, but once I got a hang of the game, I could create up to three rainbow fruits in a level. You can match the rainbow fruit with any fruit, and it will clear all the fruits of that type off of the screen. For example, if you match it with an apple, all apples will be cleared.
Bonus Time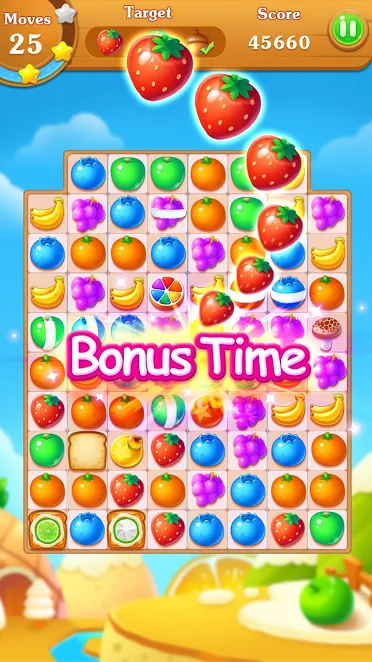 Once you complete the objective of a level and you didn't use all your moves, each move will be converted into a striped fruit. After the conversion, the striped fruit is automatically activated, allowing you to rack up bonus points. This made me want to complete levels in as little moves as possible. Also, if you have any special fruit left, it will also be activated and the points will be added to your total score.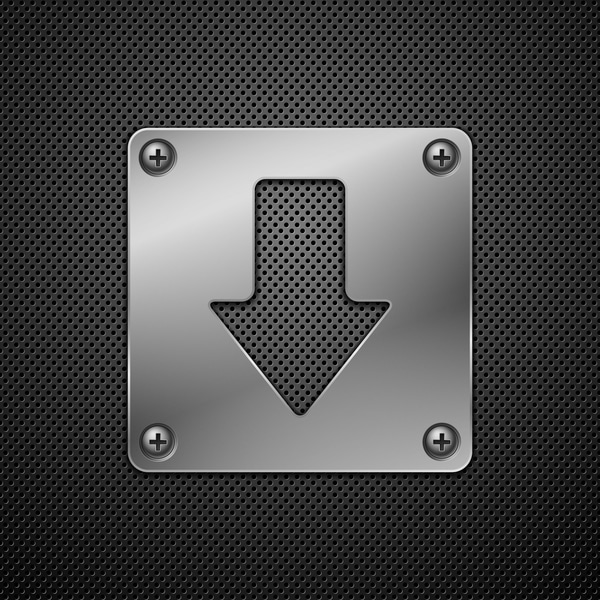 Download Fruits Bomb APK for Android/iOS
Select a file to download:
Download Fruits Bomb v3.2.3179 APK