| | |
| --- | --- |
| Publisher | First Touch Games |
| Platforms | Android 4.4 and up |
| Price | Free |
| Size | 96 MB |
| Latest Version | 1.751 |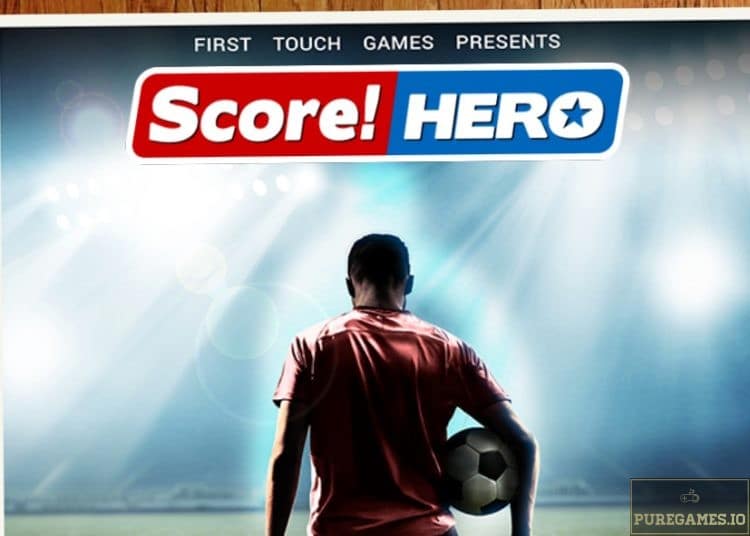 Score Hero takes you to a journey of an aspiring Soccer player as he tries to make his way to stardom. This game by First Touch features a very unique concept compare to typical soccer games that we used to play. The game will take you to a series of levels with varying rates of difficulties. The main objective is simple and very straightforward – score goals and wins!  Although you have one goal, each level takes you to different scenarios which require different strategies.
Score Hero is generally not a perfect soccer game per se but it gives you a unique soccer experience. With amazing graphics, visually appealing cut scenes and impressive voice overs which make you feel like watching a real game, Score Hero is generally a great sports game.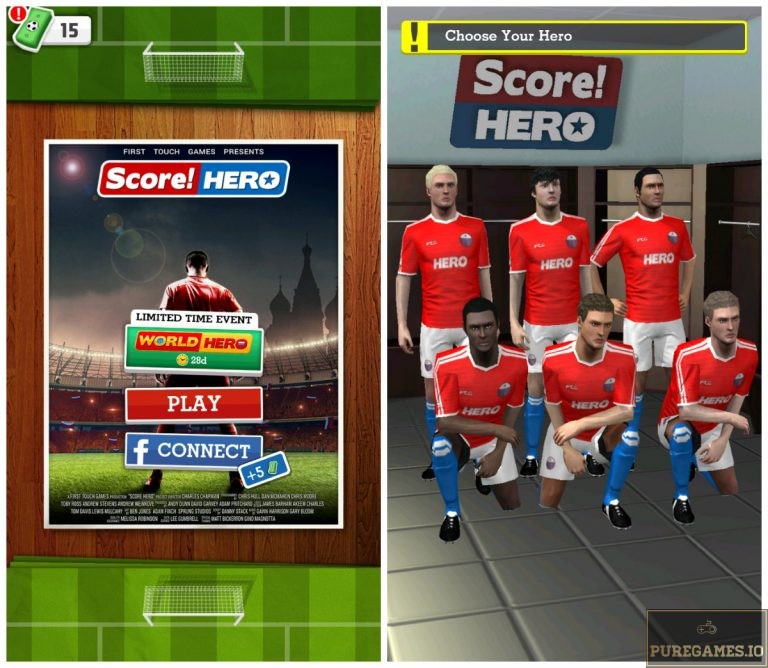 The Gameplay
The mechanics for this game are very simple yet players must still come up with an effective strategy to win. Interestingly, each level takes you to different scenarios. Some of which might take you to a one on one match, a direct free kick or an actual soccer match. Unlike the typical soccer games, Soccer Hero has fixed formation for each level and everyone in the game will only response based on your selected move. If you failed, the game will end and you have to start the same level back at the very beginning.
The controls are simple too. Since there's a fixed formation, you do not need to manually move the player around the field. It only requires you to either pass the ball to your team mate or kick the ball directly to the goal. In order to do so, you just have to draw a line towards your target (a team mate or the goal).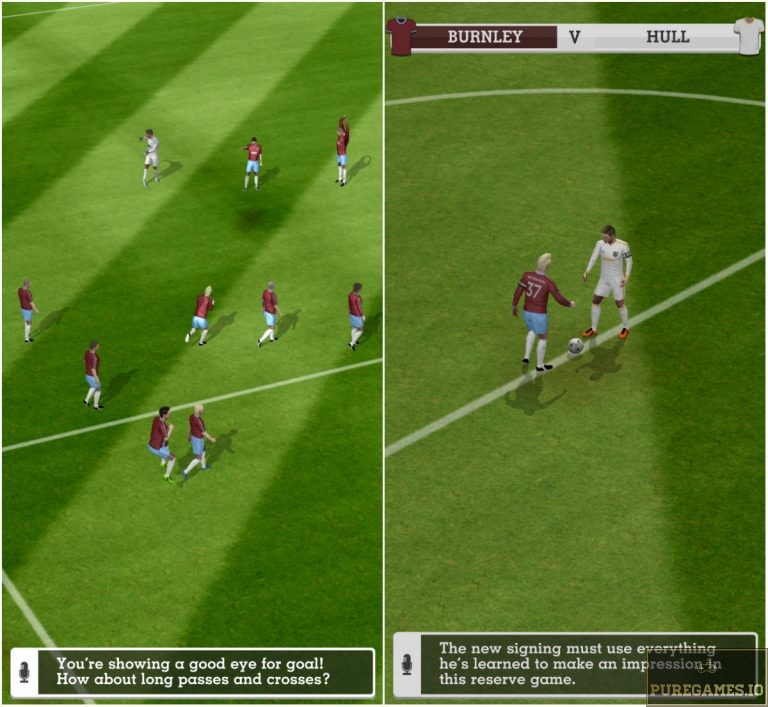 The main challenge is how to create a perfect strategy to score goal. Take note that opponents will respond in every move and they'll do everything to stop your team from scoring goals. You must calculate your movements carefully otherwise, you might find yourself playing the same level over and over again.
Consumable Energies and Rewind
Another unique element in this game is the Energy system. Located on the upper left corner of the screen is the Energy meter. Player loses an energy for each failed round and you only have 20 energies to consume (each heart is worth four energies). A heart refills every 18 minutes which gives you a total of 90 minutes in order to fill up the energy meter. You can however, refill them all instantly by paying 10 Cash (virtual money) or watch rewarded videos.
Interestingly, the game also allows you to rewind the previous action. This will prevent you from losing an energy but you must pay for 1 cash point for each usage. This is also where the microtrasaction effectively comes in.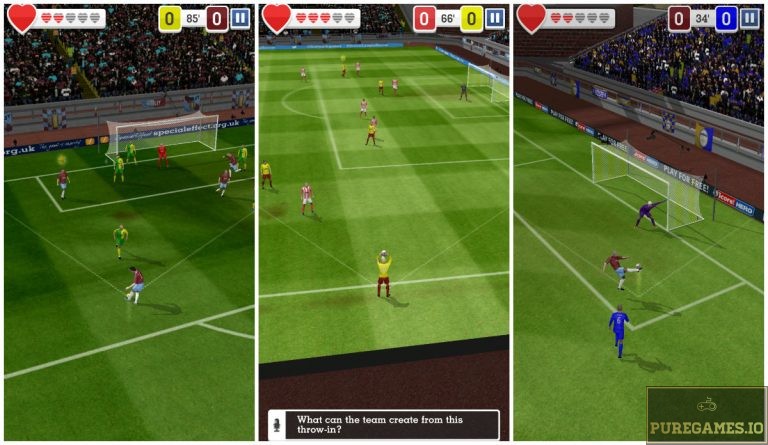 Realistic Commentary and Visually Appealing Graphics
One thing I love about the game is the impressive voice over or commentary. The comments will vary depending on your action and it makes you feel like being on an actual live game. If you don't like the commentaries or if you find it quite distracting, you can freely configure it on the Settings.
The game also boasts its impressive 3D presentation which is complimented with amazing cut scenes before and after each round. The animation provides a great support to the compelling plot that this game is trying to offer. I personally think that they give the game enough justice.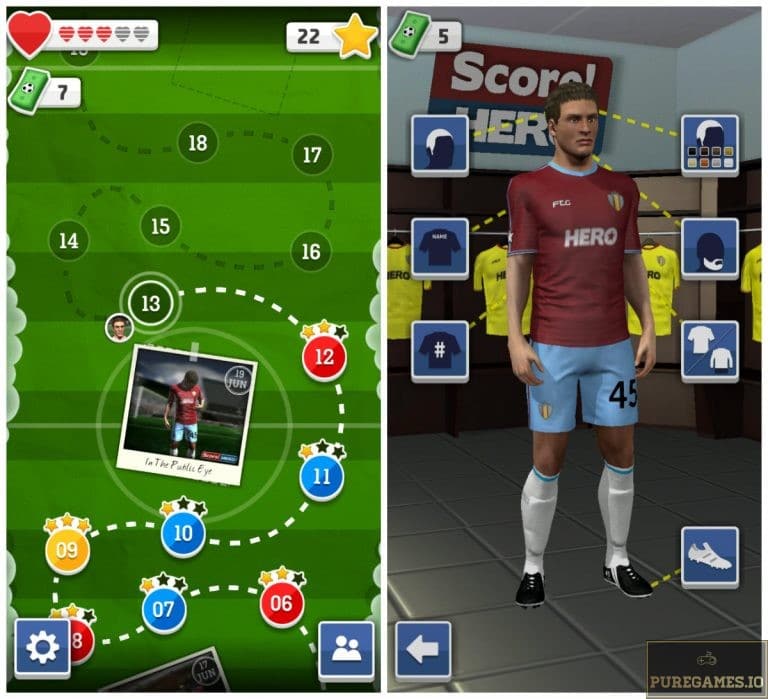 World Event and Friendly Match
The game also gives you access to the World Score mode which takes you to another tournament yet not part of the main storyline. It also allows you to compete with your friends by connecting the game to your Facebook account.
Other notable features of Score Hero include the ability to customize the player's appearance. You can purchase brand new uniform (from head to toe) using the virtual currency that you can earn from each successful match.
Verdict
The game has an interesting concept and undeniably unique but Score Hero has some downsides too. Each level is rated from 1 to 3 Stars but the game will not mention anything about your specific goal until you clear the actual level. Therefore, if you want to get the 3 Stars, you have no option but to start the same level again. Other than that, Score Hero is indeed an interesting sports game that you will surely enjoy!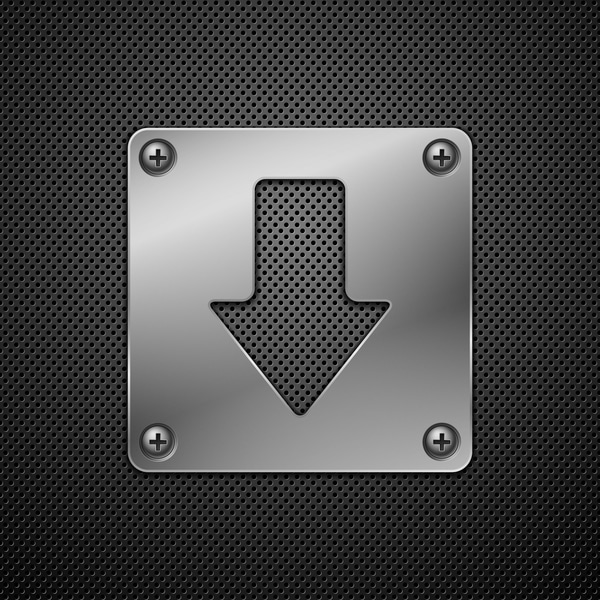 Download Score Hero APK for Android/iOS
Select a file to download:
Download Score Hero v1.751 APK