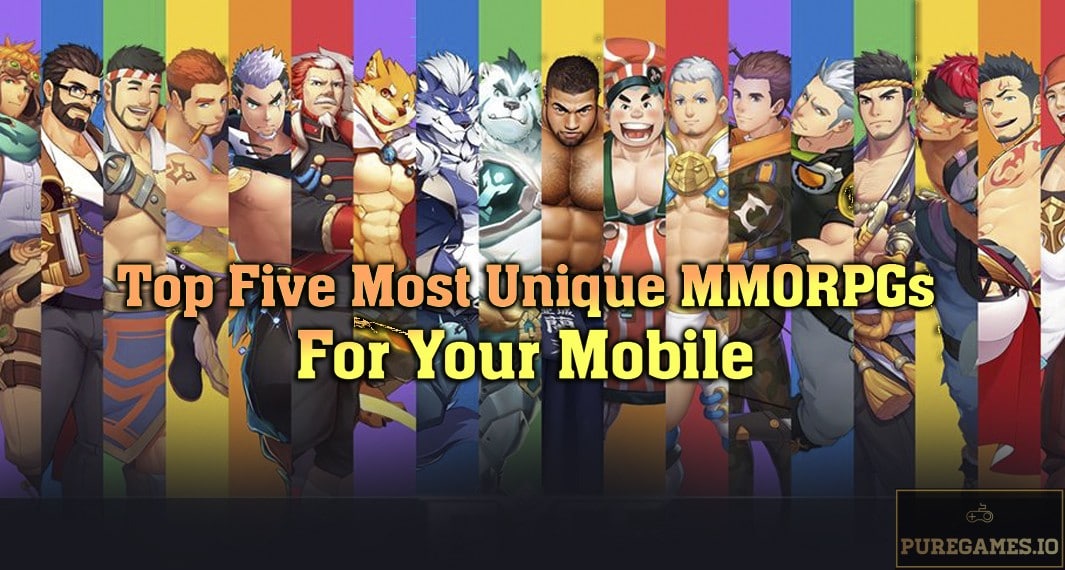 There are so many types of MMORPGs available on the mobile market today. Each comes with its own gameplay but most of the time, they are formulaic. Some games will replicate the same format which only compromises its own originality. Interestingly, we still have some decent MMORPGs that offer an extremely unique concept which makes them absolutely worth exploring. Today, we are listing down five of the most unique MMORPGs in the market today. These games are special in their own way so without any further ado, here are five of the most unique MMORPGs you should be playing right now.
GYEE – Most Unique Target Market
GYEE stands out for one reason, it is a superb MMORPG that is mainly targeted for the LGBTQ community. It is developed by Kiwifruit Studio and it takes you to the virtual world known as Luxium. The game follows a story of a guy who finds himself in a new world filled with magic and mystery. In this world, your character will encounter human-like creatures known as Gyee that can grant you power and assistance to defeat the Shadowbeasts. Your goal is to fulfill your destiny and bring the world back to its former glory. The game provides lots of symbolism to address notable issues regarding the LGBTQ community including the discrimination. It is an interesting approach and definitely one of a kind.
Aside from the very unique target market, GYEE also provides well-polished gameplay that is simply beyond expectations. The mechanics of the game are generally simple yet surprisingly tricky and challenging. Those who love role-playing games that provide an equal focus to both the game and the story, GYEE managed to pull it off. In the entire course of the game, the player will be asked to enter a series of battles, explore the world of Luxium, interact with an overwhelming number of characters, bond with Gyees and engage yourself in a series of interesting quests. It generally captures all the exciting RPG elements that we all love and enjoy.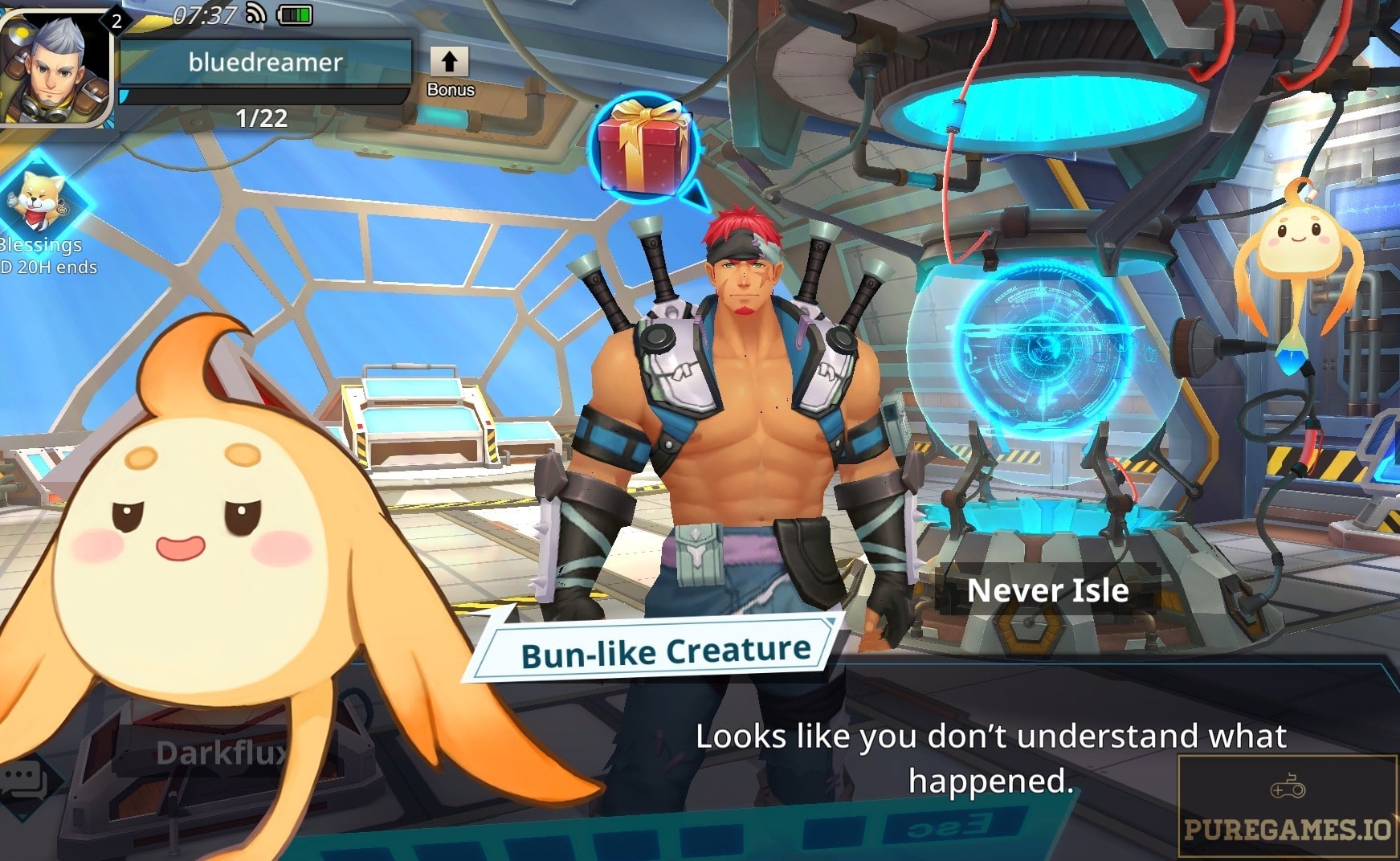 Above all, this game comes with a great gacha system. Using the Contract Stones (which you can obtain daily), you can summon Gyees. There are two ways to discover Gyees. First is through the story itself. As you progress, you will be introduced to some of the main characters who will soon become your companions. Second is through the Gate of Pact (the gacha system). Here, you can summon supplies including the Gyee Image. Once you have collected enough Gyee Image, you can summon the Gyee and make it part of your valuable team. You can only deploy a maximum of four gyees per battle so make sure to pull off an ideal team and utilize the best of their skills. The game has over 30 different Gyees to unlock. Each of them can be upgraded to make them more efficient in every battle and to maximize your chances of winning.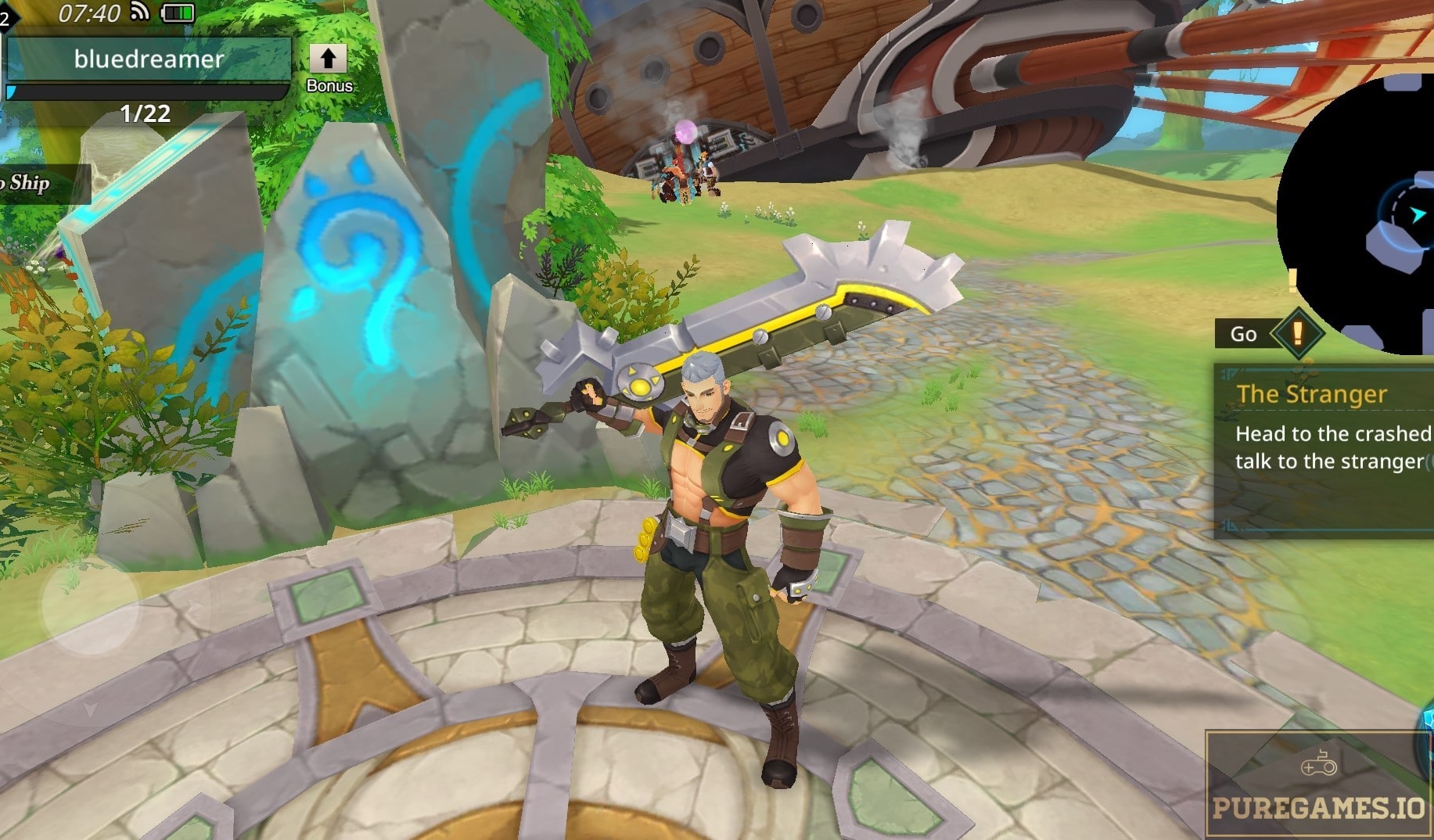 The battle system for this game is turn-based. Each character has their own skillset which consumes a certain amount of Mana. The Flux-Combo, however, is one of the elements that make the combat system distinctive. This allows your team to attack the enemies together in one turn. Appearance-wise, Gyee is an absolute visual delight. The game treats you with remarkable visuals and impressive character designs. There's a great diversity with the characters and each comes with their own identity and personality. With such a unique concept, well-polished gameplay, compelling plot, and remarkable visuals, Gyee is absolutely worth exploring regardless if you are part of the LGBTQ community or not. Currently, this game is available for both Android and iOS devices and you can download this remarkable MMORPG absolutely for free.
Utopia: Origin – Most Unique Adapted Gameplay
As far as the gameplay is concerned, Utopia: Origin is not really original but the execution is definitely something you cannot find elsewhere. Utopia: Origin is a 3D MMORPG that is merely inspired by Minecraft. The game captures all the elements that Minecraft has including the survival, the crafting system, the day and night cycle, and many more. If you are going to transform the classic Minecraft game of Mojang to something more realistic and more visually striking, you will probably get Utopia: Origin. Minecraft has been cloned many times by different developers. They have added their own takes but most of the time, they will remain faithful to its classic pixel-art environment. This is exactly what makes Utopia: Origin unique above the rest.
The game is more likely a combination of different games. Aside from Minecraft, you might see some notable similarities with games like Last Day on Earth (except the existence of zombies). If Minecraft has lurking zombies in the dark, this game has magical creatures. It is interesting to note that the game comes with two game modes; the chaos mode and peace mode. Chaos mode takes you to a challenging environment filled with wild and hostile creatures day and night while Peace Mode, as what the title of the game suggests, will take you to a less-challenging where hostile creatures only spawn at night. Peace and Chaos are basically the counterpart modes of Minecraft's Creative and Survival modes.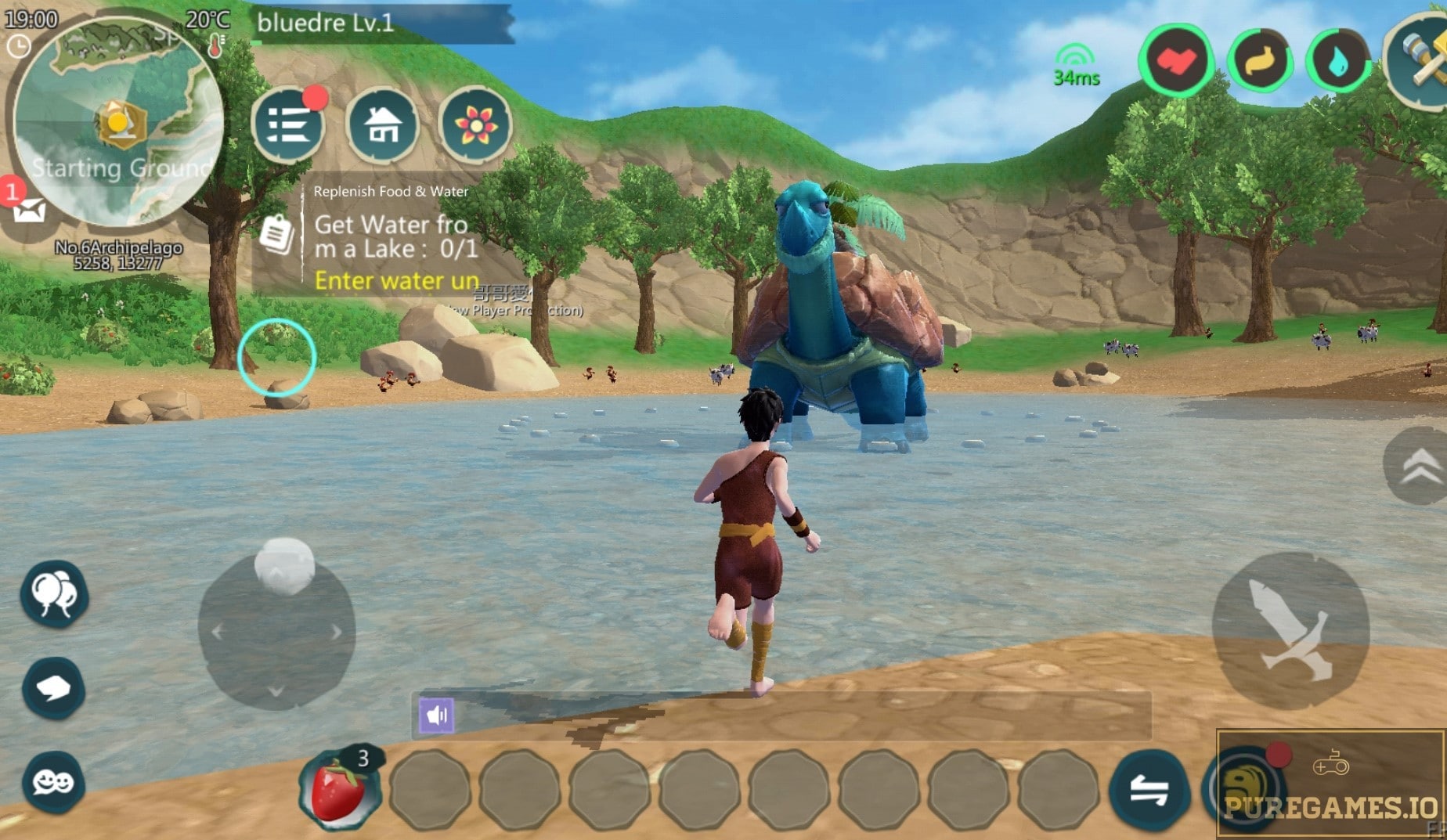 After creating your character, you will be prompted immediately to the Mainland. Like Minecraft, the character will start from the very scratch. You have to build tools by gathering materials from resources. The game has a very simple yet stunning interface. You can navigate around the 3D map using the virtual joypad and interact with your environment using the tap-based buttons on the bottom right of the game screen. There is a Hotbar where you can assign actions or items for easy command. Although you can do almost anything in this game, players are still encouraged to complete quests to progress. The tasks will most likely ask the players to gather materials, craft, and kill mobs.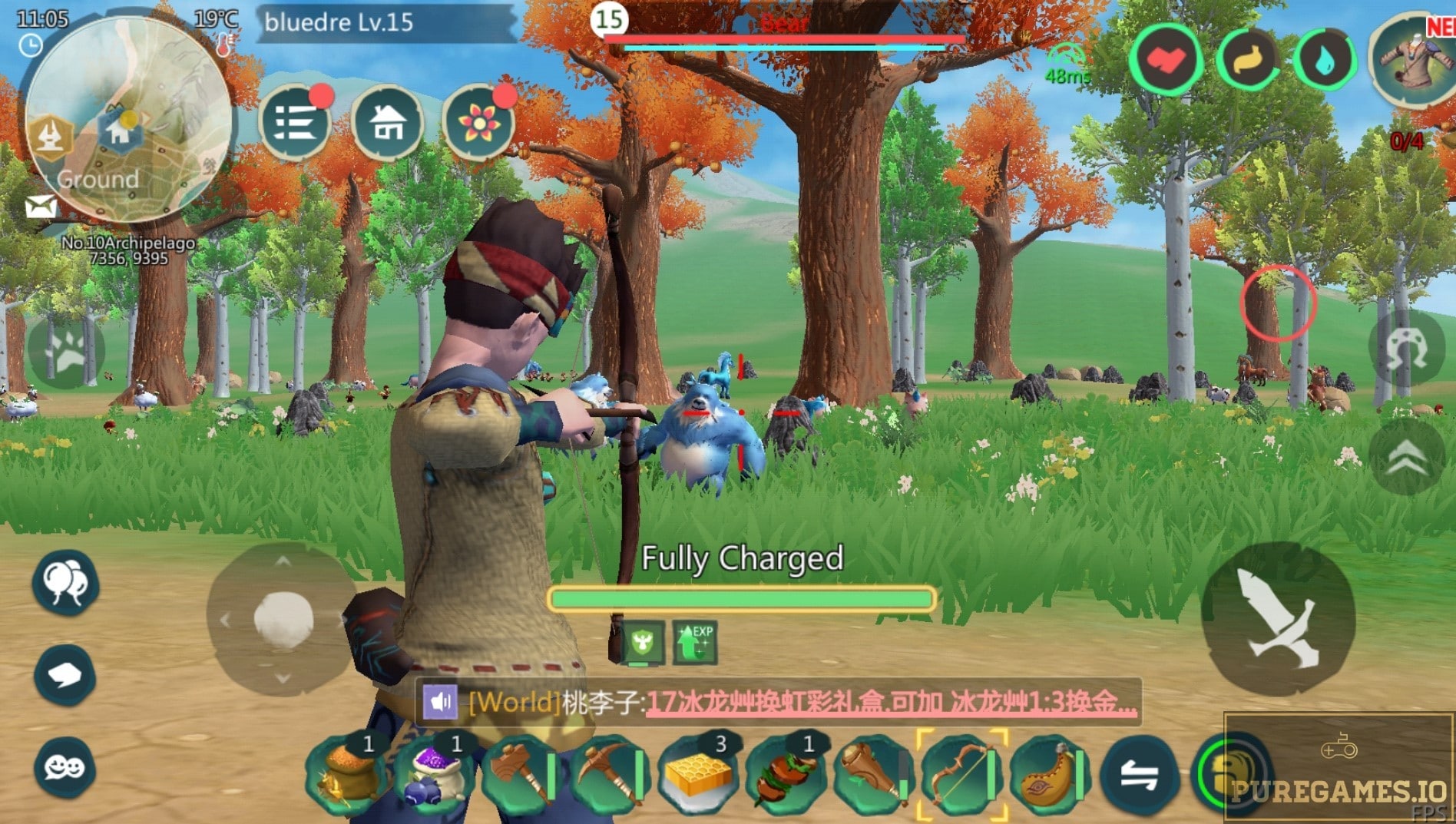 Crafting plays a crucial role in this game. You have many forms of resources and you can build new materials out of them from weapons to gear. The game also features a mount and pet system. You can tame horses and summon animals to accompany you in your battle. There is no Auto Quest system in this game so you have to manually search for the items and fight against mobs in skillful way possible. You can equip your character with melee and long-ranged weapons and you also have different equipment for a different purpose (axes are made to cut trees and mine ores and stones). You have three types of weapons to use. A melee weapon that can stun enemies and a couple of long-ranged weapons that comes with a trick. Bow requires arrows (which you must craft) while wand requires you to learn spells. There is a comprehensive spellbook that you should master to use your weapon effectively.
Utopia: Origin also has a shelter system that allows you to build your own house, create storage for your materials, and many others that are simply beyond expectations. There's also a PvP campaign which you can access through Chaos mode. Currently, this game is available for both Android and iOS devices and you can download Utopia: Origin absolutely for free.
RPG MO – Most Unique Retro-Inspired MMORPG
2D and pixel-art MMORPG are seemingly in-demand on the mobile market today. The nostalgic experience is simply amazing as it reminds us of those old-school video games that we all used to love. Some of these retro-inspired games will capture most of the classic RPG elements that we grew up with while others remained faithful in giving us the classic pixelated interface. RPG MO, on the other hand, will give us all the nostalgic elements we can ever imagine. It is more like an emulated version of a classic video game but surprisingly not. Developed by MarxGames , RPG MO will instantly remind you of those critically acclaimed RPG video games like Legend of Zelda and Final Fantasy. There are just too many things to explore in this game and it has captured every classic RPG element that we all loved and enjoyed.
The game comes with a formulaic objective, it takes you to an epic adventure where you take control of your chosen hero and explore and open-world while fighting against a seemingly interminable number of enemies along the way. Unlike typical RPG, this game comes with no class selection but you will still start the game with expansive character customization. After creating your character, the game will take you to the virtual realm. The game demands for a long training to familiarize yourself with all the things you can do. This is not your typical RPG that will focus on battle and quest completion. The scope of RPG MO is surprisingly wide that covers various activities like crafting, farming, monster taming, mining, dungeon crawling, and many more.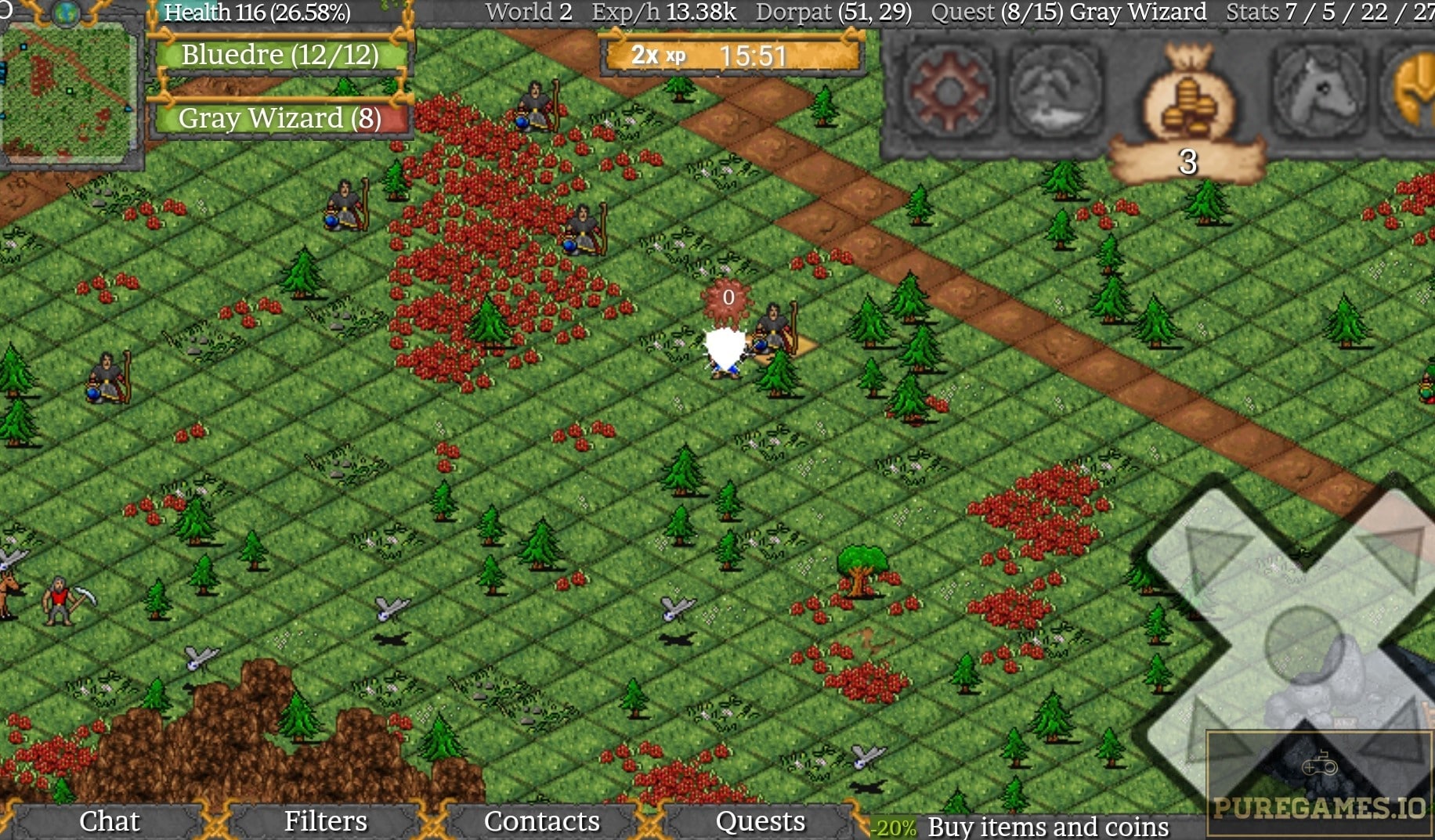 The game indeed has a comprehensive crafting system, forging, farming, mining, alchemy, fishing, and many more. You can navigate around the map and gather materials from various resources. Players can cut down trees to collect logs, destroy rocks to collect stone, and many others. Interestingly, the game comes with multiple quest system. The quests are categorized as Kill Quest, Party, and Achievements. Kill Quest often requires you to kill a certain number of specific enemies while Party quests will ask you to join or create an existing team of players and perform certain tasks to win rewards in return. While most MMORPGs will rely mainly on automated features and fast-paced gameplay, RPG MO will put the grinding system at its forefront.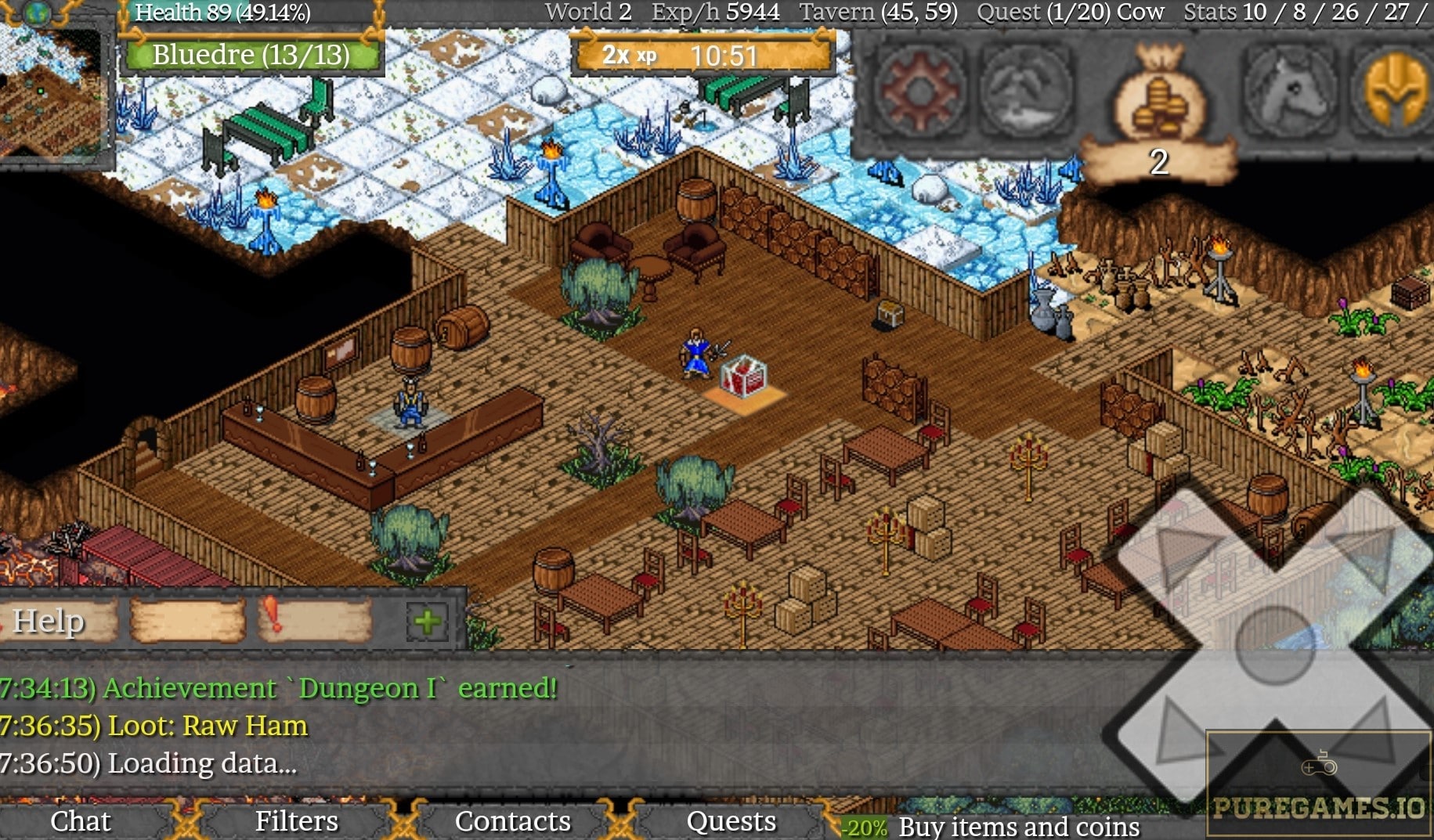 Therefore, higher levels are earned through extreme hard work and effort. The game also has an interesting Minecraft vibe on it as it allows you to build your own shelter using various materials you collected. There's also a unique Inventory System where you can store items on chests and prevent yourself from losing them in case you get killed in the process. As far as the multiplayer element is concerned, players can access both PvP and PvE campaigns through cooperative dungeon raids, tournaments, and trading systems. Appearance-wise, RPG MO takes you to a very nostalgic environment. Presented in a classic isometric perspective with pixelated colorful details to match its retro-inspired theme. It is also accompanied by a well-fitting sound effect to complete your nostalgic RPG experience.
Honkai Impact 3 – Most Unique Gameplay
Honkai Impact 3 is probably one of the most impressive MMORPGs on the mobile market today and it is not a bold claim at all. This MMORPG is almost made to perfection with superb graphics, an incredible story, and well-polished gameplay. In fact, the quality of this game is so impressive that you wouldn't believe you are actually playing such an action-packed game on your mobile. This 3D action RPG will surely surpass all our expectations and is obviously way far better than its predecessors. The game follows a story of Kiana Kaslana, a member of an elite force called "Valkyrie Unit" and her mission to defeat the invasive enemy force known as the Honkai.
So what really makes Honkai Impact 3 unique and special above all MMORPG that falls into the same category? Well, the gameplay for Honkai Impact 3 is simply exceptional as it managed to combine various game elements. Generally, most of the battles in this game will be performed in a standard hack-and-slash format. However, during the battle, you have the ability to switch from one playable character to another. Through the game's gacha system, you can summon and recruit new heroes and make them part of your squad. Each hero comes with their own ability, strengths, and weaknesses. To win a battle, you must establish an effective strategy by utilizing the heroes' skills. Honkai Impact 3 is one of the few games that do not embrace auto-battle feature which means, you must exert the best of your visual reflexes and show off your impressive eye and hand coordination to win more efficiently.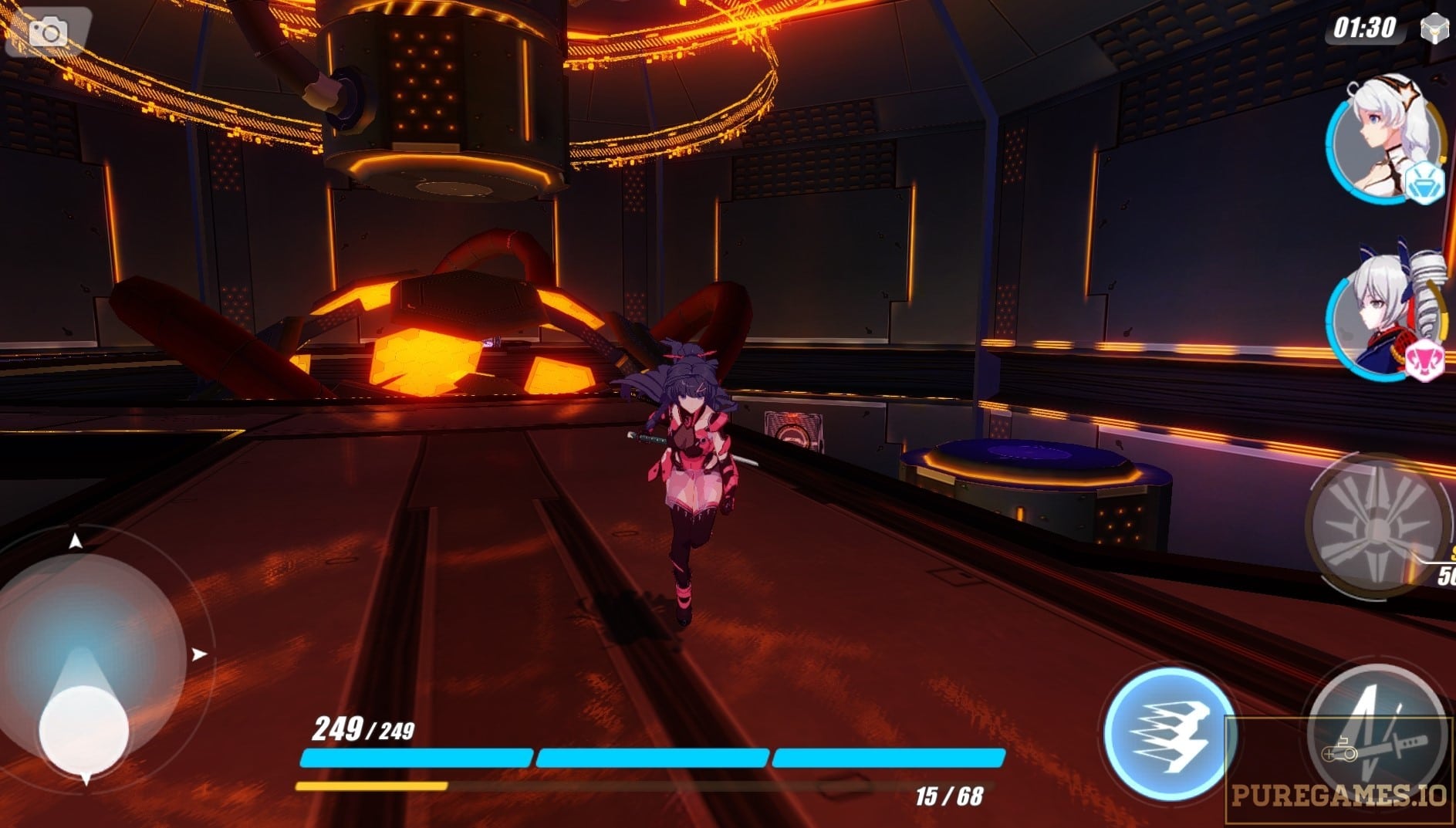 Interestingly, this game is more than just hack and slash. Honkai Impact 3 will also feature various game elements like platforming and dungeon exploring. The game will switch to another perspective from time to time. You might find yourself exploring a side-scrolling map then eventually switch back to 3D. There are many equally-engaging elements in this game that you can explore depending on the game mode you pick. The game offers both multiplayer and single-player game modes with gameplay expanding to dungeon crawling to social simulation. To top it all, the game also features an in-game crafting system that allows you to increase your character's attributes as well as obtaining the so-called Stigmata, a special equipment your heroes can equip to dramatically increase their power and skills.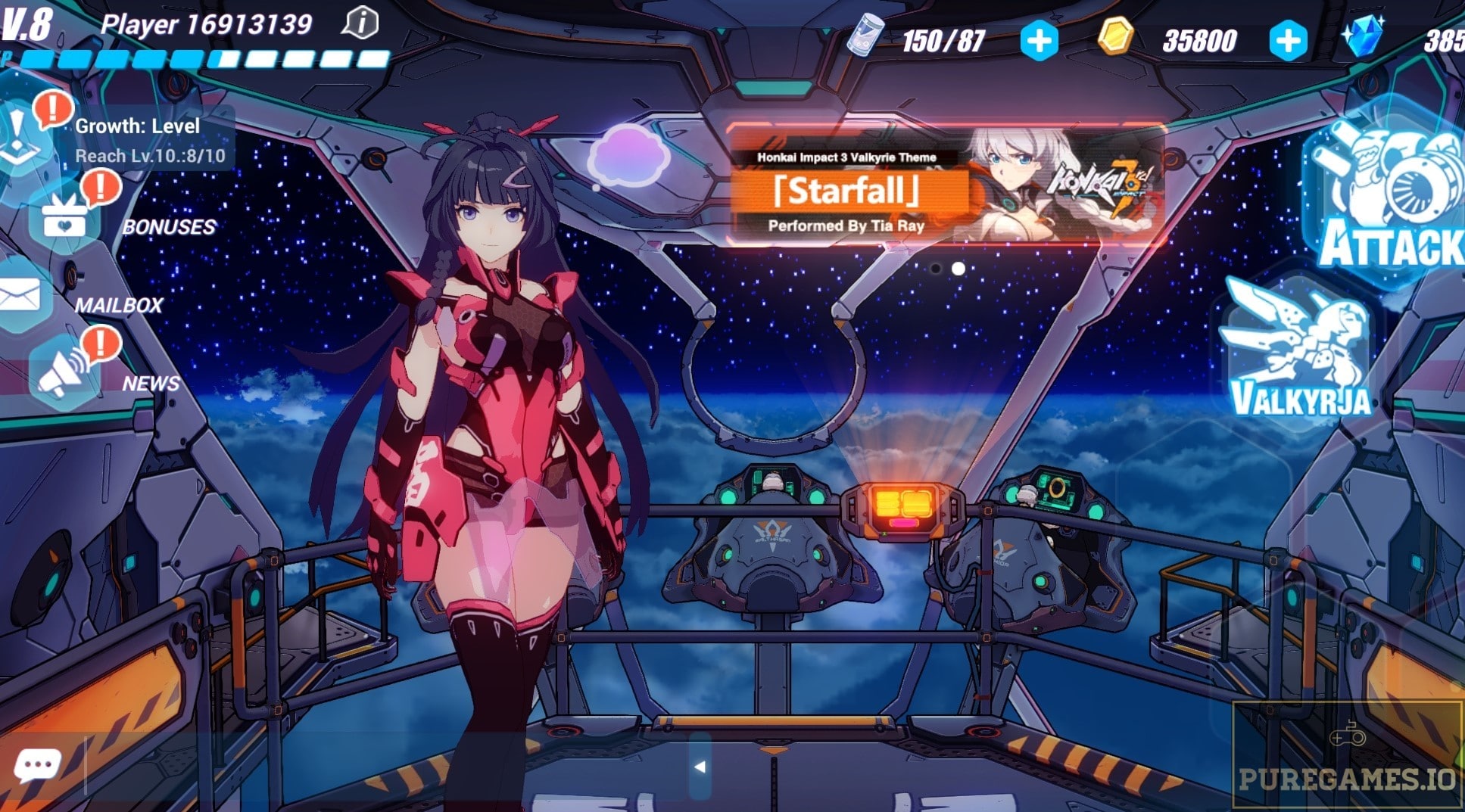 Of course, the game will not be categorized as MMORPG without its multiplayer elements. Honkai Impact 3 offers both cooperative battles (PvE) and PvP which allows you to fight against other real-time online players. Game modes like Memorial Arena and Dirac Sea will give you access to the game's multiplayer campaign. You can also explore mini-games and even a Battle Royale mode. Appearance-wise, Honkai Impact 3 is an absolute visual delight providing you with incredible graphics, impressive character designs, commendable voice-overs, and well-fitting music and audio effects. Just make sure you have decent storage on your device to install this epic game. Currently, Honkai Impact 3 is available for both Android and iOS devices and you can download this game for free. Cheers!
AdventureQuest 3D – Most Unique Story
Role-playing games are often associated with their storylines. However, with so many RPGs in the market today, most of the plot is almost the same and formulaic. AdventureQuest was able to establish a great reputation and has gathered a huge fan based ever since the game was launched as a browser-based MMORPG in the early 2000s. Created by Artix Entertainment, AdventureQuest started as a simple 2D RPG that was presented in less-appealing visuals. However, the reason why it became a massive hit is the unique story that is wonderfully merged with humor and comedy. It has become a trademark for Artix Entertainment. Now that we are in a mobile gaming era, Artix developed a new AdventureQuest game with vast of wonderful changes yet remaining faithful to their iconic story incorporated with funny humor.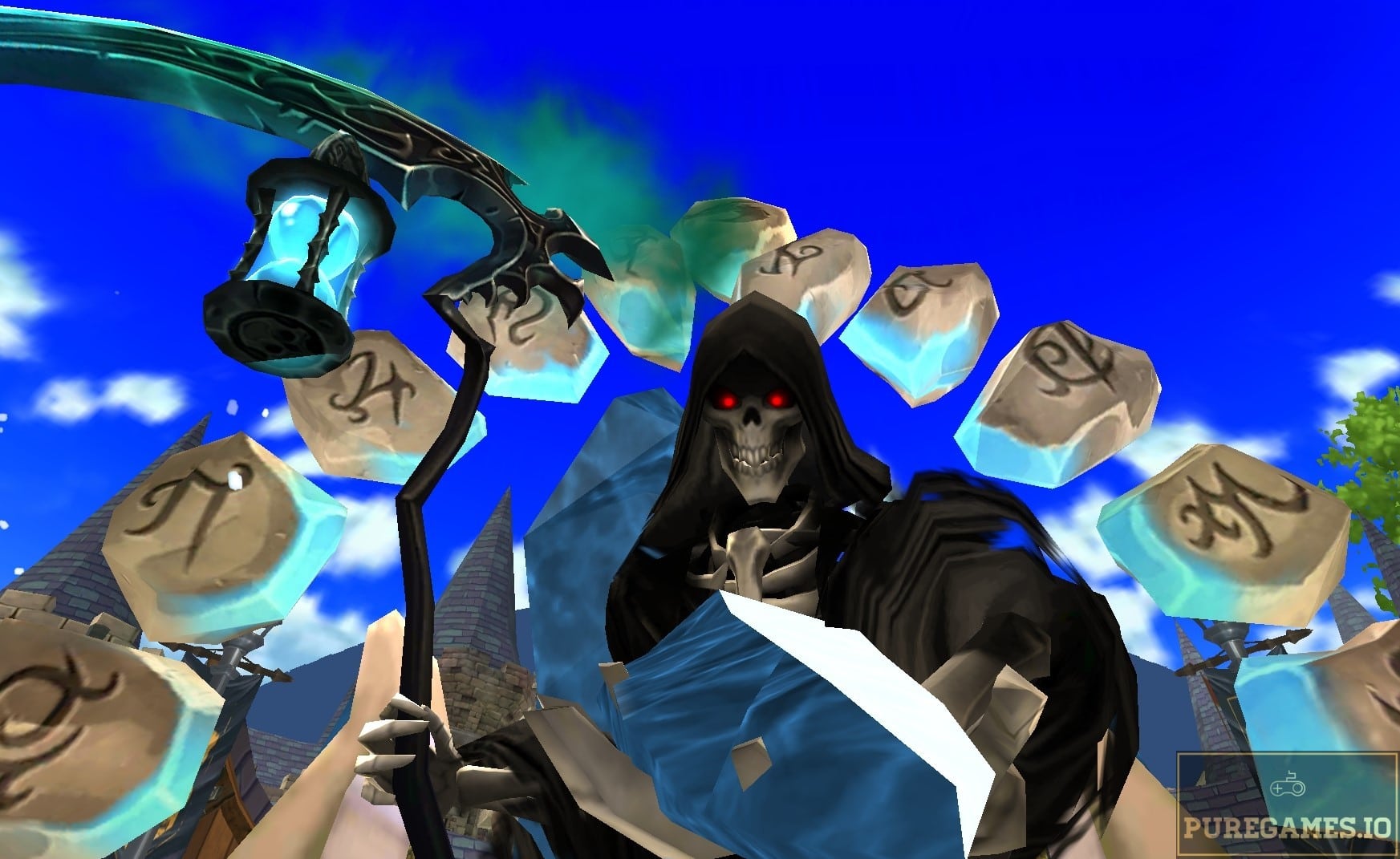 AdventureQuest 3D follows a story of a fallen hero who finds himself trapped into hell. Luckily for him, Death lost his Key to the Land of the dead and was stolen by another creature named Vane the Voidking. Death has chosen you as his champion and you must help him retrieve the key in exchange for a new life. As you encountered Vane, you were overwhelmed by his power and easily got defeated. You were thrown far far away (in a very hilarious way I must say) and eventually found yourself in the land of Battleon where your journey will start to take place. The goal is to defeat the Voidking and the only way to do so is to retrieve the legendary weapon. However, you must collect all the runes first. Your journey will become more and more challenging as you progress.
The impressive 3D graphics of this game is a big leap from its predecessor. In the entire course of the game, the player will be asked to accept quests and navigate the open world, perform various tasks and fight against different creatures. Unlike most MMORPGs today, AdventureQuest 3D will not rely on Auto-play features. Navigation and Combat were both done manually which adds a decent challenge in this game. You can freely navigate the immersive 3D map but to progress, you still have to follow the tasks that your quest dictates. Since the game has no Auto-quest system, you have to manually reach the required areas. You can use the coordinates and the yellow arrow guide to help you track your next destination.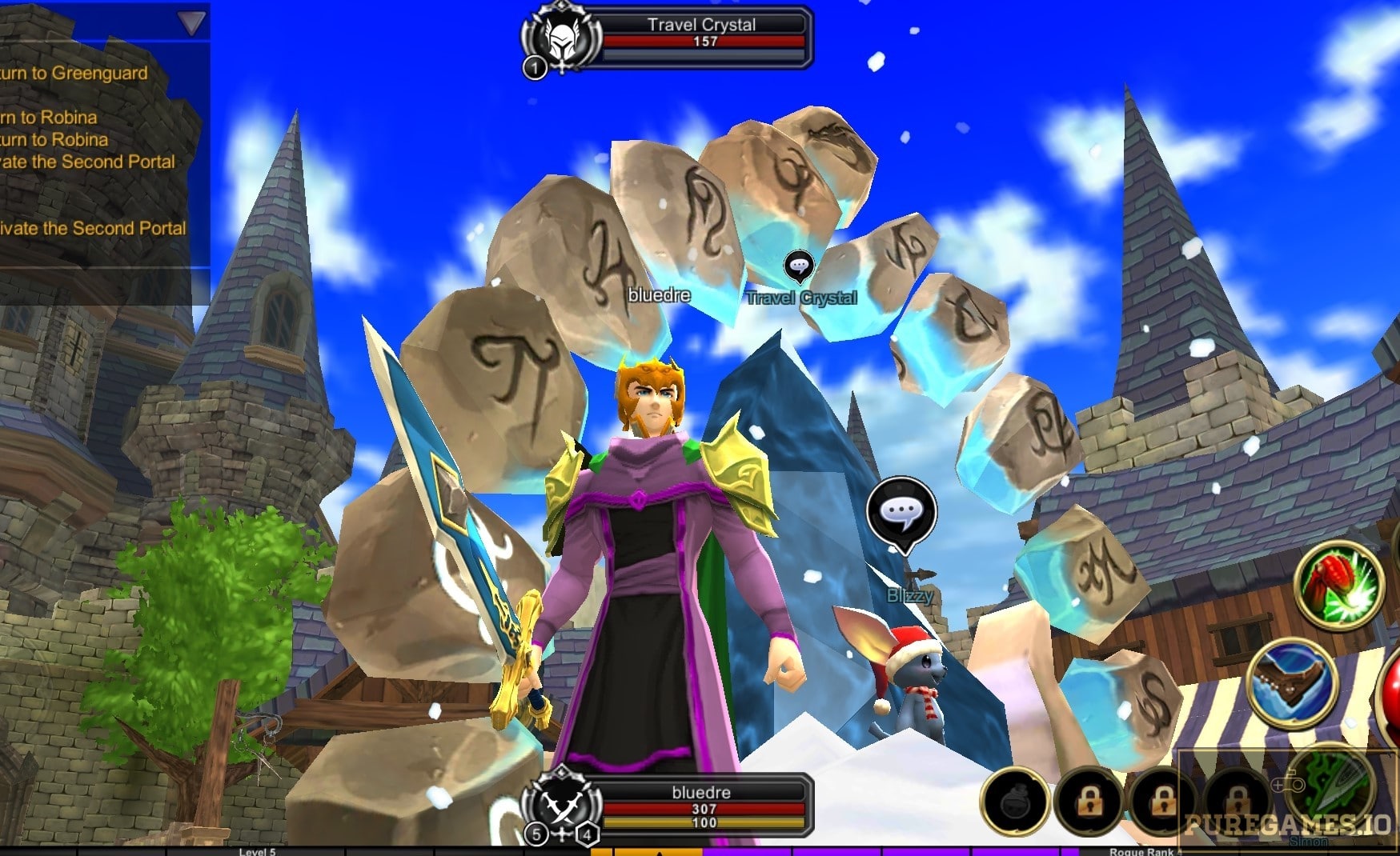 Combat is merely skill-based. You are given with tap-based buttons to execute your skills. Another impressive element in this game is the ability to customize your hero and give it a unique appearance like no other. Unlike most MMORPG that comes with default gear set and armors, AdventureQuest 3D gives you freedom. Most gear and armors are obtained through looting and as long as you are on the right level, you can equip these items right away and see how your character transforms itself into a good-looking hero. The game also has a party system that allows you to invite other real-time online players and let them accompany you in your mission. Players can also add other players on their friend list and take advantage of the chat system to communicate and you can even summon or teleport your friend to your current location. Dungeon raids and boss battles may welcome up to 20 players. If you are looking for a great MMORPG with a creative story that is absolutely worth exploring, AdventureQuest 3D is an ideal candidate.