| | |
| --- | --- |
| Publisher | Words Mobile |
| Platforms | Android 4.0 and up |
| Price | Free |
| Size | 20 MB |
| Latest Version | 1.0.9 |
If you are looking for an epic stealth game that will surely put your skills on a great test, Prison Escape is definitely a perfect candidate. As what the title of the game suggests, your main objective in this game is to help your character breakthrough a large prison. Apparently, your character was sentenced to death for a crime that you didn't do. Now, you must desperately find your way out by befriending inmates and by fighting against gangsters just to earn their trust. If you think you are skillful enough to escape the prison without being killed, feel free to explore Prison Escape and see how far you can go.
The Gameplay
It's very rare to see a decent Stealth game today and luckily, Words Mobile's Prison Escape managed to deliver an excellent gameplay. The mechanics for this game are very simple yet surprisingly tricky. Your main objective is to help your character escape the prison and this game is more than just passing through obstacles or solving puzzles. The game takes you to a 3D prison world which you can freely explore. Simply wander around the prison and interact with your fellow inmates. In the entire course of this game, the player will be asked to complete various quests given by your inmates.
Prison Escape features basic game controls. You move around the 3D map using the virtual joypad. Located on the far right side of the game screen are some tap-based buttons that allow you to shoot or kill enemies with your knife, examine and interact with objects, chat with people and switch from one weapon to another. It is also interesting to note that you will encounter various puzzles in this game as well as some lockpicking challenges in order to progress with your mission. The game, however, is filled with extreme violence which makes Prison Escape not suitable for young gamers.
Escape The Prison
I guess the title of the game is pretty clear to identify what exactly your main mission is. Your main goal is to escape the prison but this is not going to be easy. The prison comes with an extreme security system and is also fully guarded which makes your escape an absolute challenge. You have to complete more than 30 action-packed missions to finally get out. Your character will be asked to interact with certain people within the prison compound and you will be asked to fight against a different group of gangsters. It is also important to note that you must be cautious with your action. If you accidentally hit an inmate, whether he is part of the quest or not, they will be triggered and they will attack you right away.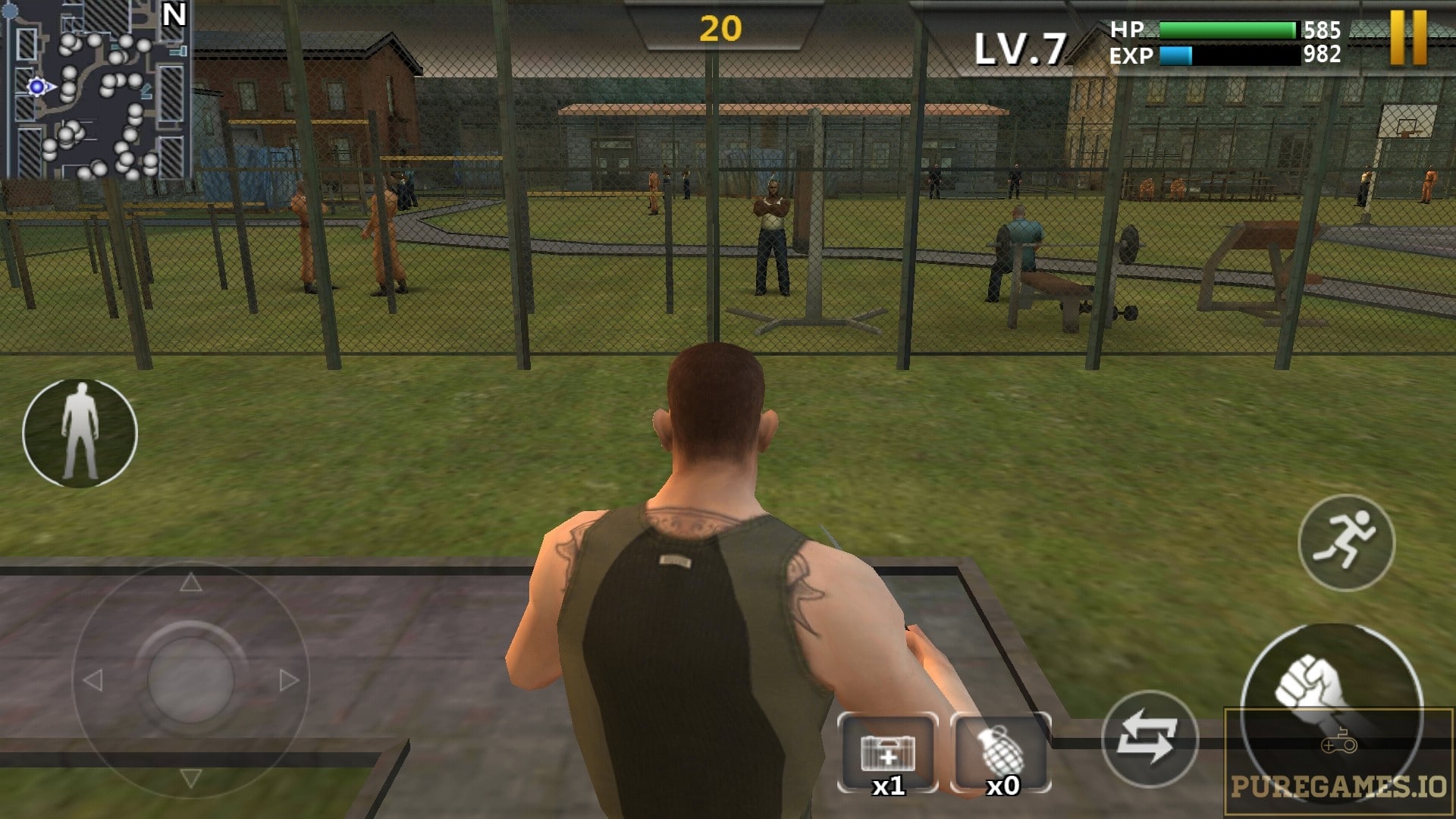 The prison's alarm system will also put your stealth skills on a great test. If you still remember how the classic Syphon Filter works then you should know how the triggered alarm systems can put you in danger. Once detected, it will alarm all the guards within the area and they will search and try to kill you instantly. Stealth plays a crucial role in this game. In most instances, you will be asked to go on stealth mode to kill nearby enemies, otherwise, if you get caught, the mission will fail and you have no other option but to start the same mission back from the very beginning. If you get killed, the game will still ask you if you want to revive the character and start from where you left off by either paying virtual cash or watching reward videos in exchange.
Survival Mode and Achievements
Weapons will definitely play an important role in Prison Escape. Your default weapon is your knife but eventually, you will earn other weapons in various ways. Most of which can be bought through Armor shop while others can be earned through Daily Login Bonuses and Spin Rewards. To make your character more efficient, you can upgrade the weapons individually to improve their basic attributes. To top it all, you are also allowed to upgrade your character's skills. Simply head over to the main menu and tap on the Skills bar. This prompt you to the Skill Page and you can select which attributes you want to upgrade. It often requires both cash and honor to perform upgrades.
You can also take advantage of the game's reward system. Players can earn rewards through Daily Tasks, Achievements, Lucky Draw, and Sign in Bonuses. Once you have gained enough level, you will soon unlock the Survive Mode. In this campaign, you will be prompted on the same prison but with an endless number of enemies to deal with. The goal is to get the highest score as possible by killing as many foes as you can. You can freely roam around the compound and access many buildings.
The Verdict
Prison Escape is truly a fantastic stealth game. We haven't seen a decent game of such genre for a while and it's really surprising that this game offers an impressive quality without consuming much of your phone's storage. Appearance-wise, Prison Escape is an absolute visual delight. It will actually remind you of those classic action video games in higher gaming platforms. Best of all, the game works well even without Internet connections and ads are also inputted cleverly and moderately. If you are looking for an action game that offers both amazing quality and well-polished gameplay, Prison Escape is a perfect fit. The game is currently only available for Android devices and you can download it absolutely for free. Good luck!