| | |
| --- | --- |
| Publisher | NetEase Games |
| Platforms | Android 4.0 and up |
| Price | Free |
| Size | 52 MB |
| Latest Version | 1.163895.171312 |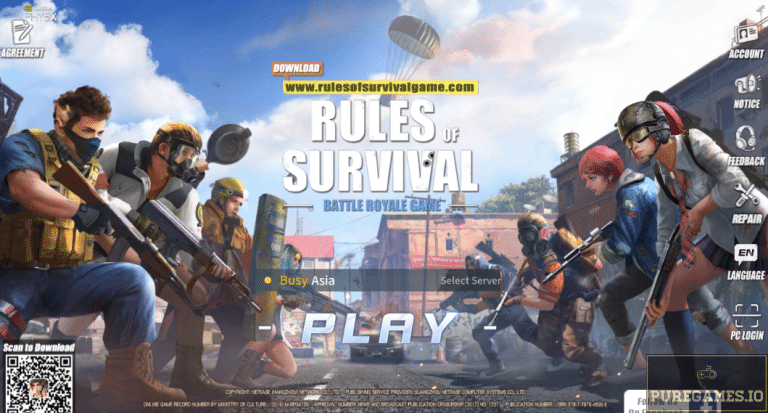 Battle Royale games are starting to dominate the mobile app stores. Two of the leading games from this genre today include PUBG (PlayerUnknown Battleground) and Fortnite. While the competition between them is becoming truly intense, here comes another Battle Royale mobile app that is equally engaging. Rules of Survival is another free-to-play multiplayer battle royale game published by NetEase, the company behind Westward Journey Online series.
With superb quality, visually stunning graphics and smooth gameplay, Rules Of Survival is becoming a strong contender in this particular game genre. Basically, the game follows the same objective! Your goal is to be the last man standing. All players will be deployed in a remote island and you must find your way to survive. If you think you are skillful enough to win this game, feel free to play Rules of Survival and see how far your skills can take you.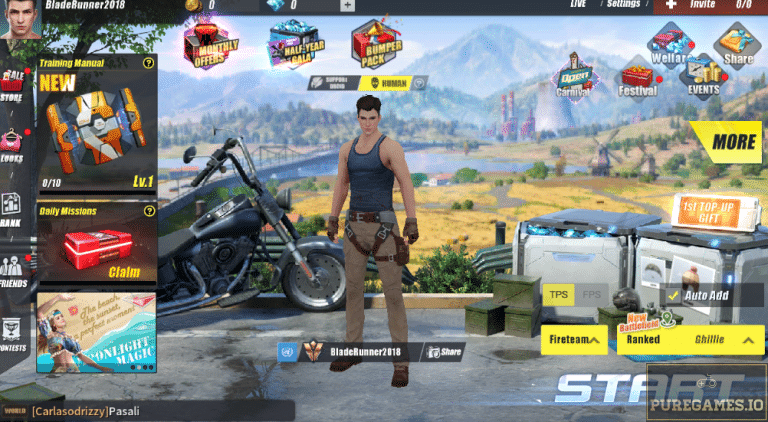 The Gameplay
Similar to PUBG and Fortnite, the mechanics of Rules of Survival are simple yet tricky and challenging. The game starts by creating your own character. Once done, you can now proceed with the actual game. Much like any battle royale game, players will undergo different phases in this game.  If PUBG has C-130 Plane and Fortnite has a so-called Battle Bus, Rules of Survival has an Osprey Aircraft. The Aircraft will deploy all the 120 players on a remote island known as Ghillie.
There are 15 locations in this map and players will parachute down in their desired landing point. After landing, you are now set on a survival battle but you must hunt for weapons first in order to protect yourself. Unlike Fortnite, you'll start the game with no weapon at all. You must scavenge abandoned buildings and collect as many types of loot as possible. All the 120 players will fight against each other in a shrinking battle zone. Whoever survives the battle wins the game!
The controls are simple. You can freely navigate the entire map using the virtual joystick. You swipe the screen to aim and use the tap-based buttons to shoot and interact. The Eye Icon allows you to look around without the need to move your character. This enables players to check any incoming or hiding enemies nearby.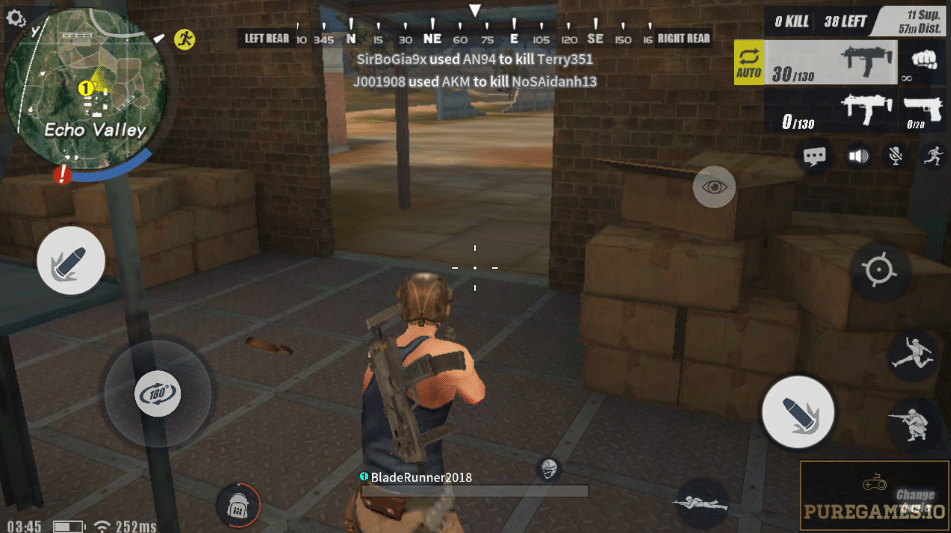 A Game of Strategy
Rules of Survival will definitely put your skills on a test. Unlike other Battle Royale games, players are not being marked on the map which makes it challenging to detect incoming enemies. Therefore, players must observe very keenly and must come up with an effective strategy to maximize his chances of survival. Attentive listening plays a crucial part in this game. A suspicious sound might indicate an enemy nearby so you better take advantage of that situation.
Interestingly, you can also use vehicles like cars and motorcycles. This allows you to travel from one location to another much faster. Although it provides you a quick transport and a temporary protection, it makes you a vulnerable target to everyone. Stealth is your key to survive in this game. If you arm yourself  with a strong weapon, you can easily deal great damage to your enemy without being noticed. Flash hider or Silencer helps your character to become less traceable to enemies.
What makes the game even more challenging is the shrinking battle zone. As the area shrinks, the battle will become more intense and hiding may no longer be an effective option to survive.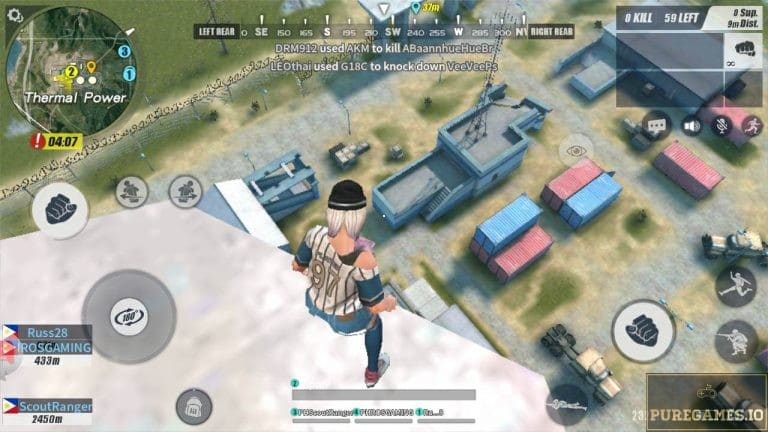 Modes that will Suit your Play style
Rules of Survival offers a lot of game modes to choose from. Players can select their preferred mode that fits their game style. Players can play Solo, Duos or Squad. As what the titles suggest; Solo is a single player campaign that allows you to battle against all players. Duos allows you to have a partner against other teams of two while Squads takes you and other 3 members on a battle field. There's also a Fireteam Mode, Blitzkrieg, FPS Ranked , Gold, Diamonds and Custom Mode for the players to choose from.
The game also has an Upgrade System and also the ability to customize your characters. There's also ongoing Events you can participate. You can also connect with Friends and interact with various online players through their chat system.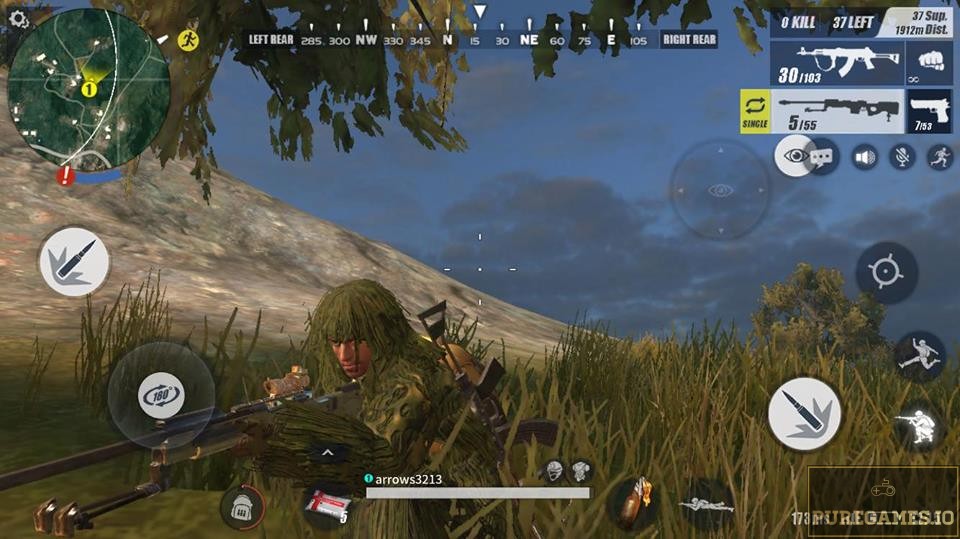 Verdict
Overall, Rules of Survival is truly a great battle royale game. It has an incredible and smooth gameplay that is perfectly matched with amazing visuals and sound effects. Like the other leading battle royale games on mobile, Rules of Survival has a remarkable replay value. The system requirements, however, is too big so better save enough space on your phone's storage for full gaming experience. You must also have a stable internet connection to play this game in full extent and to prevent the server from kicking you out. With such incredible features, you can confidently add this game on your game list!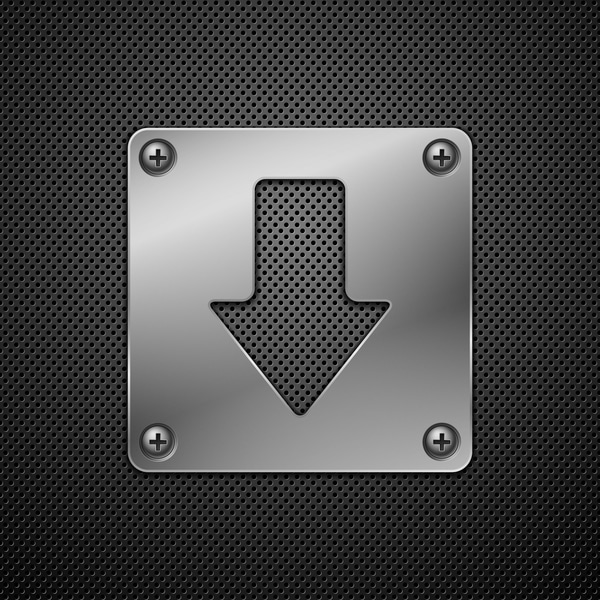 Download Rules of Survival – Battle Royale Game APK for Android/iOS
Select a file to download: