| | |
| --- | --- |
| Publisher | Garena International |
| Platforms | Android 4.0.3 and up |
| Price | Free |
| Size | 41 MB |
| Latest Version | 1.47.0 |
Garena is a well-known game publisher with successful and highly-acclaimed games under their name. This includes the popular MOBA games like League of Legends and Heroes of Newerth. They are also the same publisher behind sports games like FIFA Online 3 and Speed Drifters. Now that the battle royale games have become increasingly popular, the company finally entered the competition with their Garena Free Fire. Interestingly, Garena Free Fire works the same way with the rest of the leading battle royale titles but managed to incorporate some unique elements in the game that makes it a standout in some notable gaming aspects. Garena Free Fire takes you to an action-packed battle that is complemented with a very distinct atmosphere and vibe to it. If you are up for another amazing battle royale experience, you might consider adding Garena Free Fire on your list.
The Gameplay
Simple yet surprisingly tricky. I guess that is how you can perfectly describe Garena Free Fire. If you have experienced playing other popular battle royale titles like Epic's Fortnite, PUBG, NetEase's Rules of Survival, or EA's Apex Legends, it is impossible not to compare them with Garena Free Fire in terms of the graphics and gameplay. The mechanics for this game are generally simple and easily manageable yet like any other action games that fall into the same category, the players are strongly encouraged to come up with an effective strategy to maximize their chances of survival.
The game starts by deploying all the 50 players on a remote island (it could either be a fictionalized version of Bermuda Island or the Kalahari Desert). Players can glide through the map using a hoverboard (customizable) and parachute down to their preferred landing spot. Like any battle royale games, players will enter the battlefield without any weapon which makes scavenging the very first objective they must do. Weapons and items are randomly scattered on the map and they can be picked up automatically by simply walking above the item. The goal is to survive and you must be able to kill all the enemies you will encounter along the way and try to be the last man standing to win the match.
Easy Inventory Management, Vehicles, and Proximity Indicators
Appearance-wise, Garena Free Fire doesn't offer a hardcore visual design similar to Apex Legends and Call of Duty: Warzone but still offers decent graphics that will somehow remind you of early GTA games. It is not bad and not too good either. The game doesn't focus much on story-based missions much like how Fortnite does but it recently introduced Season-based campaigns. Despite all these missing elements, Garena Free Fire has been hailed as one of the "Best Apps of the Year" and "Best Popular Vote Game" of 2019. It became one of the top-grossing battle royale games with more than $1 billion in revenue last year. The reason behind this massive success is the game's overall simplicity. The developers (111 Dots Studio) wonderfully optimized Garena Free Fire for mobile devices.
It means that even players with low-end phones can have an excellent battle royale experience with minimal or without performance issues. Aside from the fact that there are only 50 players per match (instead of the typical 100 players), the game comes with an easily manageable inventory system that allows players to create their loadouts in no time. Items can be picked up automatically by simply passing over them. If you come across other items with a higher level or rarity, they will automatically replace the lower ones. Similar to Rules of Survival, players can also operate various vehicles during the battle.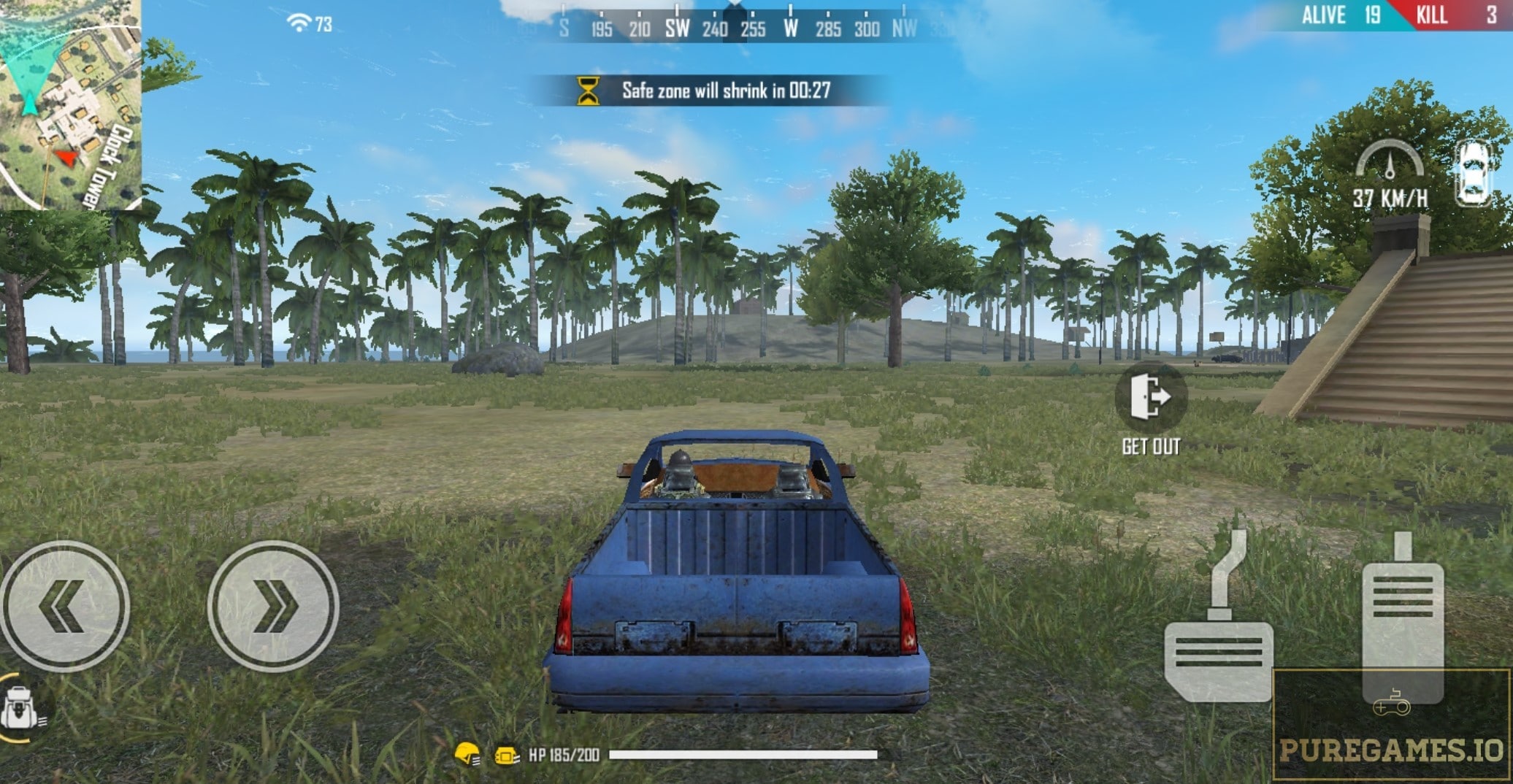 Detecting nearby enemies is quite a trick for Garena Free Fire but not as complex with ROS. In this game, enemies that are spotted within your range will be marked in the map with red arrows. This proximity indicator allows you to trace enemies and establish an effective strategy before being caught. You can crouch, you can jump, and you can even crawl on the ground during a firefight. Aiming and shooting can be done smoothly by adjusting the screen of your device but accuracy and damages may still vary depending on the weapon you are using.
Multiple Game Modes and Customizable Skins
Interestingly, Garena Free Fire comes with multiple game modes that you can freely explore. The first one is the Classic Mode where 50 players compete against each other after being deployed in any of the two maps (Bermuda and Kalahari). Ranked Game, on the other hand, works the same way with Classic Mode but the maps are chosen randomly. The matches played in this mode reward you with a 20% bonus on the earned cash and experience points. Rush Hour is a mode for fans of fast-paced gameplay. The action takes place in a much smaller area, where only 20 players will fight each other.
Custom Game, as what the title suggests, allows you to host your own server via the Custom tab. Take note that all campaigns can be played Solo, Duo, or Squad. Special and limited time events are also being introduced in the game from time to time. Another standout feature of Garena Free Fire is the overwhelming number of skins that you can apply to your character either through the game's reward system or by purchasing them from the in-game shop. You will receive various skins when you have reached a certain level. To top it all, you will also unlock new characters that come with special skills that you can take advantage of. In fact, the game recently introduced a new character that is merely based on a video content streamer/gamer. A flying pet or companion was also recently added in the game.
The Verdict
The competition in battle royale titles is getting tougher and tougher each year. New battle royale games are being introduced by various developers and choosing for a battle royale game for your mobile device can be very challenging. Garena Free Fire, despite the overall simplicity, managed to leap itself above the competition by delivering a simple yet wonderfully optimized battle royale game for mobile devices. Appearance-wise, the game is still a visual delight. It treats you with amazing visuals and a flexible camera view (a feature that is not always applicable to most battle royale games).
Garena strategically designed the game to be lightweight in terms of disk space required from players. It only requires more than 500 MB and it also guarantees players that this game will run smoothly on any device. Currently, Garena Free Fire is available for both Android and iOS devices and you can download the game absolutely for free. Enjoy!