| | |
| --- | --- |
| Publisher | NetEase Games |
| Platforms | Android 4.1 and up |
| Price | Free |
| Size | 97 MB |
| Latest Version | 1.367230.414996 |
From the same team behind well-acclaimed mobile games like LifeAfter (a horror survival), Onmyoji, and Identity V comes an impressive battle royale game. Rules of Survival is the answer of NetEase to the rapidly growing battle royale titles. With over 300 million downloads worldwide, the success of Rules of Survival is simply undeniable. Like most battle royale titles like PUBG and Fortnite, Rules of Survival follows the standard battle royale formula. You will be deployed on a remote island along with more than one hundred players (the game can accommodate a massive number of 120 players per match for its main campaigns). As what the title of the game connotes, your goal is to survive by killing all the enemies you will encounter along the way and be the last man standing.
With so many battle royale titles nowadays, what really makes Rules of Survival distinctive above the rest? Will it be a typical battle royale game or does it manage to deliver a unique approach that separates the game to other leading battle royale titles? Let us take a deeper look at this game and see what exactly Rules of Survival has to offer. If you think you got the skills, feel free to explore this game and see how far can you survive the battle.
The Gameplay
Interestingly, the mechanics for Rules of Survival are generally simple and easily manageable. However, knowing that this is a battle royale game, the players are strongly encouraged to exert the best of their skills to survive. This involves impressive shooting skills, stealth, and many other notable techniques that can help you survive the battle and win the match. The game follows a standard game control optimized for mobile devices. You can move around the map using the virtual joypad, shoot and interact with the game using the tap-based buttons designated for each action.
One of the interesting features of the game is a huge map to explore.  Unlike other battle royale games, it is interesting to note that Rules of Survival offers two playable maps and you can access them depending on your chosen game mode. Rules of Survival offers a lot of game modes to choose from. Players can select their preferred mode that fits their game style. These modes include the classic Solo, Duos, and Squad campaign. There is also a Fireteam mode which involves 5 players per team and other equally-challenging campaigns like Gold Mode, Diamond Mode, Fearless Fiord (takes you to the special island), FPS Ranked, Custom mode, and Blitzkrieg.
Inventory Management and Vehicles
If you have experienced playing other battle royale titles, then you should know how exactly Rules of Survival will work. However, some notable elements somehow made this game unique from its leading competitors. Of all the leading battle royale games today, Rules of Survival shares some notable similarities with PUBG. One of the most complex systems in the game is the inventory management. Unlike Fortnite that gives you easy access to your limited inventory, Rules of Survival takes a lot of getting used to. Like any battle royale games, every player starts the game without any weapon and they must scavenge for items that are randomly distributed on the map. The weapons also come with attachments. Meaning, there will be a specific type of ammunition for specific types of weapons.
This complex Inventory management system of the game makes it challenging for players to create their preferred loadout but still provides a realistic combat experience. It is also important to mention that the game doesn't feature any proximity indicators. Therefore, all players are encouraged to observe very keenly and listen very carefully to their surroundings to detect any approaching enemies. Like any battle royale games, the map is also gradually shrinking as you progress. The game introduced Bombing zones, these are random areas on the map where bombs are being thrown. You are greatly encouraged either to stay inside a building or better yet move to a safer location to keep your character alive.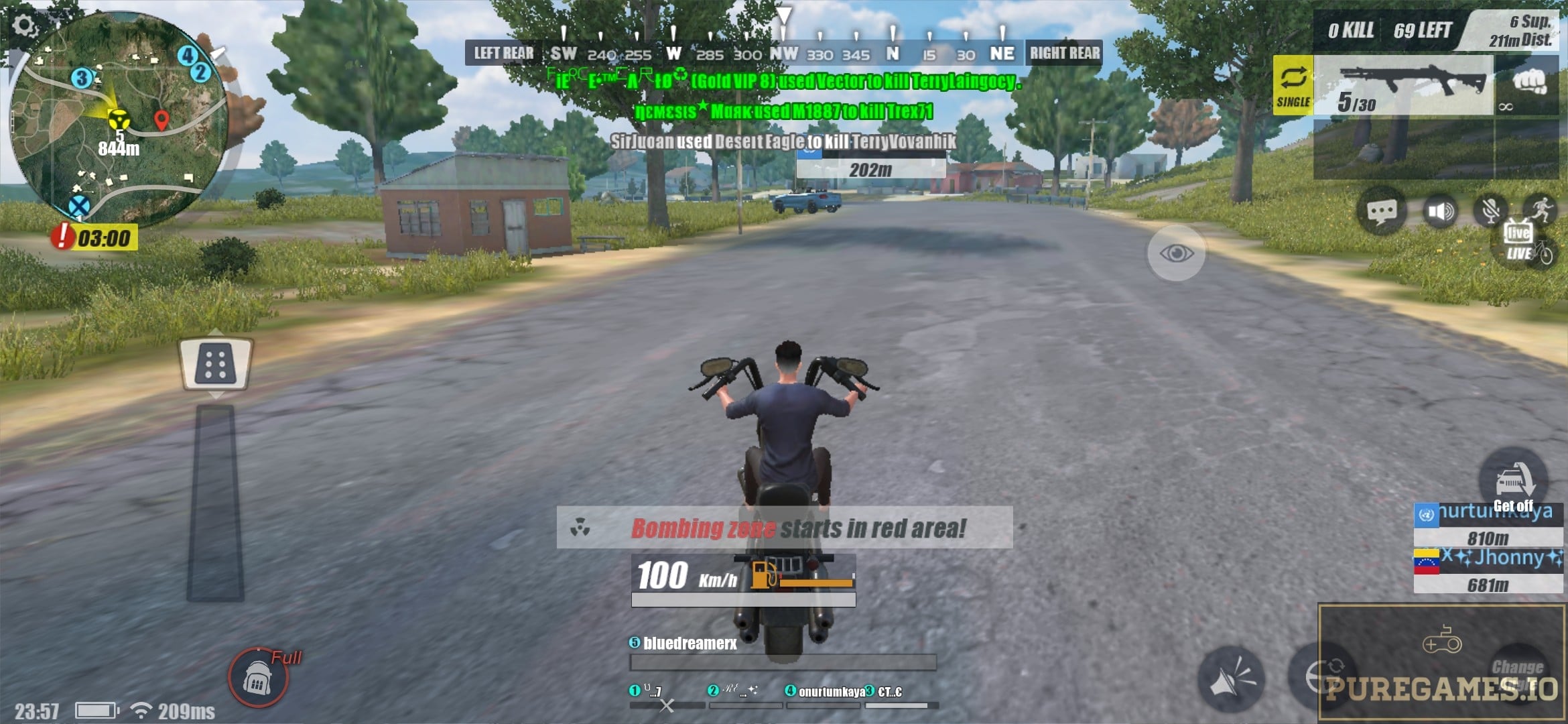 Vehicles also play a huge part in this game. Unlike other battle royale games, Rules of Survival will give you the ability to operate numerous vehicles. These vehicles can be found randomly placed on Ghili Island. You can operate vehicles like bicycle, motorcycle, sports car, three-wheelers, Jeep, and speed boar. Most vehicles allow more than one player which makes them ideal for Squad or Fireteam campaign. You can also take advantage of the vehicles when you are outside the safe zone.
A Game of Skills and Live Stream-Friendly Mobile game
Rules of Survival is definitely not a simple action game but something requires mastery and great skills. The fact that it has no proximity indicators, the game requires everyone to observe and pay attention to every sound and movement within the area. You also have to pay attention to your inventory and choose your weapon wisely. It is very ideal to equip your character with both long-range and short-range weapons (sniper rifles for instance are ideal to shoot enemies from afar while melee weapons like shotgun can inflict greater damage when engaged on a close firefight).
Like most battle royale games, Rules of Survival offers an overwhelming number of customizable items. There are limited items that you can purchase from the in-game shop. You can even get yourself an adorable companion that you can summon during the Prep zone. Special Skins for weapons are also available. Another great thing about Rules of Survival is the easy live streaming system.  On the main page, you can simply tap the live stream icon that allows you to stream live using your Facebook or Twitch account.
The Verdict
Rules of Survival may not be a perfect battle royale game but definitely worth exploring. It captured all the exciting battle royale elements that we are looking for while adding some unique elements that elevate your battle royale experience. Appearance-wise, Rules of Survival is an absolute visual delight providing you with amazing graphics, intricate details, and an immersive 3D map to explore. With superb quality, visually stunning graphics, and smooth gameplay, Rules Of Survival instantly became one of the strong contenders in this particular game genre. What's missing in the game is the story progression but nevertheless, the game gives you an excellent battle royale experience. Currently, the game is available for both Android and iOS devices and you can download this epic battle royale absolutely for free. Good luck!