| | |
| --- | --- |
| Publisher | Candy Mobile |
| Platforms | Varies with device |
| Price | Free |
| Size | Varies with device |
| Latest Version | Varies with device |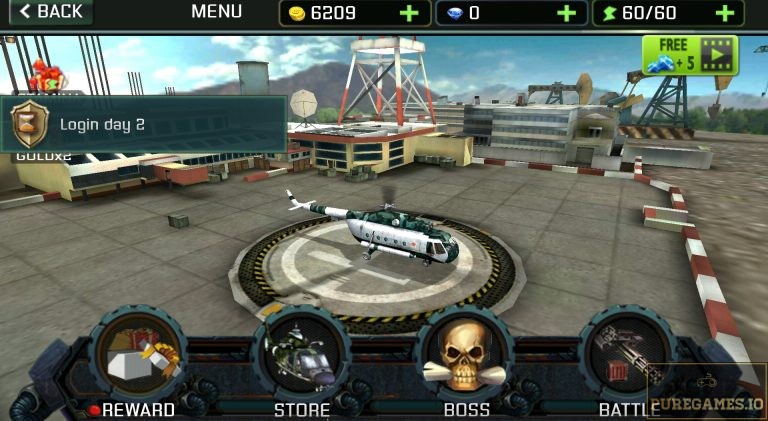 Prepare yourself for an action-packed mission! Gunship Strike 3D takes you to a risky military operation. Your mission is to infiltrate the enemies' bases and kill all the terrorists. If you are into action game, you'll definitely have a great reason to download Gunship Strike 3D and let an epic journey begins. Candy Mobile, the developer behind West Gunfighter, claims that this game is the most immersive and realistic 3D helicopter battle.
Candy Mobile did a decent job with West Gunfighter and Modern Sniper so the quality of Gunship Strike 3D is not a surprise at all. Being the Most Immersive and realistic 3D Helicopter battle is not a bold claim after all. If you download Gunship Strike 3D, the game treats you with remarkable combat and visually stunning graphics.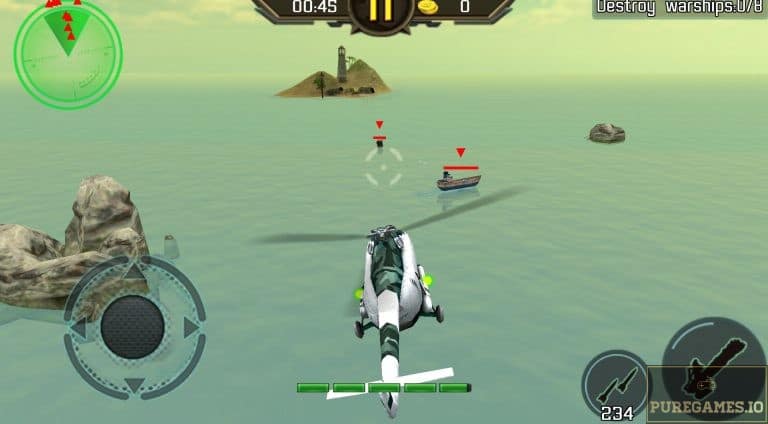 The Gameplay
If you download Gunship Strike 3D, the game takes right away on your first mission. Unlike traditional shooting games, you are going to operate a helicopter and navigate the various areas and bases run by terrorist. Your goal is to clear all the levels and eliminate all the terrorists. Interestingly Gunship Strike 3D follows simple mechanics yet the gameplay is undeniably tricky and challenging. The maneuverability of the helicopter requires mastery to maximize your chances of survival.
As soon as the mission begins, you must operate the helicopter and navigate the area. There is a small navigational map on the upper left corner of the screen to help you trace the enemies. Those that are marked with red indicate nearby enemies. Triangles indicate moving targets, square means stationary defense and skull means bosses.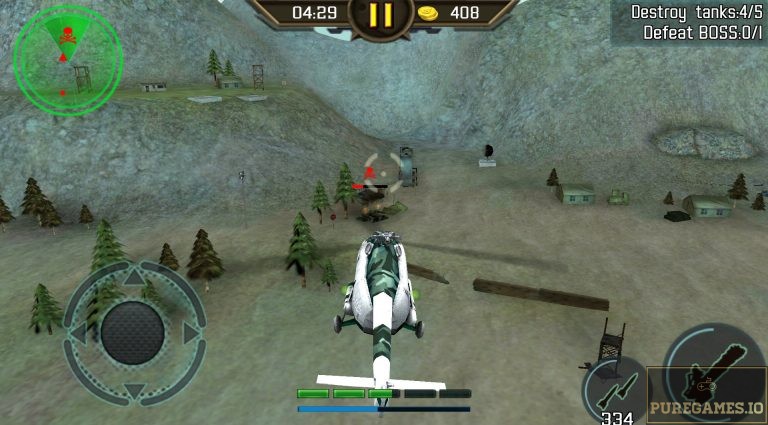 Challenging Maneuverability
As the game tries to remain faithful with their claim to offer a realistic 3D Helicopter Battle, the controls for Gunship Stirke are NOT easily manageable.   It definitely requires mastery. Before the actual battle begins, players must select his preferred inclination.  Players can choose between 30 degree (up and down tilt) and 70 degree inclination (sideward tilt). You can switch from one inclination to another anytime you want.
To navigate around, players can move the virtual joystick. The cross hair is fixed on the center screen so you need to get into a right position to properly aim your target. There are two weapons to use; the Machine Gun and the Explosive bombs. You can launch them through the tap-based buttons on the screen. You can tap and hold the Machine gun button for continuous shooting but you must pay attention to the reload time. Bombs are limited though.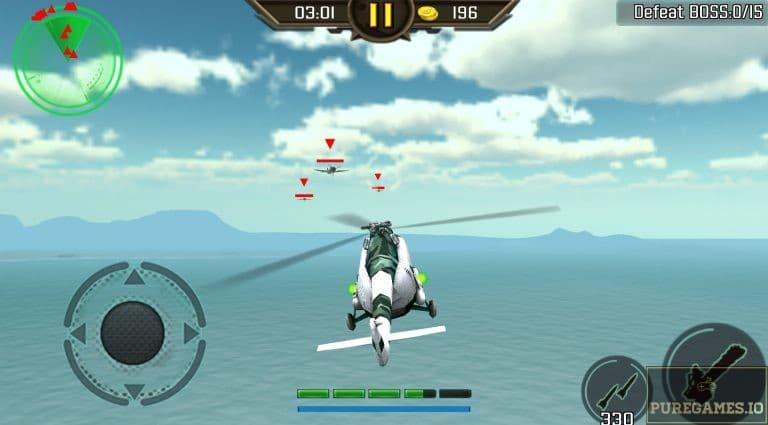 Realistic Battle Simulation
The rate of difficulty in this game is drastically increasing as you progress. There are many forms of enemies. You might encounter stationary buildings that launch missiles, tanks, soldiers, battleship and aircrafts. Personally, aircrafts are the biggest challenge in this game not just because they are constantly moving but they are moving in such great speed.
Please be mindful that you must prevent the helicopter from sustaining too much damage. Your life is limited and if you lose them all, the game will come to a quick end and you have no other option but to start the same level. You can however take advantage of the medical kit which you can either purchase from the Store or from loots.
To make you more efficient in the battle, it is very ideal to upgrade your plane to its full potential. You can improve the helicopter's basic attributes to increase its Health, Speed and Auto Aim. You can also upgrade the weapons or better yet, if you already have enough money, you can buy a brand new helicopter.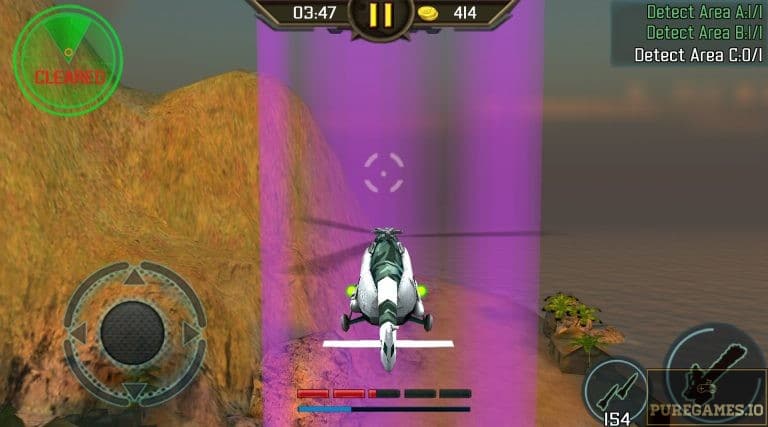 Daily Tasks, Rewards and Boss Mode
If you download Gunship Strike 3D, the game also takes you to Daily tasks and rewards. Daily Tasks are daily objectives you should meet in order to win cash (virtual money). Achievements can also be unlocked to win greater prizes. You can also try your luck though their daily spin features.
Aside from the main campaign, the game will soon introduce you to Boss Mode. As what the title suggests, it takes you to a series of extremely challenging levels as you face different bosses. This mode will surely put your skills on a great test.
Verdict
Gunship Strike 3D is indeed the most immersive and realistic 3D helicopter battle simulation. It has wonderful and visually striking graphics which are complemented with realistic music and sound effects to make your experience even more remarkable. It has decent longevity and since each level is rated from 1 to 3 stars based on overall performance, the game has decent amount of replay value. Overall, it is a great shooting simulation you can confidently add on your game list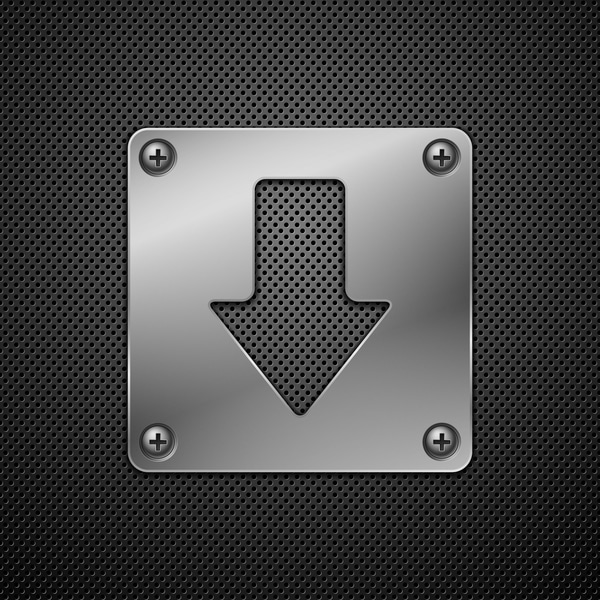 Download Gunship Strike 3D APK for Android/iOS
Select a file to download:
Download Gunship Strike 3D v1.0.9 APK