The fans of the Miraculous: Tales of Ladybug & Cat Noir animated series has another great reason to rejoice! The series gets three more exciting seasons and also a live action movie is currently in development! We might have to wait for them in a little while but we can pour all our anticipation through this new game by TabTales. The Miraculous: Ladybug & Cat Noir Official game features our two beloved teenage superheroes and their epic adventure to save Paris!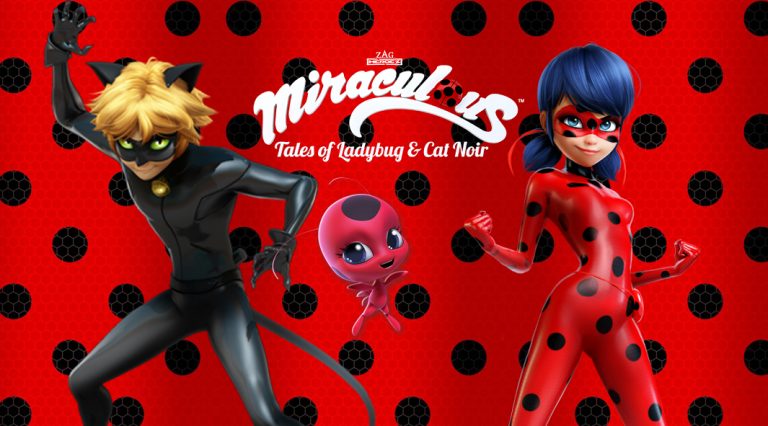 Taken from first season, the game follows the story of two teenage students in Paris and their superhero alter ego. Marinette Dupain-Cheng (Ladybug) and Adriene Agreste (Cat Noir) will help each other to defeat the super villains especially Hawk Moth. Now your goal is to help them fulfill their mission and save Paris from chaos.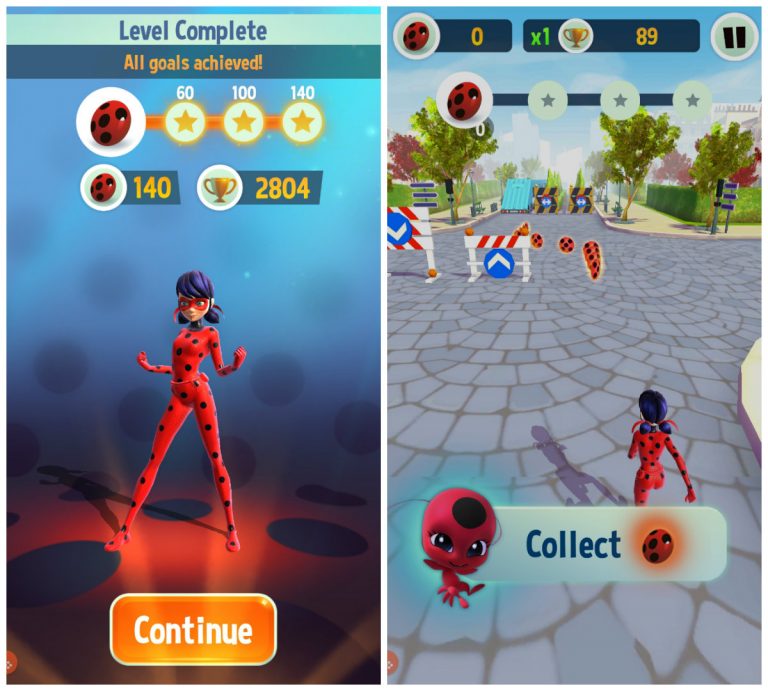 The Gameplay
Miraculous: Tales of Ladybug & Cat Noir is an endless runner game which is merely inspired from Subway Surfer. Although both games share the same format, Miraculous: Tales of Ladybug and Cat Noir offers unique features that separate it from other endless runner games. First of all, the game takes you on series of level. Each level has different objectives and features different character.
Some levels will feature the superheroes' alter egos. Players, however, cannot pick their desired character. Objectives vary in each level which requires player to surpass certain amount of obstacles and collecting certain amount of items. You will also collect specific amount of ladybugs and fight with bosses too.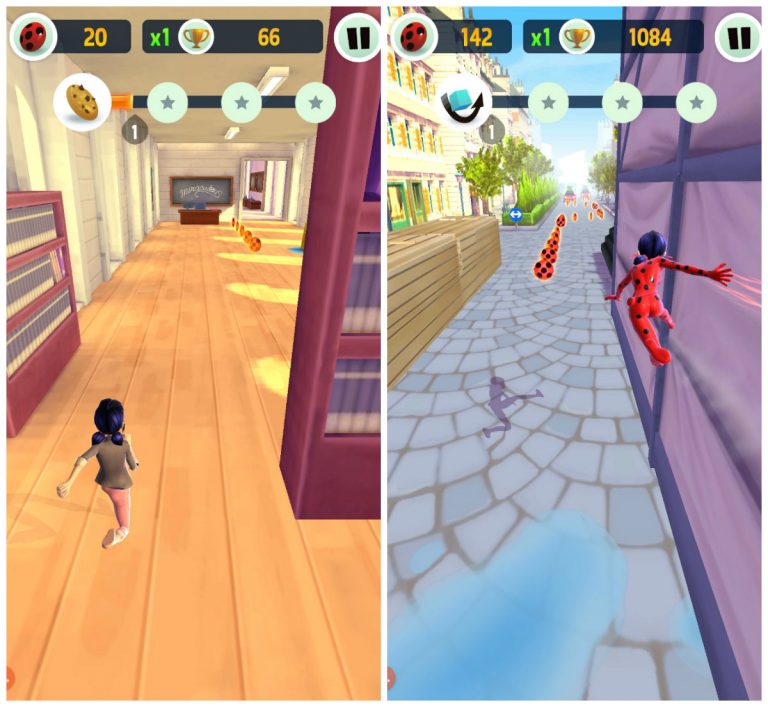 The mechanics are very simple but players are encouraged to express the best of their visual reflexes to avoid all the obstacles more effectively. As an endless runner game, the movements and controls are very limited for this game. Simply swipe the screen on whatever direction you want your character to move. Please be mindful that you will encounter an overwhelming and seemingly interminable amount of obstacles along the way. Some obstacles will require you to jump over while others will ask you to slide down.
Aside from avoiding obstacles, players can to collect ladybug coins to earn additional score. Players can also take advantage of different power ups that are randomly scattered on the map. These power ups will allow you to magnet and multiply the coins and destroy oncoming obstacles for a short period of time.
Boss battles works differently than normal levels. Both characters will join force to defeat the villain but you can only control one of them. The battle is done on both offensive and evasive style. You have to inflict damage to your enemy while evading the obstacles along the way.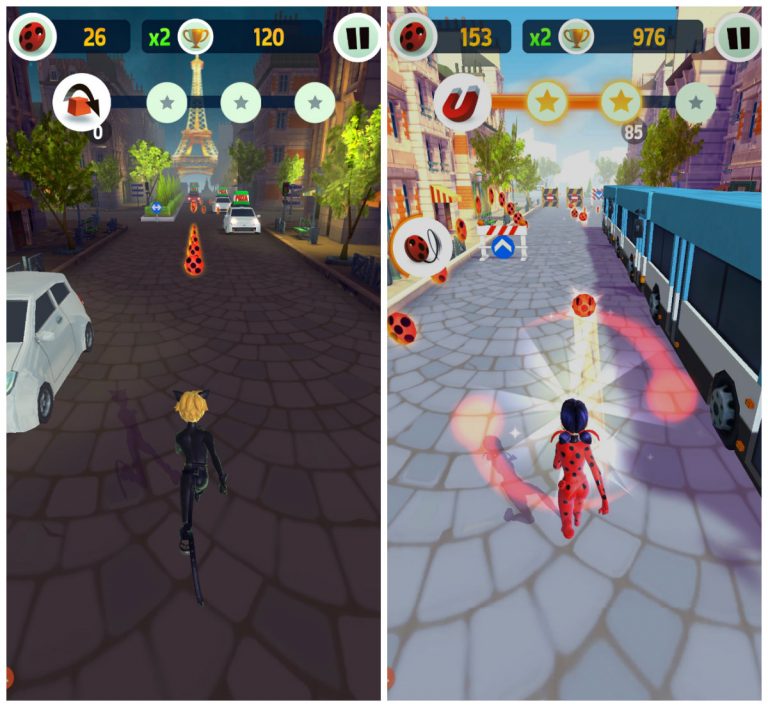 Graphics and Cut Scenes
Appearance wise, Miraculous: Tales of Ladybug and Cat Noir offers a visually stunning graphics and animation. It has a well-polished atmosphere accompanied with well-fitting music and sound effects (although the coin sounds are very much cloned from Subway Surfer). The maps, however, is quite repetitive but nevertheless, amazing.
Another notable element in this game is the superhero transformation. In the entire course of the game, you will encounter levels where you play as the normal alterego of the superheroes. In this level, you will be asked to collect certain number of cookies (if using Marinette) and cheese (if using Adriene). If you collected enough, they will soon transform in their superhero form. The game will show a short clip taken from the actual animated series to witness their wonderful transformations.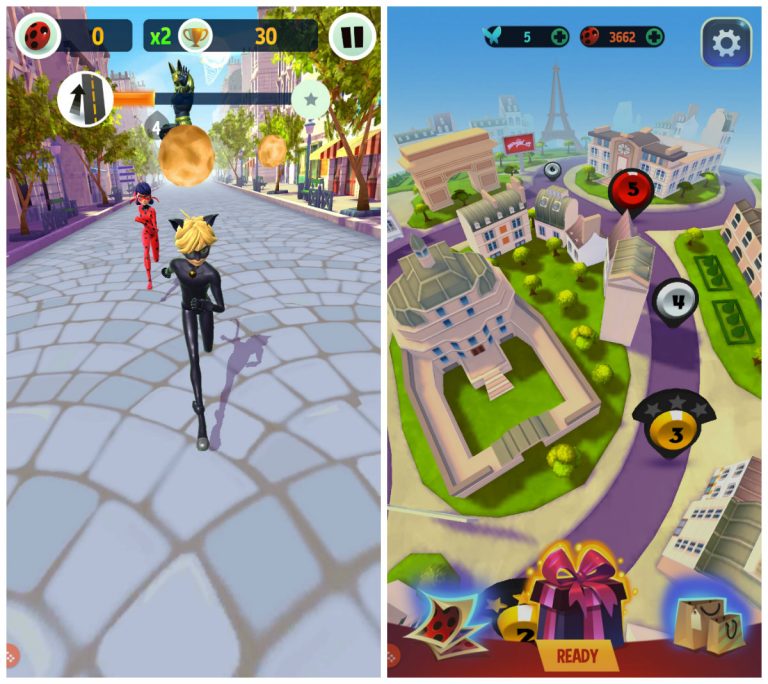 Comic strips are also presented at the beginning of each level which provides a nice flow of story in this game. Take note that the rate of difficulty will drastically increase as you progress. The game will become more and more challenging as you enter higher levels. Another noteworthy feature of this mobile app are the collectible stickers that you can obtain from each villain arc (there are three stickers from each villain). Players can also access Gifts and Shop where they can purchase more Ladybugs and Butterflies (premium currency).
Currently, the version of this mobile app will take you to 80 levels which is quite a downside in terms of the game's longevity. Other than that, this is undeniably a great addition to your game list and we just can't wait to see more of its future development!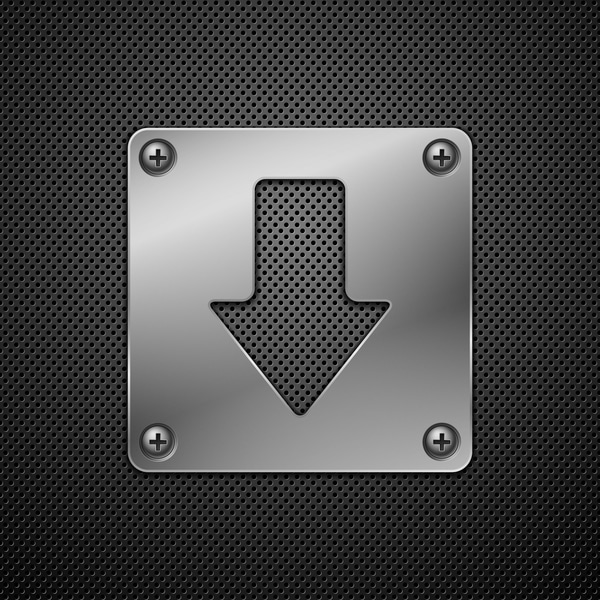 Download Miraculous: Tales of Ladybug & Cat Noir APK for Android/iOS
Select a file to download:
Download Miraculous: Tales of Ladybug & Cat Noir v1.0.4 APK