| | |
| --- | --- |
| Publisher | Promedia Studio |
| Platforms | Android 4.1 and up |
| Price | Free |
| Size |  MB |
| Latest Version | 1.1 |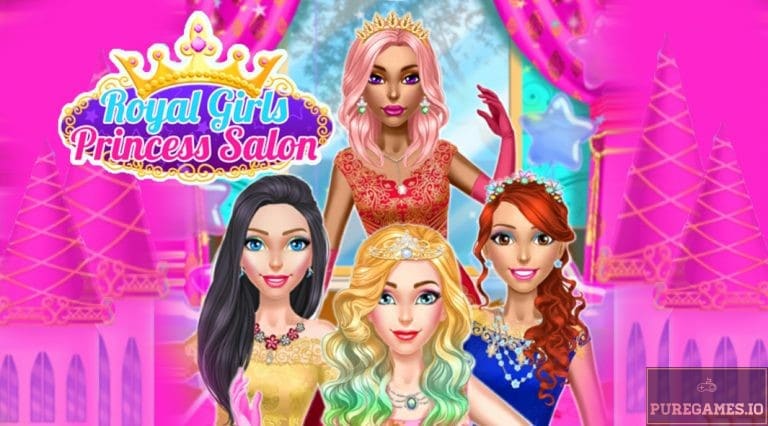 Prepare yourself for an awesome and Royal-inspired makeover! Princess Irene is inviting you and the girls for an awesome party in her gorgeous palace! Royal Girls – Princess Salon is one of the cute dress-up games by Promedia Studio. A very simple and fun casual game that every little girls will certainly enjoy! If you download Royal Girls Princess Salon, it takes you to an adorable castle where the extreme makeover will take place.
If you or your little girl enjoys dress-up games, this one is truly a perfect fit. Take note that this is not just about dressing up but giving your character an overall makeover. Apply some make up and pick a perfect dress and give your character a Princess looks she truly deserves. Go ahead and download Royal Girls Princess Salon and let the epic makeover begins!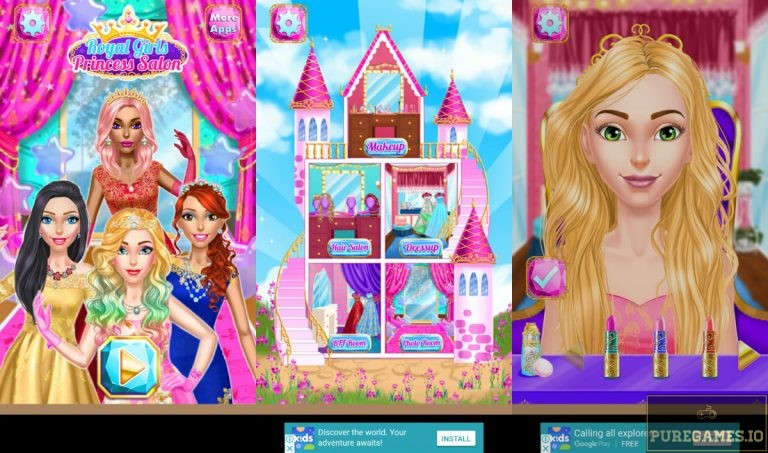 The Gameplay
For a game that is intentionally made for young gamers, Royal Girls Princess Salon follows simple mechanics. Princess Irene welcomes you in her gorgeous castle. The castle has three floors and five rooms that you can interact. The uppermost floor is for Makeup while the second floor takes you to the Hair Salon and Dressup Room. The ground floor is where the BFF room is located as well as the Photo Room.
The game doesn't have a definite or concrete goal and all you need to do is to give your characters a nice makeover.  The customization is done by simply dragging the items to your character or by tapping an item. The Make-up, Hair Salon and Dress Up rooms are dedicated only to your main character. The BFF Room allows you to customize the other three avatars while Photo Room allows you to capture a photo with any of your BFFs.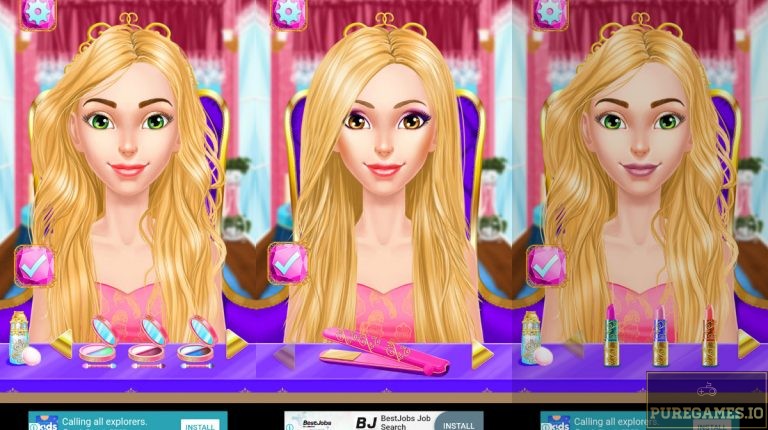 Create The Best Makeover
Interestingly, if you download Royal Girls Princess Salon, you have no limitations. You can freely exert your creativity and try to come up with the most extreme Princess makeover. You are free to pick which rooms you want to go first. Makeup room gives you a closer look to your character where in you will apply various cosmetic products. Items include Lipsticks, Eye shadows, eyeliners, eyebrow liner, mascara, blush on, lip gloss and contact lenses.
After the makeup, you may now proceed to the Hair Salon and give your character a nice hair makeover. The Hair Salon features tap-based items where you can pick a hair straighteners or curlers. You can also pick among those readily-available hairstyles. To complete your look, you'll head over the Dress Up room and pick your preferred outfit. Dress Up room still allows you to change your hairstyle and of course pick your dress. You can either pick a gown or a two piece outfit (top and bottom) then perfectly match them with stunning shoes. A princess will not be a princess without a crown! Above all, you can complete your look by adding accessories like crowns, tiaras, leggings, gloves, necklaces and stylish bags.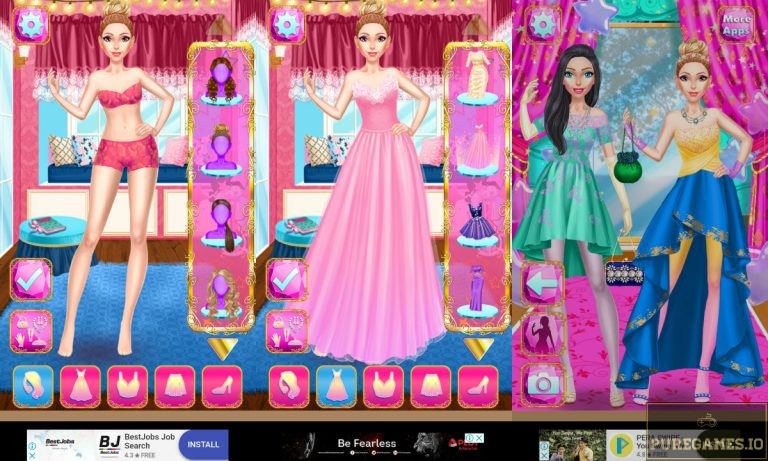 Join Your Stylish Friends
Interestingly, you can customize up to four characters when you download Royal Girls Princess Salon. Unlike the main character though, you can only customize the other three through the BFF Room. In this room, you are free to switch from one character to another and customize them based on your own preferences. You are free to change their hairstyles, dresses and accessories. The room is very much similar to Dress Up room except for the multiple characters that you can customize.
After dressing up all your characters, you can proceed to the Photo Room and have a photo opportunity with your BFFs. This portion allows you to take a screenshot and save the photo directly to your phone's gallery. You can capture a photo with one friend at a time though.
Verdict
Simple, fun and adorable! This game is absolutely ideal for young girls and turn their princess dreams into a reality. Little girls can visualize themselves as princess through this game. Above all, it's a colorful game with a bunch of customizing options that players can explore!

Download Royal Girls – Princess Salon APK for Android/iOS
Select a file to download:
Download Royal Girls – Princess Salon v1.1 APK