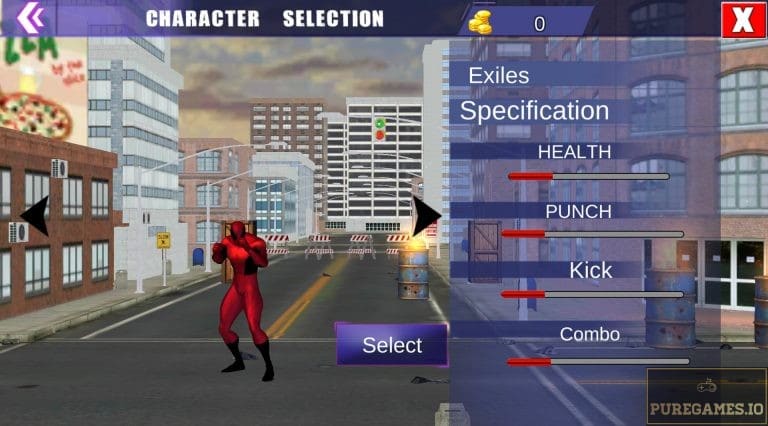 Prepare yourself and get ready for the Amazing Super Hero: Super Strange Spider Rope Super Hero! Wait, what did I just read? You're eyes are not deceiving you! If you download Amazing Super Hero: Super Strange Spider Rope Super Hero, you'll definitely see something bizarre and strange. Is that Spiderman? Nope, apparently not! Amazing Super Hero: Super Strange Spider Rope Super Hero is a simple fighting game by Free Shooting Games.
Although there are no direct references, you cannot deny the fact that this game is merely inspired from Marvel's Spiderman. The game is not, by any means, affiliated to Marvel game franchise. The objective in this game is to guide the Super Strange Spider Rope Hero in his mission to eliminate all enemies.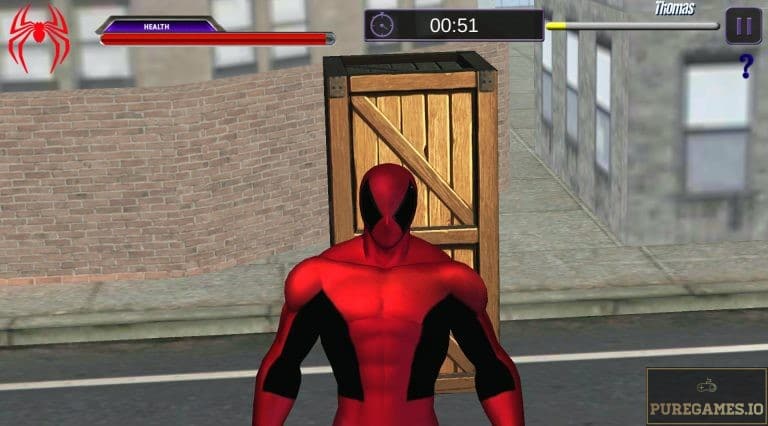 The Gameplay
If you're missing the classic Beat em Up game, then you might want to download Amazing Super Hero: Super Strange Spider Rope Super Hero! This game will certainly give you some nostalgic experience as it reminds you of those classic fighting game. The game follows very simple mechanics! As soon as the game begins, it prompts you to a 2D sidescrolling screen.
The game doesn't follow a story. All we know is that you are an amazing hero who is skillful enough to eliminate all the bad guys. Unlike other Superhero though, your character do not possess any special skills other than physical strength. It doesn't make sense though why the character is named Super Spider Rope Super Hero. You basically don't have any spider-man related skills and you don't shoot web at all.
The game controls are simple and easily manageable. You can move around the map using the virtual joystick. Attacks and defense are performed through the tap-based buttons on the screen. There are four actions you can do during the battle; Punch, Kick, Jump and Guard. Just click their respective buttons to perform the action.  A level is cleared if all the enemies have been knocked down.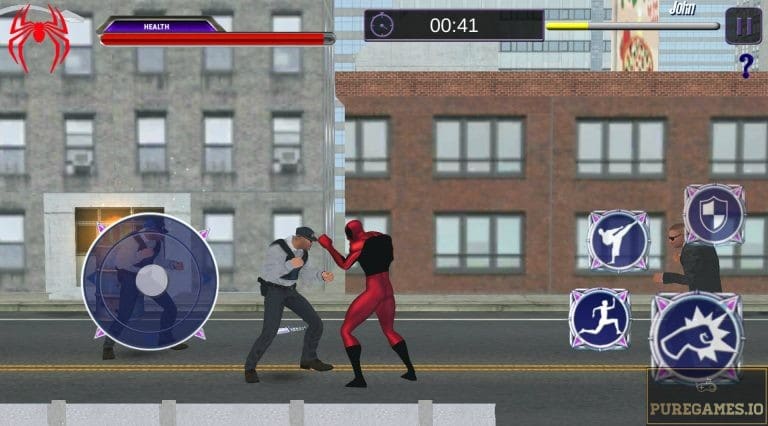 Progressive Yet Repetitive Battle
Like a classic Beat Em Up game, you will navigate a side scrolling screen and you will encounter overwhelming number of enemies along the way. Once you clear a level, you will proceed to the next one but apparently, you will be dealing with the same stage with the same set of enemies. The only difference is that every time you unlock a new level, additional portion of the stage will be added. Therefore, the higher the level you explore, the longer it takes to finish it.
It also means that if you download Amazing Super Hero: Super Strange Spider Rope Super Hero, you are most likely to explore the same stage from beginning to end. The rate of difficulty however is noticeably increasing as you progress which gives the game a decent amount of challenge.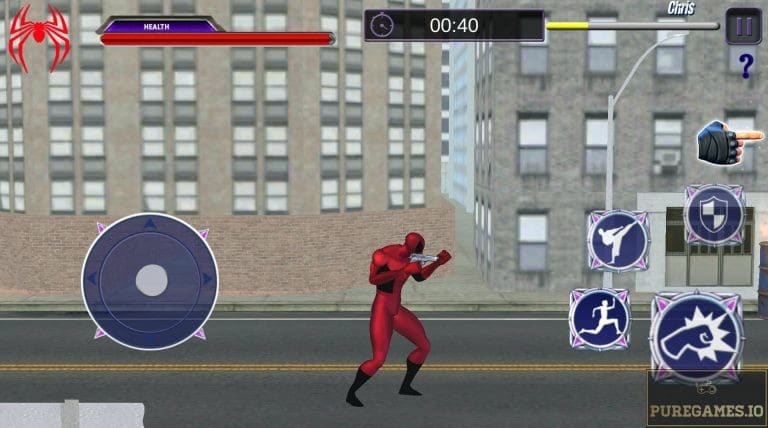 Take Advantage of the Weapons
Yes, you do not have any special skills and you are not as powerful as Spider-man either. You can however, take advantage of the weapons that you can randomly pick along the way. You can obtain weapons by picking them up on the street or by destroying objects along the way. Smashing crates and containers will drop items. Please be mindful that weapons are only temporary and you can use them for two or three times. Some of the weapons you can pick includes baseball bat, throwing dagger, knife and a gun! Gun is the strongest of them all as it can kill enemies in just one hit (you can only use the gun three times). Aside from weapons, you can also pick Bananas to restore a portion of your health.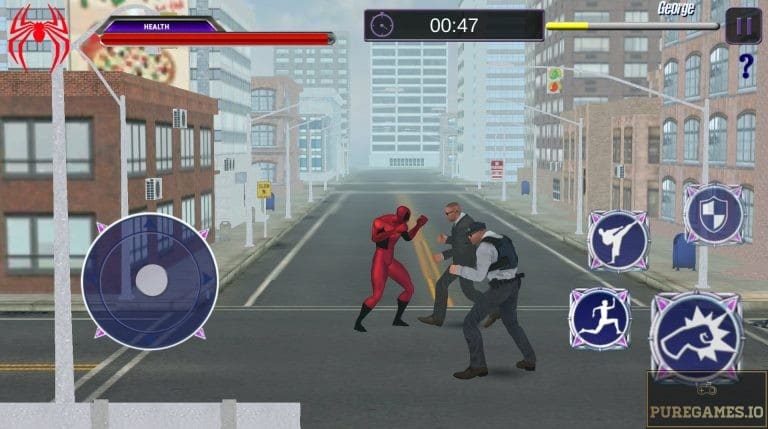 Missing Features
The game is generally fun and simple but the developers can actually add more elements to make it more engaging. The ability to upgrade your character's attributes could be an interesting addition as well as new skills. They could also add an option to explore new location too. The graphic and game level design are fairly good, but there is still room for improvement. The first few levels are a bit difficult, making a not so good onboarding experience for users, and the bosses are too strong, which is a fun challenge but can frustrate average players.
The game should also change their reward system. I personally think that the game should be more generous with the rewards. The other characters that you can unlock needs 6 figure numbers yet the rewards are too low to reach the required amount. Yes, there are two more Spider-man-like characters to unlock!
Verdict
It could have been a great game but it needs a lot of improvements. It lacks of replay value and I think the developers should really work that out to make the game more engaging and fun. Nevertheless, you can download Amazing Super Hero: Super Strange Spider Rope Super Hero for some nostalgic beat em up experience.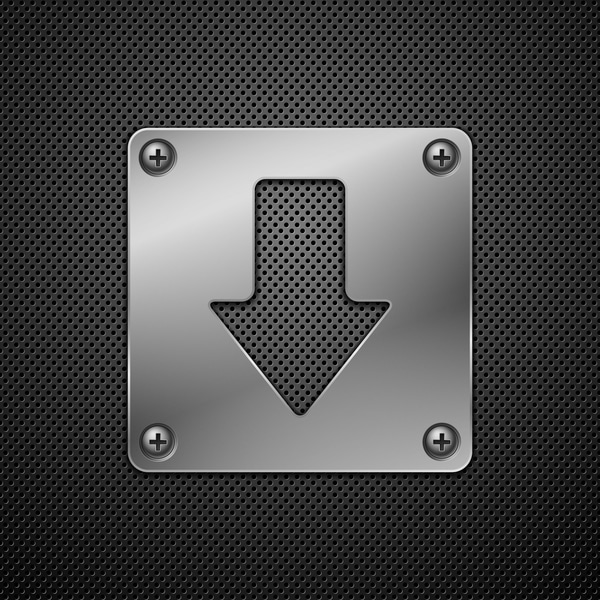 Download Amazing Super Hero: Super Strange Spider Rope Super Hero APK for Android/iOS
Select a file to download:
Download Amazing Super Hero: Super Strange Spider Rope Super Hero v1.0 APK