| | |
| --- | --- |
| Publisher | Gameloft |
| Platforms | Android 4.0 and up |
| Price | Free |
| Size | 50 MB |
| Latest Version | 4.3.0d |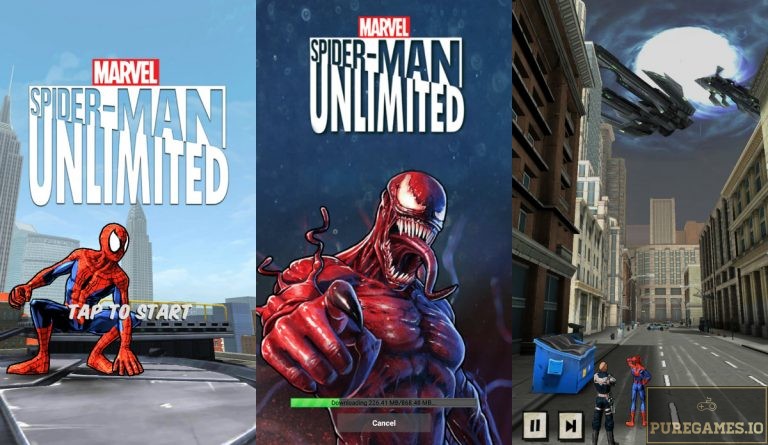 The friendly neighborhood Spider-man is back for another ultimate and action-packed adventure! Gameloft's Spider-Man Unlimited takes you to a series of challenging levels that will put Spidey's skills on a test. The Sinister Six are creating chaos and you must stop them all and save Manhattan from their treacherous plans. Interestingly, if you download Marvel Spider-Man Unlimited, it takes you not just in a particular arch of Spider-man but the entire Spiderverse.
It is definitely the greatest Spider-man crossover as it merges all the alternate versions of our friendly superhero. Spider-Man Unlimited features elements from endless runner game but in level by level system. Your main objective is to help Spiderman conquer all the challenges along the way and defeat all the villains. After taking down all the Goblins, you must fight against the Sinister Six including Vulture, Electro, Dr Octopus and more. If you are ready for a fun-filled and exciting web-running adventure, join Spidey in this action-packed journey!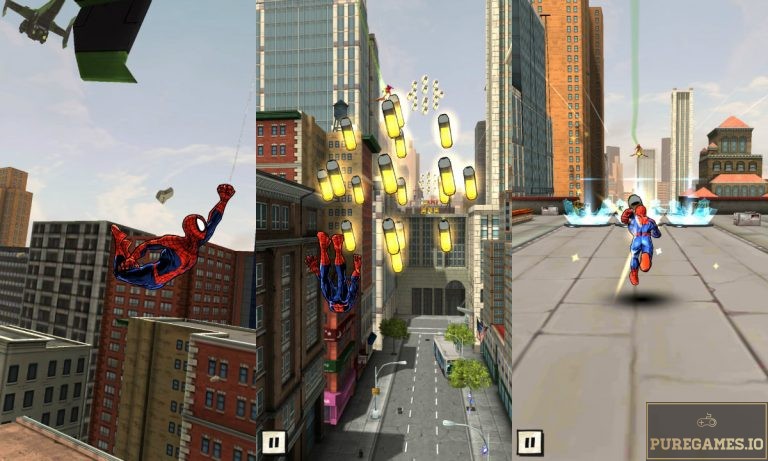 The Gameplay
The mechanics are very simple and it works the same way with typical endless running games. If you are a true Spider-man fan, I definitely don't see any reason why you should not download Marvel Spider-man Unlimited. The presentation for this game is really impressive as it feels like watching and playing a moving comic book. The visually stunning graphics are perfectly matched with well-fitting music and sound effects. Not to mention the compelling plot and occasional cut scenes that you will encounter as you progress.
Gameplay wise, Spider-man Unlimited is not different from a standard endless running game. The only difference is the fact that it is not really an endless running campaign.  The game takes you to a level by level system and once a mission is complete, you can unlock the next mission to progress. As soon as the actual level begins, Spidey will run automatically and you must help him evade all the obstacles along the way. The controls are simple yet tricky. You swipe the screen on both sides to switch from one lane to another. You can jump over or slide down obstacles too.
Aside from the obstacles, you will also encounter enemies along the way. You can knock them down either by swiping up or swiping down the screen. Interestingly, you will also encounter various phases in the game where you must use your web swing to move from one building to another. There's also a phase where you must climb on buildings and free-fall from them. In this particular phase, you can only move the character by tilting the device.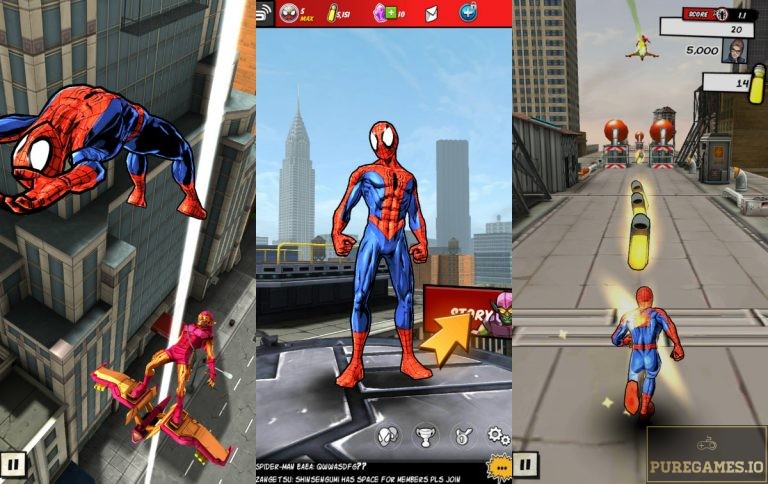 The Entire Spiderverse on One Game!
Spider-Man Unlimited is definitely the most ambitious crossover. Although it is not affiliated with the real Spider-man timelines, the game takes you to the entire Spiderverse.  The game highlights the alternative versions of Spiderman. There are over 200 characters to play in this game and you can unlock them in various ways. You will soon acquire Spider-man from the House of M, The Amazing Spiderman, Spider-man Homecoming and many more.
Each member of the Sinister Six will have their own Issue which gives the game a remarkable longevity. Not to mention the limited events which features special bosses like Thanos and Venom. Most of the settings in this game will take place in New York but you'll get a chance to explore other environments too. You'll soon explore the Sinister Six spaceship, Oscorp Building and many other comic references.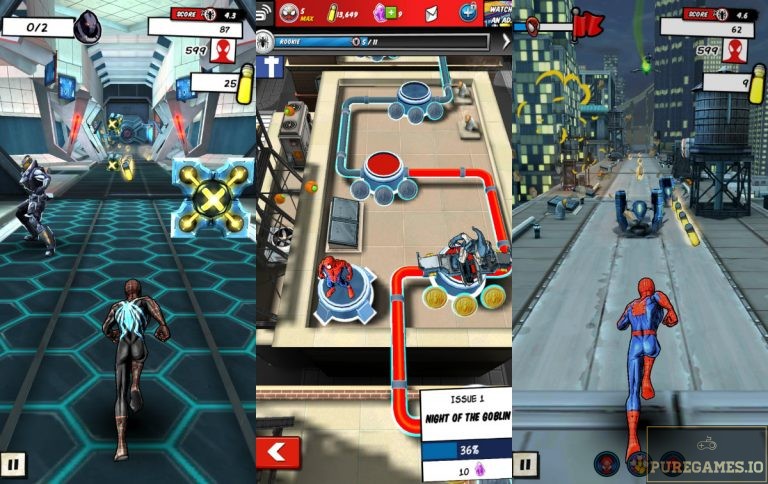 Unlock more Spidey , Form a Team and Rank them up!
Another great element to expect when you download Marvel Spider-man Unlimited is the ability to unlock more Spiderman. You can recruit more members from Spiderverse through Portals. Each portal will cost certain amount of Vials (virtual currency) or ISO-8 (Premium currency). Vials are the one you can collect during each run. Interestingly, you will have no idea which Spiderman version you can unlock as the game generates them randomly. Spiderman versions come in different rarities from Common to Legendary to Infinite.
You can also form your own team of various versions of Spiderman. You cannot have them all in one run and instead, a new spidey will replace the previous character after a failed attempt. After each successful mission, each character will earn experience until they gain a new level. You can also rank them up to make them more efficient.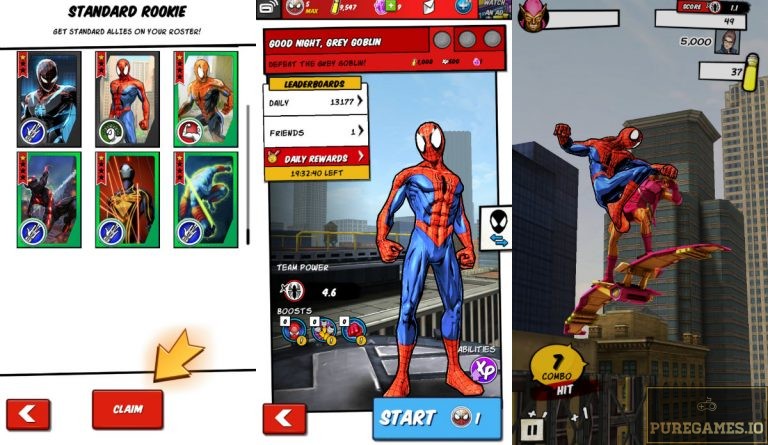 Achievements and Other Special Modes to Unlock
Aside from the main campaign (Story Mode), you can soon unlock other game options. You must reach certain levels in order to access them. Special events will take you to special missions featuring various stories and villains. You can also unlock modes like Spider Ops and more. Other elements you will encounter when you download Marvel Spider-man Unlimited are the Achievements  and the Leaderboard System. Achievements allow you to earn extra vials or better yet ISO-8 while Leaderboard allows you to compete with your friends. You must however link the game to your Facebook account.
Verdict
The game is truly amazing in all aspects. It is not perfect in general but absolutely worth playing. It remains faithful to all the comics which all Spiderman fans will appreciate and enjoy. The gameplay is also addictive and I love the fact that they added an "Energy" system on the game. Each run consumes an energy and you only have a maximum of five. Each energy refills automatically in certain time interval which means you cannot finish this game in one sitting. Overall, it's a great game and an ideal addiction to your Marvel mobile game list!

Download Marvel Spider-Man Unlimited APK for Android/iOS
Select a file to download:
Download Marvel Spider-Man Unlimited v4.3.0d APK