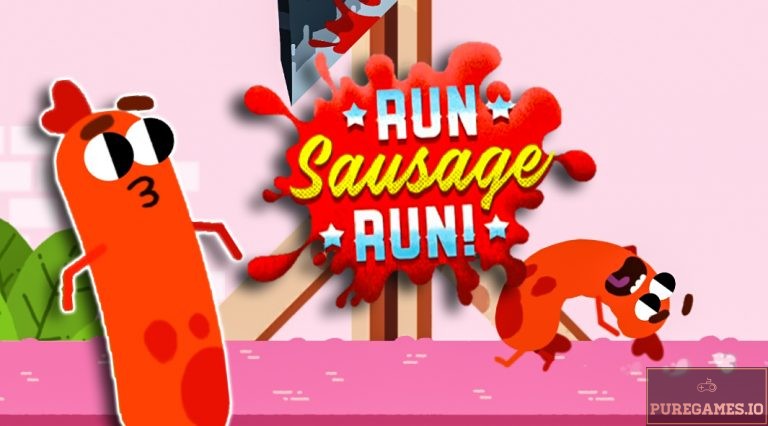 From the makers behind Tower Knights and Cheating Tom series, Crazy Lab comes up with another equally addictive mobile app! Run Sausage Run is a simple yet highly addictive endless running game that will put your skills on a test. As what the title connotes, your goal is to play the role of a sausage and run for your life! The mission is to run as far as you possibly can while evading all the obstacles along the way. The mechanics are generally simple yet frustratingly challenging as obstacles are extremely difficult to evade. If you think you can help this poor little sausage escape, feel free to play this game and see how far you can actually go!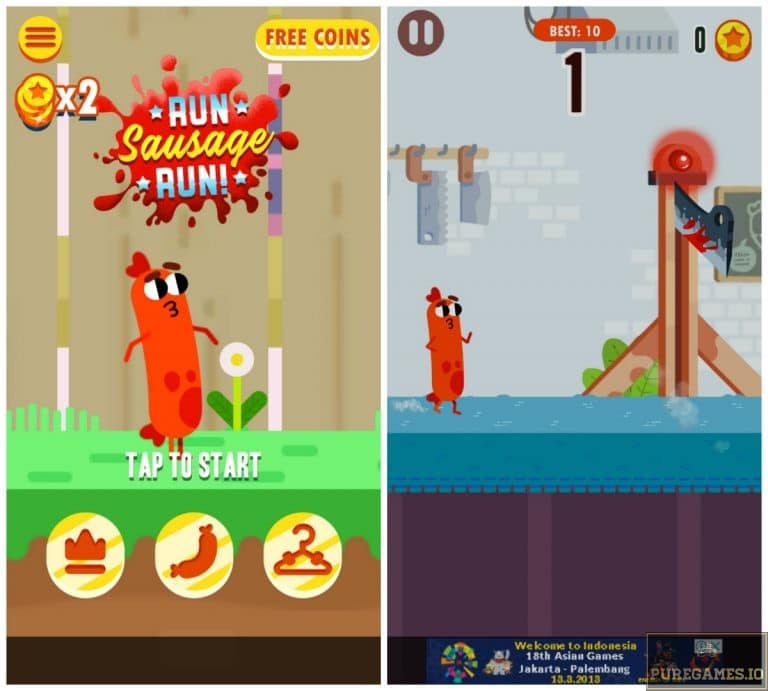 The Gameplay
Simple, fun and addictive! I guess that is how you can perfectly describe Run Sausage Run. It has no supporting plot or any hard core visuals but the gameplay is surprisingly fun and colorful. Run Sausage Run is an endless running 2D side-scrolling game. As soon as the game begins, the character (sausage) will automatically run and the player's control is extremely limited. Since the sausage is automatically moving, the only movement you can manipulate is the speed. By tapping and holding the screen, you can adjust the running speed from slow to fast.
Players will be facing an endless and seemingly interminable number of obstacles along the way. Obstacles will vary and there are certain techniques and movements to evade them. Some obstacles are in form of sharp knives, rotating saw, heat presses, bbq grill, bird, cat human's foot and more. Technically, you are a sausage with no special skills so all you can do is to avoid these deadly obstacles.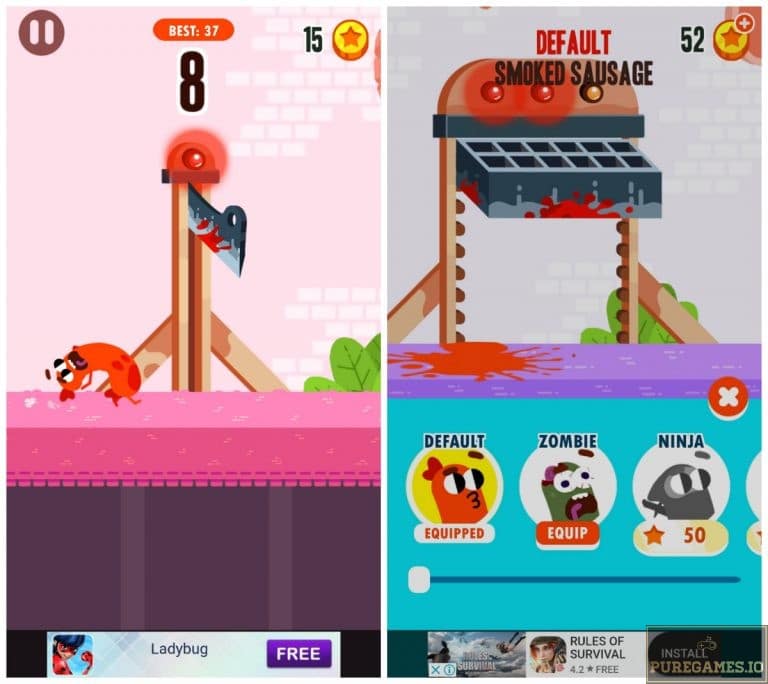 Achievements and Unlockable Characters
The objective might be simple and repetitive but the game highlights an overwhelming amount of achievements every player can unlock. In addition to that, you can also unlock a huge collection of characters. Aside from the default sausage character, you can unlock Bacon, Carrot, Zombie hotdog, Burito and other parodied characters.
Players can unlock most of the characters using coins while others are unlocked by doing certain actions within the game. You can collect coins during the run or by unlocking achievements. You can also get coins through Rewarded Videos, Daily bonuses and through microtransactions.
Power Ups and Leaderboard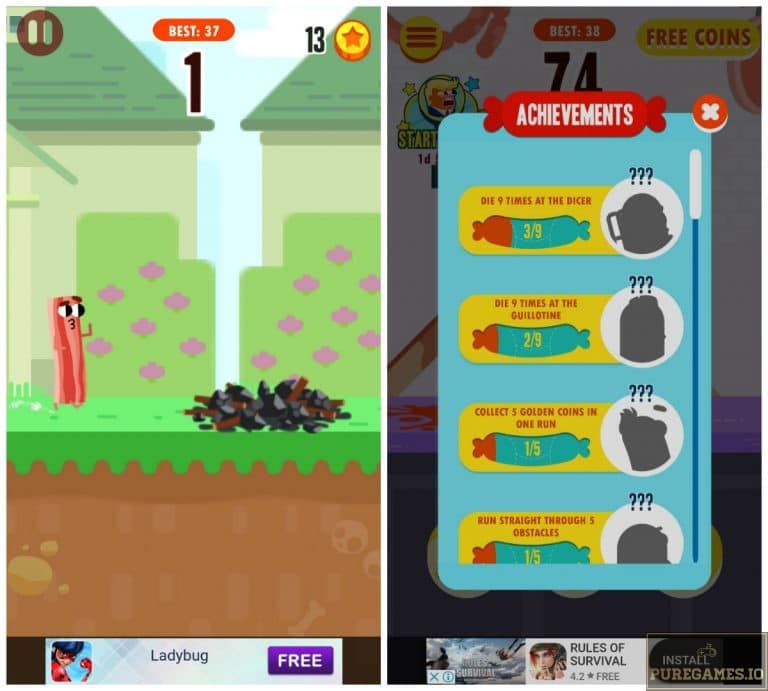 You may not have the ability to fight back but you can acquire power ups to maximize your survival. Aside from the coins, you will also encounter various power ups along the way. Some power ups allows you to shrink or enlarge. Some power ups freezes the entire map while some slows them down.  You can also cover yourself with buns for extra protection. Take note that you have no extra lives to spare so when you get hit by an obstacle, the game is over!
Like most games that share the same concept, Run Sausage Run will record your personal best score which gives the game a decent amount of replay value. The dynamically changing stage (where map and obstacles are randomly changing) makes this game somehow unpredictable. It may not have a multiplayer component but the game allows you to compare score through Google Play account.
Verdict
Sometimes, you don't need impressive visuals or hard core gameplay just to have fun! Run Sausage Run's simplicity has become the game's strength. It is generally simple yet super addictive and fun! After all, who would have thought that a sausage would end up in such epic adventure right?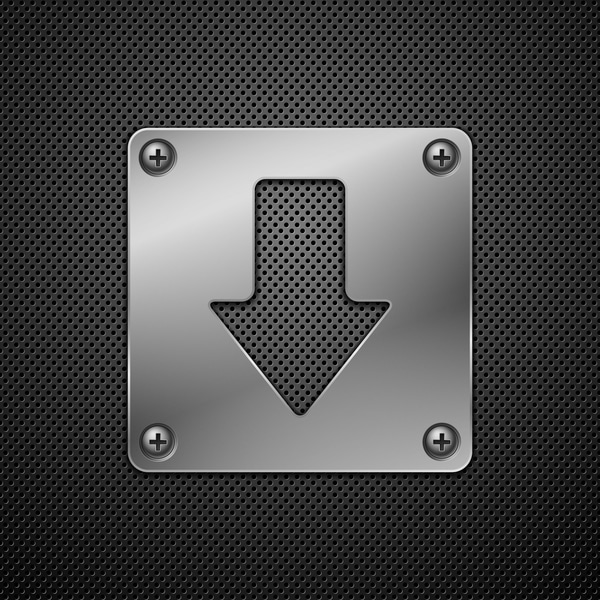 Download Run Sausage Run! APK for Android/iOS
Select a file to download:
Download Run Sausage Run! v1.10.2 APK