Publisher

Bilkon

Platforms

Android 3.0+;

 iOS 6.0+

Price

Free

Size
18 MB
Latest Version
1.10
Ever wanted to play piano, but couldn't be able to afford a real piano? Well, why not look into this app and play some Real Piano? Real Piano is a piano app where you play real piano! Okay, on a serious note, you simulate a piano experience by tapping the keys on the phone screen. This isn't so much of a game rather is it more of a piano imitator. You are playing a piano on your mobile device, and that's about all there is to it. Nothing more, but nothing less.
For pianists, keyboardists, musician, performers, artists, amateurs or beginners. Enhance your fun with different musical instruments(Piano, Flute, Organ, Guitar). Real Piano app with musical instruments to help you learn chords and music notes for free! Learn how to play the piano keys in many interesting ways! You're able to download and learn to play the piano keyboard on your Phone or Tablet for free! This app will be the basis for the development of the your musical abilities. Real Piano allows your children to learn while they are having fun and improve their intelligence levels. It certainly works as a kids app because kids always have a habit of having endless fun with toys, and Real Piano feels like that of a virtual toy. In that regard, I think it works pretty well.
People looking for a more interesting video game experience may seek other apps for satisfaction. However, Real Piano does at least do what it can do. It is rather a fairly decent piano simulation that has an also decent variety of other instruments and tools you could use. Give it a shot if you're curious. It would not hurt in the long run, I imagine. I mean, this is a free app much like anything else we cover on here. Just about anything here that is free is anything that wouldn't be harmful to your wallet when it comes to giving it a go (assuming in-app purchases aren't easily shoved in the player's face, anyway).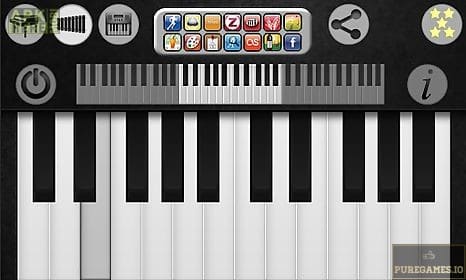 Feel free to give this one a shot. That is, if you want to try some piano. Real Piano is fine as the kind of piano app it is. If you're looking for a game experience that does more than this, you may want to look elsewhere. I give this one a modest recommendation. Maybe you'll find it fun. Just don't expect too much from it as a game. This is a piano app, through and through. And as a piano app, you can expect it to work fine enough for the application that it is. It has a decent variety of accessories you could toy around with, but that's all you could really do with them. Either way, it is all up for you to decide at this point.

Download Real Piano (by Bilkon) APK for Android/iOS
Select a file to download:
Download Real Piano (by Bilkon) v1.10 APK