Publisher
Gameloft
Platforms

Android 3.0+;

 iOS 6.0+

Price

Free

Size
87 MB
Latest Version
1.9.37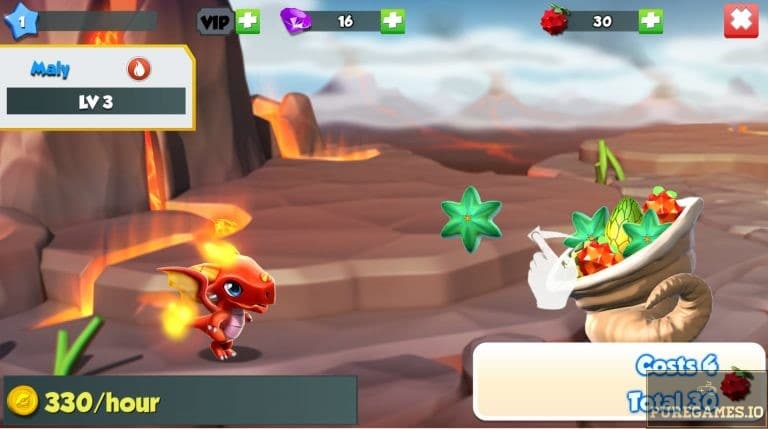 Embark yourself in another remarkable journey with Dragon Mania Legends. From the makers of some of the most hardcore games on mobile such as Asphalt series and Modern Combat comes a surprisingly adorable simulation game. Gameloft, the developer behind some highly realistic 3D games introduces us to a magical and child-friendly atmosphere. In Dragon Mania Legends, you will run a Dragon Academy, train various dragons and defeat the treacherous Vikings. If you think you have what it takes to become a dragon master, download Dragon Mania Legends and let your epic journey begins!
The game welcomes you to the place known as Dragolandia, a land which was once glorious until Vikings arrive to destroy it. A warrior named Arya will introduce you to a Dragon Academy which houses the last dragon in the area. Vikings took all the poor dragons away and now your goal is not just to stop them but to bring Dragolandia back to its harmonious state. You must find habitat for the dragons, breed them and make their population grow. Feel free to download Dragon Mania Legends and see how far you can go!
The Gameplay
The mechanics for this game are very simple . It combines elements from a turn-based combat RPG with an empire building simulation. The objective is to transform your small piece of Land to a Dragon island. In order to do so, you must hunt for dragon eggs, feed them, breed them and train them into their full potential. The players will engage themselves in a series of epic dragon battles and defeat all the pesky vikings and prevent them from their treacherous plans.
If you are familiar with the hit film series "How to Train Your Dragonm", then this is the closes experience you can get in mobile gaming. The game takes you to two major phases; the building and the battle phase.  Building phase is where you construct buildings, lands and habitats for dragons and also to gather resources. Battle is where you engage yourself in a turn-based combat against vikings.
Complete Quests and Defeat Vikings
One thing you will enjoy when you download Dragon Mania Legends is the overwhelming and seemingly endless amount of quest. In the entire course of the game, players must accept and complete quests in order to progress. The quests will vary and some of them will ask you to construct building and upgrade them. Some missions will ask you to train dragons while others will ask you to win certain battles. Interestingly, you can actually do whatever you like in the game but accepting and completing quests is necessary in many levels.
Completing quests allows you to unlock other items and it also grants you rewards in form of gold coins. Players can use the coins to buy upgrades and many other features. Above anything else, the main element that you will definitely enjoy when you download Dragon Mania Legends is the dragon battle. You can access Battles through Ancient portals. This will prompt you to a map showcasing a series of levels. Once engage on battle, it prompts you to an arena where your dragons fight against opposing dragons in a turn based battle.
Train and Breed Dragons
One thing you should expect when you download Dragon Mania Legends is the overwhelming amount of dragons you can unlock and use. Interestingly, the game offers more than 350 unique Dragon species. Please be mindful that you cannot obtain all the species instantly. Every dragon should pass through some growth stages before you can unlock their maximum form. Everything starts off with the eggs. Eggs are obtained from different sources. You can collect them from Daily Rewards, Successful missions and many others. The dragon egg should be placed on a Hatchery. The length of time until they hatch will vary but you can always expedite the process by paying gems (premium currency).
Once hatched, you can now place the baby dragon to its respective habitat. Take note that dragons will; vary in terms of their element whereas Wind Dragon lives in Wind Habitat and so on. In each habitat, you can feed the dragons to make them grow. If they have grown enough, you can now breed them with other dragons so you can produce a new specie.
Verdict
Although it is quite surprising for Gameloft to produce such genre, Dragon Mania Legends is truly entertaining and fun to play with. It offers a colorful and visually stunning graphics with well-fitting music to set the mood. The dragons, although hostile by nature, look seemingly harmless and child-friendly in this game. The combat system is also unique. Overall, Dragon Mania Legends is an impressive simulation game you will definitely enjoy playing with! Have fun and good luck!
Download Dragon Mania Legends