| | |
| --- | --- |
| Publisher | PicsArt |
| Platforms | Android 4.0.3 and up |
| Price | Free |
| Size | 32 MB |
| Latest Version | 10.2.3 |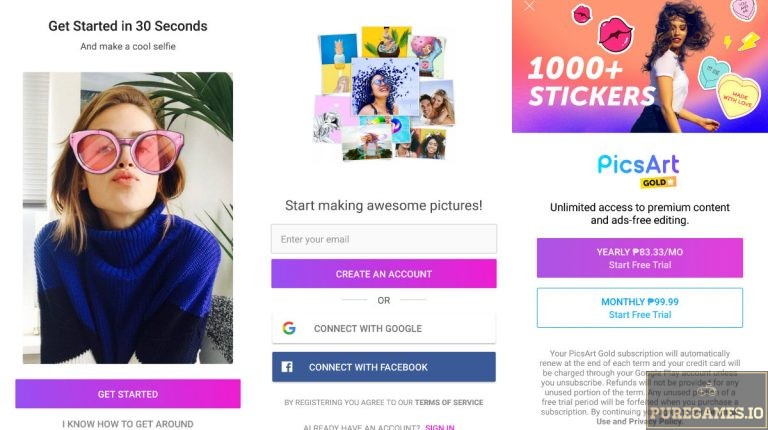 If you are looking for a great Photo Editing app that gives you tons of incredible features, well Picsart Photo Studio might be a perfect fit. The mobile app has everything you need from image editing to collage and drawing application features. Currently with over 500 million installs, Picsart is undeniably one of the most in-demand photo apps today. The app has a powerful image editing tools that can confidently compete with some of the leading photo editing softwares today like Photoshop and GIMP. If you love taking photos and being creative about them, feel free to download PicsArt Photo Studio and see what else this app has to offer.
Whether you are the type of person who loves to take snaps or you want to take your artistic skills to a new level, PicsArt offers remarkable features that you will surely enjoy. It has powerful image editing tools which allows you to improve photos though a huge collection of filters and effects. There's also a feature that allows you make a collage and an amazing Drawing Tool that allows you to express the best of your creativity. If you're looking for a FREE photo editing software, I don't see any reason why you should not download PicsArt Photo Studio on you mobile.
Superb Image Editing Tool
One of the main features of PicsArt is the Image Editing. From the main menu, simply hit the Plus (+) button on the lower center to access main tab. Just tap the "Edit" icon and the app will prompt you to its image editing tool. You can get the image from your Gallery or you can take a snap directly from your phone camera. After selecting or taking a photo, you can now pick to any of the overwhelming image editing tools available.
Tools icon allows you to make basic adjustments to the photo such as Crop, Clone, Curves, Enhance, Tilt Shift and many others. Effects will feature tons of creative filters from FX, Magic, Blur, Artistic, Distort and many more. You just need to be creative enough to end up with a satisfying result. Beautify on the other hand allows you to enhance some of your facial features. To top it all, users can also add stickers, text, borders and drawings. That's just few of the features you will enjoy when you download PicsArt.
Make A Collage
Another neat feature you can use when you download PicsArt Photo Studio is the Collage. Just tap the Collage icon from the main tab and get the access to PicsArt Collage feature. There are three types of Collage Tool to choose from. You can pick Grid for fixed photo collage. This will ask you to select photos from your gallery or take pictures directly from your phone camera. You can freely select which panel you want your pictures to show up.
Freestyle on the other hand features no fixed panel or grids. You can select multiple photos from your gallery and arrange them to whatever position you like. Users can adjust the size, rotate images , change opacity, put backgrounds and anything based on their own preferences. The third tool is the Frame which features colorful frames and backgrounds suitable in many different occasions like Birthdays, Valentines and many more.
Draw
PicsArt's Draw feature is what will surprise you the most. Draw, as what the title suggests allows you to draw pictures. It actually works the same way with PhotoShop and GIMP where you can create multiple layers, add and combine multiple images together, create sketches with wide array of virtual brushes to choose from and many more.
You can even record your own activity and generate video file and save it directly on your device or better yet share it on your social media. One thing you will enjoy when you download PicsArt Photo Studio is the fact that it has tons of surprisingly amazing features yet the app is extremely user-friendly and not as complex as other editing software.
Social Media
Another great feature of this app is the ability to connect your social media accounts and share your artworks to your friends. You can share your masterpiece over Facebook, Twitter or Instagram. Some of the layout are even intended for Instagram photo size and FB photo covers. The app also allows you to discover arts by other onlin users. To top it all, you can also participate in some of their active Challenges and Events.
There's also a so-calledf REMIX which allows you to edit other photos submitted by other users. Simply tap the Remix button below each picture and it prompts you right away to the Image editing tool. You can also follow other content creators and join creative community and grow your network.
Verdict
PicsArt is indeed an incredible photo editing app. It has bunch of impressive image editing features that will absolutely showcase the best of your creativity. To top it all, this app doesn't require any Internet connection to access some of its vital features (except the Social network). Feel free to download PicsArt Photo Studio and embrace its remarkable features on your mobile device!
Download PicsArt Photo Studio