| | |
| --- | --- |
| Publisher | Gameloft |
| Platforms | Android 4.0.3 and up |
| Price | Free |
| Size | 76 MB |
| Latest Version | 1.8.4 |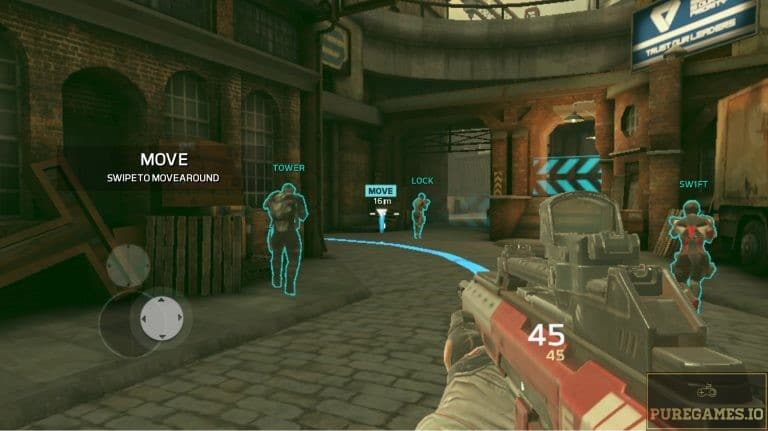 The newest addition to the highly acclaimed Modern Combat franchise by Gameloft is finally here! Modern Combat Versus is indeed the newest Modern Combat game but interestingly, this game is way different from its predecessor. The game is not an official sequel to the popular Modern Combat 5 : Blackout but more of a spin off. While everyone is excited for Modern Combat 6, players can download Modern Combat Versus for a brand new FPS experience.
As what the title suggests, this game will only focus on a versus mode where you will join a 4×4 team battle. There is no story to follow and there is no other campaigns that will emphasize on your character. Generally, it is more like a simplified version of Modern Combat game. Despite that, the graphics are equally impressive and still captures right amount of intensity when it comes to battle. If you enjoy Modern Combat games, feel free to download Modern Combat Versus and see exactly what this game has to offer.
The Gameplay
The game mainly features two opposing teams; The Octo and the KORP team.  The mechanics are very simple and pretty straight forward. As soon as the game begins, the default character which is referred here as Agent will be sent into the battlefield. You will either become part of OCTO or KORP Team. The controls for Modern Combat Versus are notably simpler. You can navigate around the 3D map using the virtual joystick. Unlike the game's predecessor, the aiming and shooting is performed in simpler manner.
Modern Combat Versus features an Auto Fire mode as a default combat method. It means that you just have to move the crosshair towards the target and you will shoot automatically. Reloading also works automatically. The game will focus on Multiplayer mode where you fight along with three other online player and will oppose against another team of 4. There will be different modes to explore such as Zone Control and Bounty but they are being assigned randomly.
Unlock New Agents And Master Their Abilities
One thing you will love when you download Modern Combat Versus is the overwhelming amount of playable characters to choose from. Currently there are 18 different agents to choose from with six different rarities including Common, Rare, Epic, Exotic, Legendary and Hero. Not all the Agents are instantly available. You start off with a Common Agent. You can only unlock the rest through Loot Crates which you can mostly avail through premium currency (Diamond).
The agents will also vary in terms of their roles or classes. There are Attacker, Defender, Assassin and Specialists. Each agent also differs in terms of their default weapon and their ability. All the 18 Agents posses unique ability that they can use ever mission. These abilities can be mastered to make their more efficient in ever battle. There's a skill tree in which each ability must pass through three tiers of upgrades before the agent learns the Ultimate Skill.
Loot Crates, Contracts, Clans and Tournaments
One thing you should expect when you download Modern Combat Versus is the overwhelming multiplayer features. There might not be a story mode in this game but there are many areas you can still explore. Contracts for an instance is a campaign that runs on a limited time. The campaign gives you a series of task and allows you to earn and claim rewards in return. You can also explore other campaigns like Events, the ability to join and build clans. You can also join Tournaments and enter Spectator mode and watch live battle.
Loot Crates on the other hand are the most essential part of this game. You can earn loot crates from battles or better yet purchase them through Diamonds. You can also earn them through daily bonuses and events. Loot Crates allows you to earn random prizes. You can earn tokens (to craft upgrades), Tickers (to buy new skins for agents) or even new Agents. If you are lucky enough you can unlock rare or better yet a Hero Agent which are by far more powerful than the common ones.
Verdict
Appearance wise, there is no doubt that Modern Combat Versus exceeds all expectations. The game is indeed impressive in many levels. It has a smooth gameplay with simplified and less complex controls and surprising a lot of features to unlock. Those who enjoyed the early Modern Combat games though may not experience the same thing when playing Modern Combat Versus. The lack of story mode and less-challenging gameplay are more like a downside to avid Modern Combat fans. Other than that, the game is truly remarkable and you can download Modern Combat Versus on your mobile and confidently include the game on top of your list!
Download Modern Combat Versus