| | |
| --- | --- |
| Publisher | Pixelbite |
| Platforms | Android 4.3 and up |
| Price | Free |
| Size | 711 MB |
| Latest Version | 1.5.9 |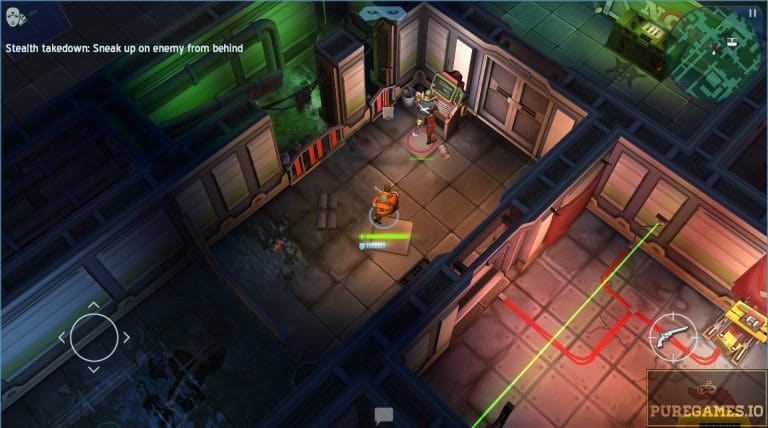 Officer Burton is back! Pixelbite brings back their epic sci-fi west adventure with Space Marshals 2! The galaxy is once again facing a great danger as the space pirates are starting to invade almost every planet. It is time to put things back together and bring the space back to harmony. Officer Burton along with his companions including Ava will set themselves on an epic intergalactic mission. The goal is to infiltrate the enemies territory and kill every single pirates. If you think you are skillful enough to help them, feel free to download Space Marshals 2 and see how far you can go.
Interestingly, Space Marshals 2 embraces everything from its successful predecessor. The incredibly amazing graphics, the top down shooter perspective and the stealth missions that will definitely put your skills on a great test. One of the most exciting additions in this game is a separate Ava mission which you can avail through game's microtransaction. If you're ready for an epic mission, download Space Marshals 2 and let the galactic journey begins.
The Gameplay
The game welcomes you with a cinematic introduction.  The mechanics are very simple and if you have played the first game, you should know how this sequel works. It basically follows the same gameplay but in all new atmosphere and maps to explore. The graphics are notably improved too. Space Marshals 2, much like its predecessor, features an impressive easy-to-play controls. You can freely navigate around the top down map using the virtual joystick. Aiming and shooting are both uniquely done too. You simply tap and swipe the screen towards the target to shoot.
Players can examine or interact with objects by tapping certain buttons that will appear when you move nearby. Your objective will vary per level and most of it involves infiltration of teritorries. Much like the first game, Space Marshals 2 will give emphasis on stealth. It feels like playing Metal Gear Solid 1 but in an intergalactic atmosphere. If you're looking for a challenging game with well-crafted story and well polished gameplay, you should download Space Marshals 2 as it is indeed a perfect fit.
Stealth
If you download Space Marshals 2, you should expect that most of the missions require you to infiltrate enemies' territory. The map is overrun by an overwhelming amount of space pirates who are all armed and well-equipped. In order to accomplish your mission, you must perform a lot of stealth action. It is very important not to get caught, otherwise the alarm will trigger and you will surely put yourself in great danger. If the alarm is triggered, the space pirates will get extremely alert and will try to hunt you down.
Players can go on a switch mode by simply tapping the screen twice. You can switch back to offensive mode by doing the same thing. When in stealth mode, you can slowly attack enemies from behind without consuming any of your ammo. Take note that gun shots may also trigger enemies so try to utilize the stealth mode. Your weapon also has limited ammunition. Ammo, Health, and other items are randomly distributed in each map.
Weapons and Missions
Another great feature you should expect when you download Space Marshals 2 is the overwhelming weapons to unlock. Currently this tactical action game offers over 70 different weapons. Players can equip the weapons their preferred and switch from one weapon to another during each mission. Weapons will come in wide variety from Single-handed to Double-Handed weapons. Our space cowboy will not just settle on his pistols and eventually you can unlock more powerful and destructive weapons. There are shotguns, assault rifles, crossbows and even grenades.
The game also features a total of 20 missions which are lengthy enough to provide this game a commendable longevity. The score per mission is also based on your character's performance  which gives Space Marshals 2 an incredible replay value.
Verdict
Space Marshals 2 is indeed not your typical dual stick shooter game. It is not the type of action game where you spray bullets and kill everyone standing along your way. The game mainly requires tactics and will emphasize more on stealth. It also features a compelling plot with amazing continuity and of course, the game will not disappoint you with its high quality graphics! Absolutely a visual delight!
Download Space Marshals 2