| | |
| --- | --- |
| Publisher | Voodoo |
| Platforms | Android 4.1 and up |
| Price | Free |
| Size | 34 MB |
| Latest Version | 1.2 |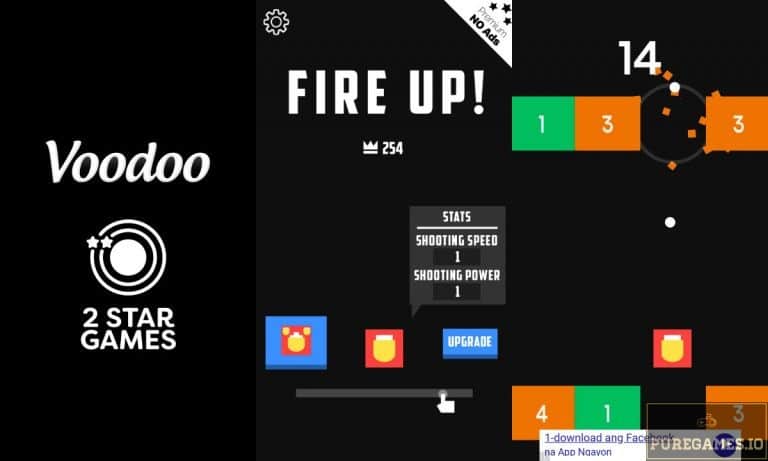 What can you get if you merge both Snake Vs Block by Voodoo and the classic Breakout game? Well, you'll get Fire Up! It is one of the latest additions to the ever growing Voodoo game collections created by 2 Star Games. Basically, Fire Up is an endless running shooter game in which your goal is to get the highest score as possible. You take control of a shooter and you must make your way on top. It might sounds easy but you will encounter an endless blocks along the way and you must destroy them in order to pass through. If you think you can master this game effectively, feel free to download Fire Up and see how far you can go.
Interestingly, Fire Up features notable elements from Snake Vs Block (another Voodoo game). Like SvB, Fire Up features numbered blocks which indicates the amount of hits it should take before being destroyed. The only difference is that, the shooter launches infinite ammo. If you are looking for a simple yet addictive game on your mobile, this is a perfect fit. You can download Fire Up from Android or iOS app stores for Free.
The Gameplay
The mechanics are very simple and easily manageable. As soon as the game begins, it prompts you to a simple upscrolling screen. The shooter will accelerate automatically as soon as you touch the screen. The only movement you can manipulate is the ability to move on both sides. Simply swipe the screen to whichever side you want your shooter to go. It is also interesting to note that the shooter shoots automatically. The ammunition is also infinite.
If you download Fire Up, the first thing you will notice is the game's overall simplicity. Appearance and gameplay wise, Fire Up is a kind of game that can be played by gamers of all ages. Despite the apparent simplicity though, the game still offers a decent challenge. The longer you progress, the more challenging the game will become. Above all, Fire Up is surprisingly addictive and fun!
Blocks and Their Values
Blocks will vary not just in terms of their colors but also with their numerical value. Each block has a number on them to indicate the amount of hits a player needs to destroy them. Let's say a block has 200. It means that a shooter must hit the same block 200 times to remove it. Blocks usually come in row and a player must at least destroy one in order to pass through. The challenge here is the distance between the previous row and the next row of blocks.
You must destroy any of the blocks and prevent the shooter from crashing; otherwise the game will come to a quick end. This is the reason why you have to pay attention to their values. It is ideal to look for the block with the lowest value for easy access. Colors can also serve as your identifier whereas Greens are the lowest and Red are the highest. You will also encounter blocks with Stars on them. Destroying these blocks will destroy every blocks on the screen so better take advantage of them.
Collect Power Ups and Upgrade your Shooter
One thing you will enjoy when you download Fire Up is the ability to obtain various power ups. Interestingly, you will encounter different power ups along the way. These power ups will absolutely boost your abilities and will maximize your chances of surviving. It includes an instant boost on your fire speed or a drastic increase on your damage rate. You can also obtain power up that allows you to shot in three different directions at once.
The amount of blocks you destroy and the value will sum up at the end of each game. You can use the points to upgrade your shooter. There are two attributes you can upgrade; the Shooting Speed and the Shooting Power. Upgrading the shooter is the key to stay longer in each attempt. The tricky part however is the fact that the upgrade fees are exponentially increasing which adds a decent longevity and replay value to the game.
Unlock Skins
Another great feature you will appreciate when you download Fire Up is the overwhelming skins you can unlock. You cannot unlock skins through virtual currency but through achievements. Interestingly, the Shooters will come in various types; Starter, Shooting Power, Movement Speed, Double Shooter, Shield, Shooting Speed, Sideway Shooter and Triple Shooter. Each type will feature different special skills that you can take advantage of.
Shield Shooter for an instance will provide you a temporary protection which gives you an extra life point. Triple shooter on the other hand comes with larger fire range. Aside from the Shooters, you can also change the Balls but they don't come in any types or special abilities.
Verdict
Fun, simple and addictive! I guess that are the first three things you can experience when you download Fire Up. The game doesn't feature any visually stunning details. It doesn't even have any music to accompany the game. Despite the missing features, the game is absolutely fun and entertaining. A leaderboard system can also make the game even more engaging. Overall, it is simple game that you can add on your mobile without taking much of your storage. Above all, the game works offline too!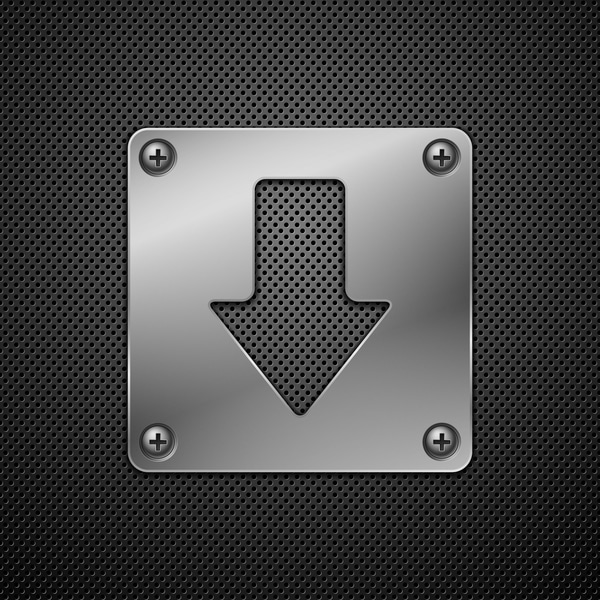 Download Fire Up! APK for Android/iOS
Select a file to download: