| | |
| --- | --- |
| Publisher | Robot Gentleman |
| Platforms | Android 4.1 and up |
| Price | $3.99 |
| Size | 27 MB |
| Latest Version | 1.24 |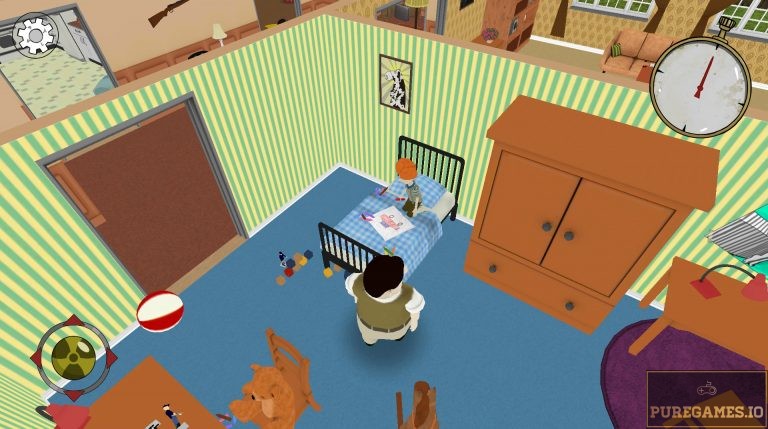 What will you do if you find out that a nuclear bomb will land nearby your area? I'm pretty sure that you do not want you or your family to suffer from such devastating catastrophe. 60 Seconds! Atomic Adventure takes you back into 50s featuring a family in a Suburban place. The game takes you in a critical situation where you need to decide on what to do to survive. 60 Seconds! Atomic Adventure is a brilliant game that will put your decision-making skills on a great test. If you think you can survive this major catastrophe, feel free to download 60 Seconds Atomic Adventure and see how far you can last.
60 Seconds! Atomic Adventure is a simple decision making game with various possible endings based on your decision. It feels like playing a visual novel but in an entirely different mood. The game features Ted, a caring father who will do everything for his family. He has a loving wife Dolores and two kids; Mary Jane and Timmy. Will they be able to make it? Will they survive this chaotic event?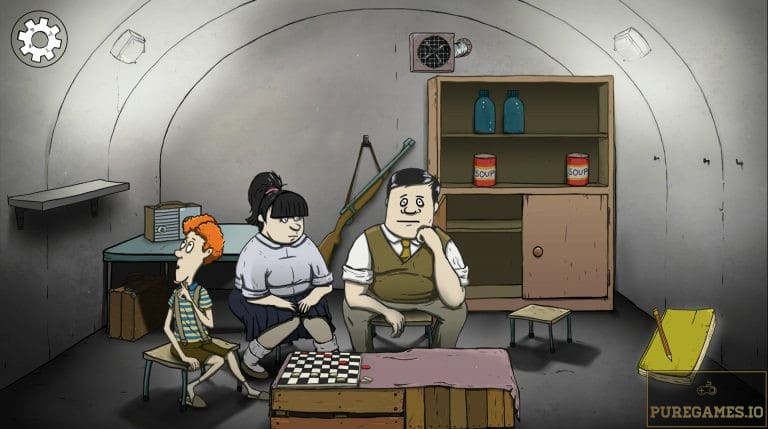 The Gameplay
Gamers who wish to download 60 Seconds Atomic Adventure will experience how it feels during the World War. The game might feature a dark comedy but the concept is really intriguing and thought provoking. Imagine how hard it was for a family to survive such devastating situation. Luckily, Ted and his family have a Shelter to keep them safe for a short period of time. The objective for this game is simple; survive as long as you possibly can.
The game will take you to two different phases; the scavenging and the actual survival phase. During the Scavenging, you will take control of your character to gather enough resources and put them down to the shelter. You should also include your family during the scavenging. As what the title suggests, the player only has 60 seconds to gather all the things he need. After the 60 second time frame, you must go down the shelter and start the Survival phase. In Survival phase, the family will do their best to survive. This is where the decision-making will take place. You must decide how to ration your limited supply, who must go outside to scout for resources and many more critical decisions.
The fate of the family depends on your decision so pick your option wisely.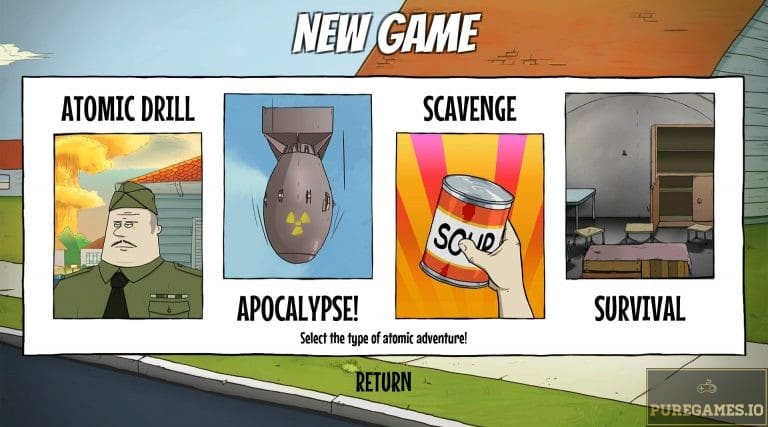 Four Different Campaigns to Explore
Interestingly, when you download 60 Seconds Atomic Adventure, you can choose to play the game in four different campaigns. These campaigns include Atomic Drill, Scavenge, Apocalypse and Survival. Atomic Drill is more like a tutorial campaign. In this mode, you will get to know the basic elements of the game. You start off with the 60 second scavenging and will conclude on the survival phase in the fallout shelter.
Apocalypse works the same way with the Atomic Drill but in full experience. It follows the same procedure but in a more intense manner. Scavenge Campaign as what the title suggest will only focus on the 60 second scavenging. The goal is to gather as many resources as possible within the given time limit. Survival, on the other hand, is the hardest campaign of them all and will take you to a one-of-a-king post-apocalyptic adventure.  The goal is to survive in your fallout shelter with random supplies and resources.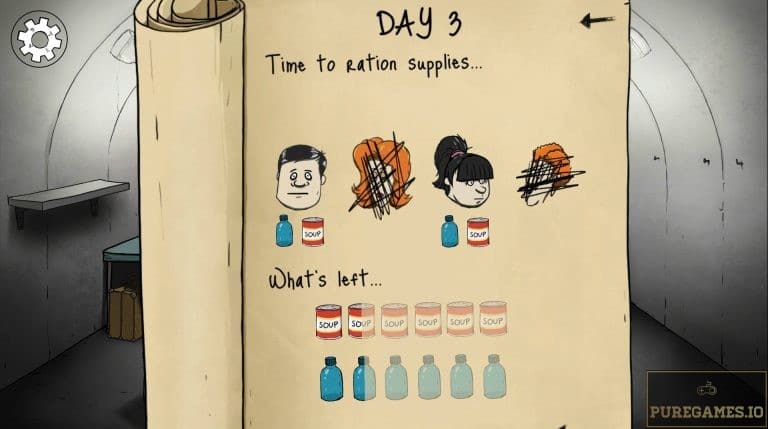 Know Your Basic Survival Necessities
The best part you will enjoy when you download 60 Seconds Atomic Adventure is the highly realistic experience. The graphics may not give enough justice to it but the logic is real and it lets you visualize the actual scenario you are dealing with. It is a survival challenge and you should know which your basic survival necessities are. You should know which item to prioritize and which things you should rather leave behind.
Much like in real survival, items like canned foods, water, flash light and radio will play crucial role in maximizing your survival. Water and food are the most essential items in the game so make sure to include them during your scavenging. The biggest challenge is to gather all the resources due to its complex maneuverability.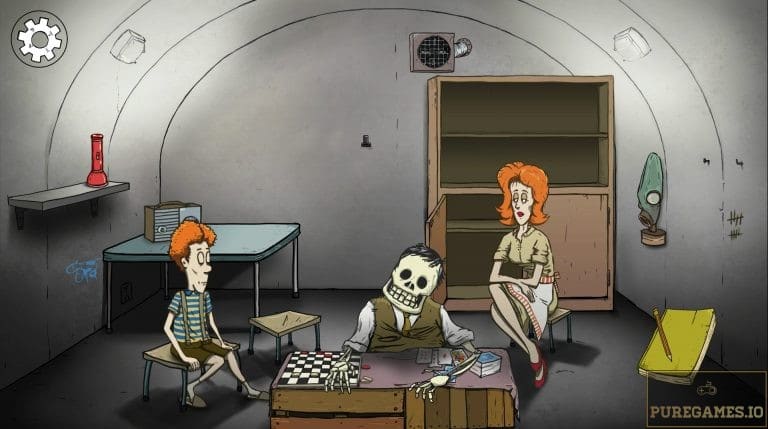 Verdict
The game is generally simple but the fact that it has many possible endings provide the game an incredible replay value. The house and the location of the items will dramatically change on every attempt makes the game unpredictable and challenging at the same time. If you are into such adventure, you can buy and download 60 Seconds Atomic Adventure on your mobile and experience a one-of-a-kind intensity of surviving. Simple, fun and addictive! That is how to can perfectly describe this game! Cheers!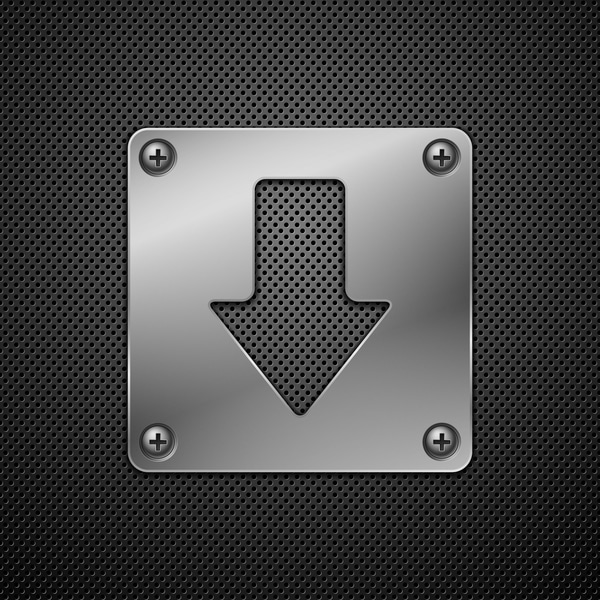 Download 60 Seconds! Atomic Adventure APK for Android/iOS
Select a file to download:
Download 60 Seconds! Atomic Adventure v1.24.5 APK