Publisher
VNG Game Publishing
Platforms

Android 4.2 +;

iOS 8.0+

Price

Free

Size
24 MB
Latest Version
1.0.0
Anyone who grew up in the 90s must be very familiar with the King of Fighters. This epic fighting game has come a long way and eventually grew into a successful game franchise. It expanded to an overwhelming number of sequels and spin-offs that allow the series to conquer almost every gaming platform from arcade machines to mobile devices. Interestingly, a new spin-off game was recently launched for both Android and iOS devices by VNG Game Publishing. The KOF Final Battle – All Star takes you to a nostalgic action-packed adventure that features all your beloved KOF characters. If you are an avid fan of the series, KOF Final Battle – All Star is definitely something you should not miss.
The Gameplay
KOF Final Battle – All Star is more than just your typical fighting game. While the game features all the classic SNK heroes that we all grew up with, the game comes with entirely different gameplay that provides players great new gaming experience. The game welcomes with a brief cinematic introduction that features an epic clash between Kyo Kusanagi, his team of heroes,  and their attempt to seal the demon Orochi. However, when the Kusanagi Fire and the power of the Orochi clashed, a mysterious gap is warped from the space. The adventure will take place years before the epic duel.
The mechanics of the game are generally simple and easily manageable. The main page will give you access to all the game's available features. It displays your entire team which is composed of six wonderfully-designed characters. Located on the far right side are panels giving you access to the Stage (the main campaign), Challenge, Contest, Adventure, Path of Deity, Faction Resource War, and Club. All of which can be unlocked upon reaching certain levels. Located at the bottom right are icons that will give you access to Fighter, Clan, Recruit, Inventory, Deploy, and Quest. You can also spot random icons on the screen for special and limited time events.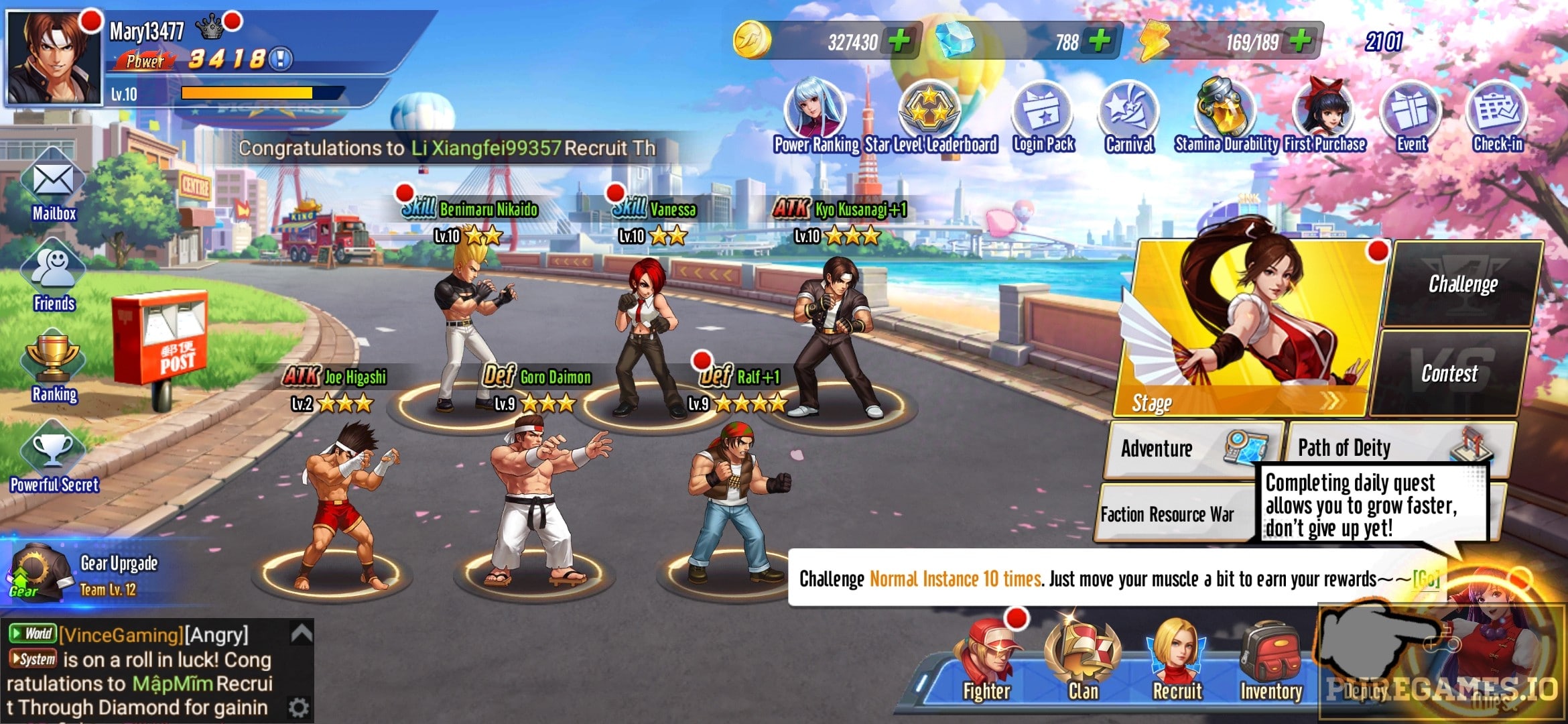 To start your journey, tap the Stage panel to access the world map. Each map is composed of at least 5 stages that you must complete. Each stage can grant you a maximum of three stars which you must collect to obtain the grand reward. The star-system provides KOF Final Battle – All Star a remarkable replay value. Unlike the old school King of Fighters game, the battle system for KOF Final Battle – All Star is not purely skill-based.
Located on the bottom screen is your team's profile. Each character comes with health (green bar) and skill (yellow bar) meter. If they have earned enough skill points, you can activate their special skills right away by tapping the character card. You can also spot a number for each character which indicates the required mana points to activate their special or combo attack. The mana bar can be found below the team's profile that automatically increases over time.
Gacha System
Another great feature of KOF Final Battle – All Star is the gacha system. In order to get new members for your team, you must recruit them through the in-game gacha system. Tap the Recruit icon from the main page. There are three types of Recruiting in this game depending on currency; Recruit with Gold, Recruit with Diamond, and 10x Summon with Diamond. This gacha system will either provide you a new character or just shards of them. Those that require diamonds often come with decent results.
Interestingly, the characters from the game's gacha system are based on the previous King of Fighters titles. It also includes characters from SNK's Samurai Showdown and The Last Blade. It is very important to note that each character comes with its own set of skills. To make them more efficient in every battle, it is necessary to upgrade them and improve their respective attributes. Simple tap the Fighter icon from the main page to access their individual profiles. You can do a lot of upgrades for each character as long as you have enough resources.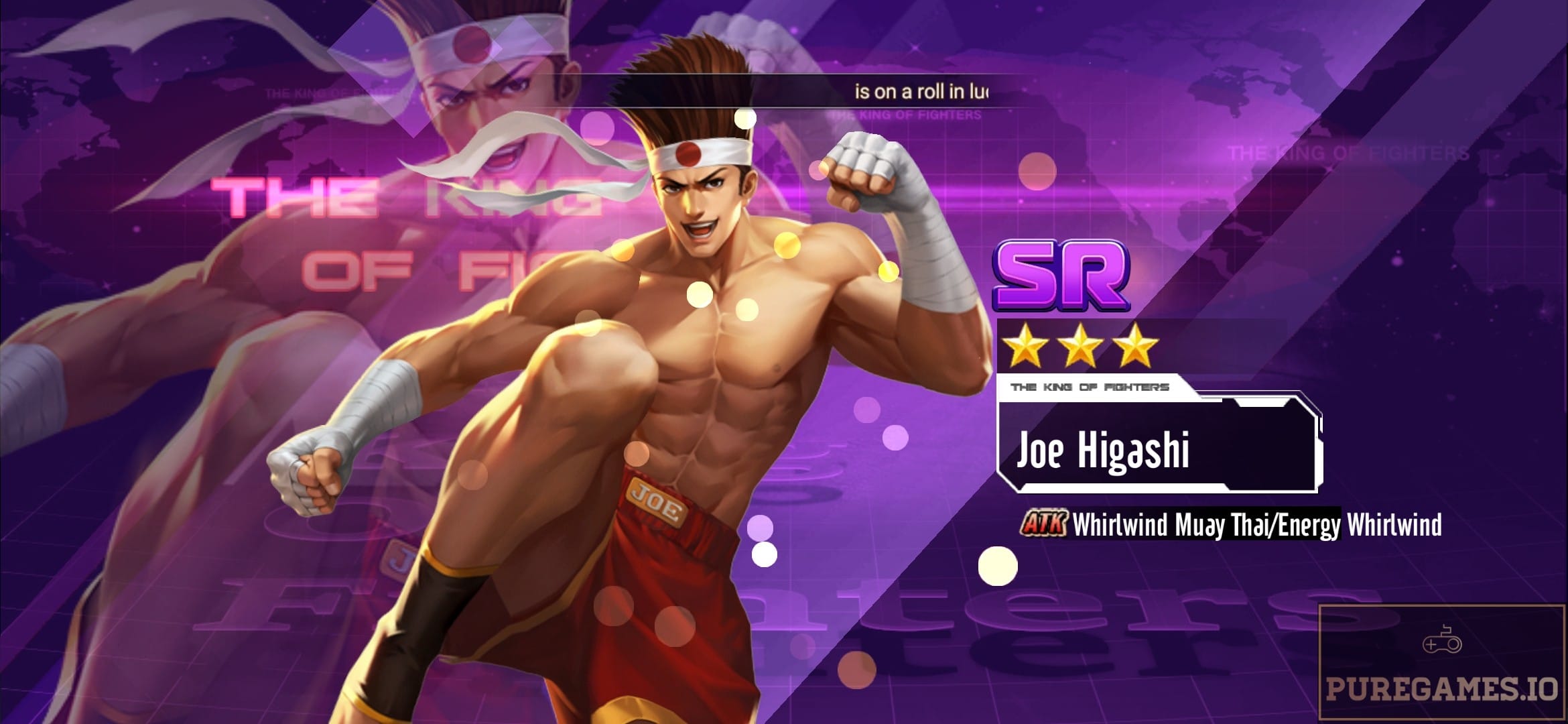 Characters can be Upgraded quickly using different chocolate variants. Apparently, feeding them with chocolates will give them a quick exp boost. You can also Quality-up each character if you have collected enough potion and gems. Moving up, on the other hand, allows you to upgrade their skills and increase their respective attributes. Star Up allows you to increase their ranking. You can also upgrade their gear to make them more efficient in the battle.
Multiplayer Elements
Another interesting highlight of KOF Final Battle – AllStar is the multiplayer campaign. You can access the game's multiplayer modes through the Contest panel from the main page. The first multiplayer campaign available would be the Arena where you fight against other teams to increase your rank. Here, if you win the battle, you will automatically replace them on their current rank. The higher the rank you reach, the greater the rewards you will get for each victory. KOF Conquest is another multiplayer feature that you can unlock upon reaching Level 45.
You can also interact with other players online through the game's Club system. It works like a clan or guild where you can either join existing groups or better yet create your own club. Once you have unlocked the Club function, you will be asked to select your preferred faction. There are four factions available to choose from including Chizuru, Kusanagi, Iori, and Another World. Honestly, the game has an overwhelming number of features to explore and the numbers are constantly growing as you progress.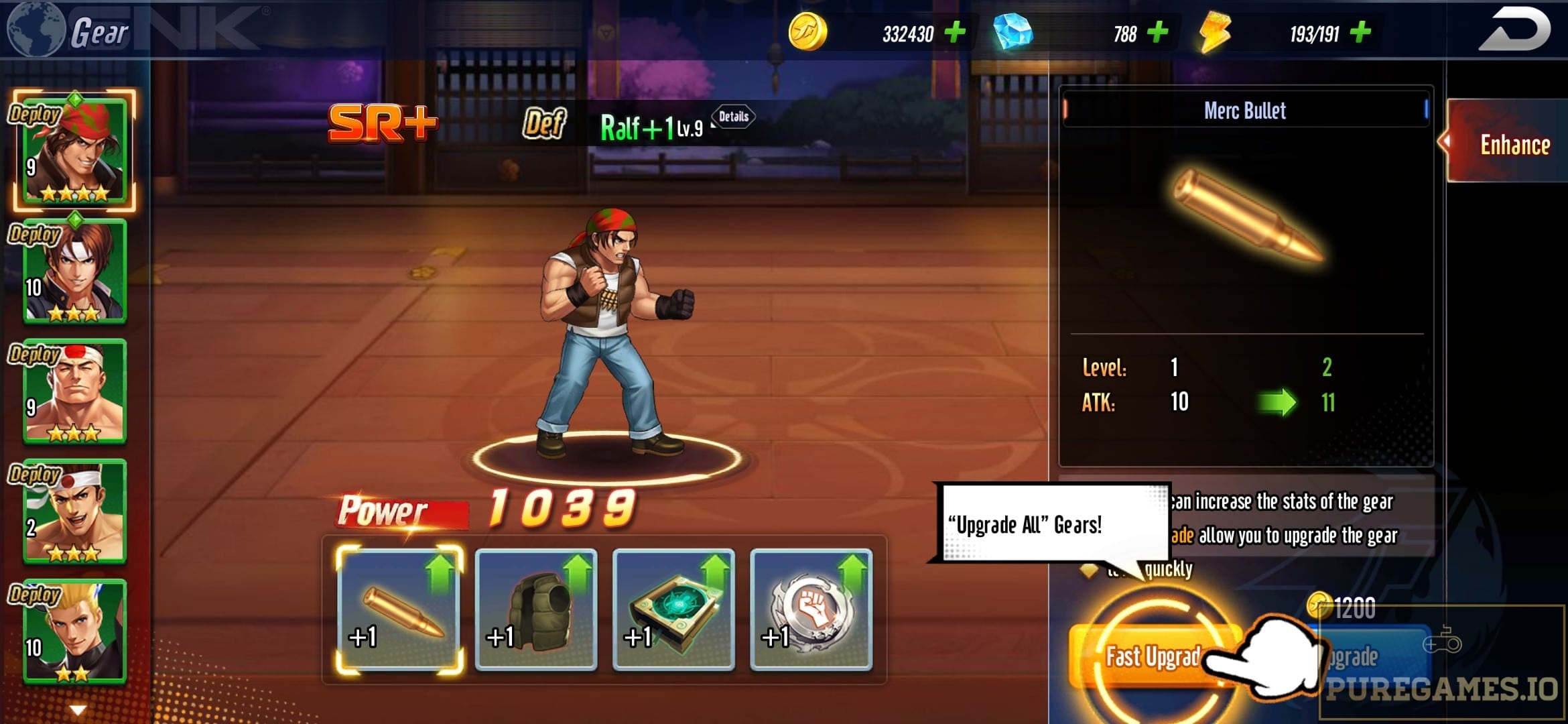 It is also interesting to note that KOF Final Battle – AllStar comes with a generous reward system. You can get rewards in almost every feature of the game including the Daily Log In Bonuses, Quest, Carnival, Star Level, Club and Power Ranking, Events, and many more. You can even get rewards just by visiting your mailboxes. The game also has an interactive Friend System where you can add new friends and take advantage of some of its cool perks.
The Verdict
Whether you are a big follower of the epic King of Fighters franchise or you are just new to the game, KOF Final Battle – All Star is absolutely worth exploring. First of all, this is not one of the KOF clone games that you can see in the mobile market today but an official KOF game that is affiliated to SNK.  VNG managed to keep the original Characters, Voices, and Skills of SNK All Stars gathered from SNK iconic games like King of Fighter, Samurai Shodown, and The Last Blade. Appearance-wise, the game features both the original art and as well as their chibi counterparts.
The graphics and the music managed to capture the classic KOF vibe which gives you nostalgic gaming experience. There's an overwhelming number of features to explore that provides the game a commendable longevity and a decent replay value. While we are all eagerly waiting for the upcoming The King of Fighters XV which is scheduled for release this year, KOF Final Battle – All Star is definitely the perfect game to add on your game list. Currently, KOF Final Battle – All Star is available for both Android and iOS devices and you can download this amazing game absolutely for free. Good luck and have fun!