If you are an Android Phone user then you are probably aware of the APKs or at least you have heard about them somewhere. If not, allow this post to teach you how to install APK files and why do we need them. Basically, APK allows you to install app on your phone though APK files that you can download from the internet.  You might wonder why we need separate files if we can just install them directly from Google Play Store. Well, there are many reasons why APK files can be extremely beneficial.
What are APK Files and why we need them?
First and foremost, we should know what APK stands for. APK basically stands for Android PacKage or Android Application Package. Android operating system uses this package file format to distribute or to install mobile apps. Basically if you download any mobile apps from Google Play Store, the system installs an APK file to the device.  However there are cases where you cannot download certain apps from Google Play Store. This is the reason why we search and download APK files from other resources online. This process is often referred as "Sideloading".  You should be knowledgeable enough on how to install APK Files.
Reasons why we install APK Files from Third party Source
Google Play Store is the official source of all the mobile apps for our Android devices. You just have to tap the Play Store icon and it prompts you right away to the system. Simply search for the mobile app you want and hit Install and the system will do the rest of the job. Sometimes, it is not always the case. Listed below are some of the reasons why we install APK Files from unofficial sources other than Google PlayStore.
Skipping Time Consuming App Updates. We all get excited when a mobile app gets an update but the waiting time is sometimes unbearable! If you know how to install APK files, you can skip the process of waiting and embrace all the updates in no time.
Get the App before the Official Release. Another interesting advantage of sideloading is the ability to install apps prior to their official release. Some mobile game developers tend to release APK Files before they make their game official on Google Play Store. This gives you a chance to play the games before they hit the mainstream.
Install Apps that are not available in Google Play. Interestingly for some reason, there are apps that are not available in Play Store. Nope! We are not talking about iOS apps but those that are made for Android yet surprisingly not available in PlayStore. You can have these apps on your device through manually installing APK Files.
If Play Store is Not Working. From time to time, we'll experience some technical issues with our device. Some major apps like Google Play Store may suddenly stop working. Whether it has something to deal with Cache or system itself, you can find APK files handy. You can install APK Files and make it as an alternative for Play Store.
Download Paid Apps for Free. Although not really ideal, one of the reasons people install APK Files is to download paid apps for free. Just be mindful that developers spent time and effort to create these apps so try to avoid installing APK files for this specific purpose.
How to Install APK Files on your device?
Installing APK Files is not that difficult. It's just like the exe files we install on our computer to run a program. However, just like those files, the first thing you have to consider is to find a reliable and safe source. Some sources may contain viruses that can harm your device. So without any further ado, here's how to install APK files on your device.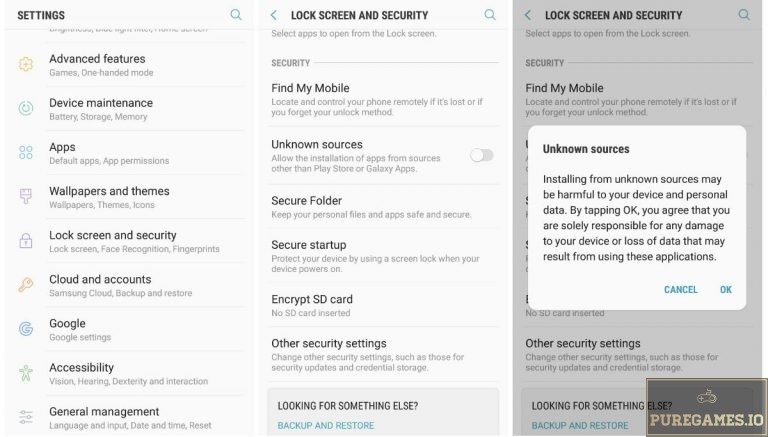 Look for a reliable source of APK Files and download it on your device.
Allow Unknown Sources on Your device. Head over to your Settings then proceed to Security. Under Security, look for the "Unknown Sources" option and turn it On. This will now allow you to install apps from sources other than Play Store.
To download the app, head over to your Files (My Files or File Manager icon). Go to Downloads Section and search for the APK Files you recently downloaded.
Tap the file and install the app.
How to Install APK files from PureGames.io
If you are looking for a reliable source especially for mobile game apps, look no further as PureGames.io will provide you the latest and trendiest mobile games today. This webpage will not just provide you an in-depth app review but also your reliable source of APK files. To install APK files from Puregames.io, follow the simple steps below
Search for your Mobile game. Use the search bar to look for the games you want to install.
Located below the review are APK links. Simply click the link to download the file.
Just follow the given instructions above to install the mobile game app on your device!