| | |
| --- | --- |
| Publisher | Upland |
| Platforms | Android 5.0 and up |
| Price | Free |
| Size | 38 MB |
| Latest Version | 1.0.4 |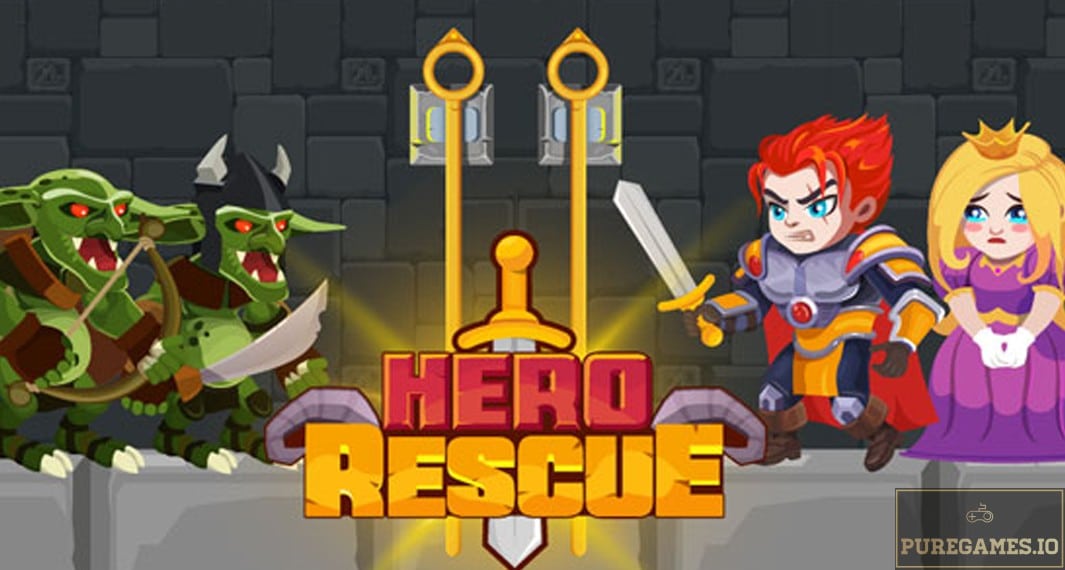 You've probably encountered some interesting ads showcasing a tricky pin pulling puzzle. However, when you downloaded the app, you will be greeted with entirely different gameplay. The use of false advertising is very common nowadays but luckily we still have some developers who are kind enough to transform these misleading ads to a real playable mobile game because, well, we all deserve it. We recently came across this new game by Doan Thanh called Hero Rescue and yes, you get exactly what you see from their ads. A real pin pulling puzzle that will take you to an overwhelming number of crazy physics-based challenges. If you think you got the right skills to master this epic puzzle game, then download Hero Rescue on iOS now and see how far you can go.
What To Expect in Hero Rescue
Hero Rescue is a physics-based puzzle game that will take you to a series of challenging levels with a varying range of difficulties. The goal is to clear all the levels by strategically pulling the pins from the puzzle. There are different objectives in the game but all of them follow the same rules. Some levels will ask you to collect gold while others will either require you to kill the pesky goblins or rescue your damsel in distress (hence the title). The rate of difficulty in this game will drastically increase as you progress so if you decided to download Hero Rescue on iOS, make sure you are mentally prepared for all the surprising challenges you will encounter ahead.
It is also interesting to note that aside from the main campaign, Hero Rescue comes with other equally-engaging campaigns to explore. These campaigns can be unlocked upon reaching a certain level in the game.
Treasure Mode – Unlocked at Level 16. Goal: Collect golds from the puzzle and convey them all to the treasure chest.
Tower Mode – Unlocked at Level 28. Goal: Bring the Treasure Chest down by removing the tower of blocks below it.
Block Mode – Unlocked at Level 40. Goal: Defeat all the pesky goblins by dragging them down the deadly spikes.
Sword Mode – Unlocked at Level 124. Goal: Collect the sword and kill the goblins by strategically pulling the pins.
The player can also unlock various Brain Quest Challenges upon reaching IQ Level 120, 140, and 160 respectively. Interestingly, a new set of levels are being added for every update so make sure to keep your eye on it.
How to Download Hero Rescue on iOS
Downloading this app is not really complicated at all. Much like how you typically add games on your iOS devices, you can download Hero Rescue on iOS in no time in just a few taps.
Tap the App Store app on your home screen
Browse or search Hero Rescue on the Search bar (tap the Search icon on the bottom right of the screen)
Select and tap the Hero Rescue App
Tap the Get button
You might also be asked to enter the password of your Apple ID account.
Once the download is complete, tap the Open button and start playing Hero Rescue. You can also access the game by tapping its icon from the Home screen.
Compatibility
Hero Rescue is not as demanding as other mobile games. The game requires iOS 9.0 or later and it is also compatible with iPhone, iPad, and iPod touch. It may also work on the lower versions but you might encounter some performance issues. The Age Rating for this game is (4+) which makes it highly suitable even for young gamers. This game is wonderfully optimized for mobile devices and requires a storage capacity of 352.6 MB. If you decided to download Hero Rescue on ios device, it is interesting to note that the game also features some in-app items that you can purchase during the game. Some of which allow you to Remove Ads, earn Unlimited Live Packs, and a set of Coin Bundles. Best of all, this game is available for free and it works perfectly well even without a strong Internet connection.
To know more about Hero Rescue, you can check our our in-depth review here. Good luck and have fun!