| | |
| --- | --- |
| Publisher | Upland |
| Platforms | Android 5.0 and up |
| Price | Free |
| Size | 38 MB |
| Latest Version | 1.0.4 |
The newest mobile game craze is here. Hero Rescue is the newest puzzle game created by Upland and probably the answer to all those misleading advertisements that we used to see almost everywhere. It is the true pin pulling puzzle that will take us all to a series and mind-twisting levels. In this game, you will play the role of a mighty hero and your goal is to clear all the levels by strategically pulling all the pins from the platform. The game is generally simple yet surprisingly tricky and if you think you are skillful enough to master this logic puzzle, feel free to explore Hero Rescue and see what else the game has to offer. Now allow us to give you an overview of this mobile game and detailed instructions on how to download Hero Rescue on Android.
The Game Features
Before learning how to download Hero Rescue on Android devices, allow us to give you a brief overview of this interesting game. Hero Rescue is a game developed by Upland, the same team behind the new game called Ninja Puzzle that is currently on an Early Access phase. Generally, Hero Rescue is a physics-based puzzle that takes you to an overwhelming number of challenging and tricky levels. The goal is simple, help your character reach his target by strategically pulling the pins from the puzzle while preventing him from getting harmed at the same time.
You have no control over your character and the only way for him to move is by pulling off the pins. However, the puzzle is often filled with various obstacles that you must avoid at all costs. Some levels will ask you to collect gold while others will require you to rescue the princess.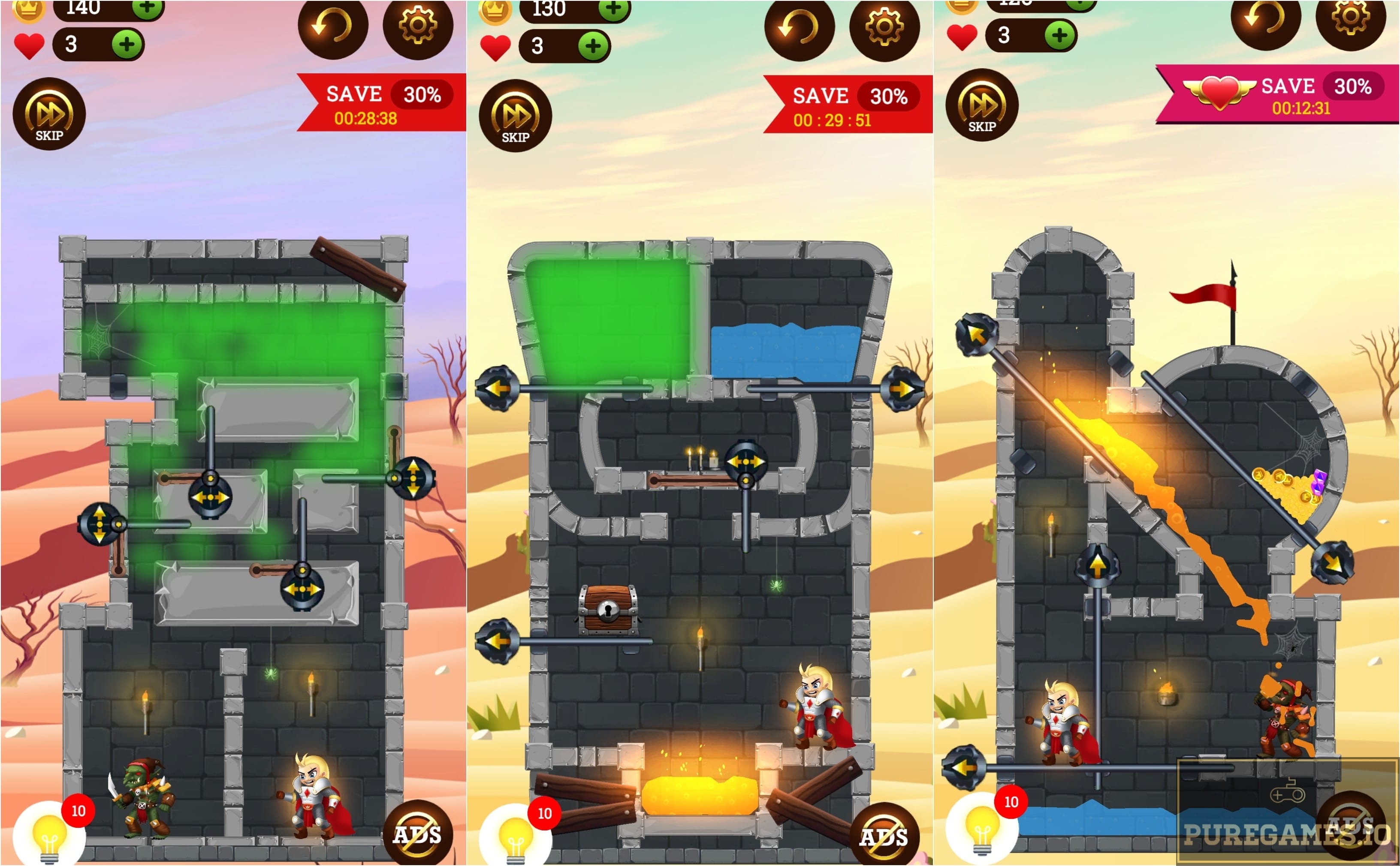 Multiple Campaigns
Hero Rescue comes with five exciting modes;
Main Mode – The main campaign with an increasing rate of difficulty
Treasure Mode – Fill the treasure chest with 100% gold to pass
Tower Mode- Bring the Treasure chest down by removing the tower of blocks
Block Mode – Defeat goblins by dragging them down the deadly spikes
Sword Mode –Collect the sword and kill all the goblins in the puzzle
In-App Products
The game offers various packages that you can purchase through their in-app shop. You can remove ads, buy coin bundles, or purchase new skins for your hero.
How to Download Hero Rescue on Android
Like most mobile games, you can download Hero Rescue on Android with no ease.
Access the Google Play Store on your phone
Input "Hero Rescue" on the Search Bar and select the game published by Upland
Tap the Install button and wait until the installation is complete
You can now access the app by tapping its icon on your phone.
Viola! You are now ready to play Hero Rescue
The game is currently on version (1.0.4) with Content Rating of (3+) which makes the game suitable for all age groups. It is also interesting to note that Hero Rescue is wonderfully optimized for Android devices and will not consume much space on your phone. The game requires (Android 5.0 and above) but it also works well with lower versions. If you want to download Hero Rescue on Android, you just have to save 38 MB of your storage. The game also works perfectly well even without an Internet connection which allows you to play this game anywhere and anytime you want. Best of all, this game is available for both Android and iOS devices and you can download this highly addictive puzzle absolutely for free.
For our in-depth review of the game, you can check our full review of Hero Rescue here.