| | |
| --- | --- |
| Publisher | Pixel Gun 3D |
| Platforms | Android 4.0.3 and up |
| Price | Free |
| Size | 55 MB |
| Latest Version | 15.0.2 |
Pixel Gun has established itself a good reputation among all the Minecraft-inspired games. The well-loved first person shooter game has come a long way and is now ready to invade our mobile. Pixel Gun 3D is the first ever Pixel Gun game exclusive for mobile devices. Interestingly, the game captures everything that we enjoyed from its predecessors and in fact, they added more exciting features and various online modes such as Battle Royale. The game will also give you access to an overwhelming amount of weapons and gadgets with upgrades and also the ability to craft items and to grow pets.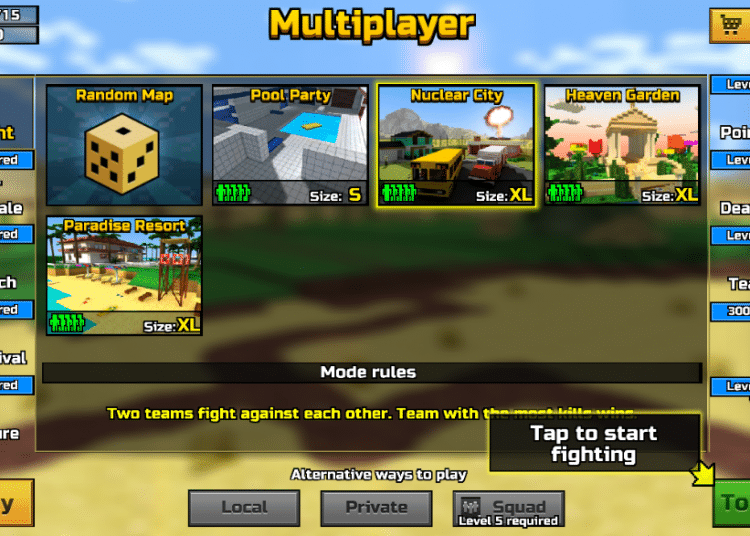 Game Modes
The game offers a lot of Multiplayer Modes to choose from. They basically share the same gameplay but follow different goals and objectives. Team Match for an instance will group the players into two teams and the team with the most number of kills within the given time frame wins! In Deathmatch mode, the player will enter the battlefield alone. They must find their way to survive and whoever gets the most number of kill wins the challenge. Co-op Survival, on the other hand, is not a P2P battle but a cooperative campaign where players must kill monsters while Duel Mode takes you to a one on one combat.
Other note-worthy campaigns include Flag Capture, Point Capture, Team Strike, Fort Seige and Deadly Games. They also have an interesting Single Player Story Mode Campaign that follows a journey of a Pixel Man and his epic mission to survive a catastrophic zombie apocalypse. The Battle Royale mode, however, is the most recent addition in this game and probably the greatest part of Pixel Gun 3D so far. The critical success and the hype of PUBG game were wonderfully embraced in this campaign. Much like any battle royale game, all players will enter a remote island. They will descend down the island through rocket propelled gliders. The goal is to be the last player standing and you can do so by killing all the other players on the field.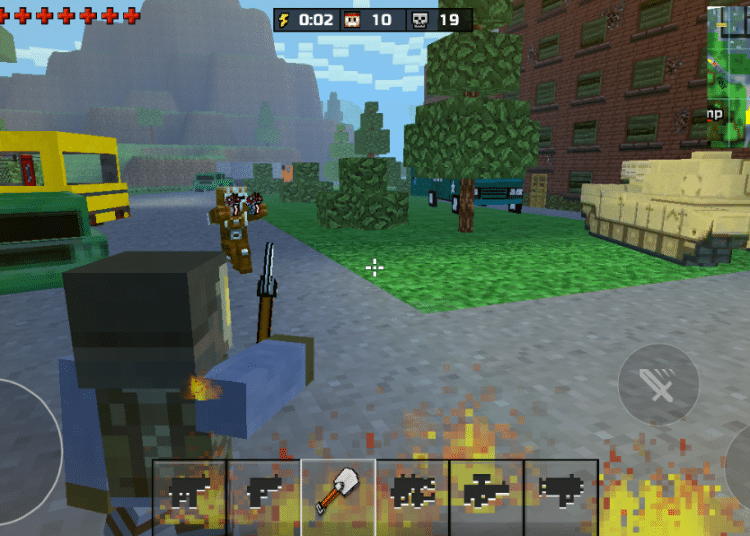 Battle Royale Madness
Battle shovel will serve as player's default primary weapon. Much like PUBG, players must hunt for weapons and armors that they can mainly use in the battle. Aside from preventing your character from being killed by other players, you must also pay attention to the so-called Deathzone. The battle zone is gradually shrinking and you must stay in the safe area to keep you in the game. Please be mindful that you are only given with one life and once you get killed, your journey in this battle will come to a quick end. The only thing that is not captured in this campaign is the ability to craft items (barricades, walls, shield, and shelter to name a few) but despite the missing element, the existence of rare weapons (that are randomly scattered in the map) provided an incredible replay value!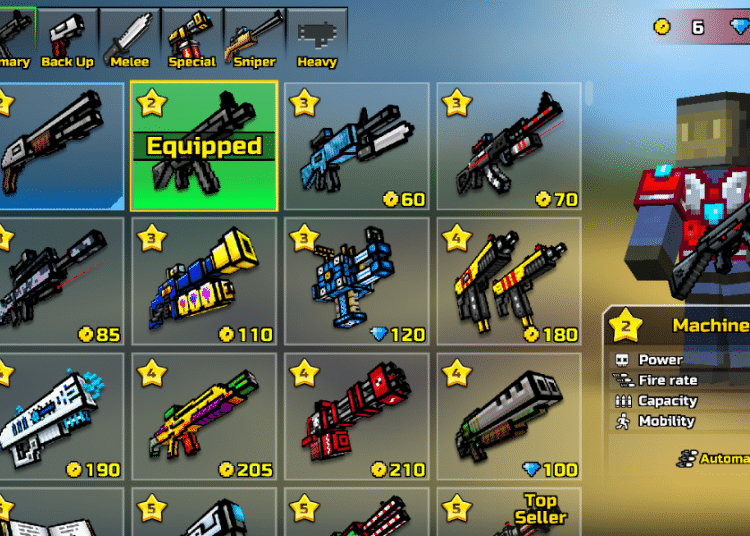 Maps, Weapons and Gadgets
Like any other First Person Shooter games, weapons play an integral role to survive. Luckily, Pixel Gun 3D offers more than 250 weapons and gadgets that you can manually upgrade in Armory Section to improve their attributes. Weapons are sorted in various categories such as Primary, Back Up, Melee, Special, Sniper and Heavy. Each of them will vary in terms of their Power, Fire Rate, Capacity and Mobility. You can also pick your armor to increase your protection and maximize your survival. Upgrades can be purchased either through Gold Coins or through Diamonds (premium currency).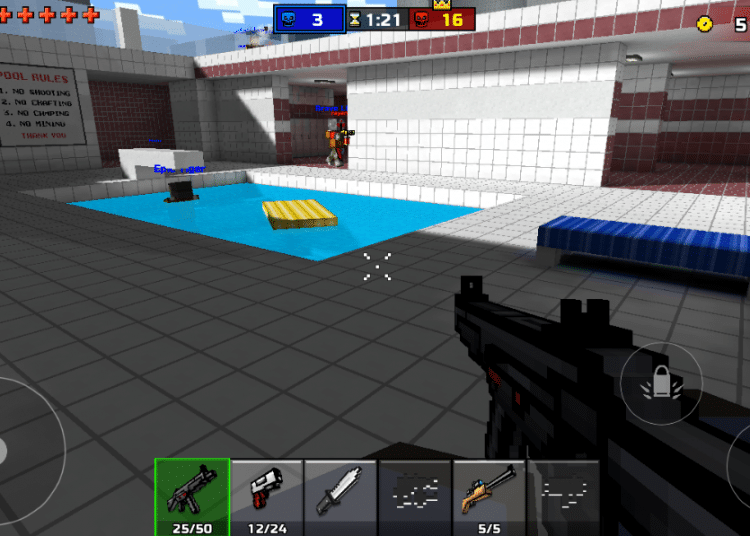 Other Features
Pixel Gun 3D has so much to offer and it is not just about battle. The game will introduce you to some of its fun features such as Mini Games, Crafting and Pet System. After every battle, the players will be prompted to the so-called Lobby page which displays all your access to various campaigns but you can also customize its appearance by adding craft items on it. Pet System, on the other hand, allows you to grow a pet who will soon accompany you in every battle. It will start from an Egg until it hatches and grow into an adorable creature. It is also interesting to note that the game features a Clan and Chat system which gives you the opportunity to make friends and build your own community.
All in all, Pixel Gun 3D is generally a great game. It has so many things to offer and it has huge potential to offer more in the future. The multiplayer modes are the strongest points of this game and the Battle Royale made it even more engaging. Just keep in mind that this game requires a stable internet connection and a large storage capacity.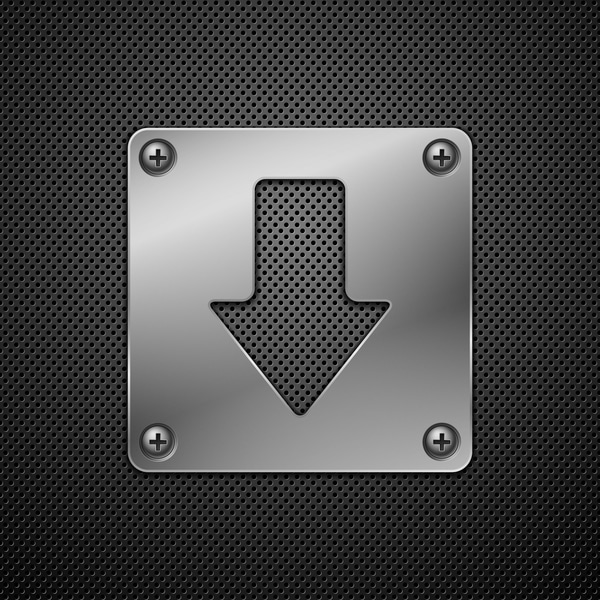 Download Pixel Gun 3D APK for Android/iOS
Select a file to download: