Publisher
Peak Games
Platforms

Android 4.1+;

 iOS

Price

Free

Size
Varies with device
Latest Version
3196
If it's raining outside but you still want your kids to play together, introduce them to team mode in Toon Blast! I'm sure they'll have a blast.
Overview
Toon Blast is a tile matching game you can play either by yourself, or in a team, with your friends! Connect your Facebook account in order to find your friends who enjoy this title, and team up! You'll have 1700+ levels before you, spread out in all kinds of different episodes. This game will take you on a journey among the Indians, Cowboys, all the cool fairy tale creatures, pirates, knights, and more. Travel to the Sahara, the North Pole, various mountains, caves, islands, cities and even outer space. Complete fun puzzles to unlock new chests and earn gold to buy crazy power-ups! Compete on the leaderboards either individually, or as a team, and hang out with goofy Toons.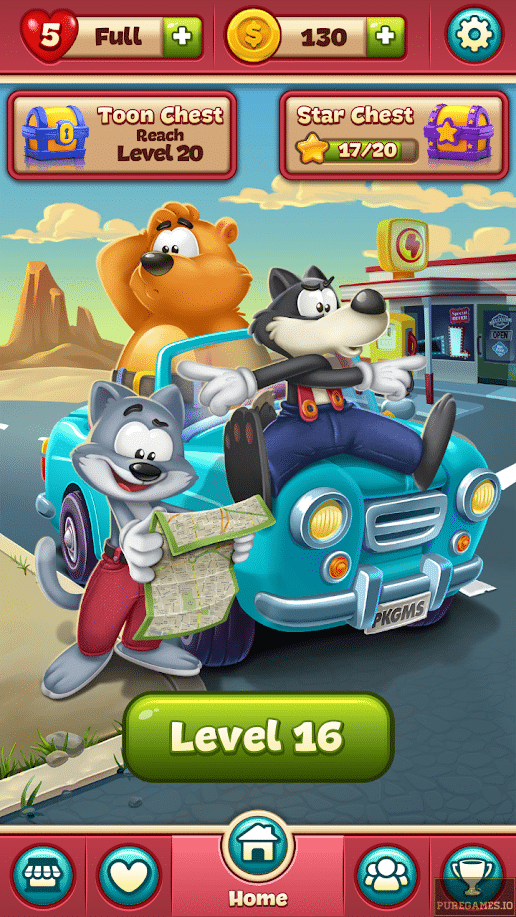 Gameplay
To earn points, simply look for at least two of the same tiles that are together, and tap on them. More tiles you connect, the more points you get. And not just the points, when you connect five or more tiles, you get special ones, which serve as a power-up. For example, rockets, which will clear a row or a column. It could be a bomb, which clears eight tiles around it. Or a boxing glove, which works similar to a rocket, but you get to choose which row you want to clear. Then there is the disco ball, which will remove all the tiles that are the same color as the ball. At level 10, you'll unlock the hammer, which can push out any single tile you wish. Later in the game, you'll be introduced to an anvil and a die. Anvil squishes everything in a column you pick.
All of these can be boosts, which means, if you choose them before the level, you'll start with one tile transforming into the special you picked. Ones you'll have to use manually are put in the little boxes at the bottom of the screen, and those who work by matching with other tiles will appear in the playing area. But you need to be careful how you use this. Make sure you'll beat the level if you choose them beforehand, and that you'll beat it well, with best possible score. Because once you are done with the level, and you've performed poorly, you can't go back to play that level again to earn remaining stars! And stars are used to unlock chests.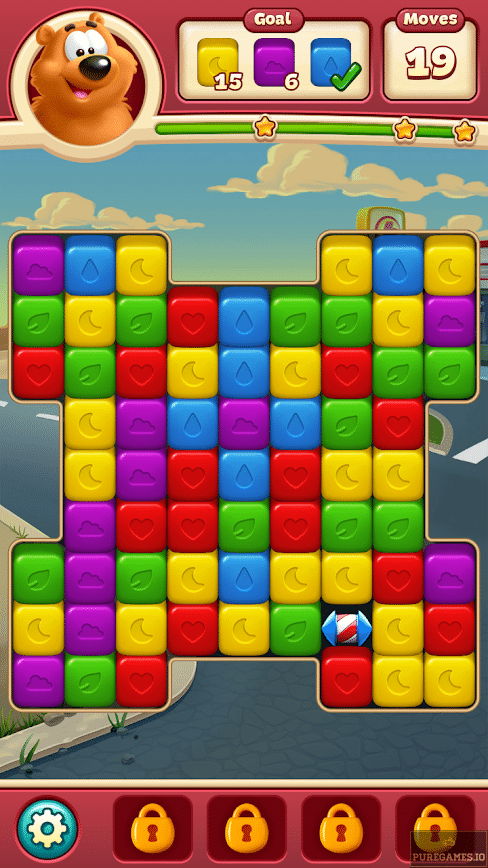 Level design
At first, objectives will be most common things – to clear a certain number of tiles of a certain color, in a certain number of turns. Lesser moves you use, better grades and score you get. But, eventually, you'll start encountering special objectives and diverse levels. For example, you'll have balloon tiles, which can't me removed by matching directly. Instead, you'll have to match regular tiles around them to get rid of the balloons. Then there are those rubber ducks, which you need to bring to the bottom of the board by matching tiles beneath them. Sadly, even before reaching some of the more challenging levels, and that means double digits, innovations suddenly stop popping up each level. That's a pretty short creative lifespan if you ask me. Not that any of these mentioned before were so majestic and original for the genre itself, just for this title.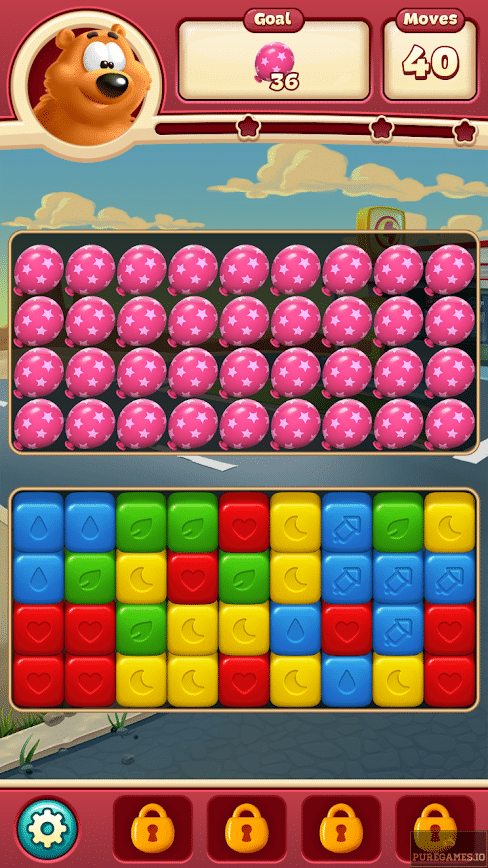 Presentation
This game is adorable. It manages to feel and look goofy, funny and cute at the same time. The very name reminds you of a cartoon, right? Well, it all looks like an early 2000s kids friendly cartoon. Characters are done with such care that you'll start loving them even without any thought given to their stories or at least appearances in any kind of narrative. You'll just see them in the stills that depict the current episode and in the top left corner during the level. The tiles look like chocolate cubes in various colors. Jummy! And the visual effects and animations are also so fitting and fun. Even the bomb exploding looks so harmful.
The music is quite satisfying too. Especially the use of various instruments and recognizable theme patterns. I do hope it changes from episode to episode to fit the setting and theme. Sound effects are on the spot. It is safe to say that this is a title for all ages, although the young ones will enjoy it the most due to its simplicity.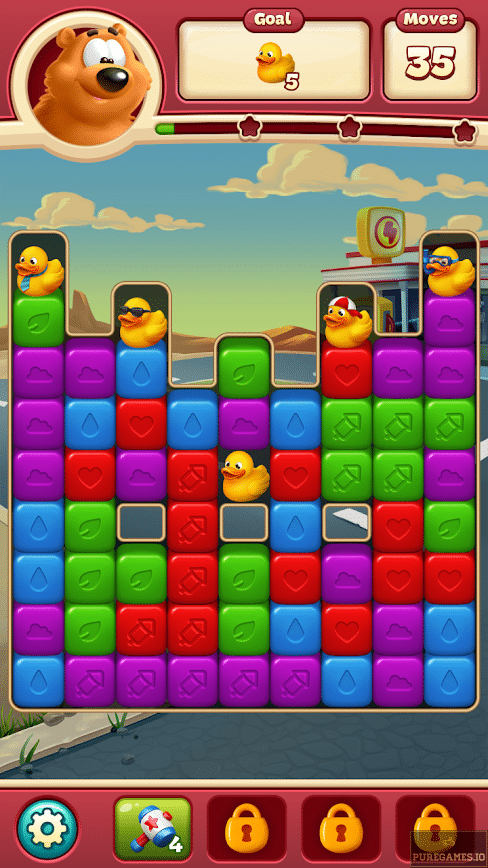 Lack of content
Seldom will you see a tile matching game as a stand-alone genre. These usually combine that segment with a whole new one. Often choice has been a turn-based RPG/strategy approach, where you manage a certain character or an estate. Sometimes whole villages, cities and even empires are at stake. It's not uncommon to see this genre combined with adventure or slot games. Then your success in tile matching somehow connected to that other segment. Sometimes it could be resources to help your entity grow and upgrade, and sometimes it's a way to progress the story. Either way, those are added because tile matching on itself usually turns out to be pretty exhausting, dull, monotonous and plain boring. That's why its best use is in the form of a mini-game or the one time event in more complex games.
That is the exact problem with this game. Other than changing episodes and a few new mechanics over a long period of time, there is nothing to keep the player engaged. Additional flaw is that these so called new mechanics don't bring any more requirements regarding the input of the player. You simply tap around the screen. A little bit of holding and sliding would slightly improve the experience. But that seems to be the problem of many other tile matching titles out there. Rarely you'll see this genre and its mechanics done in different and fun way.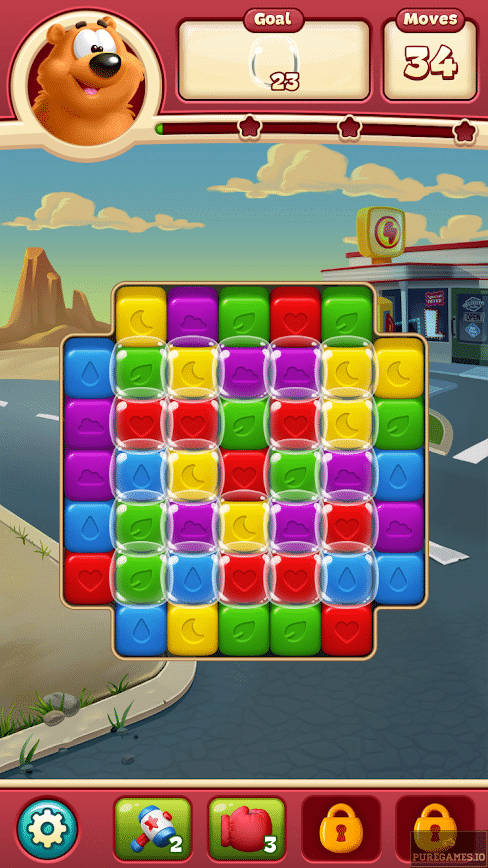 Business model
The game uses two free resources, which you can buy for real money too. Those are lives and coins. If you happen to run out of moves, you can use 100 coins, for additional five moves. If you don't want that, or don't have any coins, you'll lose a life. Each life replenishes itself after 27 minutes, but you can refill them for 100 coins too. You earn coins by completing levels and getting chests, but you can also buy them in-game. Chests can contain power-ups and boosts also.
The least amount of coins you can buy is 150 for 1.06$ and most is 8000 for 42.14$. If you want some power-ups and boots with those, try buying one of the available bundles from the shop. These vary from 1.06$ (200 coins and a bunch of power-ups) all up to 54.17$ (8000 coins and 25 of each power-up and boosts). The good thing is that the game is free of random ads popping each second. Only ads you'll encounter is when you want to refill your lives for free.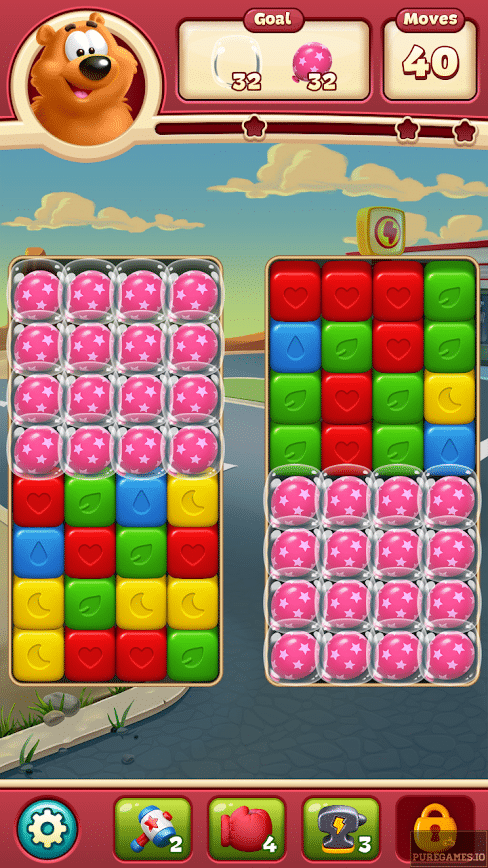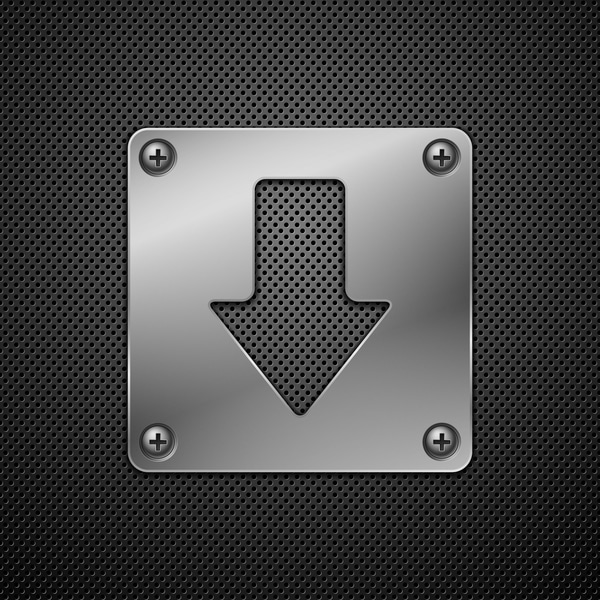 Download Toon Blast APK for Android/iOS
Select a file to download: