Publisher
One Soft Studios
Platforms

Android

4.1 and up

Price

Free

Size
Varies with device
Latest Version
5.40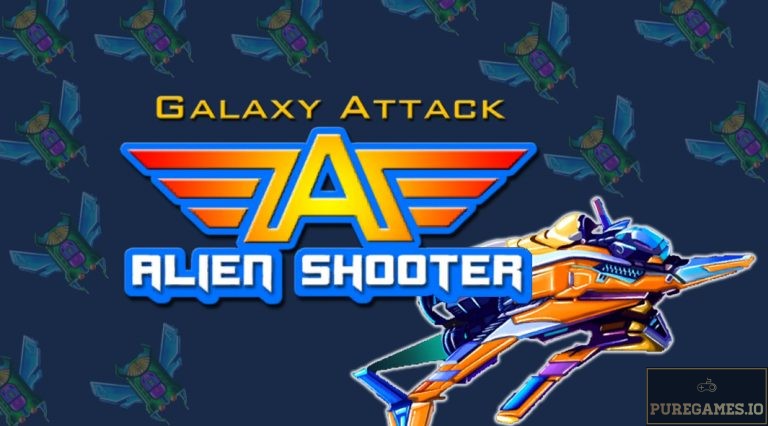 Nostalgic! If there's one best word to perfectly describes One Soft Studios' Galaxy Attack: Alien Shooter, it's nothing more but nostalgic! Galaxy Attack: Alien Shooter takes you to a series of epic intergalactic adventure. Your mission is to take control of your special and defeat an overwhelming and seemingly interminable fleet of aliens. Although the game has no direct references, it's safe to assume that Galaxy Attack is merely inspired from classic Space Invader arcade.
There are so many Space Invader clones available on both Android and iOS App store today. Almost every game captures the exact elements of the iconic arcade game but they will usually add some tweaks to make the game more engaging. Galaxy Attack: Alien Shooter is not different at all. The game features the classic upscroll shooter format but in a more colorful detail and presentation. It also has a multiplayer component which gives gamers more reason to give this mobile game a shot!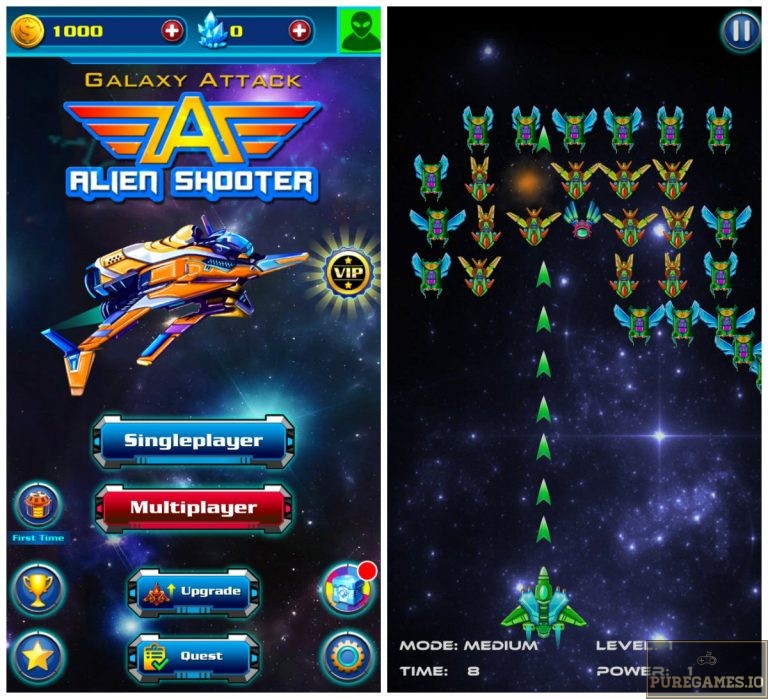 The Gameplay
The mechanics for this game are very simple and easily manageable. However, much like any traditional shooter game, player must express the best of his visual reflexes to win. Players must show off their impressive eye and hand coordination to maximize their chances of surviving. Galaxy Attack: Alien Shooter takes you to a series of challenging levels with varying range of difficulties. Each Level takes you to different waves including boss battles.
As soon as the game starts, it automatically prompts you to an upscrolling screen. The spaceship will run automatically but players can drag the ship to any area they wish to. The spaceship also shoots autonomously but only in predefined direction. Enemies usually arrive in fleets, one wave after another. They usually come in certain formation and movements. They will also vary in terms of their speed, behavior and fire rate. Some enemies can shoot projectiles while others are moving extremely fast. The challenge here is the fact that you only have one life to spare; losing it will end the game. It also means that you have to start the level back from the very beginning (starting from wave 1).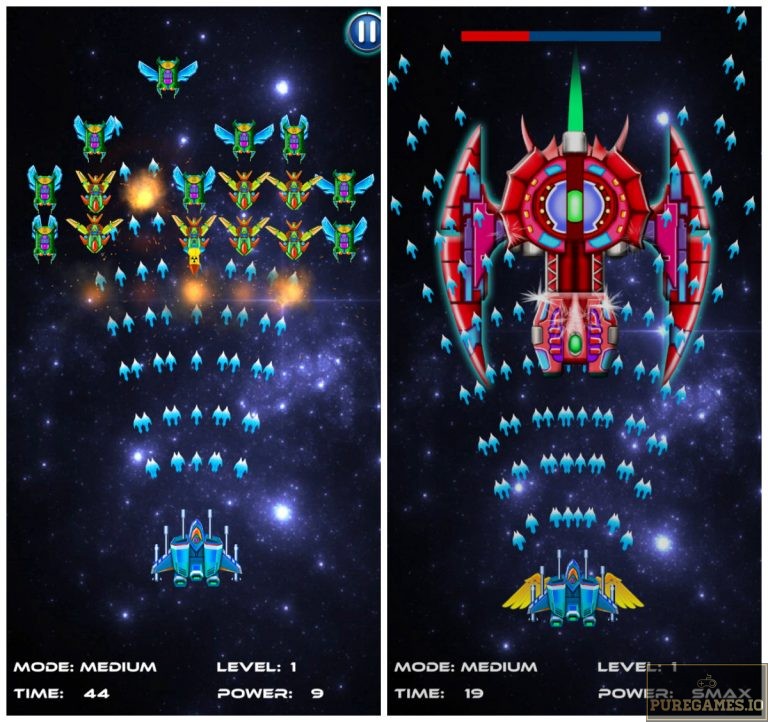 The Power Ups, Spaceship Skins and Start Ups
Occasionally, enemies will drop loots in form of power ups and spaceship skins. Simply drag the spaceship towards the item to activate it. Power ups usually upgrade your fire rate. The more power ups you obtain, the bigger your fire rate will become which allows you to inflict more damage. You can also acquire spaceship skins which allow you to transform to another spaceship. Currently there are 10 Spaceships and some of them are already available by default. Some, however, requires certain levels.
A player can win gold coins (basic currency) or crystals (premium) after each successful mission. You can use these coins to buy upgrades or startups. You can upgrade individual spaceships to increase their basic attributes such as Level Limit and Power. If you have enough coins and enough level or sometimes enough crystals, you can unlock new spaceship too.  To make you more efficient and to increase your chances of survival, you can also activate startups before entering the battle. Startups are boosters and power ups that are automatically added as the mission begins. You can also pay coins to select your preferred startup spaceship.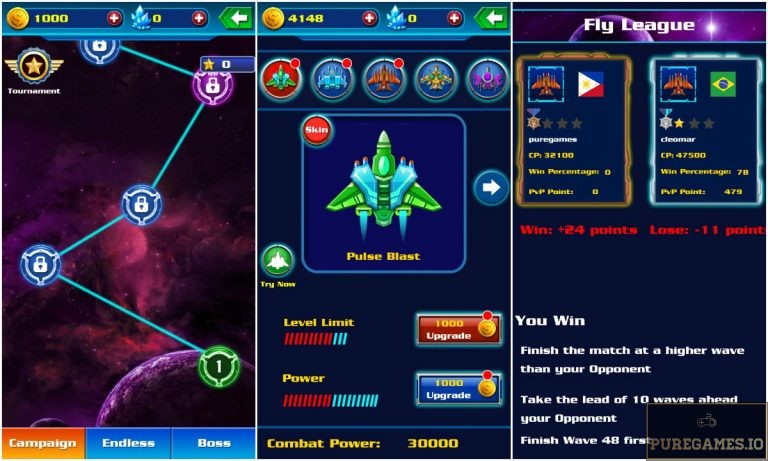 The Multiplayer Campaigns and Tournament
What gives Galaxy Attack: Alien Shooter a decent amount of replay value is not just the overwhelming levels but also its multiplayer components. Aside from the main Campaign, players can also play the Endless and Boss modes (accessible through Single Player). Endless Mode takes you to endless waves with rewards increasing exponentially as you progress. Boss mode, on the other hand, directly takes you to Boss battle (only those bosses you already encountered).
The Multiplayer campaign comes in two modes; 1v1 and 1v3. You can access Quick Play to enter randomly chosen room or manually join existing ones or better create one your own. Take note that you must pay for the bet money for each match. The game also comes with a Leaderboard system which displays the Global ranks.  There's also the main Leaderboard which displays the Global and Local top players.
Another interesting element in this game is the Quest which allows you to earn more rewards and also the Tournament. You can access the Tournament when you reached Level 10 and it gives you chance to compete with other top players.
Verdict
Galaxy Attack: Alien Shooter may not possess any originality in terms of the gameplay and mechanics but still a decent Space Invader clone. With so many features and campaigns to explore, this game is absolutely worth a try. This classic and nostalgic shooter format never gets old after all.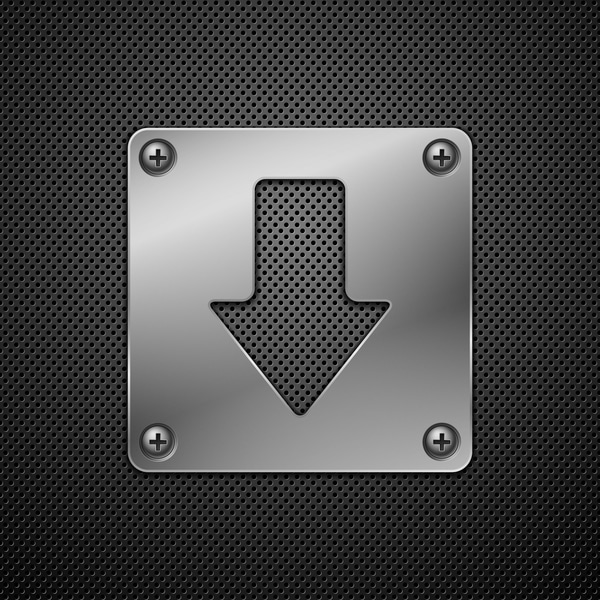 Download Galaxy Attack: Alien Shooter APK for Android/iOS
Select a file to download:
Download Galaxy Attack: Alien Shooter v5.41 APK