| | |
| --- | --- |
| Publisher | Actions |
| Platforms | Android 2.3+ |
| Price | Free |
| Size | 28 MB |
| Latest Version | 1.2 |
Racing In Car 3D has attained over 10,000,000 downloads since its release by Actions. The objective of the game is pretty straight-forward – simply drive without colliding into any of the other cars on the road.
The Gameplay
The garage offers a selection of cars, each with a rating on various attributes including their acceleration, fuel, brake and speed. Players start with the most basic car, but the stats can all be upgraded individually using coins collected in the game. Cars with better stats can be purchased (a total of five to unlock) but these are set players back by a hefty 4000 coins for the cheapest!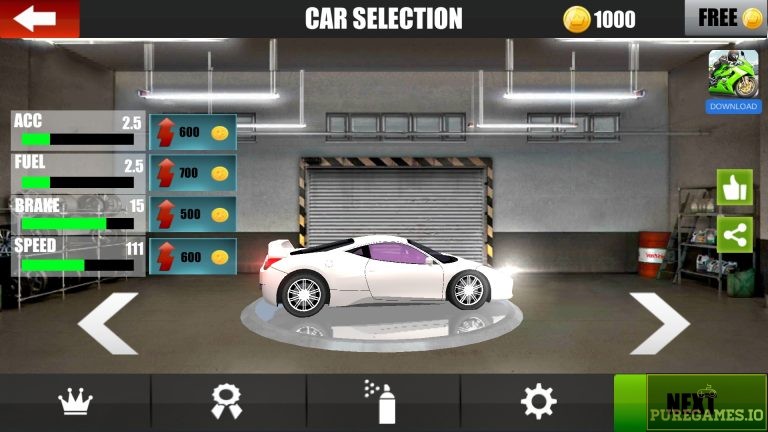 Players can also customise the appearance of their vehicle, treating them to a new lick of paint by pressing on the spr
ay-can icon. In fact, there was no cost displayed next to the various color options. And so I naively thought the game would allow me to choose my car's body color for free. Unfortunately this was not the case, and the new coat actually costs 500 coins! It was slightly annoying that this was not made clear!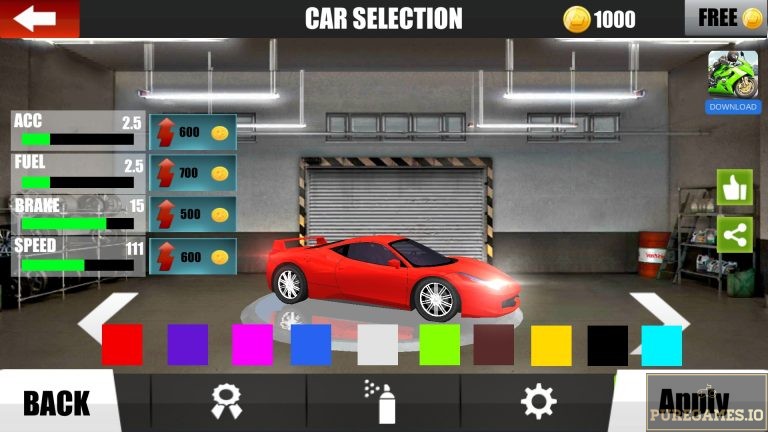 After vehicle selection, players can pick a game mode to challenge from a list of four options. These are as follows:
One-way  – Race against other cars, which move in the same direction as the player's.
Two-way – Race against other cars, with traffic moving in both directions.
Time attack – Players score as highly as they can within a certain time period. The amount of time given in this game mode was confusing. I played a couple of rounds of this, but each round the length of time given varied, and it was unclear what factors influenced this.
Free ride – Similar to one-way, except players cannot crash/die, and no coins can be earnt playing this game mode.

The Controls
Pressing on the pedal on the right of the screen accelerated the car, although the car will automatically move on its own at a leisurely pace. The brake icon on the left controls the deceleration of the car.
Four view points are offered in the app, and this can be changed via tapping on the camcorder icon. This feature was pretty cool; players can change their view according to what they prefer, but can also challenge themselves with different camera angles.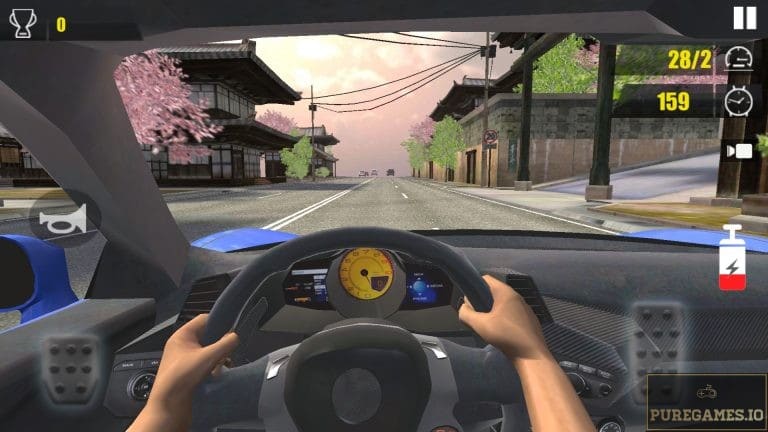 Win Condition?
One aspect of the gameplay that I did not really understand was the win condition – there simply didn't seem to be a goal. The game had no levels, and the only concept is to survive and avoid crashing. Being a racing game, there was also a set speed limit. Once I exceeded this limit, a police car appeared, and did not leave even when I reduced the speed massively. The police car remained in front of my car, but it didn't attempt to stop me. It was just cruising along the road with me! At times it seemed as though it was trying to get in my way, but never stopping my vehicle. Very strange. I even tried to crashing into the police car deliberately to see what would happen. Nothing happened! My game continued and the crash screen never appeared!

Graphics and Performance
The graphics is quite impressive in Racing in Car 3D. Two racing tracks, or scenarios, can be chosen. One is inspired by the streets of Japan and is filled with cherry blossom trees, while the other sports a snowy background. Although there are only two options, both visions are beautifully designed with intricate details programmed in. It would be nice if developers could push out some more content in this aspect, to attract gamers.


Performance-wise, the app is pretty smooth. Only in one of the game modes, "Free ride", did performance issues occur. Here, crashing into the police car (remember, crashing into the police car did not end the game) resulted in the game becoming very laggy. The surrounding graphics end up bugging out, and the app lagged out big time.

Overall, Racing in Car 3D is not bad, though it's also nothing spectacular. Unfortunately the lack of win condition greatly influenced by decision, which is why I only give this game a 2/5 rating.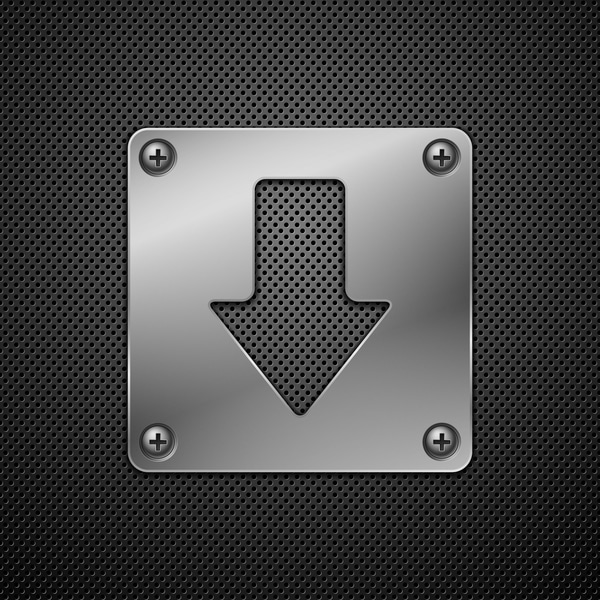 Download Racing In Car 3D APK for Android/iOS
Select a file to download:
Download Racing In Car 3D v1.2 APK