| | |
| --- | --- |
| Publisher | Ganbarion Co Ltd |
| Platforms | Android 7.0 and up |
| Price | Free |
| Size | 33 MB |
| Latest Version | 1.1.2 |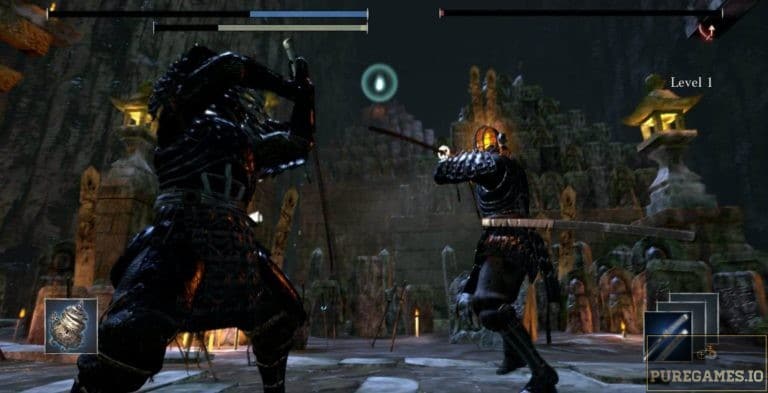 When a warrior loses a battle and die, where do you think his spirit will go? Apparently, the spirit of a fallen fighter goes directly to hell or at least this is how Shurado depicts it. Just in case you don't know, Shurado in Buddhism is one of the six worlds of hell. This place is governs by anger and pain where Asuras are always fighting for victory forever. This interesting game by Ganbarion Co Ltd follows a story of a fighter who aims to escape the hell. In order to do so, he must engage himself in a seemingly endless battle with other fallen warriors. If you think you can help him survive, feel free to download Shurado and see how far you can go.
Shurado is a fighting game that takes you to a series of challenging levels with varying range of difficulties. Your characters should pass-through a seemingly endless stairs and defeat all the warriors guarding it. The combat is merely a weapon-based from simple Katana to gigantic swords and axes. If you are into such action, I don't see any reason why you should not download Shurado on your phone!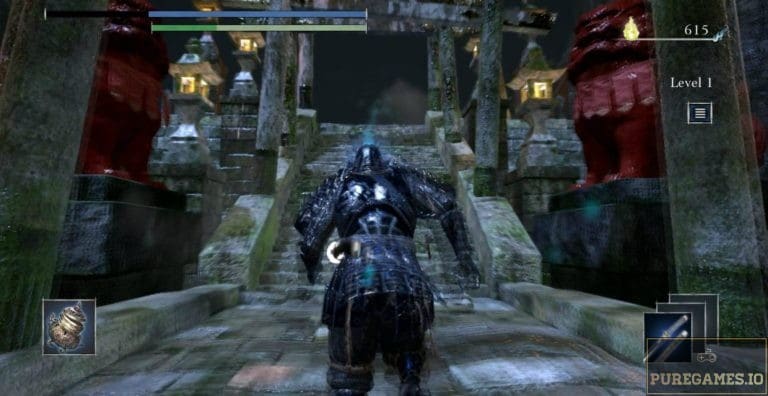 The Gameplay
The mechanics of the game are simple yet players must apply great skills to win each match. Take note that Shurado features a slow-paced battle. Unlike a typical fighting game, you cannot perform quick combos and your attack should be done in a timely manner. Generally, if you download Shurado, you are most likely dealing with an attack and defend fighting game. As soon as the game starts, it prompts you right away to your first fight.
Once in the battle, you can start attacking your enemy by tapping the right portion of the game screen. For a more powerful attack and damage, simply tap and hold the right screen and release it to launch the attack. Defence, on the other hand, is done by tapping the left screen. If you succeed in defending off enemy's attack, they will falter and you can do a counterattack. Some weapons also have skills and you can activate them by tapping the right screen twice.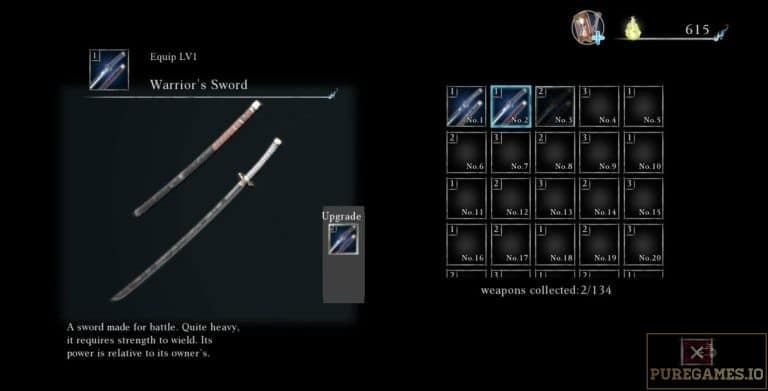 It's All About Weapons
Shurado is a weapon-based fighting game so if there's one thing you should take as top priority that is to obtain the strongest weapon. You start off with a simple sword but you will obtain other weapons from the enemies you killed. You can arm yourself with a maximum of three weapons and switch them up during the battle. The weapon comes in different rarities too. An enemy may drop either a Box or a weapon. Every Battle, you will also obtain Spirit Fragments which you can use to upgrade or buy new weapons.
Boxes, on the other hand, may give you chance to obtain greater and rare weapons. Depending on its rarity, it takes certain time to remove the curse and open the box. You can, however, expedite the process by paying "Cursed Hourglass" which serves as the game's premium currency. A player can either enhance the weapons attributes such as Attack, Pursue, Defend and Honor. Enhancing will only focus on a specific attribute while Upgrading allows you to improve them all. If you download Shurado, you can unlock up to 130 different weapons!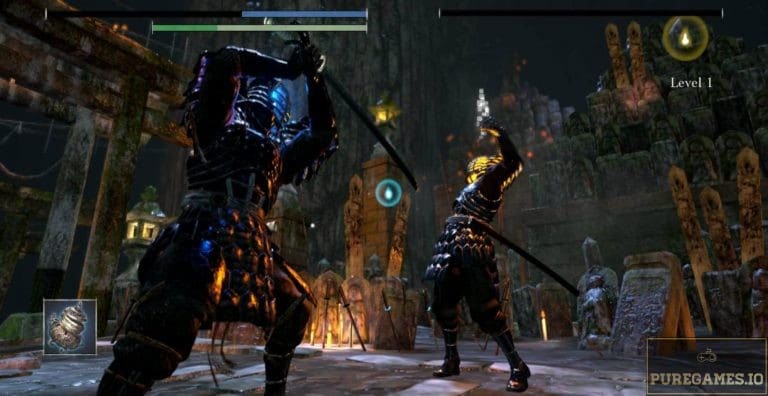 Impressive Graphics
The gameplay might seem too repetitive for many but we cannot deny the fact that it features a highly impressive graphics.  Thanks to the Unreal Engine 4 that provides Shurado visually stunning details. Popular games like Fortnite and Tekken 7 use the same engine for their game. The graphics are truly superb and is matched with amazing music and sound effects that set the mood right.
The characters and the stages however are quite repetitive. You can only notice small changes from one stage to another. Same thing goes with the enemies. If not because of your blue light spirit, you can hardly tell which your character is and which the enemy is. Nevertheless, the graphics are incredible.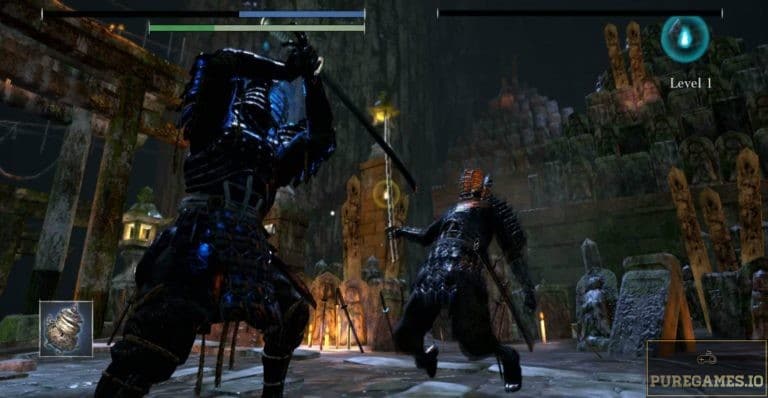 Compatibility Issue
Currently, the Shurado requires a phone with Android 7 and above but the downside is the compatibility with other models. Just because your smartphone meets the system requirement doesn't mean you can access or download Shurado right away. There are some non-compatible models for this game and if you happen to own Samsung J7 series, I'm afraid you can't download Shurado on your device. A Huawei P20, Samsung S8 and Samsung S9 are fine yet many are reporting to experience lag and framerate issues.  I just hope they could work this one out so everybody can play the game and experience it to the fullest.
Verdict
Shurado is a great fighting game. With remarkable graphics brought by Unreal Engine 4 and a great combat system, this game has a huge potential. Only if they could make some adjustments and fix the compatibility issues. The replay value is not as overwhelming as you expect it would be due to the repetitive stages but the eagerness to unlock all weapons will keep you playing this game! Overall, it's a good game and absolutely worth exploring!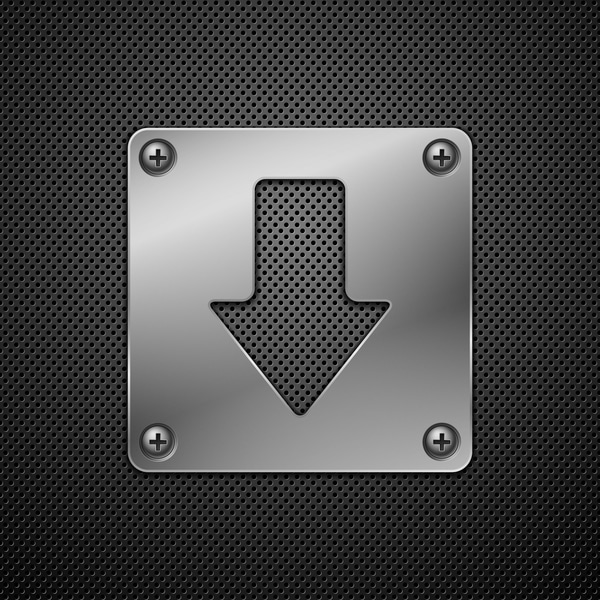 Download Shurado APK for Android/iOS
Select a file to download: