| | |
| --- | --- |
| Publisher | Zonmob Game Studio |
| Platforms | Android 4.1 and up |
| Price | Free |
| Size | 74 MB |
| Latest Version | 1.33.2.0 |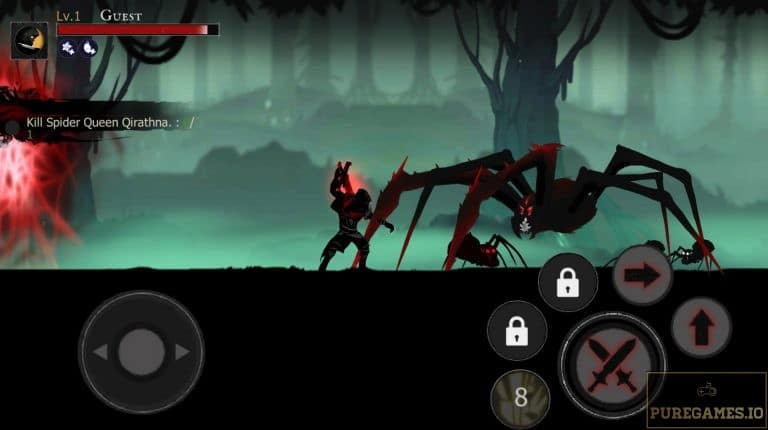 Shadow Of Death is a side scrolling beat-em up adventure game that takes you to a series of challenging levels. It follows a story of a mighty knight who apparently lost his memories. The knight whose name is Max was suddenly approached by Aurora who knows everything about him. However, just in time he is about to find the answer, Aurora was taken by the Shadows. Now, your mission is to save Aurora and you must go on an epic journey to know more about your mysterious past. If you are up for a classic beat em up adventure, feel free to download Shadow of Death and let your epic journey begins.
Shadow of Death: Dark Knight  – Stickman Fighting is a fighting game that is filled with non-stop action. Your goal is to clear all the levels by eliminating all the shadow creatures you will encounter along the way. Using your trusty sword and skills, you must survive all the challenges and save the princess from the evil Shadow and unfold the mystery behind your character.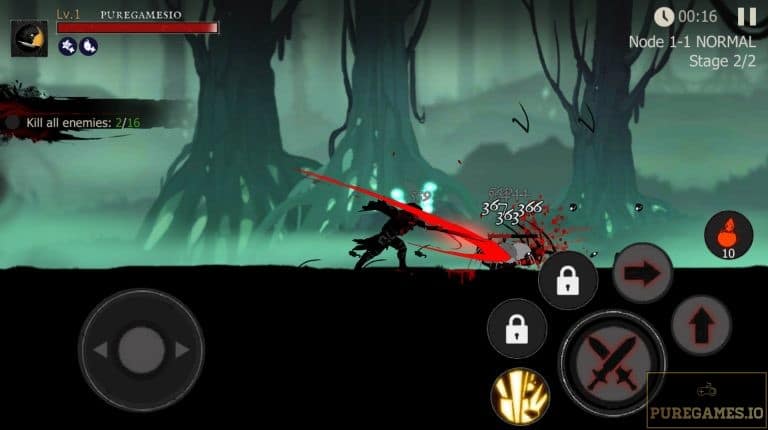 The Gameplay
Interestingly, when you download Shadow of Death, you'll learn that the game is not as complex as it looks like. The mechanics for his game is simple and everything is easily manageable yet you still need to apply great fighting skills to survive. The combat system is simple, as soon as the game begins; it prompts you right away to the side scrolling battlefield. A level might consist of two or more stages. To clear a stage, you must eliminate all the enemies.
To control your character, you can use the virtual joystick on the left corner of the game screen. The tap-based buttons on the right side allow you to use skills and to launch attack. The sword icon allows you to slash down every enemy you encounter along the way (generally, the basic attack). You can also use skills for greater damage. Initially, you only have one default skill but you can learn more as you progress. Each skill has cool down time so you cannot use them right away after activating them.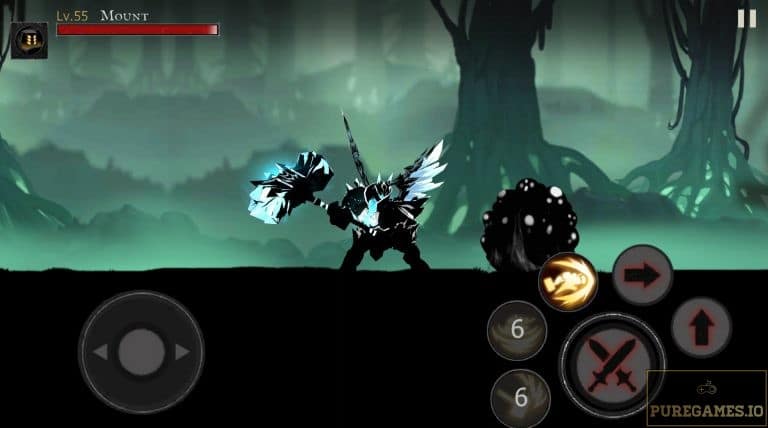 Upgrade System and Unlockable Characters
Another great element you will appreciate when you download Shadow of Death is the Upgrade system. There are many ways to make your character more efficient in the battle. First is the Mastery! You can access Mastery on the main screen. Here, you can manually increase the character's basic attributes such as Strength, Armor, Vitality, Hunt, Ancient Strength, Ancient Armor and Ancient Vitality. You can increase the attributes by paying Souls which you can obtain from each battle.
You can unlock skills when reaching certain levels but you can also make them more effective by upgrading them. Interestingly, you can distribute Skill points to any skills you want. Skill points are earned from Daily missions and rewarded videos or you can purchase them through microtransaction. Aside from Max (Maximus) , you can eventually unlock other character upon reaching certain levels. Charactrers like Quinn (LVL 10), Mount (LVL 20) and Lunae Moon(LVL 0) can replace Max in the jouney. Each has their own skill sets too.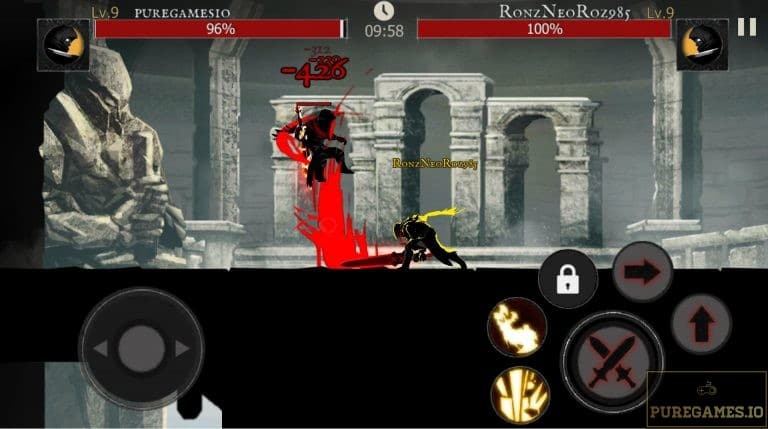 Explore Challenge Campaign and Other Features
Aside from the main campaign (Adventure), you can also explore some modes when you download Shadow of Death. The Challenge Mode takes you to different games which include some Multiplayer element. The Arena for an instance allows you to duel with another online player. It is a one on one match and each player must use the best of their skills to win. It features an interactive score chart displaying all the top players.  The Blood Tower mode takes you to a level by level battle where each stage has time limit.
Other noteworthy features include the ability to customize your character's costume. You can unlock some costumes through microtransaction. The costume will not just provide you a badass look but it also dramatically increases your character's efficiency.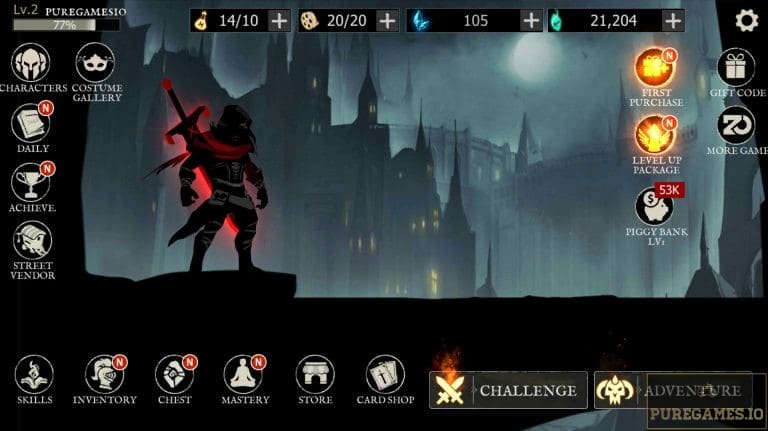 Verdict
Shadow of Death is definitely an action-packed fighting game that perfectly combines RPG and classic Beat em up adventure. The game features overwhelming elements to explore, decent amount of upgrades to unlock and many more. Graphics wise, the game takes you to a dynamically-changing map adorned with great visuals and well-fitting sound effects. The gameplay is generally smooth and it has a remarkable replace value. Above all, this game works even without internet connection. So if you are up for an action, I don't see any reason why you should not download Shadow of Death. Enjoy!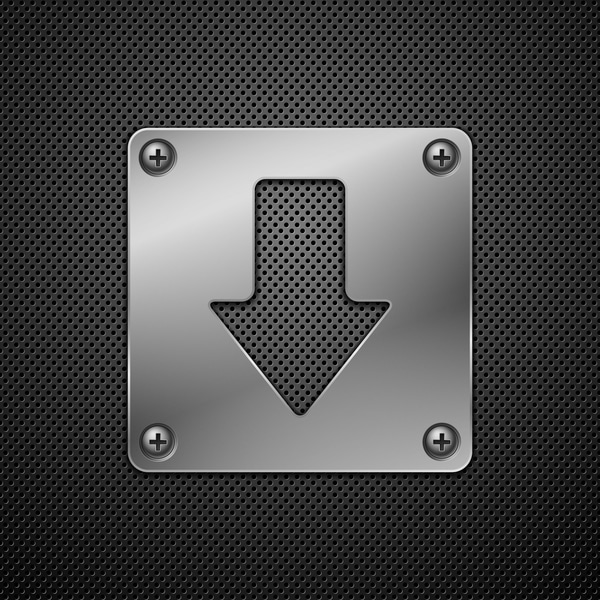 Download Shadow of Death: Dark Knight – Stickman Fighting APK for Android/iOS
Select a file to download:
Download Shadow of Death: Dark Knight – Stickman Fighting v1.33.2.0 APK