| | |
| --- | --- |
| Publisher | Naxeex Robots |
| Platforms | Android 4.0 and up |
| Price | Free |
| Size | 99 MB |
| Latest Version | 2.3 |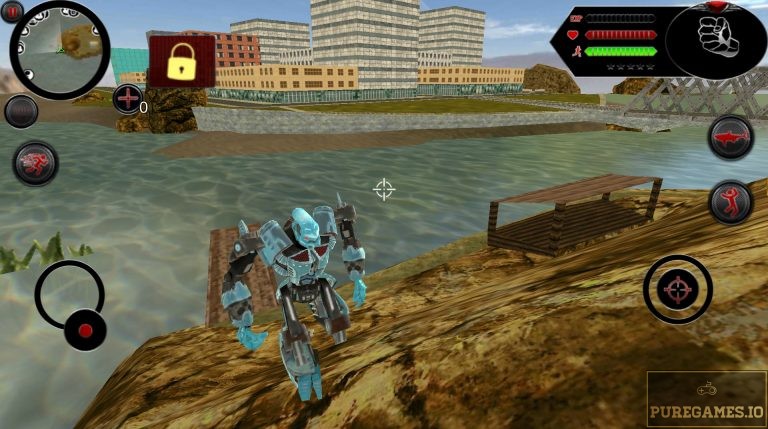 Ever wonder what will happen if you merge Grand Theft Auto with Transformers? Well, the result is most likely the same with Robot Shark! This game takes you to a futuristic timeline where you take control of a robot. As what the title suggests, you have the ability to transform yourself into a shark and vice versa. If you are aware of the Grand Theft Auto gameplay, Robot Shark works the same way. Your objective will vary depending on the task you accept. If you think you can master this game, feel free to download Robot Shark and let an epic journey begins!
Robot Shark is generally an interesting take by Naxeex Robots to a classic GTA gameplay. It captures the classic GTA gameplay we all enjoyed but instead of human character, you'll take control of a robot. With incredible graphics and addictive gameplay, I can't see any reason why you should not download Robot Sharks!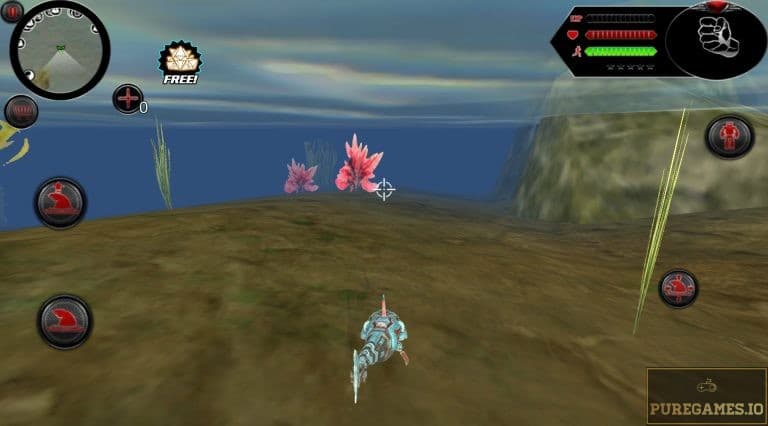 The Gameplay
Robot Shark has no concrete goal but you can missions as many times as you want. It follows simple mechanics but still require some skills especially when dealing with robotic battles. In the entire course of the game, player must accept various tasks to earn money and experiences. The missions include killing gangsters, collecting hidden items and exterminating other robots. The game takes you to an open world that you can freely explore. If you are into such concept, you should definitely download Robot Shark!
You can navigate the map using the virtual joystick but take note that the controls will vary depending on your form. If you are in Shark form, the joystick is on the right side with tap-based buttons on the left side that allow you to accelerate or to move upward. If you are in Robot form, the joystick is located on the left side while the action buttons on the other side. Please note that you can only attack when in Robot form.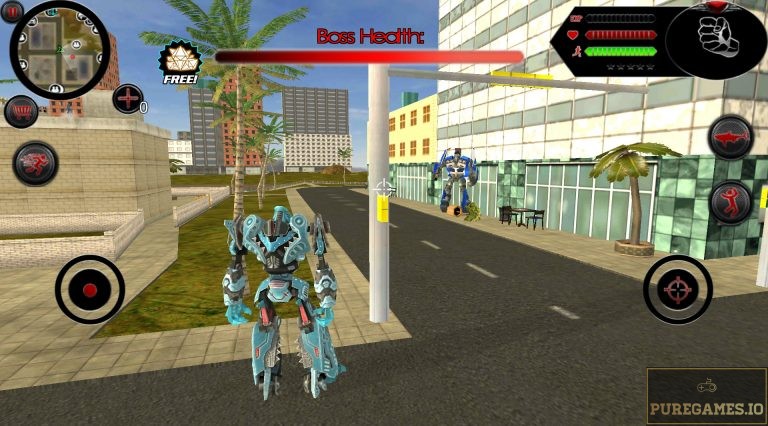 Accept Missions and Earn Rewards
Although you can do almost anything in the game and roam freely on the map, what give the game additional challenge are the quests. Much like GTA, you can locate people who can give you mission. You can take advantage of the navigational map to locate the areas where you can interact. The map will show legends to indicate the location of your mission and the kind of task you need to do.
Missions include Rampage where you need to kill gangsters and Collect where you need to find hidden items on the entire map. Some mission requires certain types of robots such as Driver mission where you need robots that can transform into cars. Time missions on the other hand are only applicable for robots with flight ability. There are also special missions where you need to transform into a tank. Every successful mission grants you with great rewards in form of Naxeex Virtual cash and Exp points.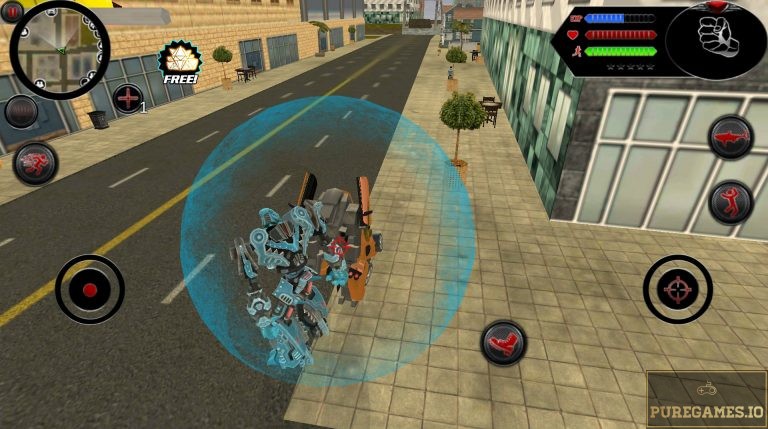 Robot Encounters and Upgrades
One thing you will enjoy when you download Robot Shark is the robot battle. As you navigate the open world map, you will encounter various robots terrorizing the city. Some robots are already in their robot form while others are hiding in their car disguise. Fighting against other robots is not part of any mission but you can eliminate them to earn experience and cash rewards too. To top it all, you will also encounter Boss Battle which is by far the most challenging part of the game. Beating the boss requires extreme skills which encourage you to keep playing and earn enough experience. This particular feature gives this game a remarkable replay value and impressive longevity.
Speaking of skills, if you download Robot Shark , you'll definitely enjoy its Upgrade system. You can buy weapons and gears to make you more efficient in the battle. In addition to that, you can also purchase new robots which are necessary in order to unlock other missions. Some robots can transform into cars while others are in form of aircrafts and motorbikes. These purchases however require premium currency and this is where the microtransaction comes in. You can, however, take advantage of the rewarded videos to earn premium currencies.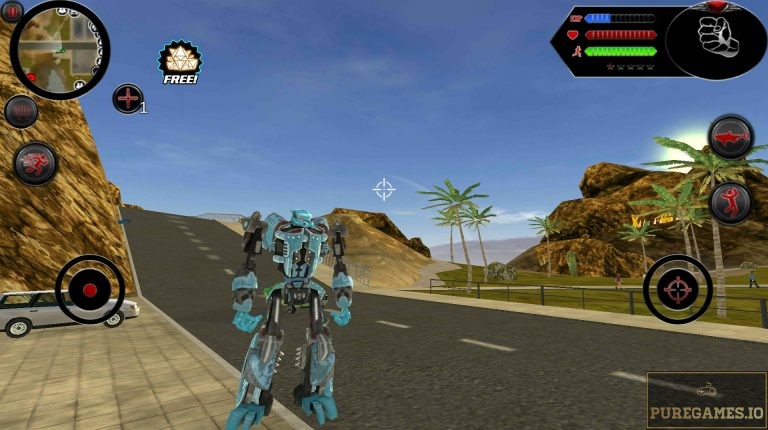 Verdict
The game is not perfect but still enjoyable. I just don't get the fact that you can transform into shark yet the shark form cannot do much in the game. You can use the shark form to minimize your Criminal rating (you get such when you kill people). Although you can appreciate the underwater graphics (including some ruins), there is nothing much you can do. Maybe they can add underwater enemies or challenge to make the game more engaging. Nevertheless, Robot Shark is an interesting action game that provides enough action and fun!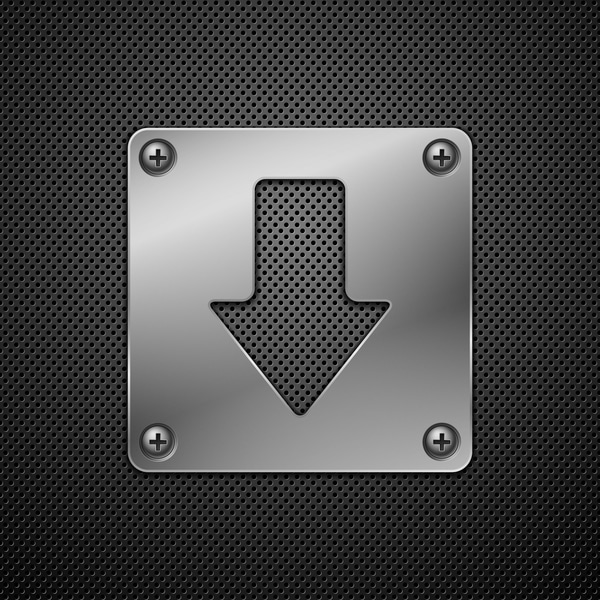 Download Robot Shark APK for Android/iOS
Select a file to download: