| | |
| --- | --- |
| Publisher | Supercell |
| Platforms | Android 4.0.3 and up |
| Price | Free |
| Size | 99 MB |
| Latest Version | 10.134.15 |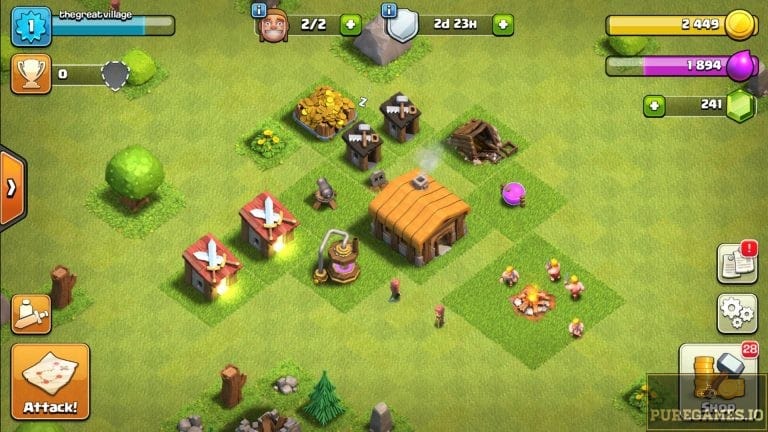 Embark yourself in a very addictive journey as you build stronghold, defend your kingdom and engage in epic Clan wars! Supercell's Clash of Clans is probably one of the greatest mobile games of today's generation with millions of active users worldwide. Surprisingly, the game is characterized by simple gameplay with straightforward mechanics and rules. Interestingly, instead of being a downside, the simplicity of the game in general has become the strength of this game. With simple yet visually stunning user interface and remarkable longevity, it's not really surprising to see this game on top of every gamer's game list! If you think you have what it takes to win this epic battle, feel free to play this game and let the clash begins!
Your main objective for this mobile strategy game is to manage your territory and build a stronghold while protecting it against the invaders. Player must construct buildings to gather enough resources and to train troops that you will send in the battles. In addition to that, player must build an effective defense system to prevent enemies from chaotically destroy your base.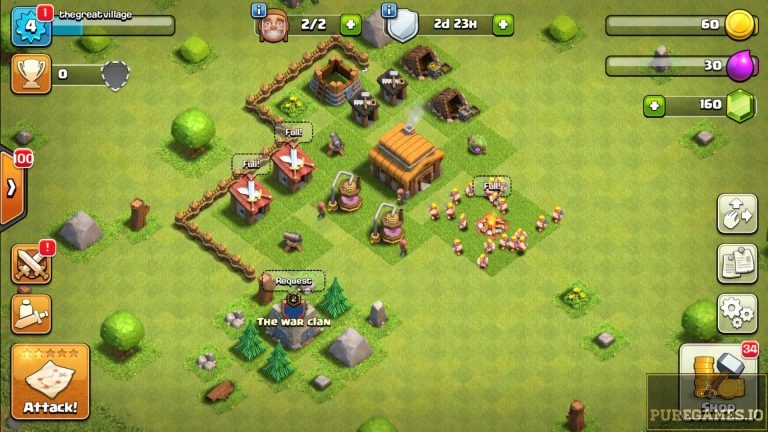 The Gameplay
Generally, Clash of Clans combines strategy gaming elements of Tower defense, casual empire building and wargames. As soon as the game begins, players must start building their empire. Like a typical casual empire building strategy, players will start off with minimal resources. Using gold coins, you can start adding buildings to increase your resources and also to strengthen your defenses. Essential buildings like Builders Hut allow you to hire builders to start multiple construction projects. Elixir Collector, on the other hand, allows you to gather Elixir which you can use to upgrade buildings.
Every empire should also have Barracks to train and hire more troops which you will send in the battle. You also need Gold Mines to increase Gold Coin productions. To top it all, players must build towers, walls and mortars to surround the kingdom and protect the village from invaders. Players can build and upgrade buildings either through gold coins and elixir but they can also use gems to expedite the process. Gems are considered premium which you can obtain from completing Achievements or through the game's microtransactions.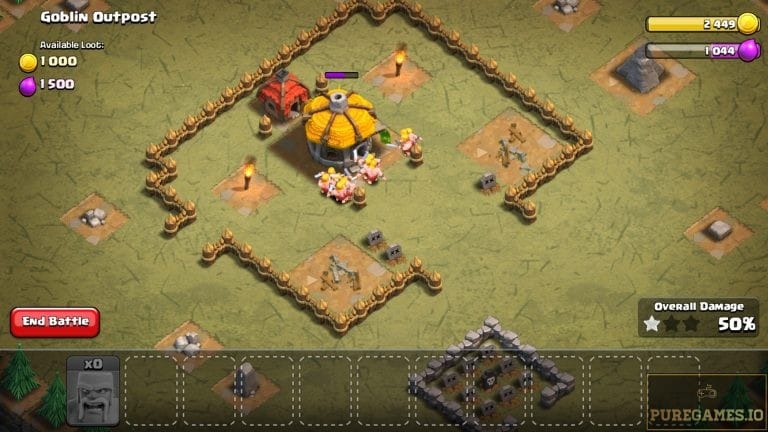 The Phases
Basically, in the entire course of Clash of Clans, players will pass through two different phases; the Building Phase and the Battle phase. Building phase prompts you to your empire where you build buildings to increase resources and to strengthen your defense. Battle Phase, on the other hand, initially takes you to a world map. Here, you can select your preferred empire to attack. Once you are in an empire, you can deploy your troops and let them attack.
Generally, the battle requires less interaction. The only thing a player can do is to decide which area or entrance you want to deploy your troops and how many of them will enter. Therefore, players can only apply strategy on deploying his army and also by the type of troops he will send in the battle. Eventually, players can also cast spells to inflict direct damage to the opponent's empire.
You can train more troops in your barracks. You'll start off with Barbarians and eventually, if you reach certain level of barracks, you can unlock more characters. There are 20 unlockable characters in this game which will vary in terms of their attributes such as DPS (damage per second), Hitpoints, Training Cost and Training time. Some iconic characters like Giants, Archers, Wall Breaker, Balloon, Witches and Hog Riders can soon join your army.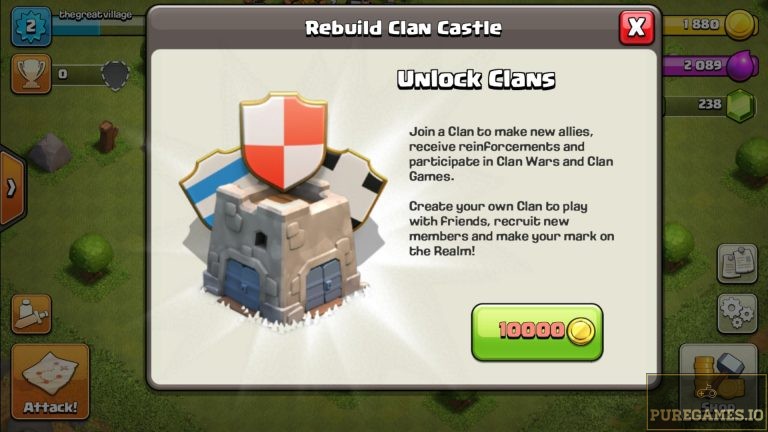 The Clan Wars
The game's multiplayer components come from the clan system. Basically, the game allows you to join an existing clan or better yet create one your own. You must build your Clan Castle in order to join a clan. Once you are already part of a clan, you can help others by sending reinforcements (donating troops). You will also have your own Chat system for your clan which allows you to send broadcast messages or some verbal support to your team.
The best and probably the most important highlights of the game is the Clan Wars. Just like what the title of the game connotes, this will engage you in a battle between one clan to another. Clan leaders can challenge any existing clans. This takes the clan two days, one day to prepare and another day for the war. During the attack, players will receive stars based on the amount buildings they destroyed. A clan can also earn loots if their battle is victorious.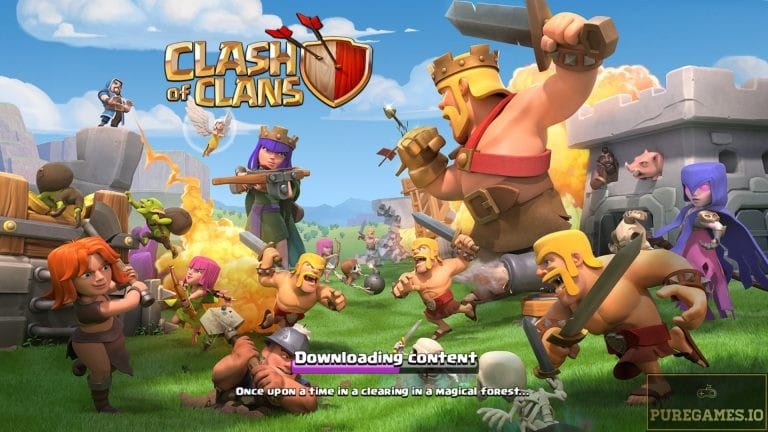 The Game of Patience
Aside from great strategy, the game also requires you to have a great amount of patience. The construction alone will take a lot of time for completion. The amount of time and the value of each construction and upgrade will both increase exponentially. Waiting period may take hours or even days. You can use the gems to expedite the process which makes Clash of Clans microtransaction features highly effective.
The longer you progress, the more demanding the game will become. Notifications will play larger roles in the game too. Even the player is not active; the game will notify you if the village is being attacked. You can watch the attack live but you cannot interact with it at all so better make sure to set your defense strong before leaving the game.
Overall, Clash of Clans is truly a great game. With superb gameplay and remarkable longevity, this game will truly require a lot of time and commitment. Definitely worth playing! Good luck!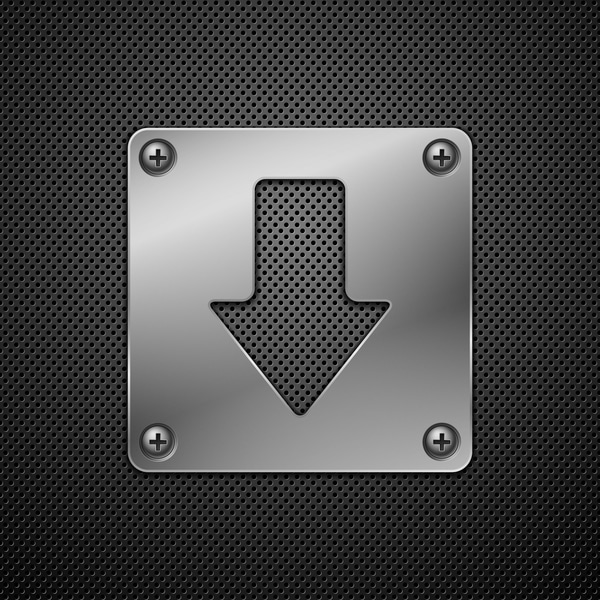 Download Clash of Clans APK for Android/iOS
Select a file to download:
Download Clash of Clans v10.322.8 APK