| | |
| --- | --- |
| Publisher | Caret Games |
| Platforms | Android 4.4 and up |
| Price | Free |
| Size | 207.9 MB |
| Latest Version | 1.00.0120 |
We have seen a lot of MMORPG that is wonderfully optimized for mobile devices. Only a few games managed to remain faithful to what they are advertised. RebirthM is a new MMORPG that allows you to explore a wonderful magical world of Aira. It comes with an impressive quality that you can highly comparable to those popular MMOs designed for PC platforms. Interestingly, the game follows a story of a fictional world that is on the verge of a great danger after the North Kingdom of Berkan attempted to resurrect the Evil God. The three other kingdoms allied to stand against Berkan but failed to match the power of the Evil God. Now, different heroes will emerge from different kingdoms to stop the Evil God from his treacherous plans. If you think you have what it takes, feel free to explore RebirthM and see how far you can go.
The Gameplay
If you have played any MMORPG either on PC or on Mobile Device, then you should know the drill. The mechanics for RebirthM are very simple and easily manageable. Your main objective for this game is to guide your character to explore the open world and help him fulfill his mission to stop the Evil God from causing any terror. Generally, RebirthM will provide you all the classic RPG elements you would expect. In the entire course of the game, the players will be asked to complete quests, upgrade weapons, skills and engage in seemingly endless battles against mobs and other online players through the PvP and PvE systems.
As soon as the game starts, you will be asked to select among the four available classes such as Slayer, Wizard, Berserker, and Ranger. You can also select your preferred gender. Each class will vary in terms of their basic attributes, skills, and weaponry. After the character and class selection, the game will prompt you right away to open world. You can navigate around the 3D map using the Virtual joypad and interact with your surroundings using the tap-based buttons. The game also comes with an Auto Quest and Auto Battle system in which the character moves automatically towards the required location and perform actions even without the player's manual interaction.
Epic Quests and Monster Transformations
Quests serve as the heart of RebirthM and I guess that is pretty much common to all MMORPGs. The game comes with many forms of quests which give you a great reason to play this epic MMORPG. There are the Main Quests which are linked to the main story and should be taken sequentially. You can also accept various Sub-Quests from different NPCs and earn valuable rewards in return. Unlike the Main Quest though, players can accept up to 15 Sub-Quests at the same time and you are allowed to cancel any unnecessary quests any time you wishes to. You can also take advantage of  Achievements which are composed of step-by-step tasks that can be accomplished with long term goals.
Daily Missions, on the other hand, are composed of goals that can be repeated on a daily basis. Interestingly, RebirthM also comes with an impressive battle system. Unlike typical MMORPGs in mobile that follows classic turn-based combat, RebirthM comes with freestyle battle. You can wander around the forest or dungeon and attack any mobs you want regardless of their levels. Once a monster was attacked, it becomes hostile. Just be careful of using skills especially when dealing with a great horde of monsters.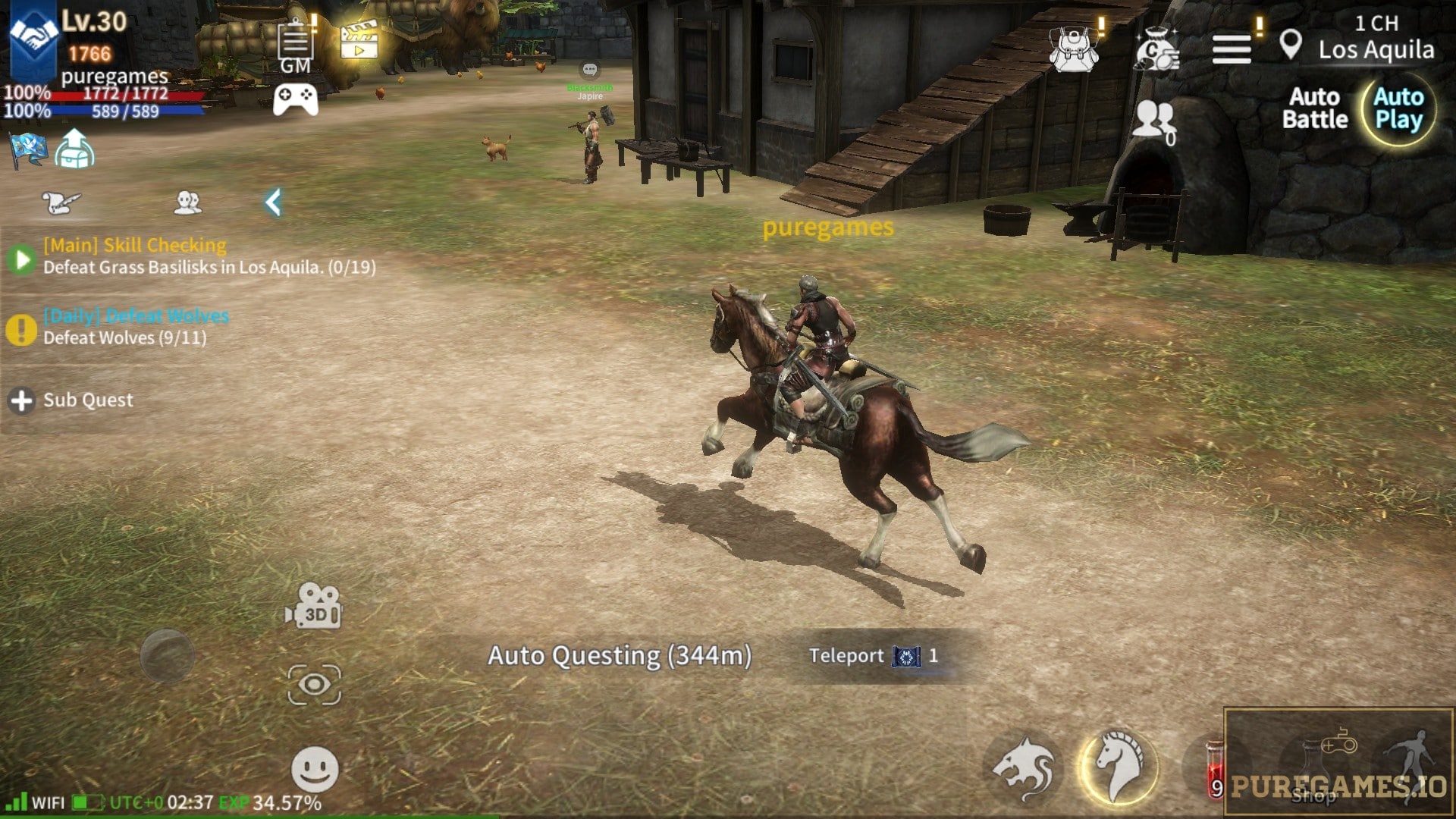 Speaking of Monsters, another unique element of RebirthM is your character's ability to transform into a monster. Players can transform themselves into different monsters, NPCs or heroes. To do so, you need to have Transform Scrolls which can be obtained in various ways such as quest or through the in-game shop. Interestingly, each monster comes with its unique skills. You can upgrade your character or your skill tree to dramatically increase your attributes and make yourself more efficient in the battle. When you transform, the ability increases greatly. The game also comes with a Pet System which will accompany you in your battle. You can also ride horses to reach your destination much faster.
Massive Multiplayer Community
RebirthM will not be considered as an MMORPG without the multiplayer functions. This particular function can be experienced in many ways. As you explore the open world, you'll get a chance to interact with many other real-time online players. The game comes with an interactive chat system which allows you to broadcast messages in the entire world community of Aria or you can broadcast message exclusively within a certain area, party, guild or private message a particular player. You can add players on your friend list either by typing their username in the search bar or by accepting any players as recommended by the system.
You can also join an existing Guild and contribute with them by participating in guild wars. Players can also join a party, especially when exploring various dungeons and fortresses. The World os Aira is extremely large and you might also encounter hidden places and dungeons where you can gain rare items or treasures. There are many other PvP settings to explore in RebirthM including the 1v1 Arena duels, Survival mode which works like a Battle Royale, and Co-Op battles which allows you to ally with other players to defeat giant bosses.
The Verdict
RebirthM is truly an impressive MMORPG. It captures all the elements we love to see for a classic Role-playing game. The game has so many great features to explore from the overwhelming number of quests to a bunch of multiplayer modes. Appearance-wise, RebirthM is definitely a visual delight. The game will surely not disappoint you with its impressive visuals adorned with intricate details and complemented with impressive music and audio effects. You also have the option to either go on an Auto Quest or do it manually for an additional challenge. The game, however, requires a huge space on your phone storage and requires a stable Internet connection to play the game in full extent. Overall, RebirthM is an MMORPG that is wonderfully optimized for your mobile.  Currently, the game is available for both Android and iOS devices and you can download this epic MMORPG for free. Good luck!