Publisher
VEGA CRUSH
Platforms

Android 4.1+;

 iOS N/A

Price

Free

Size
21 MB
Latest Version
2.87
Super Crush Machine is an idle game. Idle game is also known as clicker game or incremental game in which players only have to perform very simple tasks. The genre was very popular on PC before coming to mobile.
In Super Crush Machine, you are an "engineer" of a factory and your job is to earn as much money as possible by making logical upgrades to a machinery system by money you earn from the game with that very system.
Two machines compose of the system. They work together to earn you money by crushing the objects into tiny bits that are small enough to pass through the them.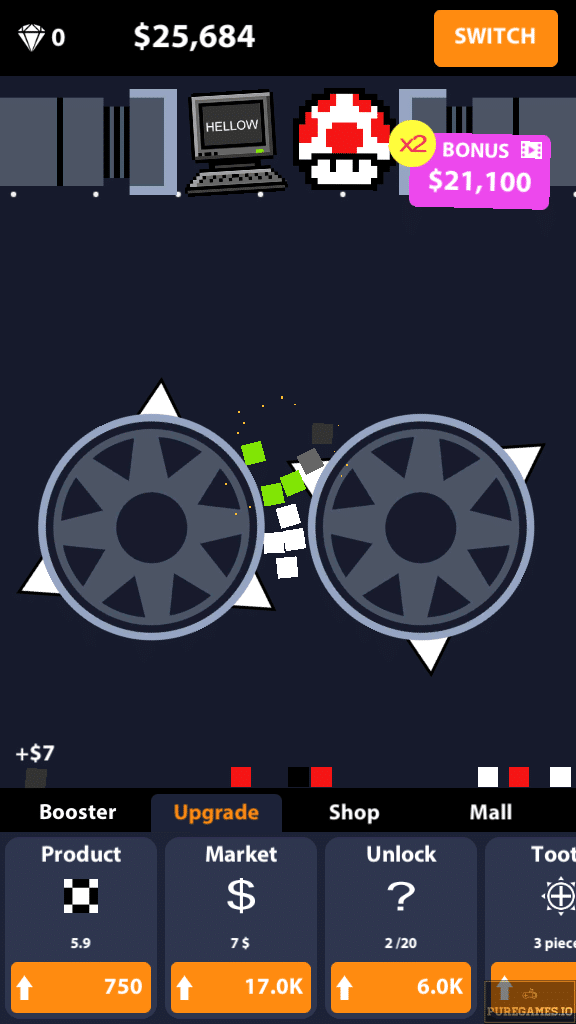 Like other idle games, you can just play the game by casually choosing any upgrade available with the current budget you have then wait for the money in your bank goes up. You can keep doing that until you get bored and quit the game, the money will still continue stacking up when the app is not open or running on the background. This mechanic is popular on PC idle games but some on mobile choose not to use it. It's a good thing that Super Crush Machine has this mechanic. So if a player takes a break from the game, when he comes back he can have a longer playing session to spend all the money before going offline again.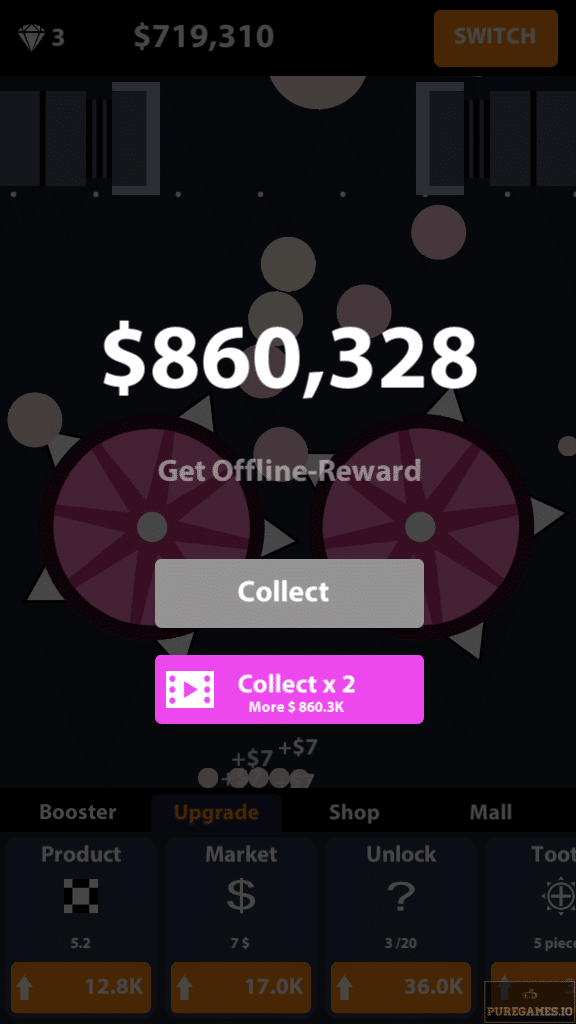 But at the same time, you can take time to strategize your moves, only spend money on upgrades that would result in faster income time after time. It's obvious that each upgrade is to some level connected with every other next upgrade and they all affect how fast you earn money.
Upgrades you can make: value of each tiny bit that brings you money, quantity of the objects spawn, upgrades to the machines (features, speed).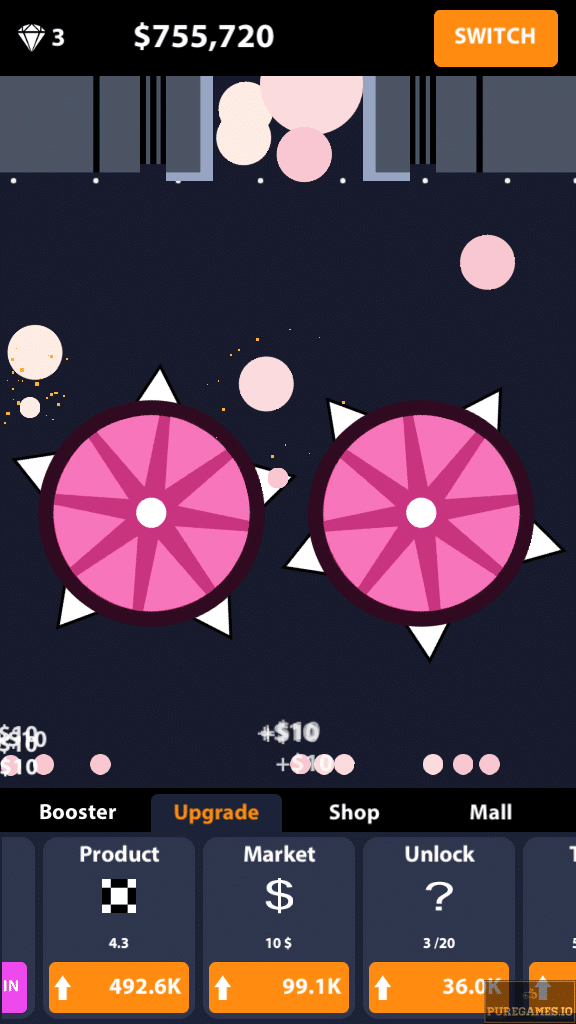 The game would occasionally offer you ads to watch that give you bonus money while you are playing or double the amount of money the system earned for you while you were offline. There are also permanent offers to watch ads that help you temporarily boost speed of the machines or boost your income. This intelligent way to make use of ads is clearly a plus point of the game.
Microtransaction is a part of the game . You can use real money to buy in-game currency which is diamond and then use diamond to buy in-game money for upgrades if you want.
Like many other idle games, Super Crush Machine is simple but can be addictive as soon as you know how to play it. Playing the game can become a habit, but it's not a bad thing if you know how to control it. But it's not always the case, some may find the game's graphics boring. In that case, people can use the Switch button to change the shapes, outlook of the objects and also 1 of the two machines.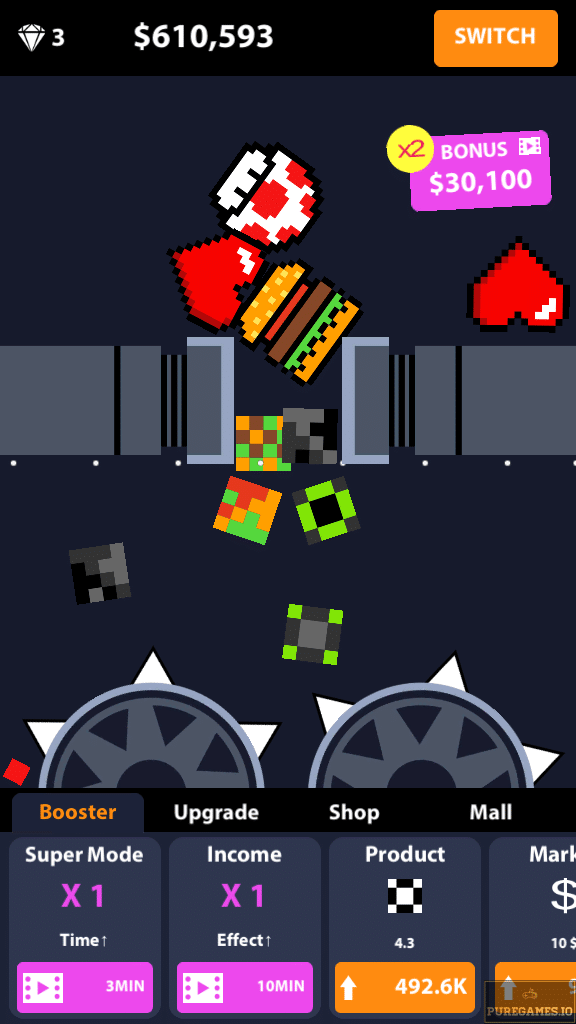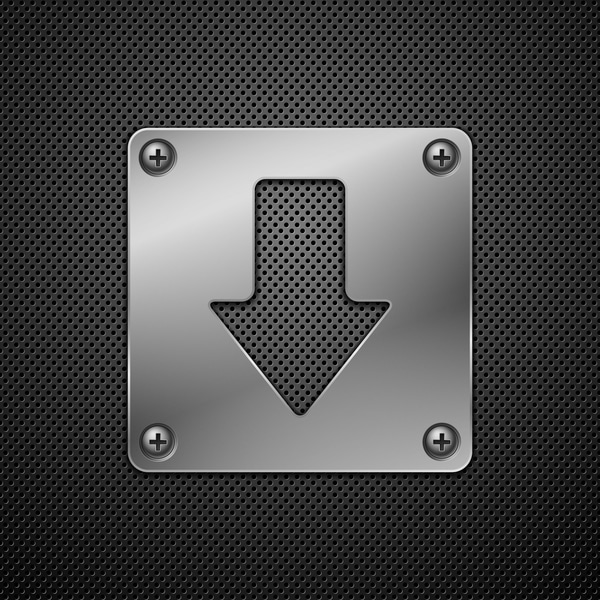 Download Super Crush Machine for Android/iOS
Select a file to download:
Download Super Crush Machine APK