| | |
| --- | --- |
| Publisher | Ketchapp |
| Platforms | Android 4.1+ |
| Price | Free |
| Size | 16 MB |
| Latest Version | 1.3 |
What's that you say? Summer is over? You haven't had the chance to practice your hoops? Maybe you'll want to try Dunk Line then. Bonus: drawing practice.
Overview
Dunk Line is a creative puzzle based on basketball. Your goal is to draw a line which will lead a ball flying in mid air into the basket. Simple, right? Well… Not so fast! This is a high score game, meaning if you start, you'll need to try and score as many baskets you can. But, there is a challenge mode too! If you decide to try it out, prepare yourself for five waves of challenges you need to beat, in order to receive a special prize! Other than score, which you can share through your social media, and brag among your friends, you can win green gems. Those are used to unlock new cosmetic features, such as new balls or pens for drawing your lines. These can be quite ridiculous, for example, you can buy a bowling ball! Pens differ in the color of the lines they draw.
Gameplay
Each, let's call it a level, starts with an exclamation mark on the spot where the ball is going to appear. You need to locate the basket, and to predict the trajectory of the ball. Then quickly draw a line using your finger, and be prepared to correct things with two more attempts you've got. Some of the levels are conceived in a way that you need some extra fast planning and extra skills to pick up those green gems hovering around like a tempting bonus they are. If you happen to miss the basket, don't despair! Usually there's an option to watch and ad and continue where you left off, or at least win 25 green gems! Which is a lot, by the way. Unlocking one ball or one type of pen cots 100 of these.
Now for the difficulty curve. Each time you fail, the difficulty curve resets, although levels are randomly generated. But, when you score 5 baskets, more than one ball will start appearing. So it gets harder to coordinate everything. The real challenge starts when bombs step into the game. These mustn't fall in your basket, or it is game over. And after scores of 10 and 15, various bumpers and other obstacles start making your life miserable. Even if only one of your balls don't end up in the basket(s), you'll have to start all over again. Keep in mind that the line you draw isn't bouncy enough, so you'll have to project it in a way it almost ends up in the net. Also, those bumpers and other obstacles: bouncy as hell.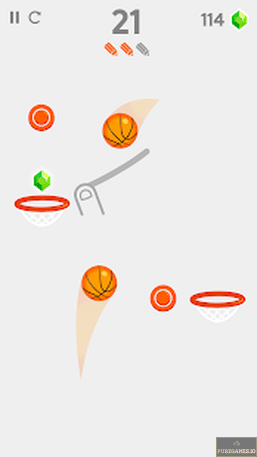 Presentation
In its original setting, the game looks simple, humble and somewhat satisfying. A title to rest your eyes, and to enjoy some minimalism. But, when you start unlocking those silly looking balls and all kinds of colorful lines to draw, it gets pretty messy and hard to follow. Luckily, you can always switch back to the defaults. The lack of music is maybe good for your concentration, but it makes this game seem unfinished, and unpolished. And the very quiet sound effects will require of you to turn the volume up. Those ads randomly popping up sure will be a surprising and ear tearing experience then.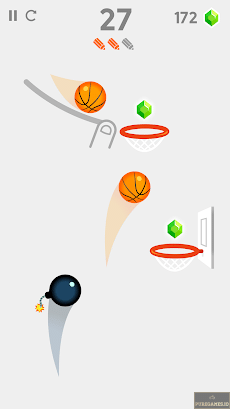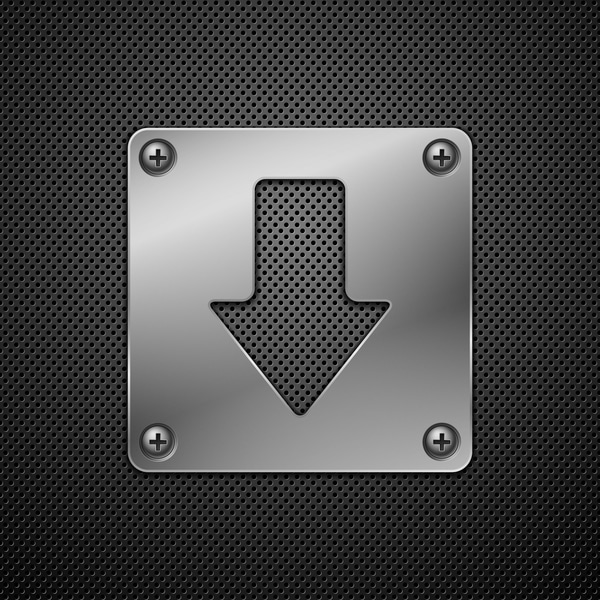 Download Dunk Line for Android/iOS
Select a file to download:
Download Dunk Line APK