| | |
| --- | --- |
| Publisher | Electronic Arts |
| Platforms | PC/ PS4/ Xbox One |
| Price | Free |
| Size | 44 GB |
| Latest Version | Varies with device |
Battlefield is probably one of the most successful first-person shooter video games ever create and it is not a bold claim at all. The first Battlefield game (Battlefield 1942) was launched in 2002, a multiplayer FPS video game that features highly innovative gameplay and impressive World War 2 theme. Since then, it grew into a massively successful franchise expanding to 16 installments. Battlefield V is the latest addition to the series with the first chapter being released in late 2018. The latest installment is constantly updated providing players with new campaigns and new battlefields to explore. Battlefield V managed to capture all the remarkable elements from its predecessors and serves as a thematic continuation to Battlefield 1 (a WW1-based FPS released in 2016).
The Gameplay
Interestingly, Battlefield V comes with an overwhelming number of campaigns to choose from. The War Stories, as what the title connotes, serves as the main campaign of Battlefield V. It features a collection of different war stories. These stories highlight the lesser-known conflicts of many soldiers across various locations during World War II. This is a single-player campaign that transports you to different parts of the world during the Second World war. It is composed of 5 war stories with different protagonists and different settings to explore.
The Multiplayer modes, however, are the most sought-after campaigns in Battlefield V. These include the classic multiplayer modes from previous Battlefield titles such as the Breakthrough campaign where the objective varies depending on your team's position. The attacking team must try their best to push the frontline until they conquer the map while the defenders must reinforce and prevent the opposing team from their conquest. Conquest mode, on the other hand, is the classic multiplayer mode that was introduced since the launch of Battlefield 1942. This mode will focus more on capturing and defending Control Points scattered around the map.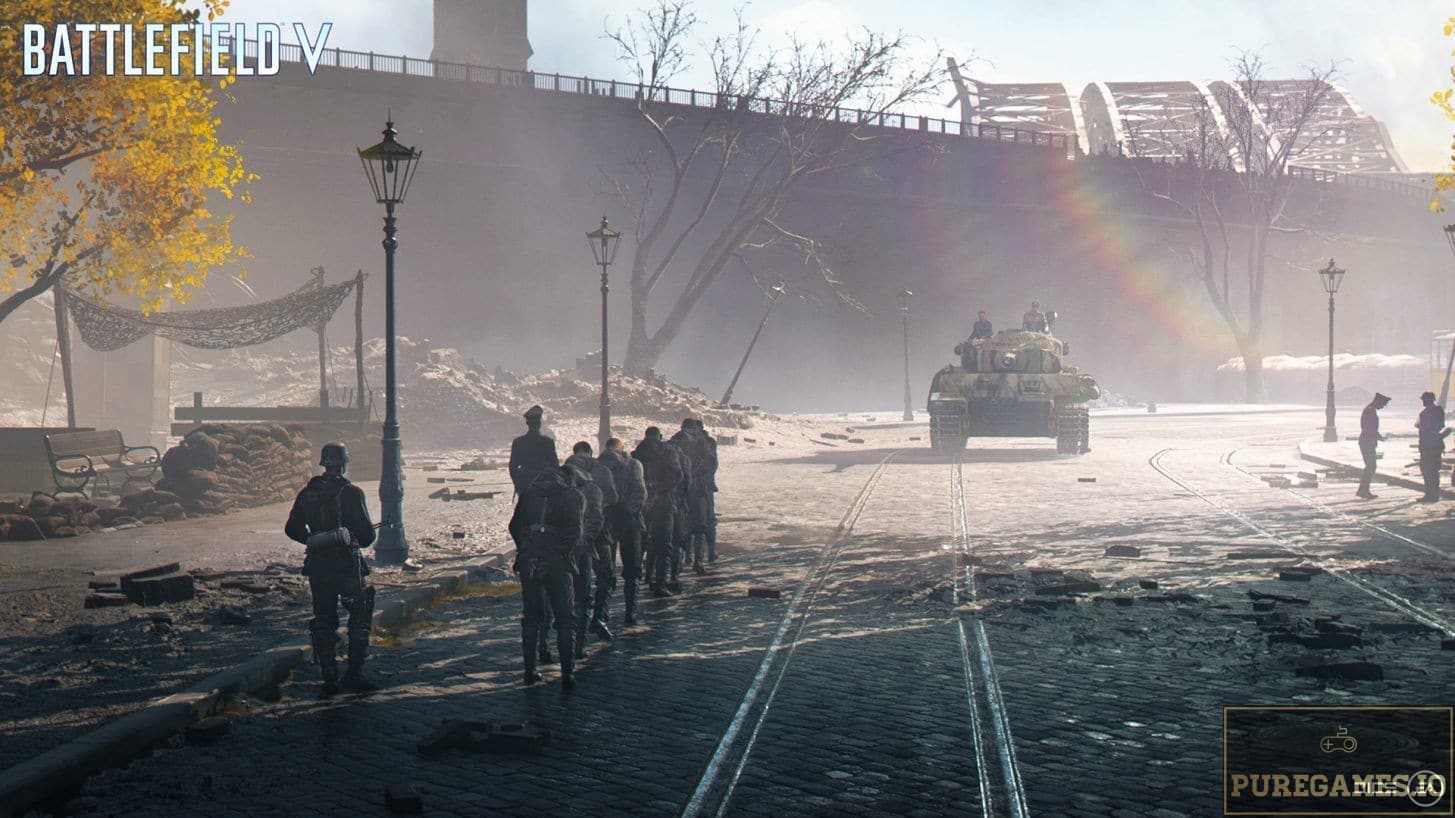 Another classic multiplayer campaign featured in Battlefield V is the Team Deathmatch mode. This mode works the same with most of the multiplayer FPS games. The objective is to reach the score limit set by the server by accumulating a number of kills equal to the score limit. Battlefield V will also introduce new multiplayer campaigns that are absolutely worth exploring. Combined Arms is a new multiplayer mode that allows up to four players to engage against AI enemies in surgical strikes on objectives. The campaign is intended to allow players to improve their experience with teamwork and become familiar with aspects of multiplayer.
Grand Operations is another new multiplayer campaign for Battlefield V. It is a narrative-based multiplayer game mode that is quite similar to Battlefield 1's Operation campaign except for the fact that the matches are divided over the course of up to four fictional days resulting to four unique and distinct game modes. Another interesting addition is the Firestorm mode. This is probably the answer of Battlefield to the popular battle royale gameplay. Like most battle royale games, players will be deployed on the battleground and will fight against each other until one player or one team remains standing.
Explore Chapters in Tides of War
The Tides of War is another new feature in Battlefield V that works similarly to Battlefield Premium Pass except for the fact that this live service is offered absolutely for free. Tides of War will provide Battlefield V gamers a chance to explore new maps, game modes, weapons, vehicles, Combined Arms missions, and customization items before they will become formally available for main campaigns. It is composed of six chapters where every chapter brings a new battlefield and a new gaming experience. The most recent chapter "Into the Jungle", features the struggles between the American forces and the Imperial Japanese Army. It takes you to a new map, introduced new weapons and gadgets, a new elite, and offers a bunch of amazing rewards.
Experience Action-Packed Battle Royale with Firestorm
It is undeniable that battle royale has become increasingly popular nowadays. The massive success of PUBG and Fortnite encouraged many giant companies to develop their own battle royale game. This eventually gave birth to hardcore battle royale games like Apex Legends, Call of Duty: Warzone, and Cuisine Royale. All of which are unique in their own special way. Battlefield V also introduced a battle royale game mode through a campaign known as Firestorm.
Here, 64 players will pit against each other on a fictional map of Halvoy. It is playable in Solo, Duo, and Squad. Generally, Firestorm works the same way with any standard battle royale gameplay. Players will be deployed in the battleground via Ju-52 aircraft. Each player can choose their preferred landing spot. Like most battle royale games, you start the battle without any weapons and you must quickly scavenge for items as soon as you reached the ground. Weapons and items are randomly scattered on the battlefield. As what the title of the campaign suggests, the firestorm is the shrinking battle zone. The storm will grow over time and the battlefield will gradually shrink. The last man standing wins the match.
Introducing Elites
Battlefield V will also introduce you to unique characters of two different factions; the Allies and the Axis. Elites are just cosmetic items and will not, by any means, affect the overall gameplay. Take note that acquiring any of the Elite characters will not provide any advantages in the gameplay. However, if you want to give your character a unique personality on the battlefield, you might consider availing any of the current Elite sets offered in Battlefield V in-game shop. Elites are primarily obtained with Battlefield Currency. Currently, there 11 Elites available and possibly more to come. It includes characters like Steve Fisher, Jack Culver, Norman Kingsley, Hanna Delacroix, Seamus Byrne, Akira Sakamoto, Misaki Yashimiro, Keisuke Nakamura, and many others.
The Verdict
Battlefield V is truly an impressive FPS video game that is seemingly made to perfection. The game managed to capture the intensity of the second world war with its action-packed combat mechanics and the highly realistic weaponry and graphics. Appearance-wise, it seems like you cannot go wrong with the Battlefield franchise. Ever since the first Battlefield game was launched, the series has come a long way. It is an absolute visual delight that provides you with highly immersive map that comes with a wonderfully detailed atmosphere and impressive character designs. Not to mention the well-fitting music and audio effect that makes this game absolutely worth exploring. The additional multiplayer campaign is probably one of the interesting highlights of this new installment. Currently, Battlefield V is available on various gaming platforms such as Microsoft Windows, Xbox One, and PlayStation 4.