| | |
| --- | --- |
| Publisher | Imangi Studios |
| Platforms | Android 4.0 and up |
| Price | Free |
| Size | 42 MB |
| Latest Version | 1.8.0 |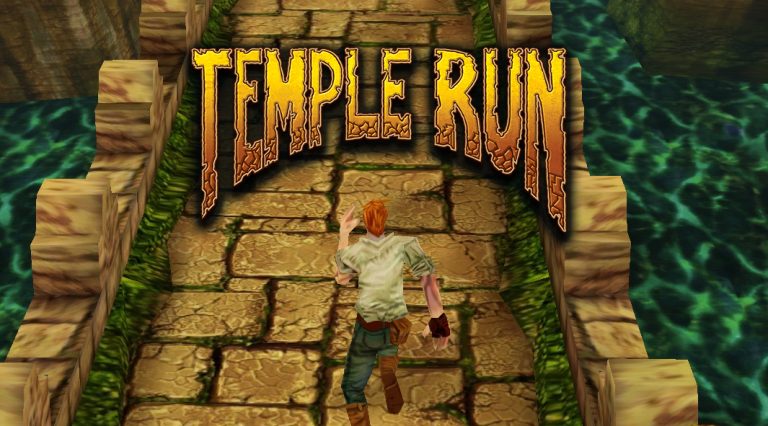 Back in 2011, a mobile app changed the landscape of mobile gaming and gave birth to what we refer now as endless runners. Although endless runner games have been around since early 80s, Imangi's Temple Run has become one of the fastest spreading mobile games in history. The sequel, Temple Run 2 has become more successful than its predecessor with more exciting features and maps. However, we cannot deny the fact that the original Temple Run game deserves all the credits! Interestingly, you can still download Temple Run from both Android and iOS App Store which allows you to bring back those early Temple Run memories!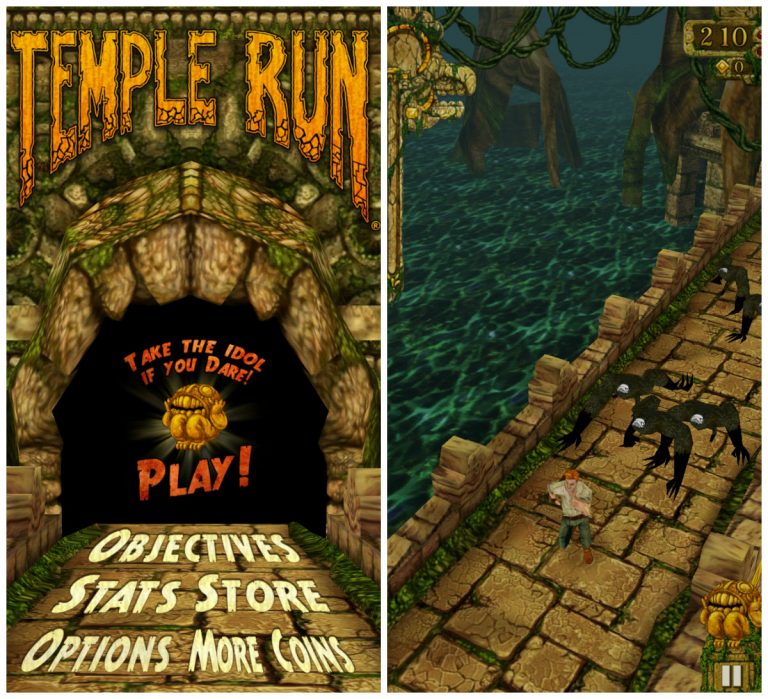 The original Temple Run game never gets major upgrade or revamp ever since the release of Temple Run 2. It follows the same mechanics and rules yet still shares the same amount of addictiveness. It seems like Temple Run never loses its magic and still a game absolutely worth playing! The main objective for this game is to get the highest score as possible. You must run as far as you can while preventing obstacles along the way.
The Gameplay
Temple Run follows a story of an explorer (Guy Dangerous) who stole an idol from an Aztec temple. Little did he know, humungous ape-like creatures are guarding the treasure and now, he must run for his life! Interestingly, the game prompts you to the classic Temple Run map where all the endless running madness begins. As an endless runner game, the character moves automatically and the controls are very limited. In the entire course of the game, the players must jump, slide down and evade all the obstacles he encounters.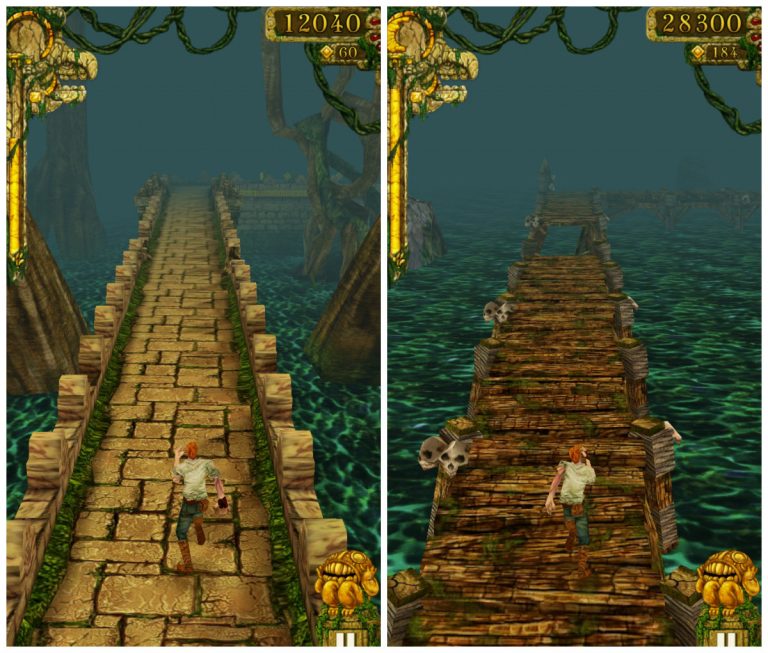 Aside from evading the obstacles, players can also collect coins along the way. You can use coins to purchase upgrades or better yet to unlock other playable characters. Unlike Temple Run 2, characters here are not equipped with skills. Power ups will only appear randomly on the map but you can upgrade their frequency and also their duration. The power meter, on the other hand, will only add extra points to your score.
Classic Power Ups and Characters
Temple Run will introduce you to the classic power ups that are still applicable to its sequel game. Power Ups include Mega Coin, Invincibility, Coin Magnet, Boost and Double Value Coins. Their functions are still the same. Mega Coin will give you extra coins while Invincibility allows you to overcome any obstacles for short period of time. Boost increases your speed while Coin Magnets attracts nearby coins. You can upgrade the value of each power up through the Store with prices increasing exponentially.
The game also features other playable characters. Unlike the sequel, the characters here except Guy Dangerous are not readily available and you must unlock them through Store. If you have enough money, you can eventually unlock characters like Scarlett Fox, Barry Bones, Karma Lee, Montana Smith, Francisco Montoya and Zack Wonder.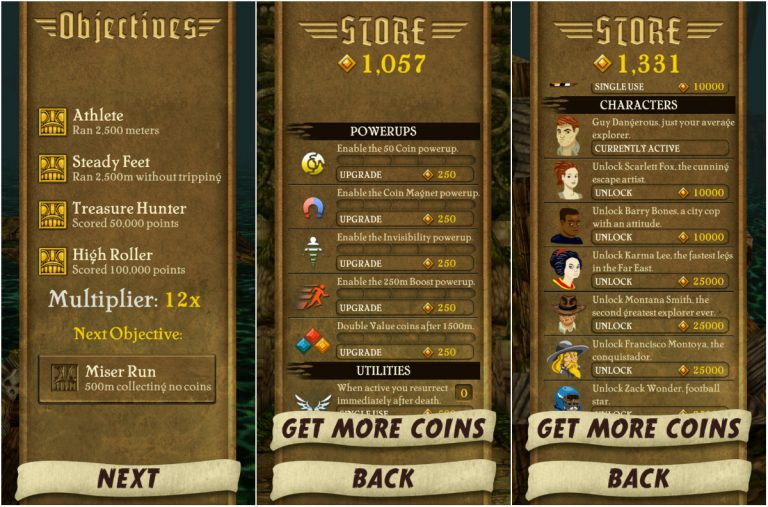 The game also has microtransactions which allow you to buy more coins. Generally, almost everything from the original Temple Run is adapted by its successor. However, if there is one particular feature that makes the original Temple Run unique, it's probably the Resurrection Wings.  Players can use wings to resurrect the character and they can earn them from Store or through Rewarded Videos. Resurrection wings are the counterpart of Gems in Temple Run 2.
Verdict
Overall, despite the success of Temple Run 2 and its overwhelming features, playing Temple Run still offers an equally exciting experience. It shares the same level of difficulty and still offers a remarkable replay value. Appearance wise, however, it is nice that Imangi takes a big leap and made vast of changes to their Temple Run 2 making the graphics more polished. All in all, i suggest you to download Temple Run and have a great nostalgic game experience! Have fun!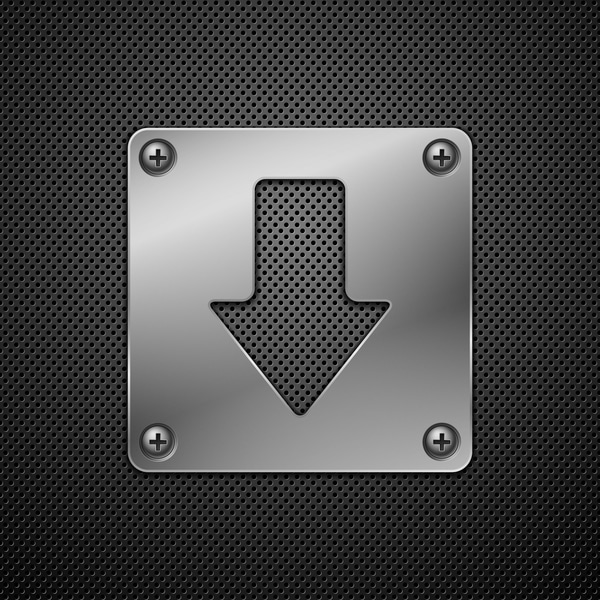 Download Temple Run APK for Android/iOS
Select a file to download:
Download Temple Run v1.8.0 APK