| | |
| --- | --- |
| Publisher | Outfit 7 Limited |
| Platforms | Android 4.1 and up |
| Price | Free |
| Size | 96 MB |
| Latest Version | 3.6.6.124 |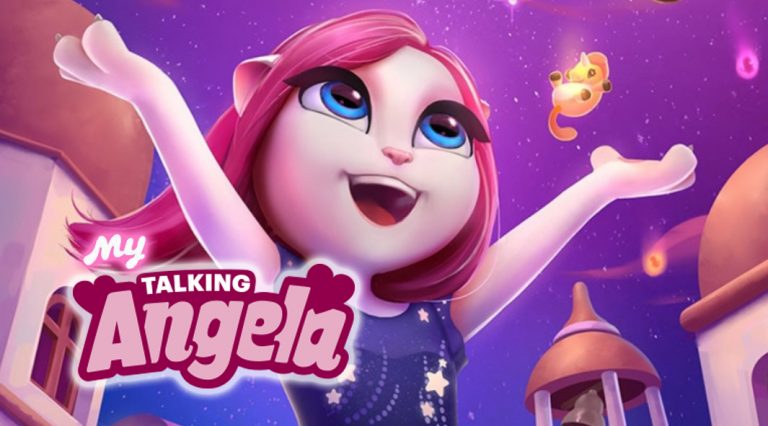 If Talking Tom has his own Virtual pet app, Talking Angela deserves her own app too. My Talking Angela is basically the answer to My Talking Tom virtual pet app by Outfit7 Limited. The company releases the game a year after the success of My Talking Tom and shares the same fate with its predecessor.  Generally, the game shares the same concept with My Talking Tom except the fact that the app is merely catered for younger female gamers. The main objective is to adopt an adorable kitten and make Angela your very own virtual pet.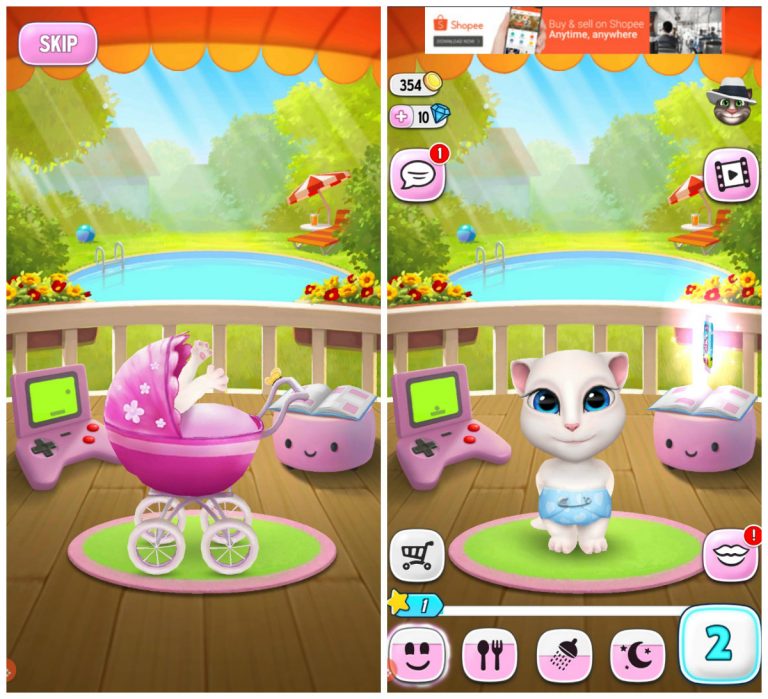 Like any other virtual pet games, My Talking Angela is a type of application that requires long term engagements. Meaning, players must devote huge amount of time to constantly provide the needs of your pet. Your basic responsibilities include feeding Angela, bathing her, and playing with her. You can also customize her appearance by choosing among tons of available outfits and accessories. Since we are referring to a female character, the game will highlight both dress ups and make ups!
The Gameplay
My Talking Angela captures everything from its predecessor but with vast of wonderful additions. The game starts off with a cute toddler Angela. Just like the critically acclaimed Pou, this virtual pet app also features four status bars that players must pay attention to. Each bar also corresponds to a particular room which includes The Play Room, The Kitchen, the Bathroom and Bedroom. The game also gives you additional access to her Make Up room and the Item Shop. Aside from the status bars, Angela usually signals her gestures to indicate her needs.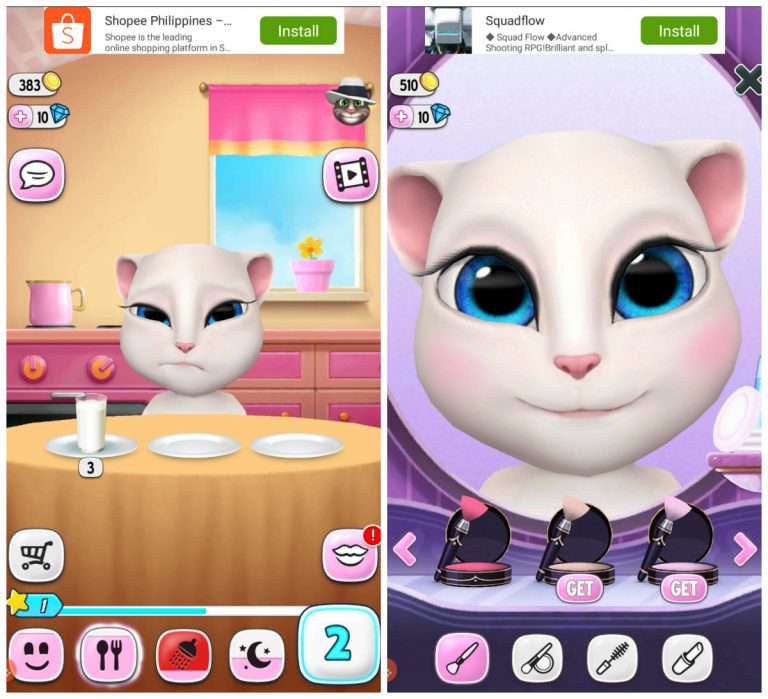 If the kitten is hungry, take her to the kitchen and feed her with food. You can also access the marketplace to buy more stocks for the kitchen too. You can also buy potions that allow your pet to skip sleeping or gain instant energy or even transform immediately from toddler to adult. Bathroom in My Talking Angela has more interactive features than My Talking Tom. Here, you can clean and brush her teeth and help her take a bath. Bedroom has the same basic function while Play Room gives you various accesses.
Mini Games
What gives this game an incredible replay value are the mini games. Simply click the console from the Play room and choose the game you desire. The mini games come in wide variety and genres including Unicorns (avoider game), Balloon Splash (match 3), Happy Connect (tile matching), Brick Breaker (breakout), Bubble Shooter and more. It also shares links to all the affiliated mobile apps from the Talking Tom and Friends franchise.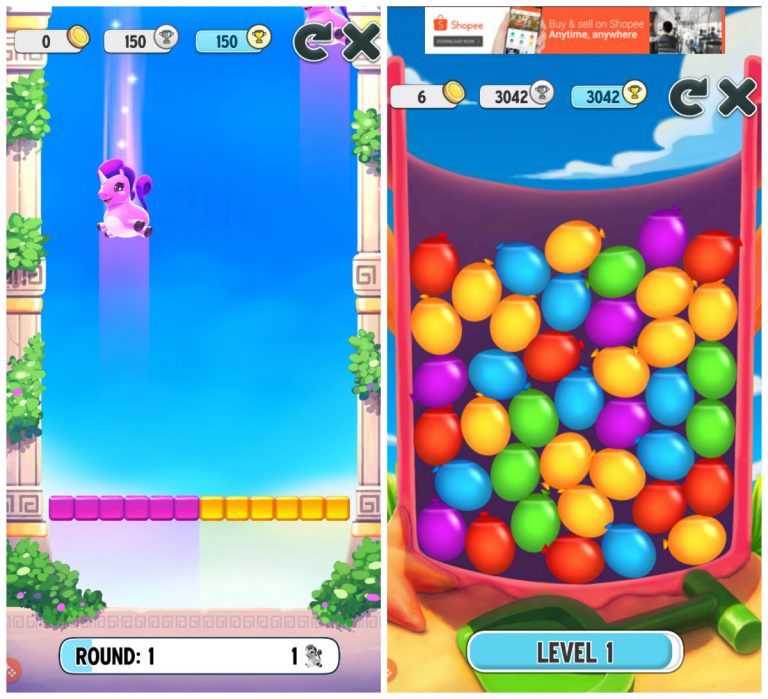 Another unique feature in this game is the Sticker Book. These are collectible stickers you can attach to your sticker album. Players can earn Sticker packs from winning mini games or through Rewarded Videos. You can also purchase them through Diamonds (premium currency) and through microtransactions.  Interestingly, collecting stickers allows you to unlock items in the game including makeup kits and outfits.
From Toddler to Adulthood
The game doesn't just require a long term engagement but also a long term commitment. Angela will pass through different growth levels from a baby or toddler to an adulthood level. In order to progress, player must constantly interact with the game. You must constantly provide Angela's needs and keep her status bars in good shape. You also earn experience through mini games and daily actions.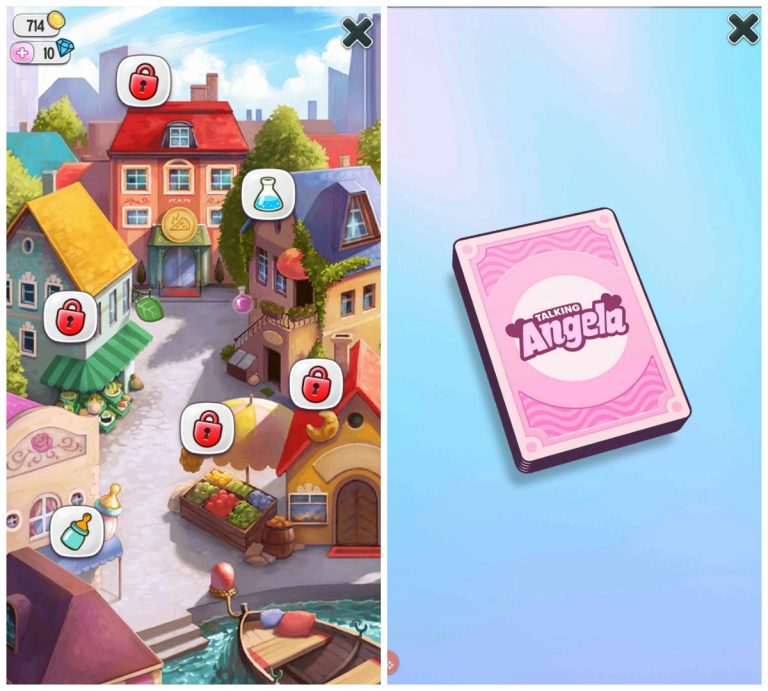 Angela's demands will dramatically increase as she grows up. It's also interesting to mention that Talking Angela still offers her classic voice changer features. The controversial chatterbot, however, is no longer applicable. Overall, My Talking Angela, despite the apparent simplicity is still as addictive as its predecessors. It's cute, simple and surprisingly addictive and fun! So far, have three virtual pet game including My Talking Tom, My Talking Angela and My Talking Hank. I wonder  if we could see an interesting crossover app in the future.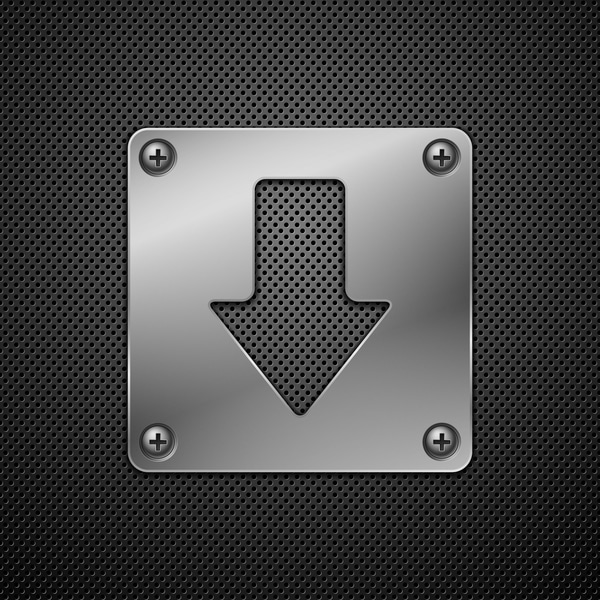 Download My Talking Angela APK for Android/iOS
Select a file to download:
Download My Talking Angela v3.6.6.124 APK