| | |
| --- | --- |
| Publisher | Nexters Global Ltd |
| Platforms | Android 4.2 and up |
| Price | Free |
| Size | 73 MB |
| Latest Version | 1.72.1 |
Hero Wars is probably one of the most controversial mobile games today. Not because of showcasing any explicit content or any form of sensitive element but due to their misleading advertisements. For those who have encountered their ads, it often shows a simple yet seemingly tricky pin pulling puzzle. Unfortunately, the game is not about puzzles at all. Hero Wars is actually an epic RPG packed with many intriguing and exciting elements that are surprisingly worth exploring. It is not clear why they need to show an ad showcasing entirely different gameplay even though Hero Wars is actually a decent mobile game.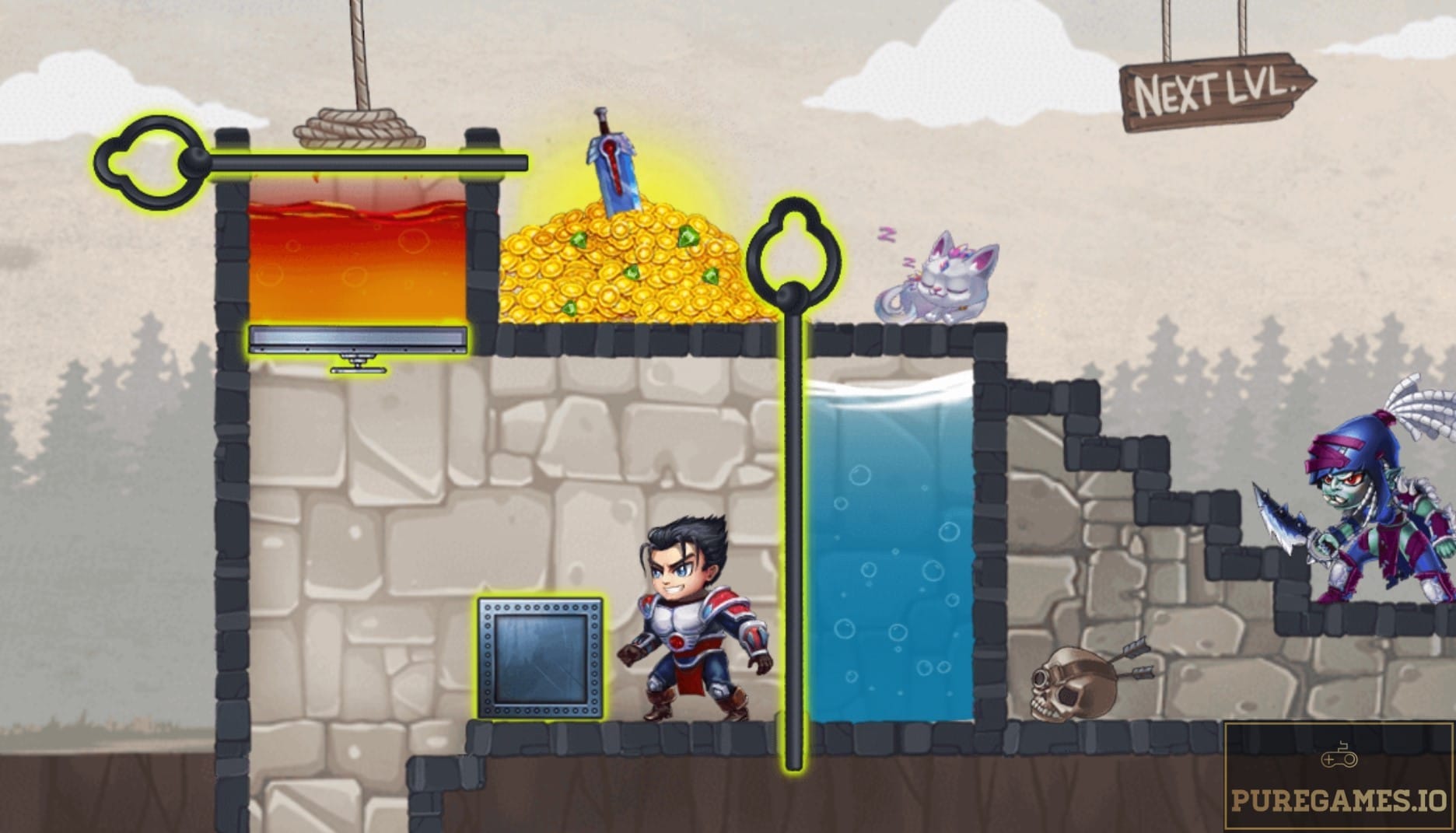 Nexters Global, the team behind Hero Wars, explained that the main goal of their fake advertisement is to draw the attention of gamers so they can check the actual game itself. The ads can be very misleading but definitely not the reason why you should not miss this action-packed RPG. In fact, to address this particular issue, Nexters Global already inputted these pin-pulling puzzles as part of the challenges within the game. Now, let us take a deeper look at this game and see what exactly Hero Wars has to offer.
The Gameplay
Hero Wars comes with very simple mechanics and follows the same format with other action RPG. It follows an epic story of a group of heroes and their attempt to bring their world back to its former glory. Your goal is to form the ultimate team of heroes and help them defeat all the enemies. The game initially prompts you to the Main Menu or some of you might aptly name it as the Heroes' lounge or the headquarter. This page will give you access to all the available features of Hero Wars. It also displays the heroes on your current team. The main page will give you access to Merchant (in-game shop), Campaign (where the main adventure takes place), Arena and Grand Arena (PvP campaigns), Tower (PvE), Outland, Airship, and more.
Located below the screen are important icons that grant you access to Heroes' profile (where upgrades and evolutions take place), Inventory (from looted items to soul stones), Quest (the quest log), and Newsfeed. The main page also gives you access to your Guild and also the Chat board. To start your journey, simply tap the Campaign portal and it will prompt you to the world map. Each Chapter is composed of multiple levels that you must complete sequentially. A player can only deploy a maximum of 5 heroes per battle while each battle takes you to three stages that often conclude with a mini-boss or a final boss fight.
Automated Battle and Heroes Upgrades
Like most of the modern mobile RPGs today, Hero Wars will also treat you with an Automated and fast-paced battle system. Once the battle commenced, your team will automatically approach the incoming group of enemies. Basic attacks are automatically executed but players can still interact with the battle by activating their special skills. Located below the screen are the hero cards that display their current health (green bar) and their mana points (yellow bar). Each hero earns mana points for every attack they made and once they have earned enough, the hero cards will glow to notify you that they are now ready for special attack. Simply tap the hero card to activate their special skills.
If you want everything to be played automatically, tap the Auto button on the lower-right corner and let the AI do the rest of the job. Just because the battle is automated doesn't mean you just have to sit down and watch the entire progress. Players are strongly encouraged to upgrade their heroes to make them more efficient in the battle, otherwise, your battle may end up in such devastating failure. To do so, go back to the Main menu and tap the Heroes icon. This page will list down all your heroes and gives you access to their individual profiles.
Tap the specific hero to access their profile. Here, you can equip them with weapons and armors that you looted from the battles. Equipping them with special items will drastically increase their basic attributes. If a hero earns a new level, the game will grant you skill points that you can wisely distribute to their skills. Tap on Stats and you'll see the current status of your hero as well as the complete list of armor sets you can obtain or create using various resource materials. Upon reaching Level 20, you'll get access to Artifacts while Glyphs will become available once your team reached Level 30. You can also promote your Hero so they can evolve to a new and stronger form.
Multiplayer Campaigns and Other Noteworthy Features
Hero Wars is considered to be an MMORPG and it will not be completed without its multiplayer elements. The game comes with many multiplayer functions (both PvP and PvE campaigns). Once you have reached Level 10, you can access the Arena that allows you to compete against other players. Here, the battles are fought in automatic mode. When you defeat an opponent, you take their place in the ranking and grants you with rewards as well. The higher the rank you get, the more rewards you receive. The Grand Arena, on the other hand, is a massive PvP battle that gives you a chance to fight for legendary items and new heroes (only accessible upon reaching level 50).
The Tower will become accessible after reaching Level 40 and this is where the PvE campaign takes place. You deploy a team and enter the Dark tower to collect rare artifacts and other legendary and rare loots. Another interesting multiplayer element can be found through the game's Guild system. You can join a guild after reaching Level 30. This allows you to participate in various Guild Competitions. You can also take advantage of the chat system to broadcast messages to your guild members. As for the Pin Pulling puzzle, the developer of the game is slowly incorporating these minigames in the main campaign. From time to time, you will encounter Puzzle Mode which prompts you to the exact pin pulling puzzle that you can see from their ads.
The Verdict
Despite the controversy regarding their misleading ads, Hero Wars is surprisingly a great RPG. It comes with simple yet addictive gameplay with a nice story progression. The game also offers tons of amazing multiplayer features and an overwhelming number of heroes to unlock. Appearance-wise, Hero Wars will certainly not disappoint. It offers visually stunning cartoonish graphics with impressive character designs. It is also accompanied by a piece of well-fitting music that sets the atmosphere right. The game also offers a generous reward system. You can earn rewards in many different ways (from daily login bonuses to comprehensive achievement system). Overall, Hero Wars is a great game and definitely worth exploring regardless of the misleading promotional campaigns. Currently, this epic MMORPG is available for both Android and iOS devices for free. Have fun!