It is really nice to see that we have some amazing MMORPGs that are wonderfully optimized for our mobile devices. However, unlike the classic role-playing games that we grew up with, most of the modern MMORPGs for mobile are packed with tons of automated features and mostly done in a very fast-paced manner. These auto-features are good yet those who are looking for real RPG challenge might find these Auto-questing and Auto-combat quite disappointing. The challenge and thrills are no longer present in the game if all you do is let the AI do the job and you just have to watch whatever the result will be. Interestingly, we still have some decent MMORPGs for mobile that are not relying much or not relying at all with these automated features. Listed below are five of the best Non-Auto-Play MMORPGs that will surely put your skills on a great test.
Order & Chaos 2
Following the success of its predecessor, Order & Chaos 2 will once again take you to another epic adventure. The game will take place after the events of the first Order & Chaos game. They discovered the secret of Khalin's Hammer which was used by the Gods to forge the world. 600 years later, the Knights of the Flame decided to wield this hammer to destroy the Primal Heart, the source of all evil and abominations. However, right after they destroyed the Primal Heart, it resulted in a cataclysmic event in which the entire world is transformed and most of the population of Haradon is killed. Now, your mission is to solve this mystery and bring the world back to its former glory. Unlike the typical MMORPGs we have on the mobile market today, Order & Chaos 2 will put its skill-based combat at its forefront.
Order & Chaos 2 still comes with both Auto-Quest and Manual gaming mode. This game follows basic controls that most MMORPGs use. You can navigate around the 3D map using the virtual joypad on the bottom left corner of the screen while attack and other interactions can be done using the tap-based buttons on the lower right.The game might offer you an Auto-Quest system but the combat is done manually which will put your skills on a great test. Once engage in combat, you use all the tap-based buttons on the lower right corner of the game screen. Tap the sword icon for basic attack and tap the skill buttons to inflict bigger damage. This is skill-based combat so make sure to establish an effective strategy to maximize your chances of winning especially when dealing with bosses.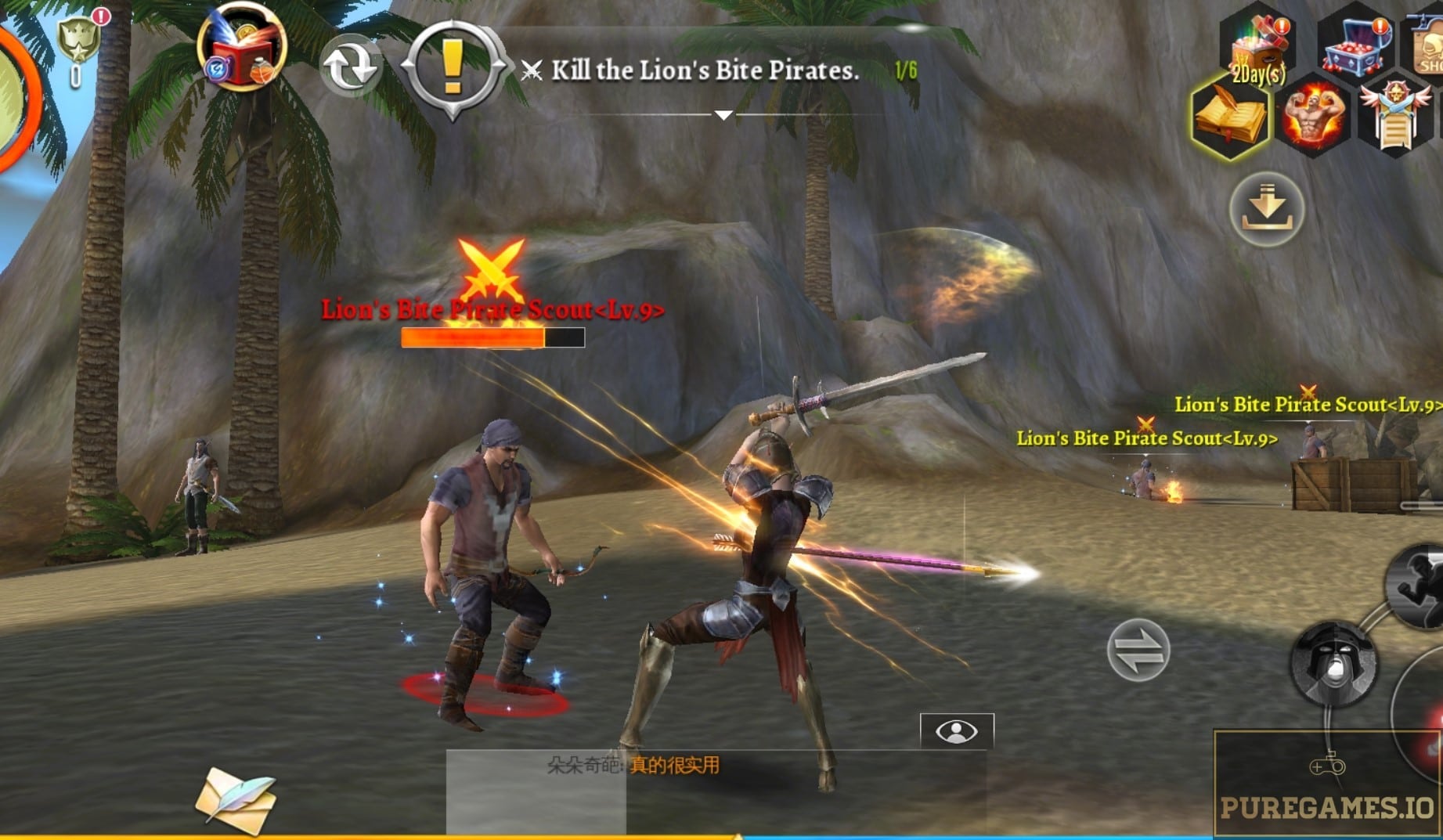 There is also a Challenge Rush mode where you fight against different bosses. You'll obtain a Fusion Material every time you completed the challenge. The more stages you finish, the more rewards you'll obtain. In every challenge, you will be asked to beat the boss within a given time frame and if you failed to defeat the enemy on time, the challenge will come to an end and you have no other option but to start back from the beginning. The game will not be completed without its multiplayer elements and this game will certainly not disappoint. There are many ways to interact with other players in this game whether it's cooperative or PvP. Upon reaching Level 15, you'll be able to access the dungeons. You can either go on a solo quest or you can ally with other real-time online players for a much more effective dungeon raid. Battlefield will be open upon reaching Level 30 while Tournament will become accessible as soon as you enter Level 10. Like most MMORPGs, the game also features a Guild and Friend system. You can add players on your friend list and you can join an existing guild and take advantage of its perks.
Like its predecessor, there are many things in this game that are absolutely worth exploring. The game comes with a Companion system which is more like a pet system but comes with evolution. Overall, there are more than 2000 companions to unlock which gives the game excellent longevity. If you want to take to another level, you can purchase a companion pack from the game's in-game shop. There is also an Auction House where you can catch items on sale and Collectible Hardon Cards. The game also features various events including those that are seasonal so kindly expect to encounter Spring Festival, Christmas and even Valentine's Day events.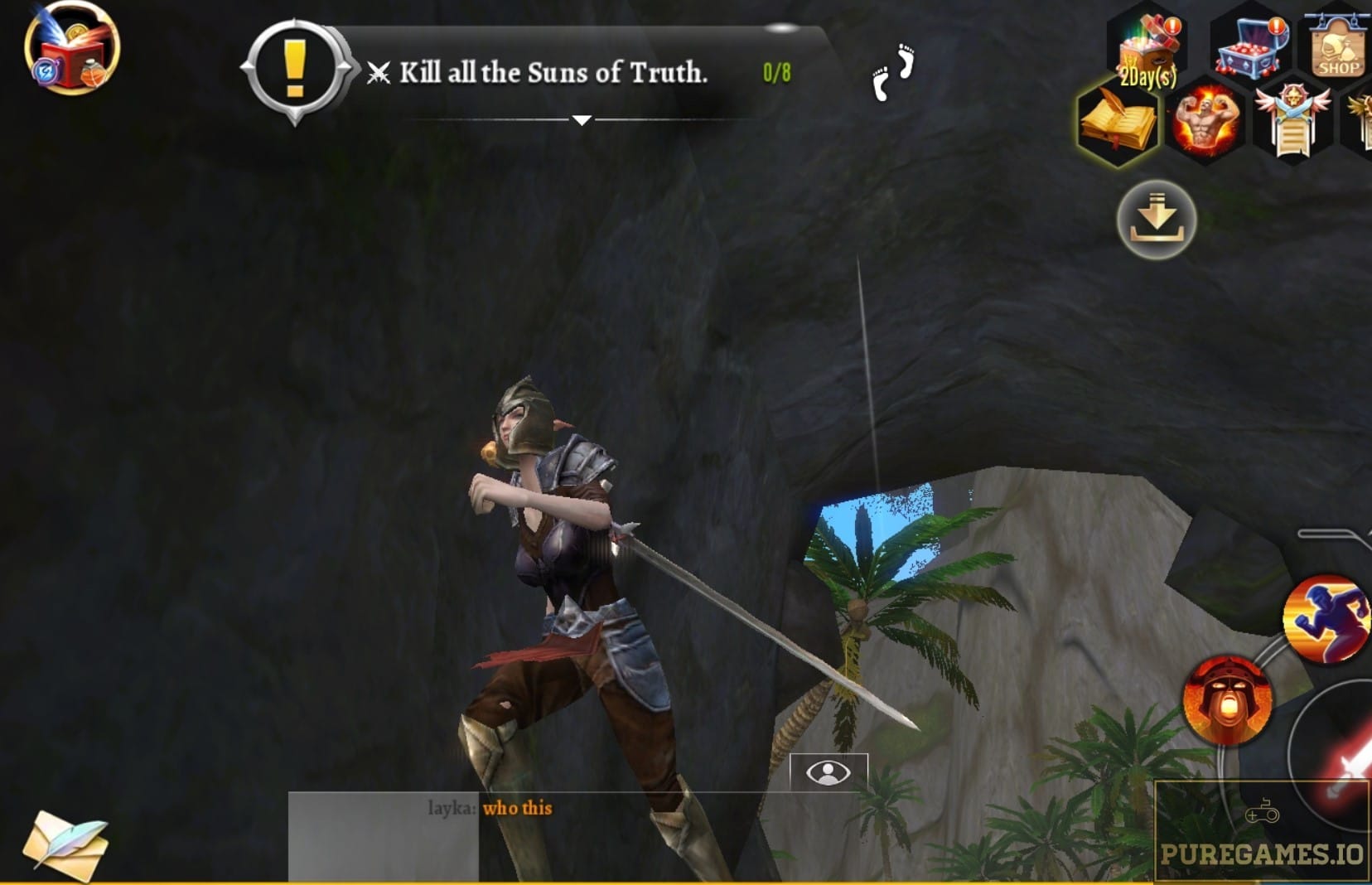 Order & Chaos 2 give the series a great justice. It managed to capture all the impressive elements we enjoyed from its predecessor while successfully incorporating a vast of wonderful improvements. It is also nice to see that despite having an Auto-quest system, the game remained faithful to the classic skill-based combat that adds challenge and thrill to the game. Appearance-wise, Order & Chaos 2 is an absolute visual delight much like the first game. It treats you with remarkable visuals and impressive details and character designs. I also love how they input interesting depth to the story that makes the game worth exploring.
Celtic Heroes
It is very interesting to see that this game called Celtic Heroes is not getting the same buzz like most of the leading MMORPGs for mobile today. I highly recommend you to play this game and you'll see that this MMORPG deserves better. The game is simply beyond expectations and that is not a bold claim at all. It comes with visually stunning graphics and is matched with a highly compelling story that makes the game even more engaging and worth exploring. Not to mention the well-polished gameplay. The game embarks you to an epic mission where you play a mighty hero and attempts to same the realm of Dal Riata from the evil forces and prevent them from causing chaos.
The mechanics for this game are generally simple and follows all the basic elements you can find in classic MMORPGs. Here, you can select among five available classes including Warrior, Rogue, Ranger, Mage, and Druid. Each class comes with its own unique skills and abilities, and as well as their default attributes. What really makes Celtic Heroes stand out is the fact that the game doesn't support either Auto-Quest or Auto Combat system. In this game, the players are encouraged to manually navigate the area and engage themselves in a pure strategic battle. Wonderfully, this game remains faithful to the classic and old-fashion MMORPG and that makes this game absolutely impressive. Without the Auto-Play system, the game provides you a decent amount of challenge and thrill. You can navigate the immersive 3D world using the virtual joypad that sits on top of a small navigational map.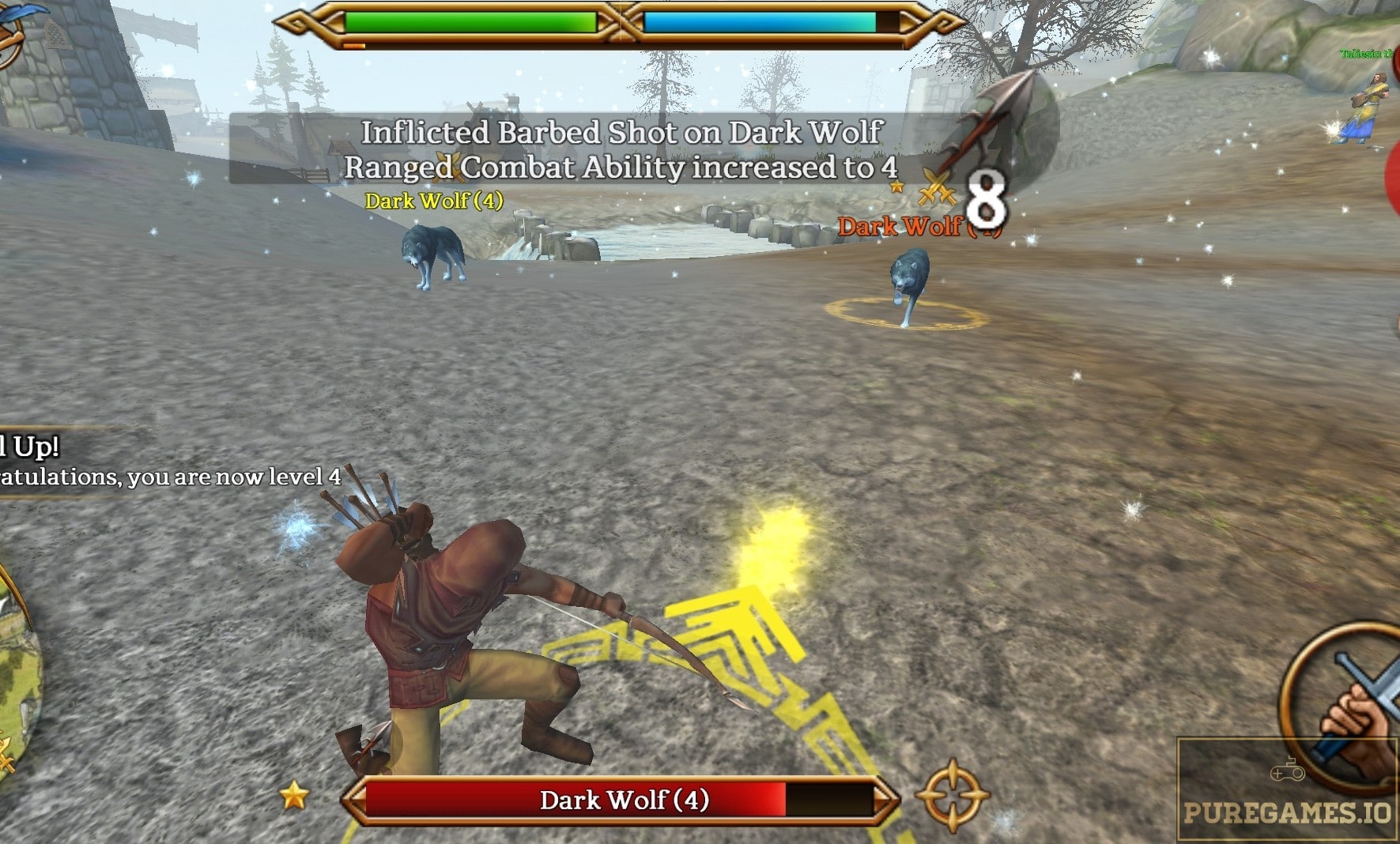 When engaged in combat, you can use the designated tap-based buttons on the bottom right corner of the game screen. Unlike other RPGs, however, Celtic Heroes is not a simple button-smashing game. Players are strongly encouraged to exert the best of their visual reflexes and to try their best to establish the most effective strategy to maximize their chances of winning. The story-based quests make Celtic Heroes even more enthralling. The only way to progress in this game is to embark on a series of action-packed missions. You can accept multiple quests in this game, some are part of the Main story while others are side-quests which are optional and repeatable.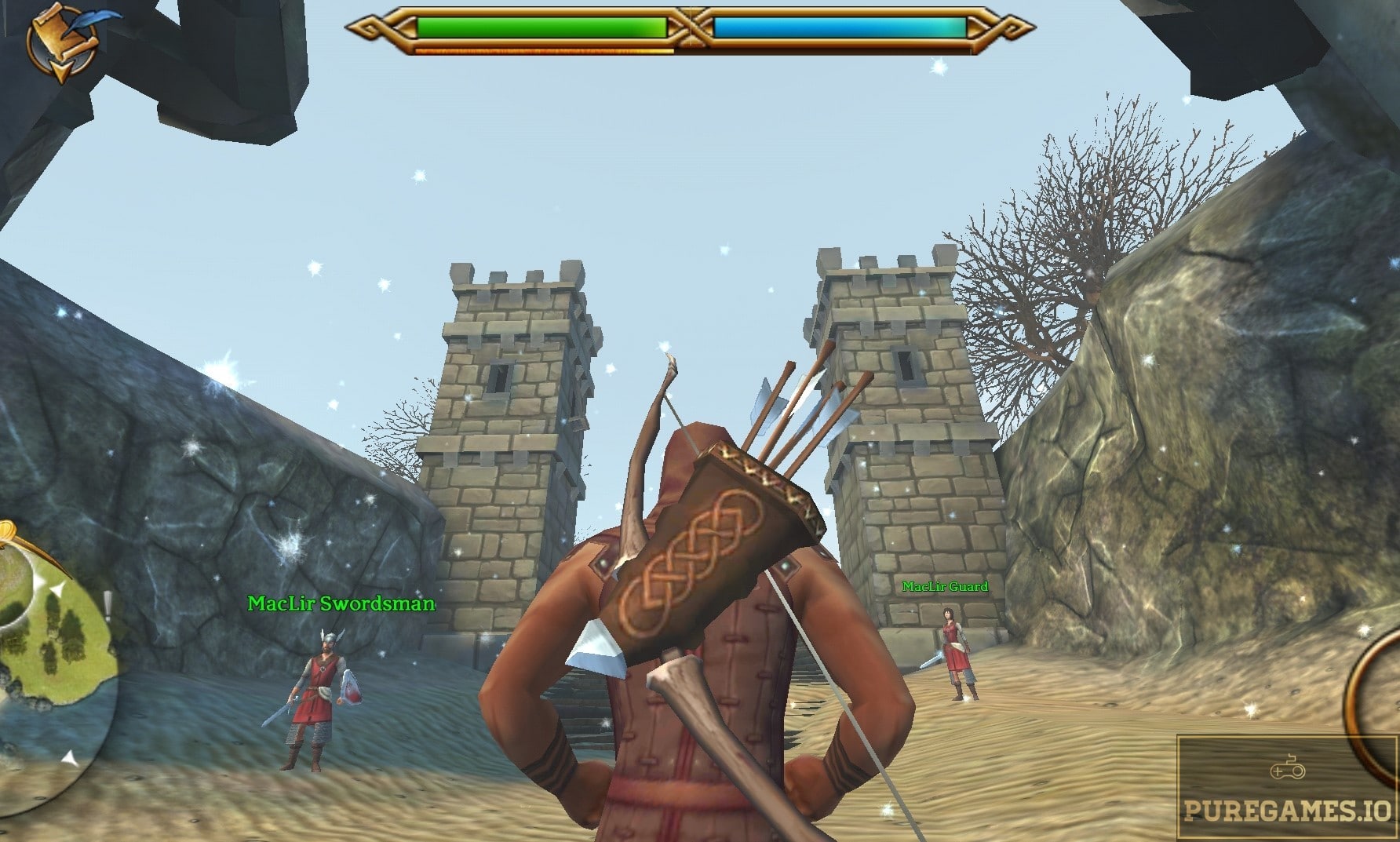 One of the most notable and unique features of Celtic Heroes that makes it a stand out is the process of obtaining skills. Instead of having a pre-determined skillset for your character, you can actually obtain your skills from vendors and through quests. You can boost these skills through points that you earn every time you gain a new level. This particular feature provides gamers freedom in character development and that is something we can rarely find in most MMORPGs today. You are also given the freedom to distribute skill points to whatever skills you want to prioritize. As far as the multiplayer elements are concerned, Celtic Heroes is packed with many PvE and PvP campaigns that you can explore. You can search for allies and invite them to your group. Players can add other players on their friend list or you can also be part of a clan. The game also features special zones for the PvP battle with a comprehensive ranking system.
ELCHRONICLE
While most MMORPGs follow the same format, Cravemob's Elchronicle is more of a game-changer. This game will show you how a classic RPG should be done while treating you with remarkable visuals and a compelling story to explore.  Unlike standard MMORPG, the game will not start with character creation. Your default character is a warrior named Dean who is an aspiring White-Wulve soldier. You are about to set yourself on an epic journey to save your land from the evil forces. The story might sound a little formulaic but what until you start your epic journey. That's the time you'll find out that this MMORPG works like a true gem.
The game offers an Auto Play system but the player will not really rely much on it. This is not the type of RPG where all you do is to sit back and relax and let the AI do everything. The Auto Quest system is merely applied only for Auto pathfinding but the rest are skill-based. Battles require the player to establish an effective strategy to win, otherwise, the mission will end up as a failure. You can activate the Auto Move so characters can move from one destination to another with less player interaction but the skills are manually executed during battles. There is an Auto Full mode but it is not activated by default.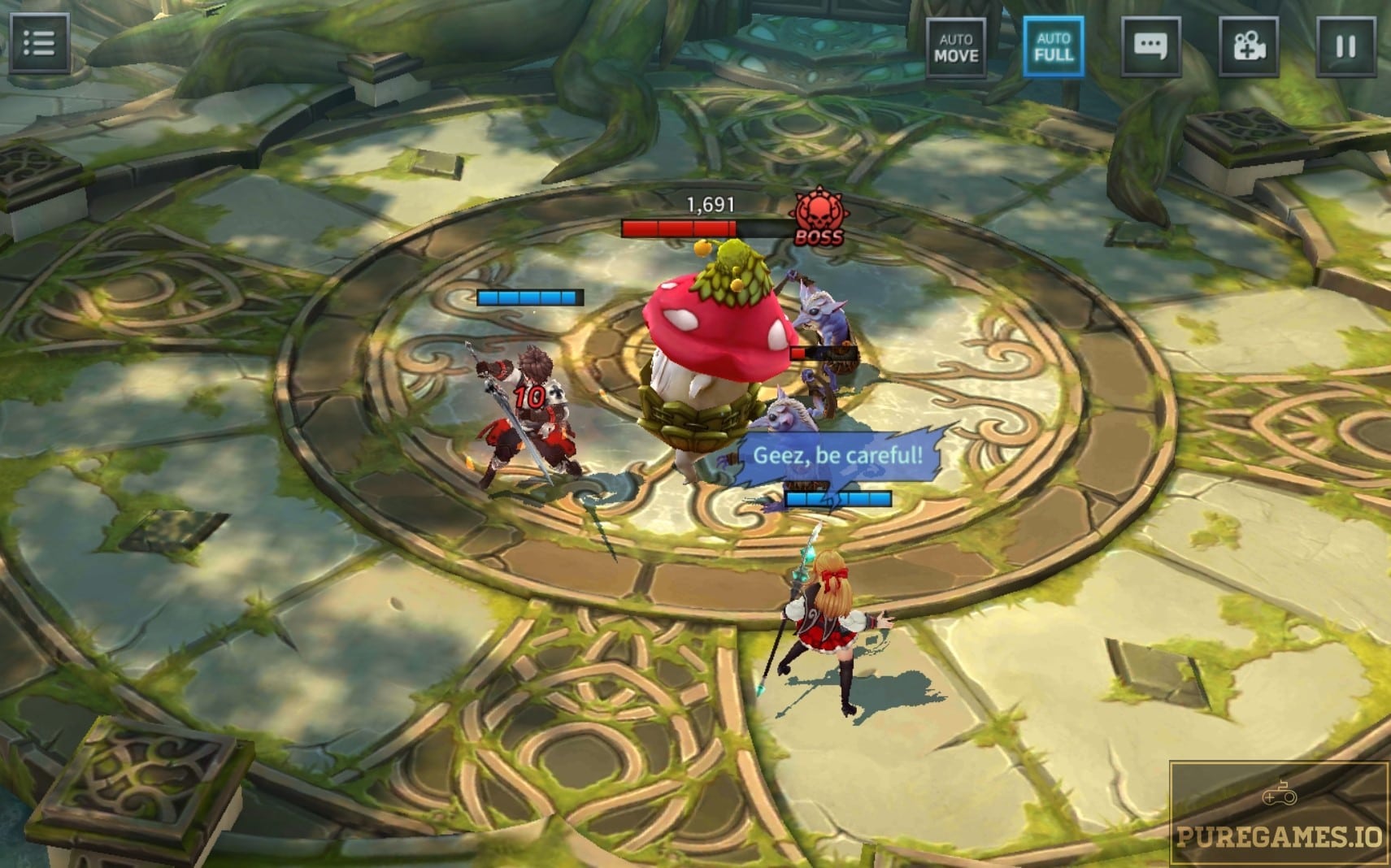 One of the most unique elements of this MMORPG is the MOBA style battle system. You will be accompanied by other heroes in your journey. Some of which can be encountered along the way and play a huge role in the main story while others are obtained through a gacha system which is very common in most JRPG (Japanese Role-playing Game) like the Elchronicle. Once a hero became part of your squad, they will accompany you all the way until you remove them from the team and replace them with better heroes. You can take full control of your squad and freely assign which hero would you like to be part of your team. Although you have a squad to manage, you can only control one main character in every battle. The game has over 30 unique heroes to unlock. Each comes with their own skills and backstory.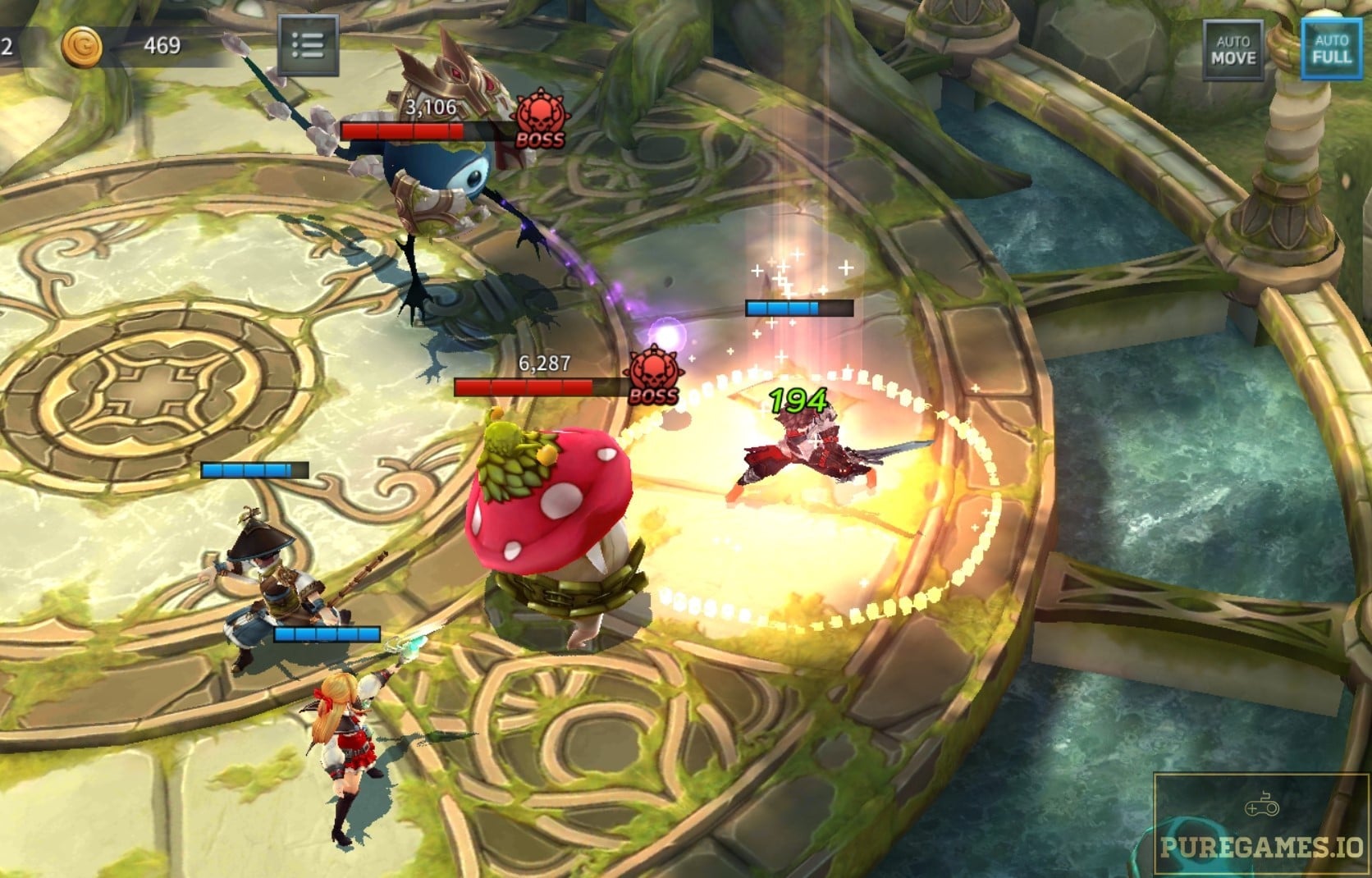 The squad building system is surely an interesting highlight of Elchronicle but it has many other equally exciting features to offer. One of which is the comprehensive crafting system. The game refers to it as transcendence, a workshop content that allows you to grow equipment or runes beyond the limit. You can forge the equipment you have as long as you have the required amount of gold, mana shards and other certain collectible materials. If you want to explore the game's multiplayer element, Elchronicle comes with Raids, Dungeons, and Guild system which is very common to all MMORPGs. Elchronicle is truly an amazing game and impressive in many aspects. It's an absolute visual delight that is matched with incredible and well-polished gameplay with unique MOBA-style combat and impressive gacha and squad-building system.
Utopia: Origin
Utopia: Origin by HK Hero Entertainment is one of the newest MMORPGs for mobile that comes with tons of great features. If you are going to transform the classic Minecraft game of Mojang to something more realistic and more visually striking, you will probably get Utopia: Origin. Generally, it is like a Minecraft game without its iconic pixelated graphics. It captures all the elements from the comprehensive crafting system down to the nocturnal mobs spawning. The game wonderfully merged Minecraft elements with MMORPG that makes Utopia: Origin more distinctive than any other games that fall into the same category. If you love Minecraft and some extremely grindy MMORPG with no Auto-play features, this game is definitely a perfect fit.
The game comes with two different modes; the Chaos and the Peace modes. In Chaos Mode, you will encounter various challenges and threats from other players as you explore the world and build a hearth (your shelter) while Peace Mode takes you to a peaceful realm where you can interact with other players without fighting and freely explore the visually-stunning world of Utopia. So if we are going to compare the game with Minecraft, Chaos is more like a Survival campaign while Peach mode is the Creative counterpart of the game. After creating your character, you will be prompted immediately to the Mainland. Like Minecraft, the character will start from the very scratch. You have to build tools by gathering materials from resources. The game also shares similarities with some horror-survival games like Last Day on Earth or HK Hero's very own Last Day Rules except the fact that Utopia: Origin takes you to a Fantasy world.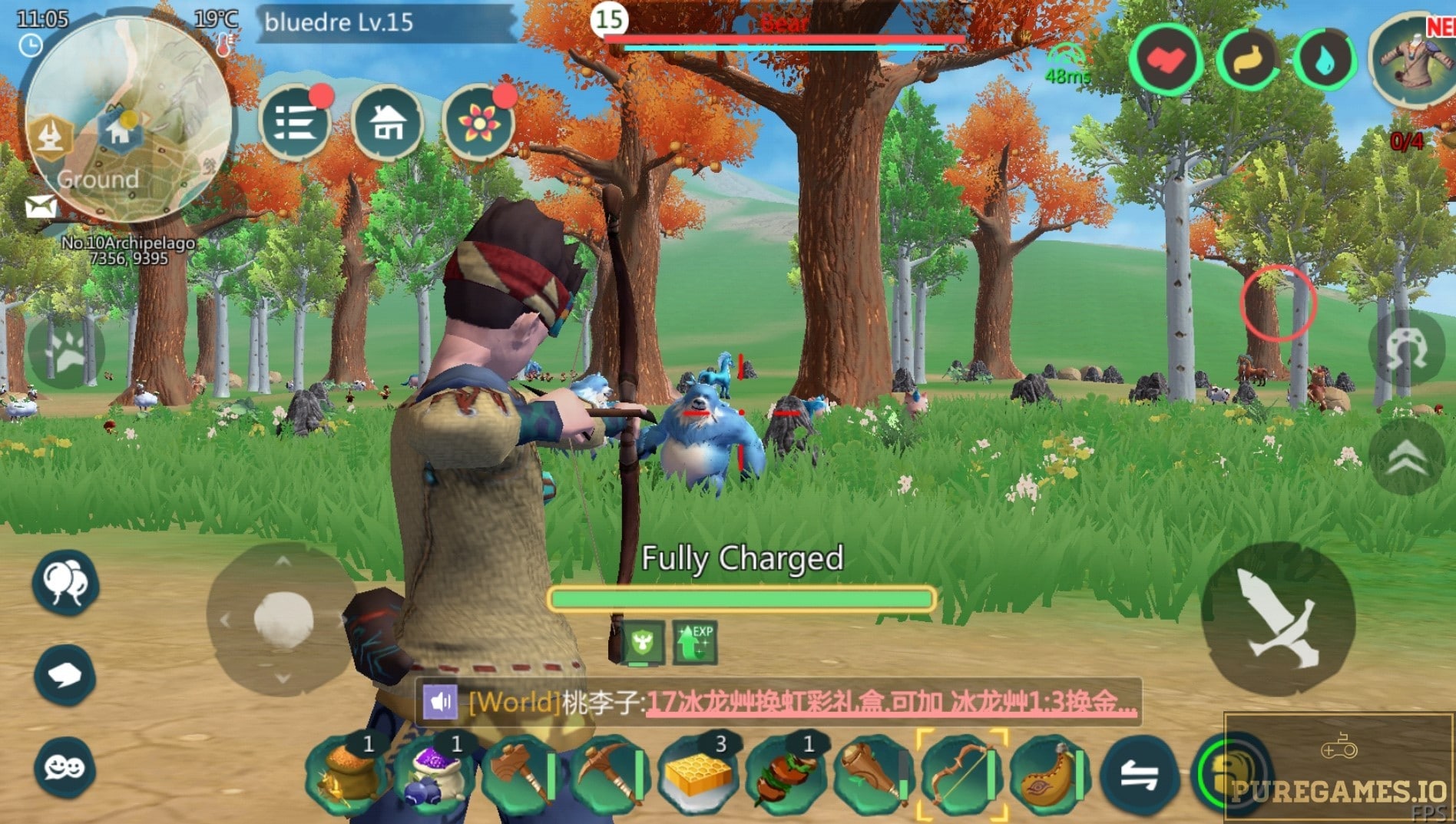 The game has a very simple interface. You can navigate around the 3D map using the virtual joypad and interact with your environment using the tap-based buttons on the bottom right of the game screen. You'll have a Hotbar at the bottom of the screen where you can freely assign items for easy access. On the top right corner, you'll find your health meters which include Life, Hunger, and Thirst. You cal also find the craft button beside them. Located on the opposite side are your navigational map, your main menu and your quest log. What really makes the game more engaging is the quest system that allows you to progress. There is no Auto Quest system in this game so you have to manually search for the items and fight against mobs in skillful way possible.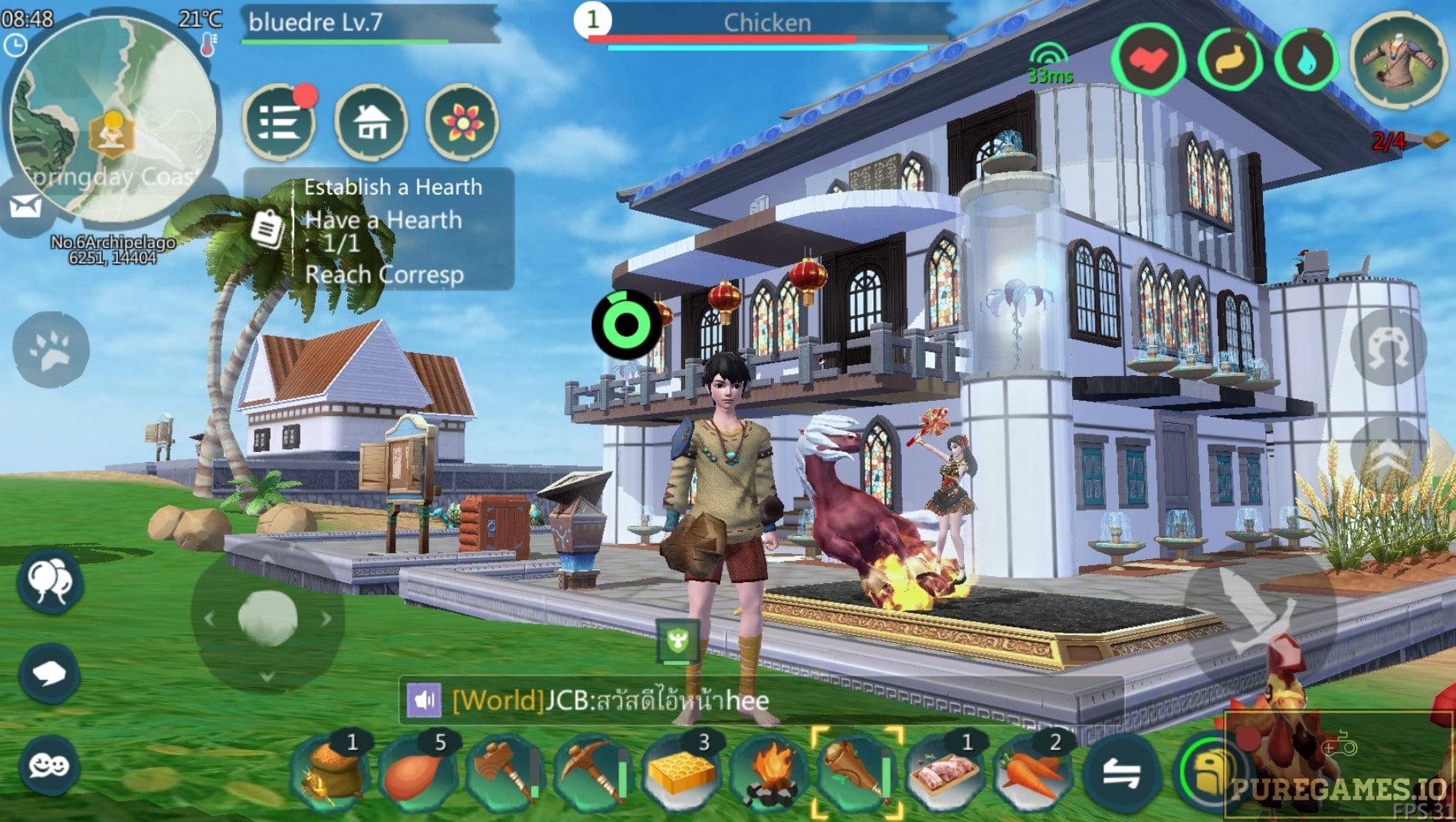 Speaking of combat, everything here is done manually. You have three types of weapons to use. A melee weapon that can stun enemies and a couple of long-ranged weapons that comes with a trick. Bow requires arrows (which you must craft) while wand requires you to learn spells. There is a comprehensive spellbook that you should master to use your weapon effectively. PvP can only be accessed when playing Chaos mode. Aside from the crafting system, you can also build your Hearth (a Shelter) and make it a permanent home for your character. Like Minecraft, this is an open world and you can explore the map without limits.  Just be careful of exploring the world at night because hostile monsters tend to appear during such time.
AdventureQuest 3D
During the time when browser-based MMORPGs are getting so much hype, we were introduced to a 2D fantasy MMORPG named AdventureQuest. It's a critically-acclaimed browser-based MMORPG by Artix Entertainment that took us all in an epic action-packed adventure. The flash game era is over and most people are now engaged with mobile games. Interestingly, fans of AdventureQuest have another great reason to celebrate as the game finally made it through the mobile platform. This time, however, it takes us to an epic 3D world. Compared to its predecessors, AdventureQuest 3D is a huge leap in terms of visuals and gameplay. The game offers a vast of wonderful improvements in terms of graphics, gameplay yet it remained faithful to its iconic humor (a trademark for Artix Entertainment).
AdventureQuest never failed to deliver an impressive and compelling storyline and AdventureQuest 3D managed to give an equally-fascinating plot for players to explore while wonderfully incorporating it with great humor. So unlike other MMORPGs, the humorous dialogues and funny scenarios provide great comic relief that makes the game even more enjoyable. After selecting your preferred class (Mage, Rogue, and Warrior) and creating your character, you will be prompted to the land of Battleon where your journey officially begins. The main goal is to defeat the Voidking Vane and the only way to do it is through the Legendary Weapon. . To do so, you must activate all the runes and access the portal that can take you to the legendary weapon. In the entire course of the game, the player will be asked to accept quests and navigate the open world, perform various tasks and fight against different creatures.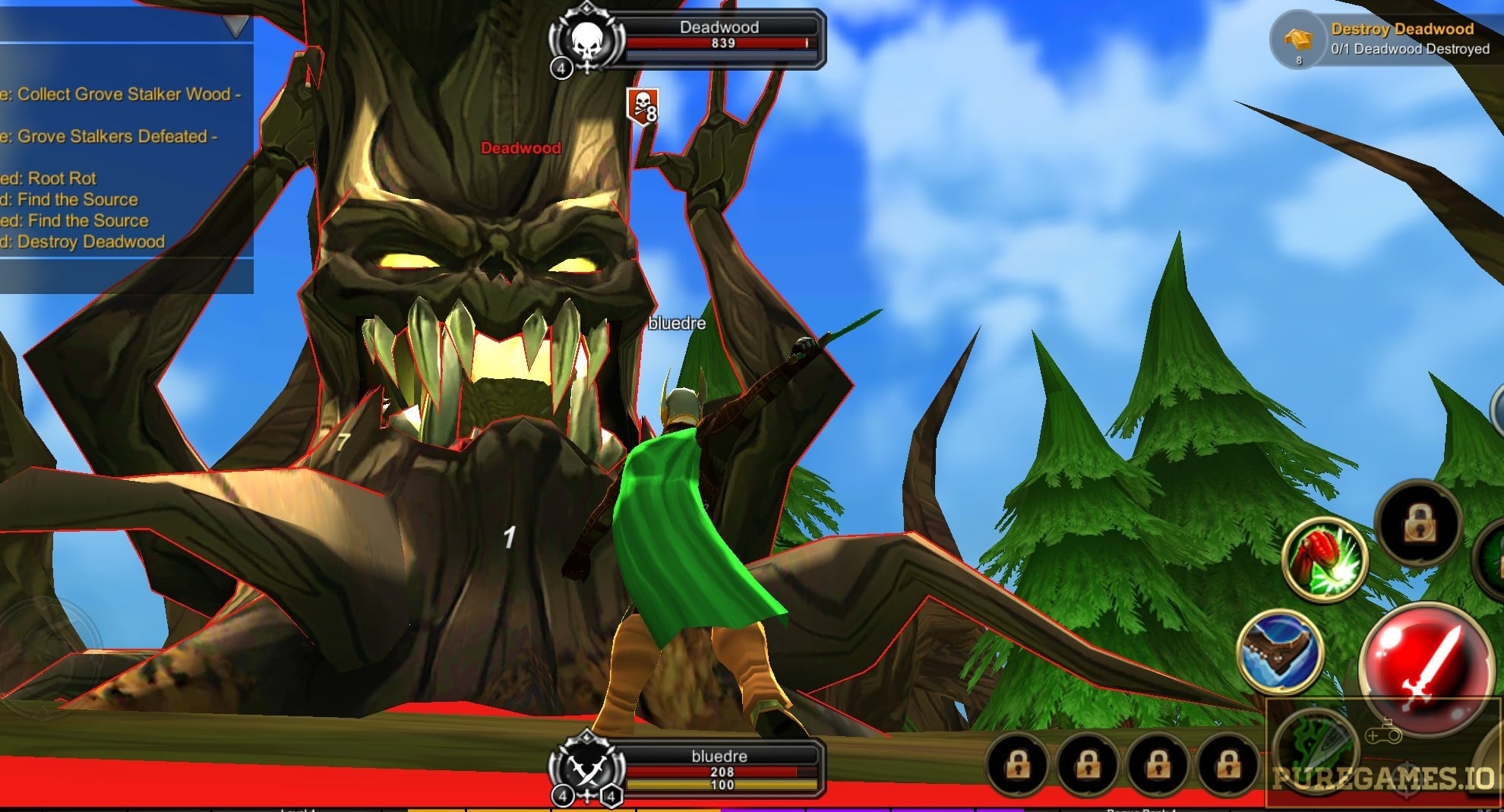 Unlike most MMORPGs today, AdventureQuest 3D will not rely on Auto-play features. Navigation and Combat were both done manually which adds a decent challenge in this game. To engage in combat, simply tap the enemy and start using your skills. There are tap-based buttons on the bottom right dedicated for your skills and you just have to come up with an effective strategy to win especially when dealing with field bosses and dungeon creatures. AdventureQuest 3D might offer you a series of quests but it also comes with lots of grinding. The progression for AdventureQuest 3D is very slow so it might take lots of epic missions before reaching your desired level. To progress faster, you can join a party and let other players accompany you in your mission.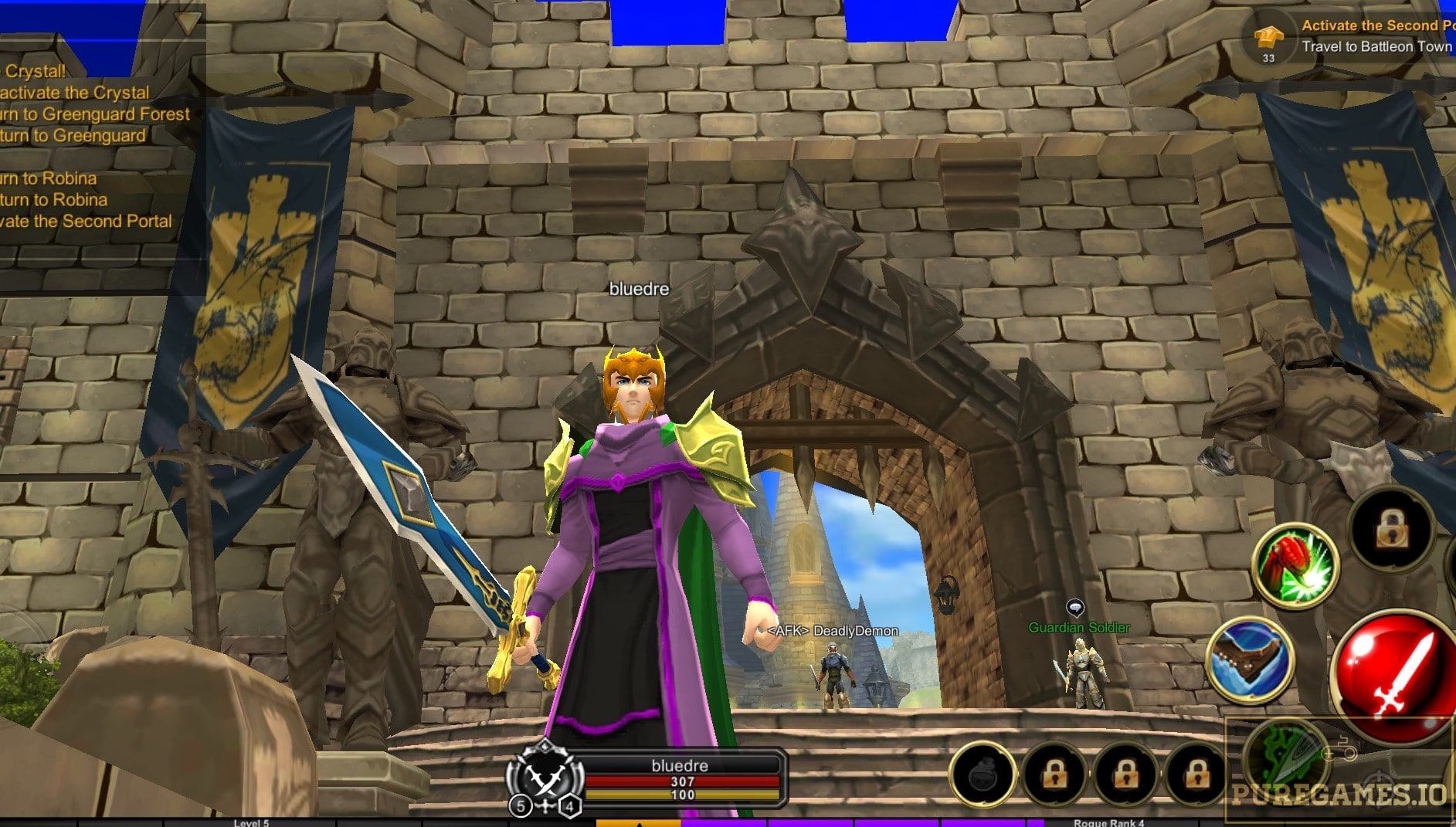 Players can also add other players on their friend list and take advantage of the chat system to communicate and you can even summon or teleport your friend to your current location. Dungeon raids and boss battles may welcome up to 20 players. Above all, the game also has a pet system, crafting, and travel forms and many other equally-engaging features to explore. AdventureQuest 3D is truly beyond expectation and Artix Entertainment did an awesome job as they ventured to mobile platform. Whether you are an avid fan of the series or a first-time gamer, this incredible MMORPG is truly worth a download. If you are up for another epic adventure that will surely put your skills on a test, feel free to explore AdventureQuest 3D and see what else this game has to offer.
Feel free to check our Video compilation below