| | |
| --- | --- |
| Publisher | Day7 |
| Platforms | Android 4.4+ |
| Price | Free |
| Size | 70 MB |
| Latest Version | 1.0.5 |
If you have been wondering How to Get a Girl in 33 Days, maybe it's time to check out how the developers of this title imagined it.
Overview
You are put in the shoes of a boy, Steven Oakley, whose parents just informed him that he is being transferred to a co-ed school. One thing he is looking forward to is the girls and the experience that goes with it. As the name suggests, you'll have 33 days to get your character a first girlfriend in his life! How cute. But don't get worked up so quickly – a big decision is ahead of you. In two weeks you'll have to decide if you are going to transfer again, or stay in that school till the end of your days. Of your education I mean. Are you ready to embark on this point and click (tap) adventure? To live your school days in advance, or again, depending on your age? Or parallel with your actual school days, if they're happening right now.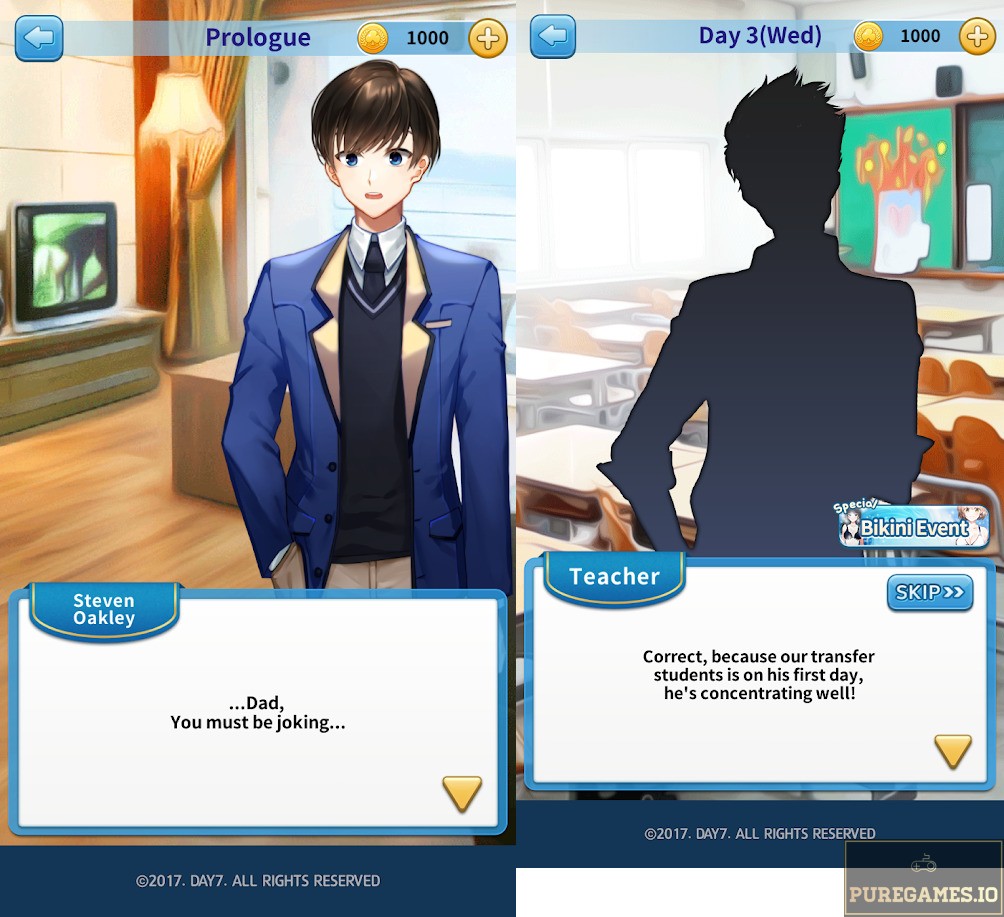 Plot
The first girl you get to meet, at the very first day of school is Mia Lynwood, president of your class, and the best student. Very cute, intelligent and friendly girl who knows who you are – since she is doing a great job of the president of the class. She even saves Steven from a punishment from the Dean, who is a bit angry for him running to class. But all Steven wanted was not to be late, and Mia saved him from trouble. Soon, you'll start getting some help from her because you'll be too sleepy and bored with those classes. On day six, you get to have your first date with her! Choose a place and hope you made the right choice. Depends on the girl – each of them has a favorite, and you'll have to grab that detail during the conversations you'll have in school and on your phone.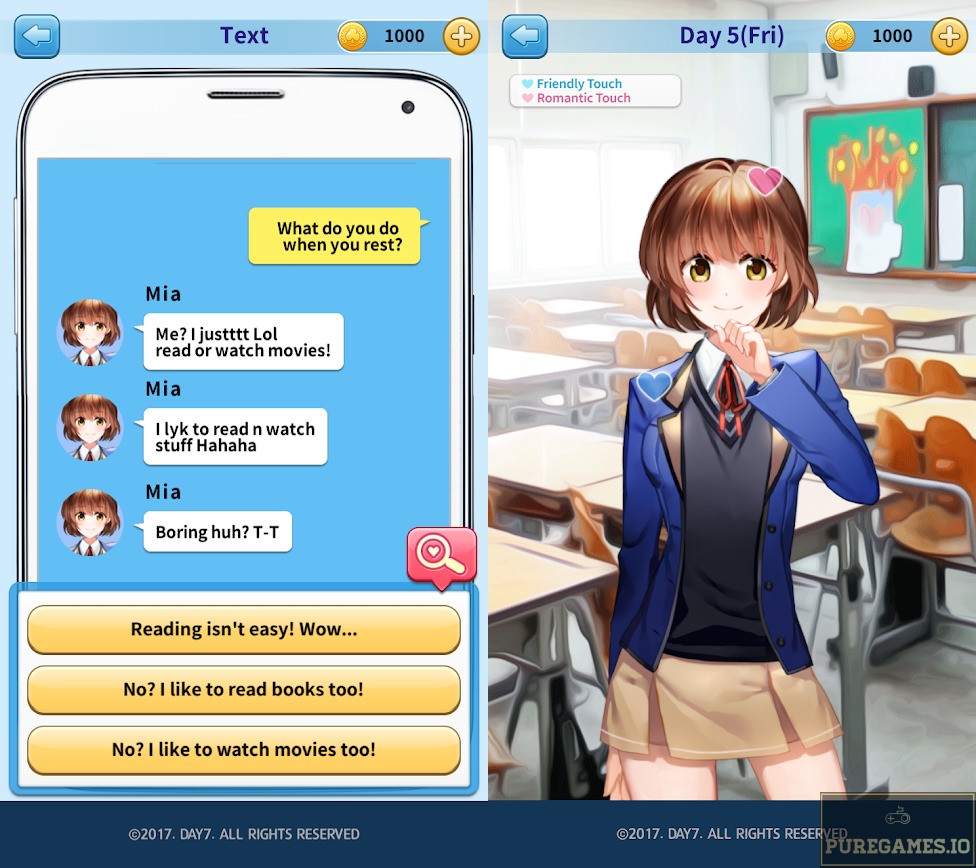 Gameplay
For some reason, you can't actually just hop in and play. After the prologue, when you choose to go to school, the game will have to download the story you've just started. That's weird, but it doesn't last long – it's only 18 MB of data. Pretty much of the game is heavily story driven. That means you don't have to do much, except just endlessly tap your screen and watch how it will all end. It's like a loosely interactive comic book. Each day, you'll choose between texting a certain girl whose heart you've decided to win. The second option is going to school, could you imagine? And sometimes it'll be both. School is not actually that bad, a lot of stuff can happen there, but most points you'll get will be through texting. What is this game trying to teach us?
As the story progresses, you'll have to make a dialogue or action choice here and there, but it mostly all comes down to the same results. The texting segment is not so much better, you usually have to choose between three answers, but the final outcome is almost always the same. The only difference is the amount of the like points you are going to get with a certain girl. On weekends the option to go to school is switched with an option to go on a date, or to go outside. Of course, for the first time you'll choose the date! That's what this game is all about, after all. So, the famous first date. In terms of gameplay, not a lot changes – you get to choose a place to take the girl out, but for the rest of the date, you're just a spectator. What a shame!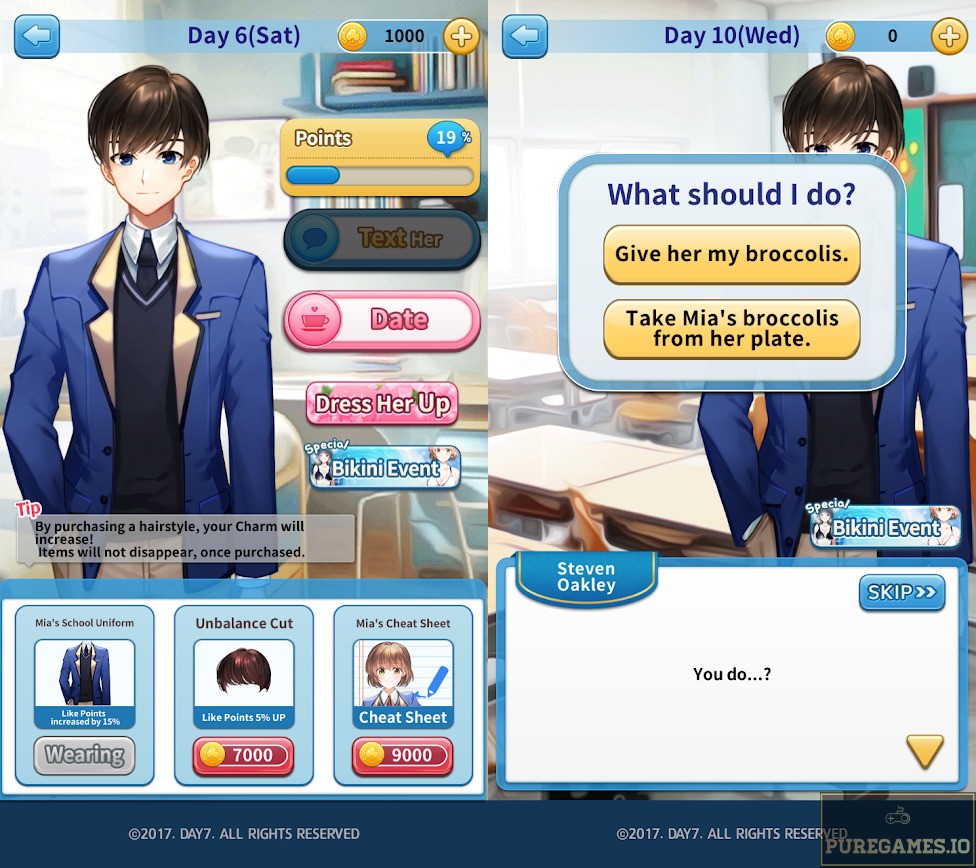 Presentation
Since this game's main accent is the story, it could have been a lot better. Its minimum interactivity isn't even the main problem. The natural development of it is the big deal here. Nothing really exciting happens, and it's pretty much straightforward, without any twists and fun and progressive dialogue. You don't feel like it's going anywhere for a long time. And even when it does, it's a slow and an unconvincing ascent. Not to mention that there are a lot of awkward and unpleasant moments. It's like the creators did not decide the target group very well. You'll run into a lot of ambiguous comments which could be read as sexual, and if you're too young, you may be confused. I know Disney does the same thing, but here, if you put in some extra cash, you have the Bikini event, I mean it's too obvious!
The visuals are specific, as in each game of this developer, which obviously originated in Japan. It's a recognizable manga stylistic approach, but in an animatic fashion, without actual animation. At all! So after fifteen minutes it doesn't even feel like a cartoon, but a comic book I've mentioned earlier. The characters do look cute and interesting, but not original. Music is not quite fitting, like it came out of an 8 or 16 bit title. It gets very tiring and heavy really quick. The (voice) dialogue is rare and it's in Japanese. Not that I have anything against Japan, but just don't understand the language. I guess it was too much to expect a full localization of this game?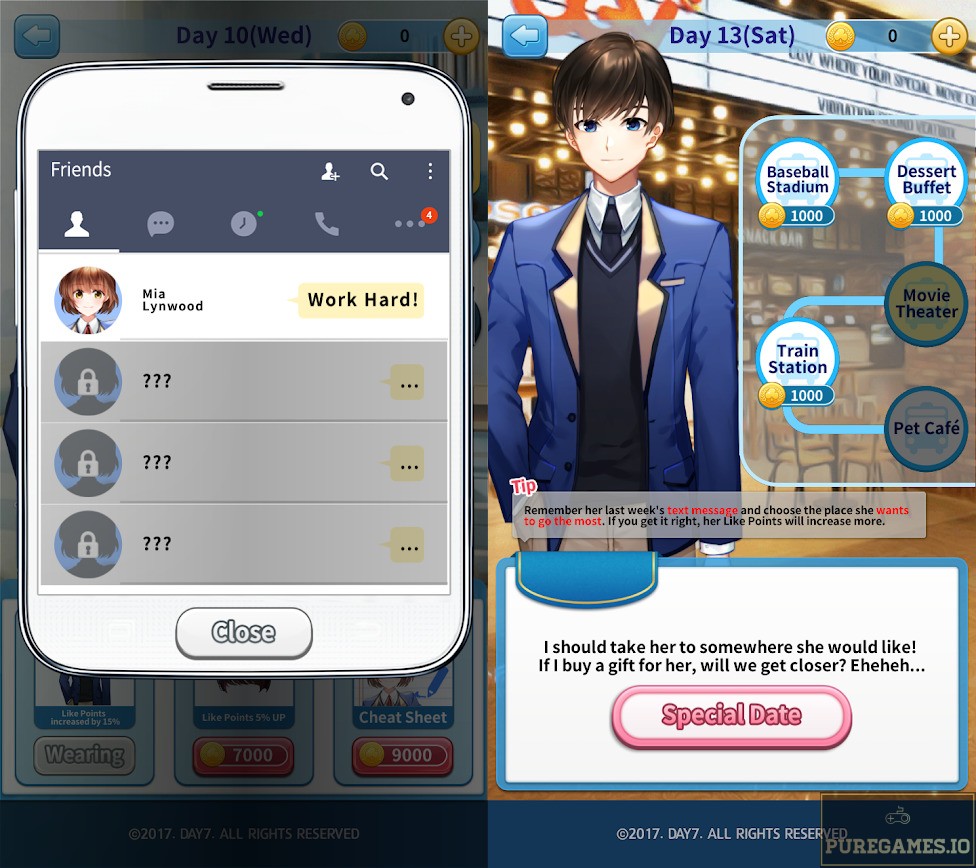 Business model
This dating simulation is free to play. At least it seems at first. The game does feature ads and a shop as well. The main currency in this title is gold. You can buy new clothes with it, new haircuts, or take out girls on fancy places and even buy gifts for them. Heck, you can even buy a cheat sheet, which will help you choose the best answer in dialogue or texting situations. The downside of all this is that all the things you can buy are pretty costly. You start with 1000 gold, and you easily spend those on a single date (which you must do in order to continue playing), and to buy a new haircut or a gift and cheat sheet for the girls will cost you somewhere between 7000 and 9000 gold.
The worst thing is that you can't earn gold any other way than to buy them for real money! So when you've reached the second date, it's either pay or the highway. The least you can buy is 90 000 for 2.99$, then 150 000 for 4.99$ and finally 300 000 for 7.99$. In my culture, this is considered a **** move. But you be the judge.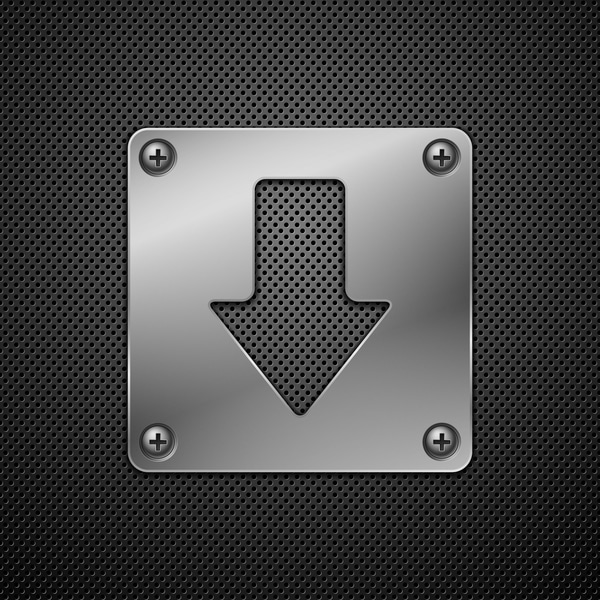 Download How to Get a Girl in 33 Days APK for Android/iOS
Select a file to download:
Download How to Get a Girl in 33 Days v1.0.5 APK