| | |
| --- | --- |
| Publisher | Netmarble Games |
| Platforms | Android 4.0.3 and up |
| Price | Free |
| Size | 71 MB |
| Latest Version | 4.1.1 |
Avengers, assemble! The earth is once again in the midst of great danger. Our superheroes must unite once more to prevent the earth from such major catastrophe! If you thought Avengers Infinity War is the greatest superhero crossover well this game will prove you wrong.  Marvel Future Fight will take you to the entire Marvel Universe even those superheroes outside the MCU. It's definitely the most ambitious superhero crossover and Marvel fans can confidently include this game on their list! From the same company behind GrandChase, Netmarble Games will take you to an epic Superhero journey.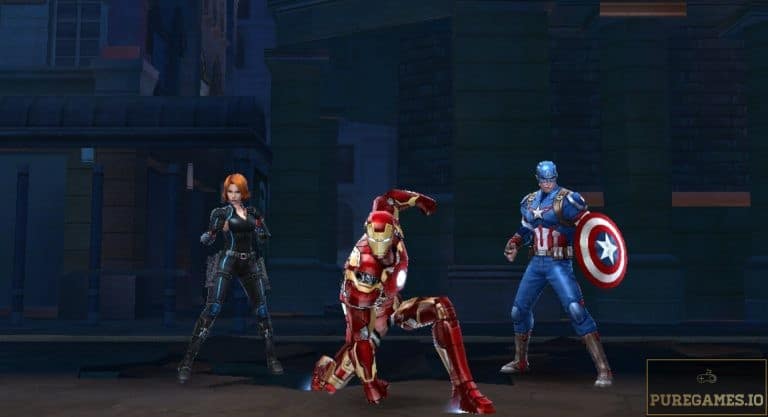 Marvel Future Fight is basically a role playing game with elements of classic Dungeon Crawler but set in a futuristic environment. The game welcomes you with a cinematic introduction showing Thor, Black Bolt and Black Panther as they face an unusual chaos. Various dimensions are starting to collapse and they even had to face versions of themselves. This forced Nick Fury to contact you to form a group of heroes to end this catastrophe before it's too late. Now, you must build your ultimate superhero team and defeat all the villains!
The Gameplay
Being a role playing game, kindly expect that Marvel Future Fight will involve lots of dialogues. I must say that the game balanced the story and the action perfectly well. As the actual game begins, players will only have limited option. The three default superheroes that you can obtain include Captain America, Black Widow and Iron Man. You can eventually unlock and recruit the rest of the superheroes if you have enough biometrics. In this game, you can only recruit 3 heroes on your team so if you are done unlocking some characters, you can only switch them before a mission begins.
Game controls are very manageable. You can use the virtual joystick to navigate the map and other tap-based buttons to attack. Just like a classic Dungeon crawler game, you can only control one character at a time but you are free to interchange them anytime during the battle. Take note that the combat system is not turn-based so you must actively use the skills as long as there are enemies on the field. Each superhero has their own skill set which you can later upgrade to make them more efficient. Each mission will take you to a series of rounds with bosses or sub-bosses at the end. Completing a mission will help you earn experience and rewards in forms of virtual money, biometrics and more.
The Overwhelming Game Modes
Marvel Future Fight is a role playing game that requires commitment and dedication. It has a remarkable longevity and that is just for the main campaign alone. Interestingly, this game offers an overwhelming amount of campaigns that players can participate once they reach certain levels. The main campaign- the Story mode takes you to 12 main chapters with 8 to 10 sub chapters each to explore. Please be mindful that each mission consumes certain amount of energy (which refills every 5 minutes).
The game offers Daily Missions where you can get plenty of rewards; Special Missions that allows you to earn Biometrics. Epic Quest allows you to play specific hero like Doctor Strange and Wolverine in their own respective storylines. There's also a Dimension Rift mode which allows you to acquire specific hero in various missions with greater rewards like Dimension Debris or Cosmic Cards.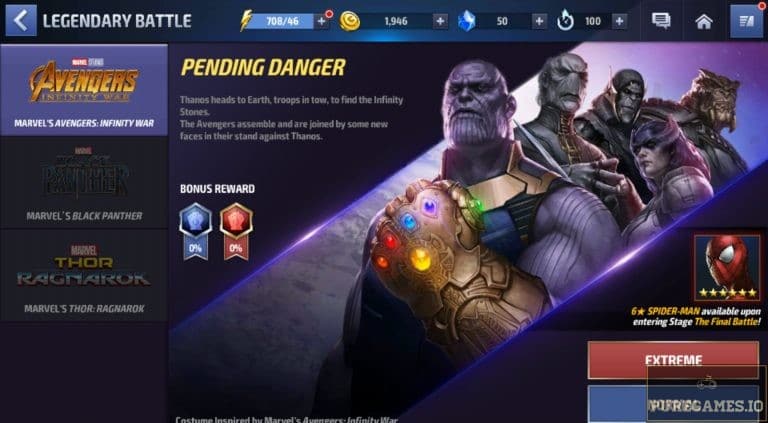 What I like the most is the Challenge Campaign. It takes you to another set of modes such as Legendary Battle which allows you to recreate epic scenes from the Marvel Cinematic Universe. Arena campaign, on the other hand, features the game's multiplayer components. The battle arena missions allow you to fight against another online player in PVP and Tournament-style combat. Same thing goes with Co-op Mission.
The Union of Epic Marvel Superheroes
If there is one thing that makes this mobile game way beyond anyone's expectation is the remarkable union of superheroes. There are over 100 Superheroes and Super Villains that you can freely recruit on your team. These characters are not just from the Marvel Cinematic Universe but also from other Marvel affiliated series like X-Men, Spiderman, Ghost Rider and other iconic characters from the comics.
You can also avail Uniforms and customize your hero. These uniforms will let you transform your character into their various versions as depicted in comics and in movies. Another note-worthy element in this game is the resources. The game has many resources and virtual currency that players can use to buy upgrades. It includes Energy (each mission consumes energy), Crystals, Biometrics and other materials to help you upgrade your character equipment.
Verdict
The game is absolutely a great treat for Marvel Fans both Comics and Marvel Cinematic Universe. It allows them to build their own ideal Marvel team and use the characters in their full potential. Appearance wise, the game gives great justice to all our favorite Marvel Superheroes as they captured each character in a very detailed fashion. The gameplay is very smooth and well-polished as long as you have stable Internet connection. All in all, Marvel Future Fight is absolutely amazing in all aspects. Not generally perfect but absolutely worth downloading.
Download Marvel Future Fight APK for Android/iOS
Select a file to download: