| | |
| --- | --- |
| Publisher | UniBit |
| Platforms | Android 2.3 and up |
| Price | Free |
| Size | 37 MB |
| Latest Version | 1.1 |
Is it a racing game? Is it a stunt game? Or is it some kind of a vehicle platform? Stay tuned to learn more about it.
Description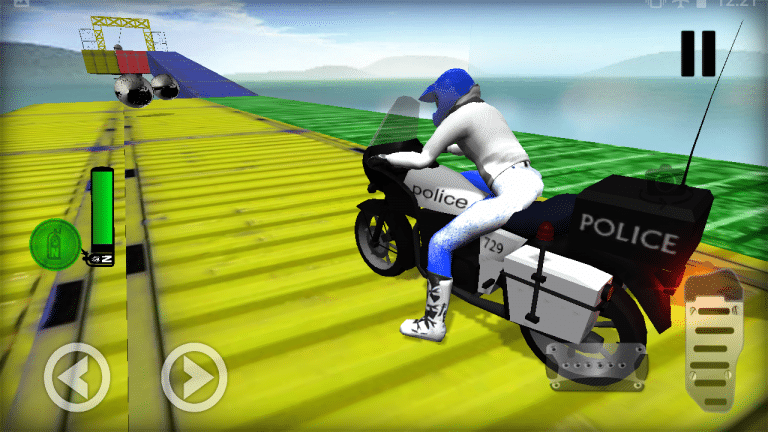 Before each and every of the fifteen levels, chose one of three available bikes: racing (sport), cross and police – yes, the police bike is available! They differ in four categories: speed, handling, brake and nitro. Unlike some other games, here, it matters, especially the handling one. The control system is pretty simple and neat. On your left side, you have the steering buttons – left and right, and the nitro button, and on the right are the pedals: brakes, and gas. It's quantity that defines the difficulty of this game: as you progress, levels feature longer tracks with more and more obstacles. They are not so hard to avoid on their own, but when they multiply like rabbits, near the end of the game, add to that the absence of checkpoints – the game almost justifies its title: Impossible. Nevertheless, even if a player has a hard time finishing the game, he can always try silly combinations of bikes and levels, and camera angles, and have fun the either way.

Presentation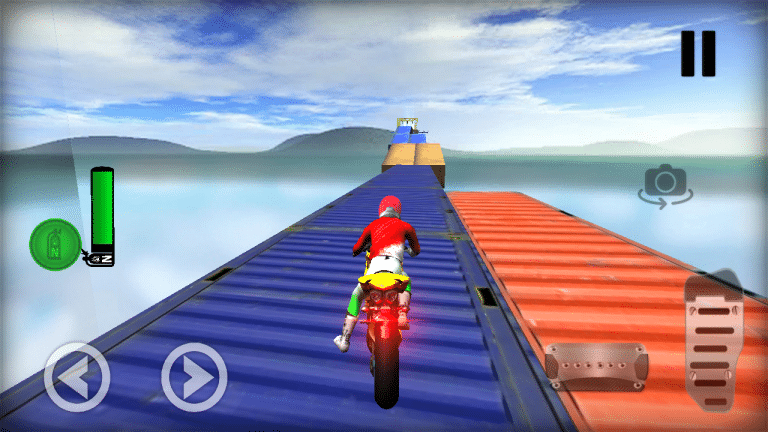 Visuals are good looking, as long as we talk about the necessary elements – the bike and the track. Everything has a 2000-s rally games retro vibe. But, despite the colorfulness and interesting choice of implemented obstacles, lack of unified theme, setting and motivation makes them seem random and out of place. Background, however, has a different problem. All the tracks look like they are hovering above a distant city (or is it mountains?), which becomes visible for few seconds, only when you fall off the track. So, something to gaze upon while driving could have been a fine detail. Similar should be said about the sound. The motor effects are here, but where is the music, the start light sound, or even the helicopters? Oh yeah, game has helicopters as obstacles. These would help with the excitement of driving like a moto ninja, if you are one, of course.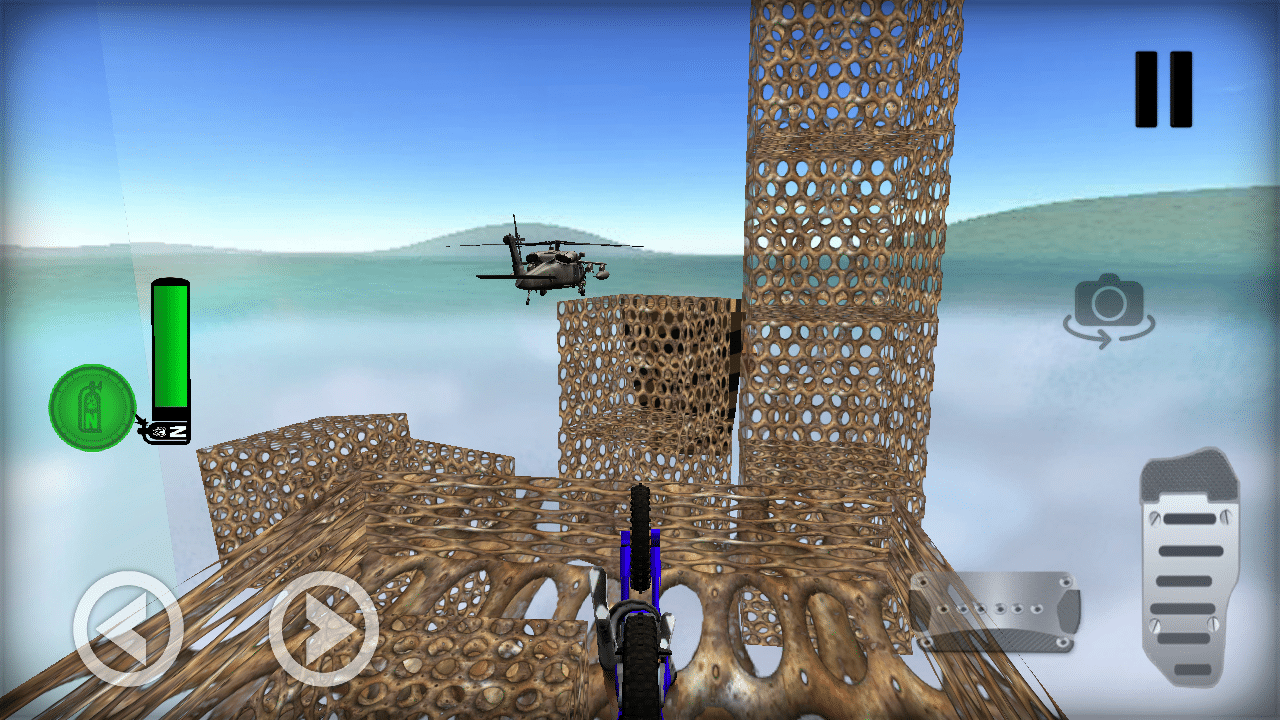 What makes it special?
This game features an interesting genre mixture: due to control and obstacle system, sometimes it feels more like a 3D platform instead of a stunt racing game. More frequently you will run into an obstacle you've seen in Mario, Sonic and similar games. We're used to seeing ramps, barrels, truck tires, hoops in these games. But here, we are pleasantly surprised with rotating or swinging wrecking balls, big amusement park-like constructions, self-opening containers, or, wait for it, cars that fly in from nowhere? The lack of any timer or time restricted levels let you choose your play style. Will you try to rush through the obstacles with a few acrobatic jumps here and there, or will you slowly proceed, tactically observing the track, and timing your drive, trying to avoid anything that could knock you down off the track into the oblivion? It's totally up to you!

Experimenting with the camera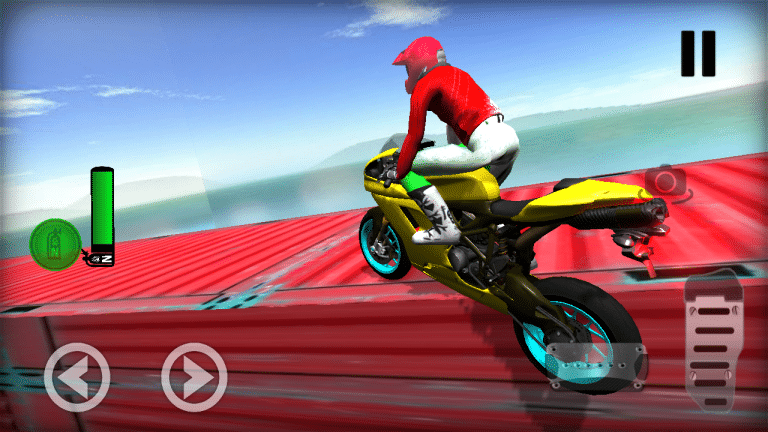 There are some of the options the average player will almost never use, but it's good to have them, to inspire those who tend to experiment and explore. You'll be surprised to hear, but, one of them are the breaks, except when you need to go backwards. If you want your motorcycle to slow down, just simply release the gas pedal. Of course, you can make some attractive moves using these, but you don't need them to beat the game.
Now the camera angles. You have the option to choose between four: classic behind the back third person and dynamic third person camera from the left side, which gives it an attractive TV air look. Second two are first person camera and a close-up one, showing you your front wheel from the left side. What's up with that? The first person camera is interesting when you use a cross motorbike, the only one that has no windshield, so it doesn't block your view of the track. I would actually recommend using it on this one, it gives the game the adrenaline pump feel.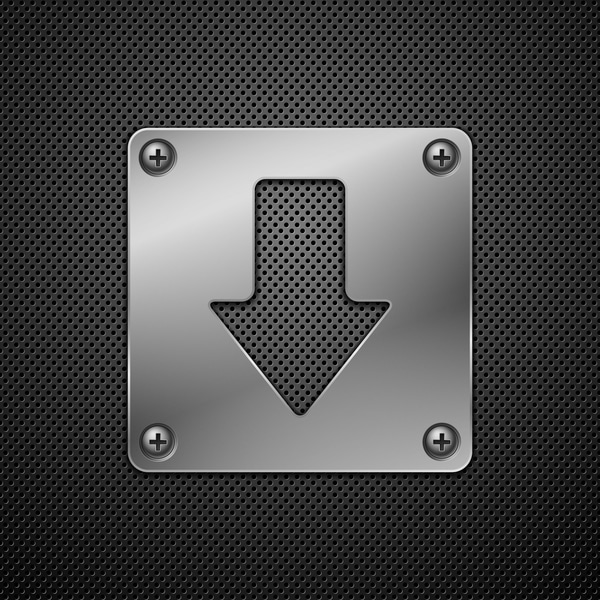 Download Impossible Moto Bike BMX Tracks Stunt APK for Android/iOS
Select a file to download:
Download Impossible Moto Bike BMX Tracks Stunt v1.1 APK