| | |
| --- | --- |
| Publisher | Outfit7 Limited |
| Platforms | Android 4.1 and up |
| Price | Free |
| Size | 69 MB |
| Latest Version | 2.4.6 |
Your swamp is under attack by animals gone crazy. Grab a weapon and defend your home from evil creatures who know no mercy.
Description
This fun and engaging 2D tower defense shooter puts you in a skin of a guy who strongly resembles an American redneck, who is just trying to protect his property – by shooting things! You start with a shotgun and a few crocodiles attempting to reach the front porch of your swamp hut. But, just a couple levels into the game, things get seriously crazy! A simple TD formula is enriched by undeniably funny and inventive enemy waves: from raccoons floating on a big dynamite stick to beavers carrying chainsaws and rats equipped with guns! Then come the zombie-like creatures and monsters, oh boy!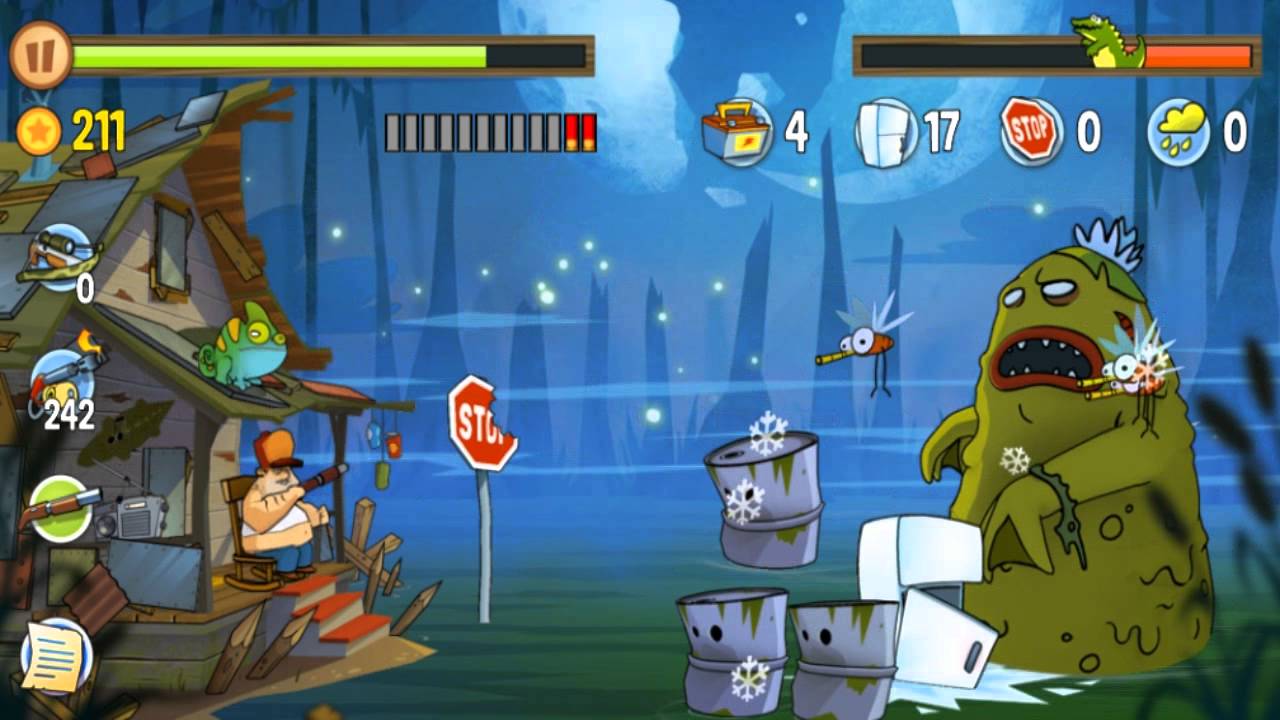 Levels and weapons
How to endeavor 8 episodes containing 390 levels, against all those monsters, you may ask? Don't worry, the game provides you with a vast arsenal of weapons, explosives and various defense structures. Not a shotgun fan? How about a double shotgun? No? Then maybe M16, or a Minigun, or any of the 10 available weapons, should fit your needs. For really picky players there are 14 different explosives and 10 defense structures, including Aunt Misty and Neighbor Bud! With simple control system: tap to shoot or switch weapons, and drag and drop to use explosives and powers, you should be clearing those levels in the blink of an eye!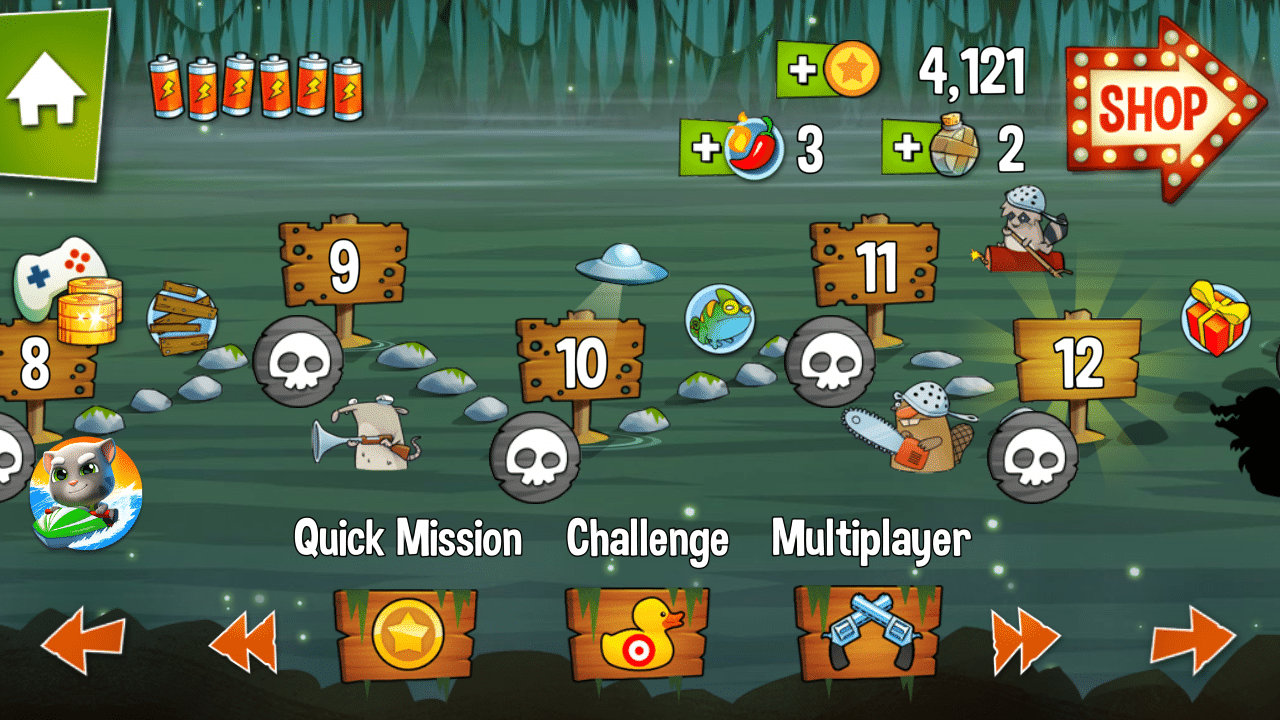 Visual style
Game art and the color palette show a big influence of old monster horror pictures (the 40s and the 50s). On the other side, character and weapon details seem to be strongly inspired by the earlier 2D installments of the Worms series. All in all, very pleasant and an interesting visual experience.
What makes it special?
The incorporation of elements such as music and visuals into the narrative is brilliant. For instance, during the level, you can tap on your character's radio and change the background music. Although, the game doesn't feature too many tracks. You can rarely see interactive music done with this level of forethought (GTA series comes to mind). Of course, the gun and explosive sound effects are top notch, bringing the satisfaction of using that arsenal, to a whole new level. Or, for example, the bug effect in the level preparation menu: if you uncheck the no bugs sign in the left side of the screen, soon it will be sworn with those little pests! Except for probably developing a phobia, it's also doing a great job of constantly reminding you of the leitmotif of the game: pest invasion.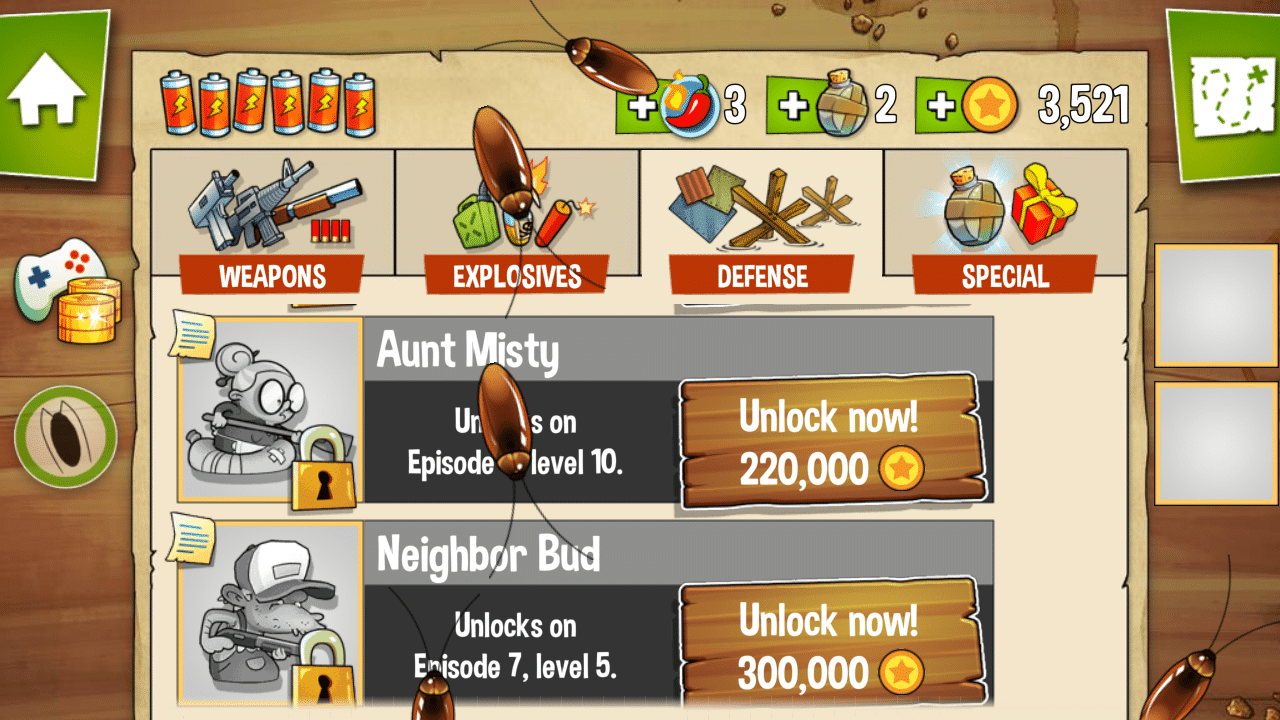 Don't get me started on the special levels, those are amazing. One of them features a UFO (again, addressing the main theme), which snatches all of your weapons and flies off screen. As soon as you see it return, shoot those alien bastards to get your weapons back! And then there are quick levels, in which you don't spend your ammo, but enemy waves are faster, beefier and more frequent.
Multiplayer
Oh, and if you manage to beat the game, there is a multiplayer mode, so the fun never ends. Choose a random internet stranger, or your best friend to be your opponent, and try to survive longer than him/her. Shoot birds that lay eggs, tap on those eggs and collect them. They are your main resource to spawn waves of different kinds of monsters for your opponent. While you're at it, don't forget to fight waves your friend cooks for you on the other side.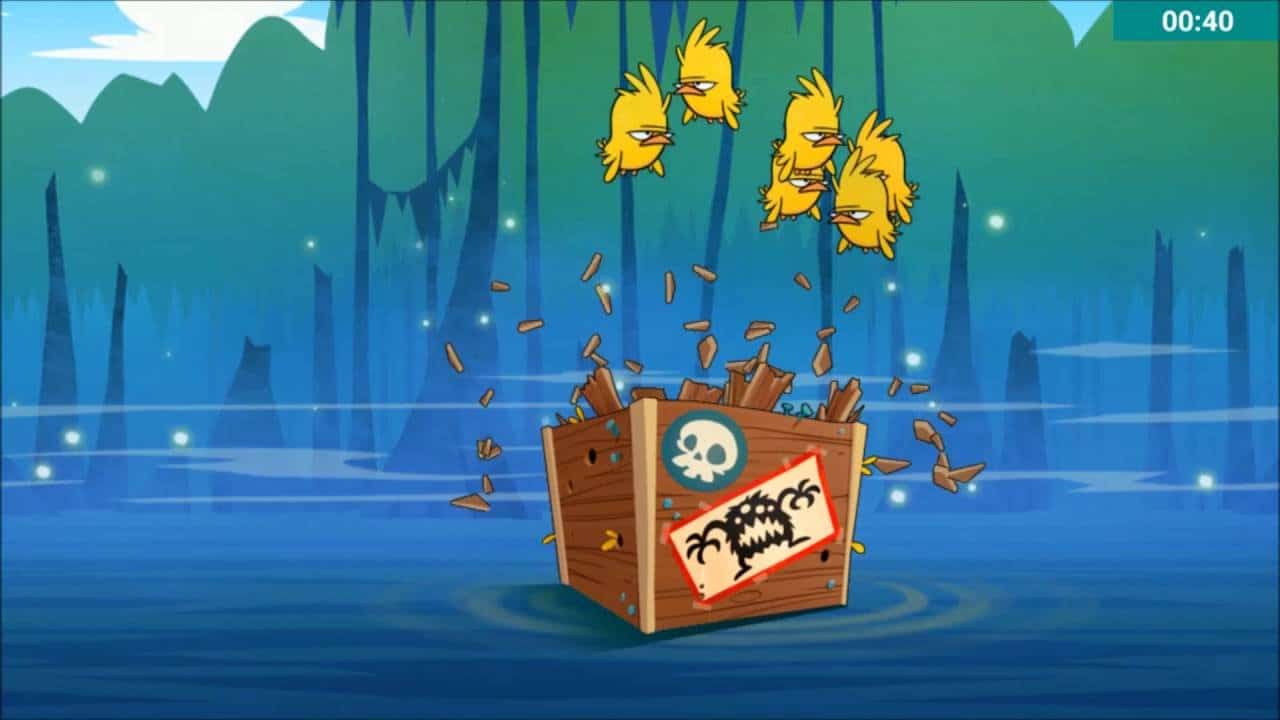 Business model
The game is based on a very interesting free to play model. There are, of course, micro transactions. Plenty of bonus equipment and effects to help you progress through the game without a hitch. But, as soon as you purchase at least one item, the game will release you from watching ads and promo material within it. Still, the aggravating circumstance of this is the energy system (well known and often seen in free to play mobile games). You have six batteries, and while you play, they recharge, but, if you stay in-game for too long, at one point you will have to wait to play the next level. Unless, of course, you want to spend a little extra cash on this fun little game.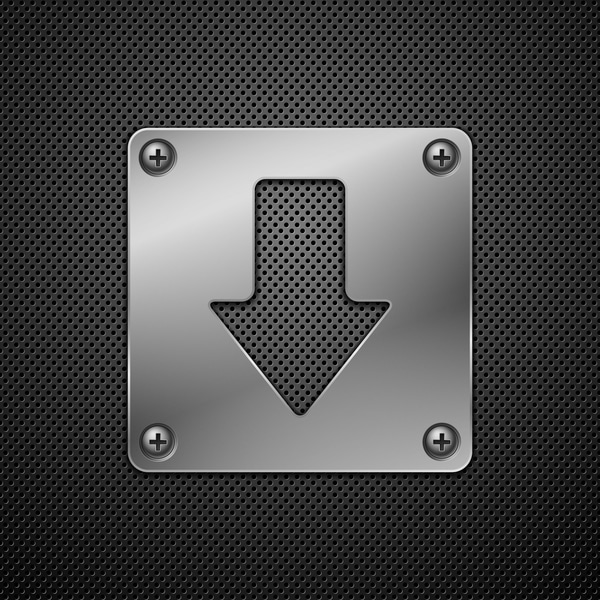 Download Swamp Attack APK for Android/iOS
Select a file to download:
Download Swamp Attack v2.4.6 APK